On premise Vs cloud – in order for us to determine which is best for the video business, first we have to take a closer look at the streaming industry. The streaming industry in general combining Audio, Video and Live streaming has been growing at an exponential pace over the last few years. It continues to grow and adapt faced by an unprecedented influx of data that eventually culminates into hard-pressed needs for security, storage, scalability, management, and accessibility. 
The ever increasing demand for live and on-demand video streaming for enterprises has become the key drivers at poising video to one of the key factors in increasing the internet – data consumption across the world. This has led to all types of websites and apps integrating audio/video streaming for better user engagement, as well as new businesses centered entirely around streaming are being launched (e.g. Clubhouse, TikTok, Netflix, Udemy) 
This has led to businesses looking to increase their IT footprint and capacity to keep up with the high level of resources that are required to meet streaming needs, from servers to storage, and businesses are grappling with balancing data security vs costs and are increasingly looking at migrating to the cloud to reduce their costs. 
Costs, infrastructure, and a lot of other factors come into play before one can decide to opt for a cloud hosting infrastructure or narrow down on an in-house service. It's essential to evaluate the pros and cons of each before stepping in, as it can lead to customer churn resulting in loss of revenue. 
On Premise Vs Cloud: What does it Mean?
Cloud Hosting
Cloud hosting refers to the process of hosting data in the cloud, making applications and websites accessible using cloud resources. Unlike traditional on-premise hosting, solutions are not deployed on a single server. Instead, a distributed network of connected cloud servers hosts the application or website, ensuring greater flexibility and scalability.
Pros-
More cost-effective – No upfront investment required

More accessible – You can access your data anytime and anywhere via a web browser from any device.

Quick deployment – Cloud-based software is deployed over the Internet in a matter of hours/days 

Infinite scalability – You can scale as you face more traffic spikes on-the-fly
Cons-
The user experience is limited by the speed of the internet connection.

Third-party cloud servers can have direct access to your data.
On-Premise 
On premise refers to the process of hosting data in physical server farms that companies own and maintain at their own facilities. An on-premise server is a physical, on-site server as opposed to a virtual cloud server.
Pros-
More security- Critical data is stored on-premise with no third party access.

Control over data and content- You decide on the configuration, the upgrades, and system changes.

Uptime – You do not rely on internet connectivity or external factors to access your software.
Cons–
Requires a considerable amount of expense in terms of deployment, hardware, and infrastructure.

Physical space and dedicated IT support is needed for operating in-house servers.
On Premise Vs Cloud: Cloud Adoption Surge in Enterprise Video
With regards to On premise Vs cloud, the scales weigh heavier towards the cloud. More and more enterprises are now migrating from traditional on-premise hosting services and adopting cloud hosting due to more affordability, flexibility and data mobility. With the adoption of cloud, businesses can now extend their video communication to reach employees, investors, partners, and customers in international or even remote locations.
Video has achieved a Holy Grail status of communication  and companies across all industries are investing in video streaming solutions to meet viewer demands for high-quality video and streaming on any connected device, anywhere. From employee onboarding, training to launching products online, video has achieved a de facto status for deeper employee collaboration and engagement. 
According to Cisco, Enterprise video traffic will represent 66% of all business internet traffic by 2020,
Why is Cloud Environment Best for Video Streaming Businesses?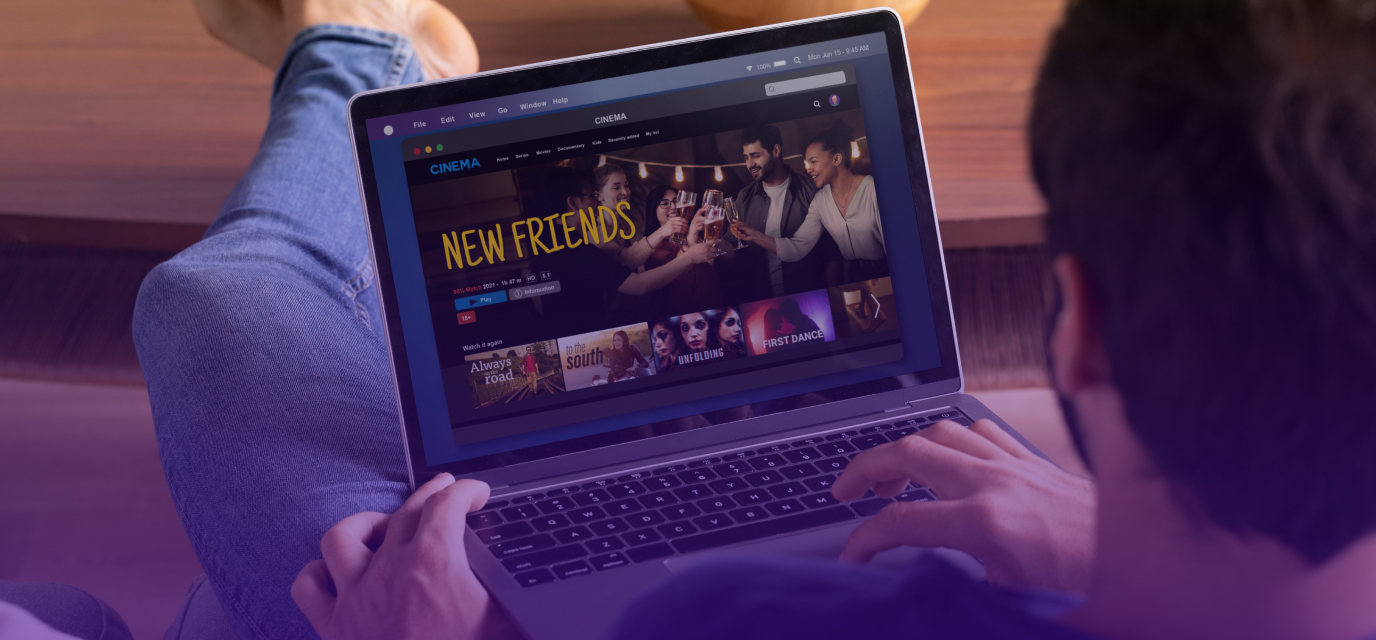 Scalability and automation are the key requirements of enterprises incorporating video which cannot be typically handled by an on-premise server. So in the tug of war between on premise vs cloud, the cloud here surely wins the prize when it comes to streaming video. Why so? With a massive influx of video and other digital content, businesses are often faced with storage issues which the cloud can better handle from its more traditional counterpart. The cloud is equipped with not only an infinite amount of storage but also intelligent tools and automation required for quick video processing and analysis. Here's why the cloud is a much better option for video than on-premise server: 
Video Encoding 
Video streaming enterprises are often challenged to meet unexpected traffic spikes without sacrificing the user experience. With a cloud server, you can customize your capacity on-demand in the public cloud. You can scale VoD content as your data volumes increase or dial down capacity as and when necessary.
This makes it a more cost-effective process in the long run as you follow the pay-as-you-go model rather than investing a huge CapEx in the more traditional in-house video encoding techniques. 
Moving encoding/transcoding into the cloud helps content creators to free themselves up from the task of maintaining a dedicated encoding server farm that ultimately leads to a reduced CapEx in purchasing and renewing hardware/software. Also,  operating expenditures associated with running such a platform—that includes, but not limited to electricity, floor space, and technical support are eliminated.
Storage Elasticity
The cloud has a potentially unlimited storage capacity compared to an on-premise server and therefore can accommodate the unprecedented volumes of enterprise video. With the ability to scale and down within minutes, the cloud provides businesses the flexibility to scale vertically and manage business needs as when requirements arise. Alternatively, scaling up on-premises hardware is a longer-term and costlier investment, which may take weeks or even months to purchase and install before it becomes operational. 
With regards to storage pricing, the cloud is witnessing a steady fall with increasing competition among cloud vendors, and rapid expansions of CSP giants to achieve economies of scale. Some cloud providers are also moving from set monthly fees to a tiered price approach that rewards heavy data owners. In contrast, on-premise storage facilities can burn a hole in the pocket with their large upfront capital expenditure and installation costs, followed by operational and maintenance costs. 
Scalability
On Premise Vs Cloud: for scalability, the cloud ticks all boxes. When you are dealing with unpredictable audience size like in video streaming, a cloud environment works best. Cloud-based deployments can scale your capacity up and down based on traffic spikes in minutes, while cutting costs in hardware and maintenance.
Cloud solutions are infinitely scalable and therefore much better equipped to handle unprecedented traffic spikes which gives organizations the ability and flexibility to scale their video hosting and digital media capabilities and operations as the need arises, and innovate without worrying about the physical expansion of the video hosting infrastructure or resources. 
Security and Control
On-premises cuts the mustard as far as controlling data is concerned and that is why it becomes a favorite choice for government, or surveillance organizations.
But because on-premises deployment gives you full control over your workflow, you'll also be responsible for managing every level of your technology stack. 
Cloud deployment, on the other hand, allows you to offload some management duties and maintenance costs to the third party service provider. Security can be an issue as far as video encoding/transcoding in the cloud is concerned, especially when you have to deal with original and intellectual property like video and audio content. Needless to say, once you delegate your content to a third-party cloud server and take it off your server farm, you lose a certain degree of control.
But that does not make cloud encoding unsafe, either. Since the cloud is more distributed in architecture accompanied by variable hardware locations, it is less vulnerable to being hacked. With the right architecture, auditing, and network-level security, the cloud is at par with its on-premise counterpart as far as security is concerned. 
Also, nowadays cloud-based video platforms like Muvi One come with robust security controls like digital rights management (DRM), token authorization, geoblocking, watermarking, and stream-level encryption. 
Speed to Market
For video content owners looking to launch their businesses instantly, cloud hosting is the answer. Cloud hosting can be deployed with minimal start up time here takes a step ahead. 
Mobility and Portability
In a radically changing work environment enterprise culture, where employees are working remotely and using videos for communication and using multiple devices, the cloud takes a step ahead to make systems centralized and for the organization-wide availability of business applications. 
Now coming to another major advantage of the cloud, the fact that the cloud has unlimited bandwidth availability makes it easier to enable employee mobility or device portability compared to on-premise deployments, which additionally require greater provision of bandwidth to enable employees to view media from home.
The Cloud is the Future for Video Streaming
For the video streaming industry, a whole lot depends on video encoding , packaging and delivery. With the emergence of the cloud, encoding from physical servers has shifted to more effective cloud encoding and transcoding while delivery of various video renditions are taken care of by ultra-fast CDNs. As we know, transcoding is a process of converting encoded video files from one format to another, cloud video transcoding is getting popular because of its scalability, cost-effectiveness, and flexibility because it uses adaptive bitrate streaming technology. The benefits of using cloud encoding/transcoding?
Cost-Effective: Cloud video transcoding is cheaper than traditional transcoding methods as the infrastructure and equipment are already in place. No additional investments are needed to set up a transcoding facility.

Scalability: Cloud encoding and transcoding is highly scalable and can be scaled up and down based on video demand 

Flexibility: Cloud transcoding services provide maximum flexibility. When a digital format needs to support different players, platforms, and devices, cloud transcoding can help you do that.
A Short Synopsis of Cloud Vs On Premises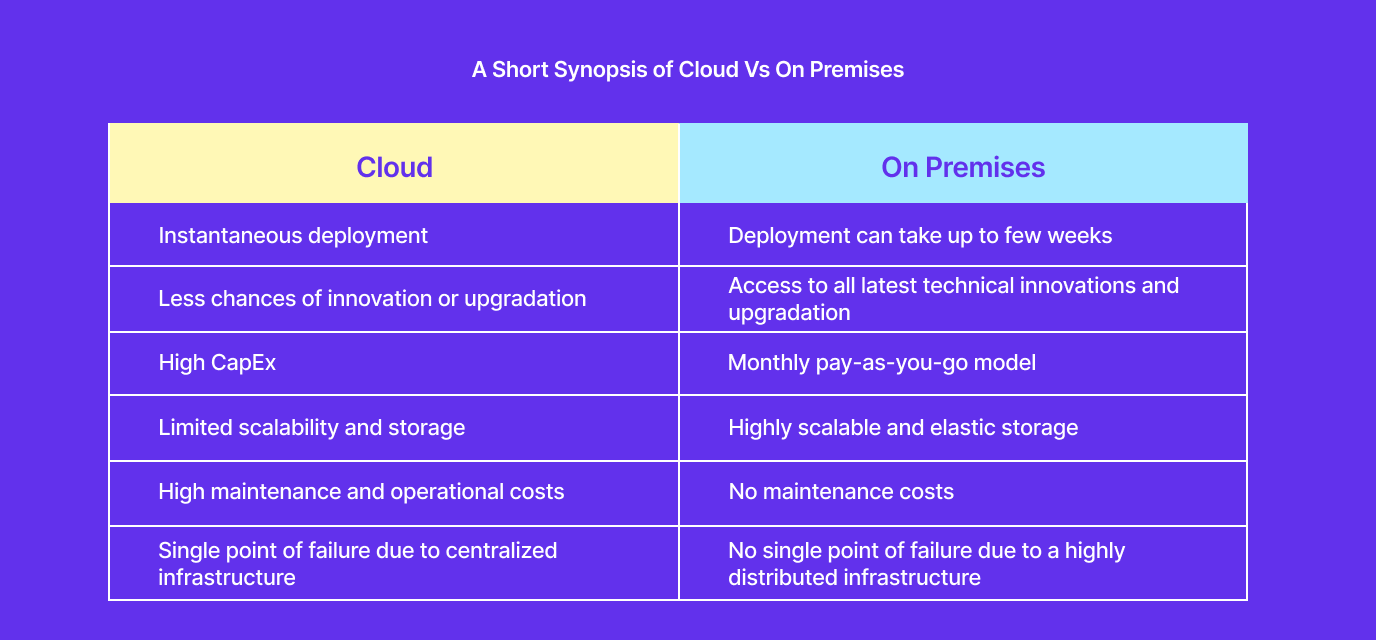 Given the bright spots such as instant deployability, resilient workflow, service redundancy, and infinite scaling possibilities, the cloud is the future of video. In fact, cloud computing is constantly growing in size and capabilities, and as it grows, the cost associated with it declines in comparison to in-house server farm costs. Also, thanks to the increasing bandwidth speeds of cloud servers, the problem of bottlenecks experienced by large file transfers is slowly becoming a myth. 
Built in the cloud, Muvi One offers a stable, secure, and ultra low latency video streaming experience minus the heavy CapEx. Driven by adaptive media and chunked delivery concept, Muvi One streamlines encoding, packaging and delivery of multi-format & multi-device content and curbing bandwidth consumption while ensuring a superior user experience.
Take a 14-Day Free Trial to explore more cloud encoding possibilities!