Are you planning to build a profitable and easy-to-launch online business?
Or, are you striving to boost online user engagement?
Read on then, because we are going to guide you through how to launch and grow an online business while driving more user engagement than ever before by building a membership site. As a membership site offers members-only gated, exclusive content, it can help you focus better on the requirements of a specific audience base, meet their expectations efficiently, and scale up your business smoothly. 
You can either launch your membership site parallel to your existing business that is focused on a specific niche or you can start a dedicated membership site as per your expertise or field. Not only is it simple to launch provided you choose the right platform provider, but it can be one of the most profitable businesses that doesn't even require heavy investment and gives you better scope to repurpose your content. Wondering how ? Let's know!
What Is a Membership Site?
A membership site refers to a site that contains content that is only accessible to the members of that site. A dedicated membership site offers niche content to a particular community, group, or audience so that anyone interested in that specific topic can sign up and access the content of the membership site. 
No matter which industry you are operating in, building a membership site can cater to your growth and let you align with your business goals more efficiently. Before we talk about different types of membership sites, let's walk you through the advantages of creating a membership site.
Advantages of Creating a Membership Site
Now that you have a better understanding of the membership sites, you must be wondering whether you should launch one. Well, here are some of the top advantages of creating a membership site!!
1. Enhanced Brand Presence
Improving the brand presence is one of the key goals for any business and building a membership site can help you reach that goal better. Not only does a membership site let the audience take their preferred memberships but lets them communicate through the dedicated communities. This, in turn, expands your existing customer base, drives word-of-mouth promotion and as a result, your brand presence gets enhanced.
2. Increased Recurring Revenue
Creating your own branded membership site can significantly increase your customer retention rate and recurring revenue. As one of the main purposes of taking membership is to avail content and other facilities like community access, better prices, and others, most of the members tend to take the membership on a long-term basis which increases the recurring revenue for your business. Also, opening a membership site as an add-on to your existing business aids in increasing your overall revenue and business profitability.
3. Better Customer Relationships
Building a membership site helps you improve your customer relationships as not only can they avail exclusive content or choose their preferred subscription models, but can get the advantages of taking help from the community, being a part of the discussion forums, and can get better support as well as contribute. These all together improve your customer relationship manyfold.
Top 8 Types of Membership Sites
There are different types of membership sites based on the sector/industry, target audience, purpose, and other factors. Let's have a look at some of them –
1. Video Membership Sites
A video membership site offers exclusive access to the videos and the relevant community to its members. The members can pay on a monthly, annually, bi-annually basis or at other specific intervals to watch the gated and exclusive video content. 
A video membership site can have different monetization models such as SVOD (Subscription-Based Video On Demand), Pay Per View, and others. Netflix, Amazon Prime, Hulu, etc. OTT platforms can be considered as video membership sites. If you are building such a membership site, it is recommended to include online communities so that the members can share ideas, or communicate. 
2. Community Sites
Community sites are a very common type of membership site where the members can get access to an exclusive community, can interact with them, share ideas or contribute. If you already have an online platform/business that you are running, then building community sites of your own brand can cater to your business growth or help you scale up.
3. Service Sites
This type of membership site lets you offer specific services and solutions to your customers. Here, based on the membership the services are delivered to the customers. For instance, if you have a digital marketing business, then it can be a good idea to launch a membership site that offers an extensive range of digital marketing services and solutions that the end-users can choose from as per their requirements for a specific period of time. 
These services can be offered as bundles, standalone services, add-ons to the existing services taken by the end-users, and in other ways along with suitable pricing models. The members should also be able to access the respective community and groups. 
4. Online Courses Membership Sites
Online courses membership sites are high on demand due to several reasons like cost-effective learning courses, a wide range of options to choose from, community groups for discussion and doubt solving, and many more. 
If you are into the e-learning business, then opening your own branded online courses membership site is recommended to draw even more customers, grow your online community, boost your brand presence, and increase your business profitability.
5. Drip Feed Membership Sites
Drip feed membership sites not only offer relevant exclusive content to their members but provide them with newly developed content at regular intervals without needing them to pay anything extra. 
This type of membership site is also known as a continual content model membership site. In this type of membership site, the longer the members stay, the more content they can avail themselves. For instance, if one takes the membership of photography lessons, then in the first month he/she will be provided with easy photography training lessons, and with time there will be more courses/modules/training content that will be provided to him/her. Creating this type of membership site can help you increase the customer retention rate and recurring revenue. 
6. Freemium Membership Sites
A freemium membership site, as the name suggests, offers a free trial to the users so that they can have a clear idea about the advantages they will get by taking a membership of the site. Generally, some freemium content is offered through such freemium membership sites and one needs to upgrade to a paid membership once the free trial is over to continue.
7. Fixed Term Membership Sites
A fixed term membership site offers memberships only for a certain period of time. At the end of the membership period, the members can either access and reuse the content or can no longer access the content based on the membership terms. 
While this type of membership sites have a lesser focus on recurring revenue, they are suitable for certain cases like, if you want to offer some fixed duration courses, training, and workshops along with the respective community access, then fixed-term membership sites can be the option to go for.
8. Podcast Membership Sites
A podcast membership site offers podcasts that can be availed through a subscription. This is a kind of private podcasting that is not available for everyone but only to specific groups of people such as those within an organization, the subscribed members, the groups of learners undergoing training, and others. A podcast membership site not only lets its members get access to the exclusive podcasts but also lets them join the relevant groups and communities. 
Build & Grow Your Membership Site With Muvi
Be it a podcasting membership site, or a videos membership site, Muvi, an all-in-one OTT platform provider, can easily let you build your own branded membership site just through a few button clicks even without writing a single line of code. 
Enabling User Generated Content
With Muvi, you can also create a UGC site to let the users contribute with their content. You just need to follow these simple steps once you launch your  membership site-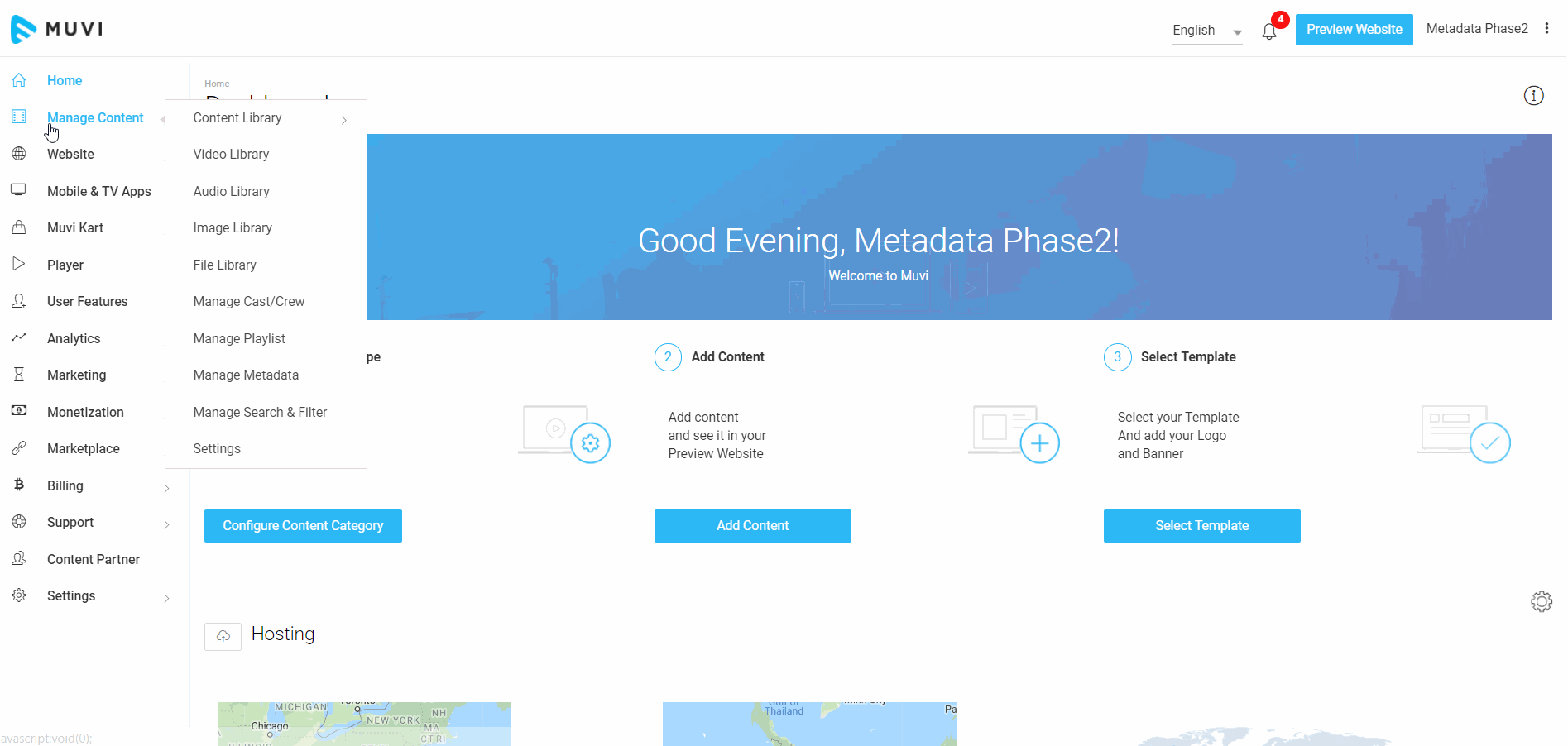 Step 1 – Log in to Muvi CMS (Content Management System) 
Step 2 – Go to 'Manage Content' → 'Settings'
Step 3 – Go to 'User Generated Content' option → Select the checkbox 'Enable UGC'
Step 4 – Click on 'Save' → Select the checkbox for 'Review UGC'
Step 5 – Click on 'Save'
Step 4 is optional and applicable if you want to review the user content once they submit. 
Approving User Generated Content
You can easily review user content through the following simple steps –
Step 1: Go to 'Manage content' option after logging to the CMS
Step 2: Go to 'Manage UGC' page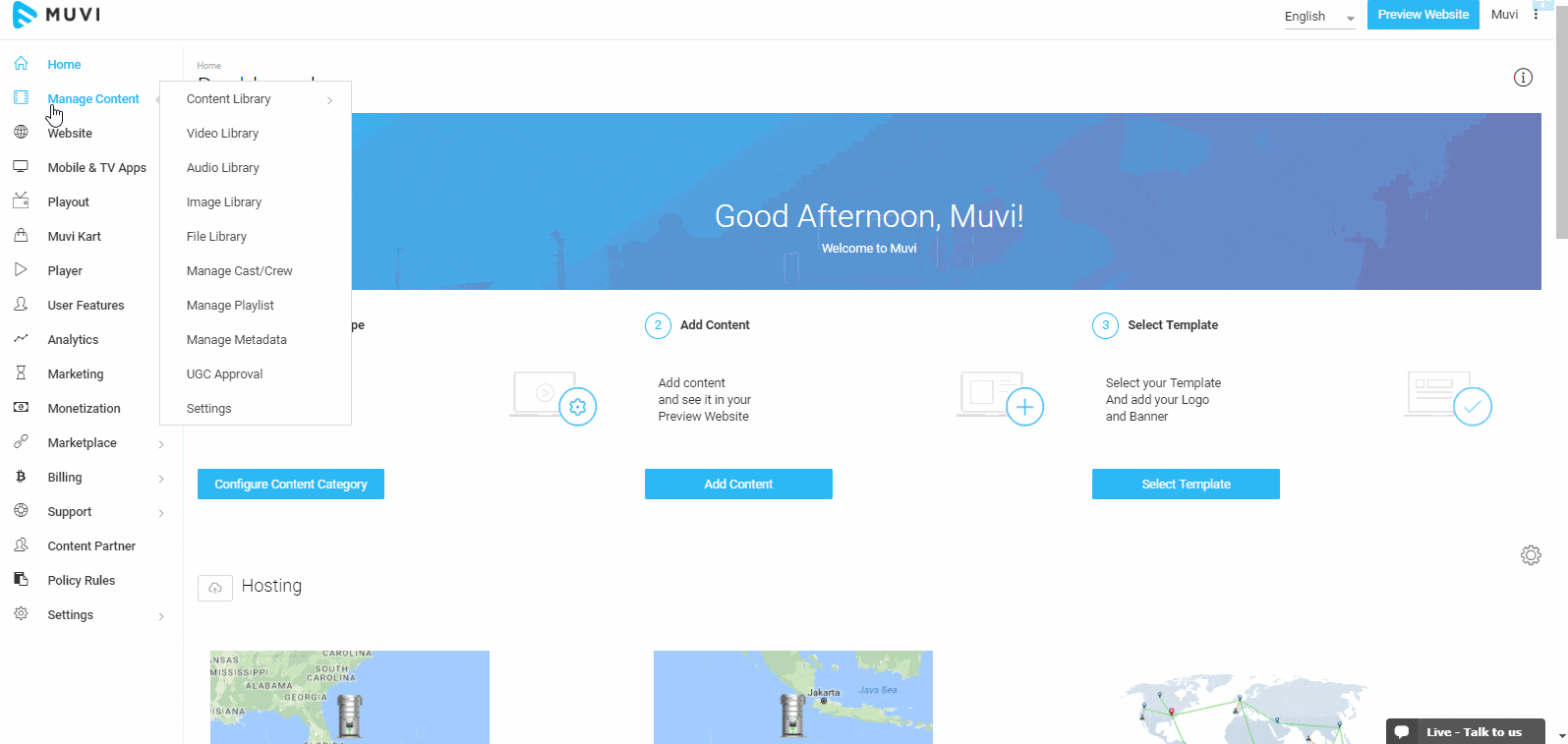 Step 3: Go to 'Action' → Click on 'Approve'
Step 4: Click 'Yes' to approve the user content → Click on 'Ok' to confirm
Step 5: You can also click on 'Preview', 'View/Edit', or 'Delete' options to take the respective actions
Enabling Fan Report for Uploaders
You can also enable fan reports for the contributors through these simple steps –
Step 1: Go to 'Manage Content' → 'Settings'
Step 2: Go to 'User Generated Content' → Select the Checkbox 'Enable fan report for your uploaders'
Step 3: Click on 'Save'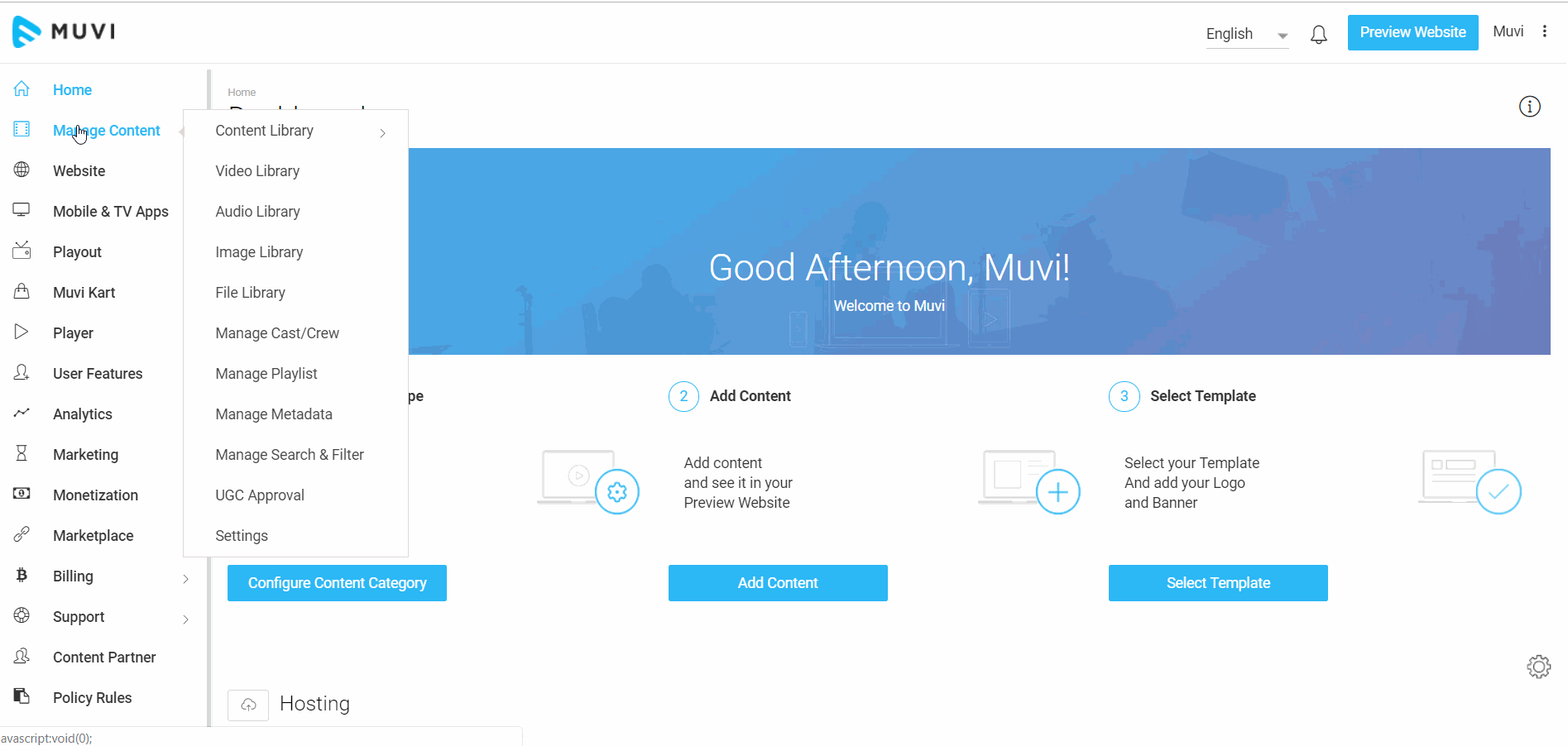 This will let the users access the complete fan report from their 'My Fan List' section that includes – 
The name of the fan

Email of the fan

Total number of likes for the uploaded content

Number of comments received for the content

Number of content watched by the fan

Number of view of the uploaded content
Not only does Muvi let you launch your competitive membership site through a few button clicks, but equipped with a range of competitive features and solutions such as scalable CDN, SEO optimization tools, user management, audience engagement tools, and analytics & insights, to name a few, Muvi lets you grow your business easily while catering to your dynamic business needs. 
Still, wondering? Take a 14-day free trial now to explore more (no credit card needed)!