Design, look, and feel is the most crucial aspect of any OTT platform or App. They prove instrumental in dragging the audience's attention and hooking them to your platform for longer. At Muvi One's template marketplace, we offer you multiple website templates catering to multiple industries, using which you can design your video/audio streaming website very easily. You can preview each one of them and pick a template that suits your business. But, most of the time, you would want to create a unique look for your video streaming website, so that your brand can stand out amongst the crowd. That is where Muvi One's Visual Designer comes to play!
Muvi One's Visual Designer, or VD as we like to call it, is a completely no-code drag-and-drop website template designing platform, which is one of its kind. With VD, you can customize the entire website template with an easy-to-use drag-and-drop interface, allowing you to make changes, add text, update colors and add pages, sections, or widgets the way you want it, to suit your brand requirements. It is the only comprehensive OTT platform design studio where you can do the following things:
Customize the website template to add brand elements to it. Add brand logo, brand colors, brand font style, and more!

Change the design of the template to suit your requirements. Add additional text, banners, design elements, buttons, and whatever else you want!

Customize the menus, add and remove pages and items listed in each menu, and make it more specific to your brand needs. 

Control the theme and design of your Website and Mobile Apps as well. 
A Quick Ride to The Power-Packed Features of Visual Designer
With Muvi One's Visual Designer, you can create professional, responsive, attractive, and beautiful audio and video streaming websites without any technical know-how or coding skills. Muvi One offers a mix of templates at our template marketplace, to suit your every requirement, from Media & Entertainment to eLearning, from Sports to Religious streaming. you can choose a template that suits your needs, after previewing different templates, and you can further customize it using the Visual Designer, giving it a unique feel. 
You just need to use the visual canvas and bring your ideas to reality.
In this section, we will take you on a short ride of Muvi One's Visual Designer!
Going to Visual Designer
You can enter the Visual Designer directly from the templates section. As you can see in the screenshot below, when you click on templates in your Muvi One CMS, the current template will appear on your screen. Below the template description, there will be a small button called "Customize".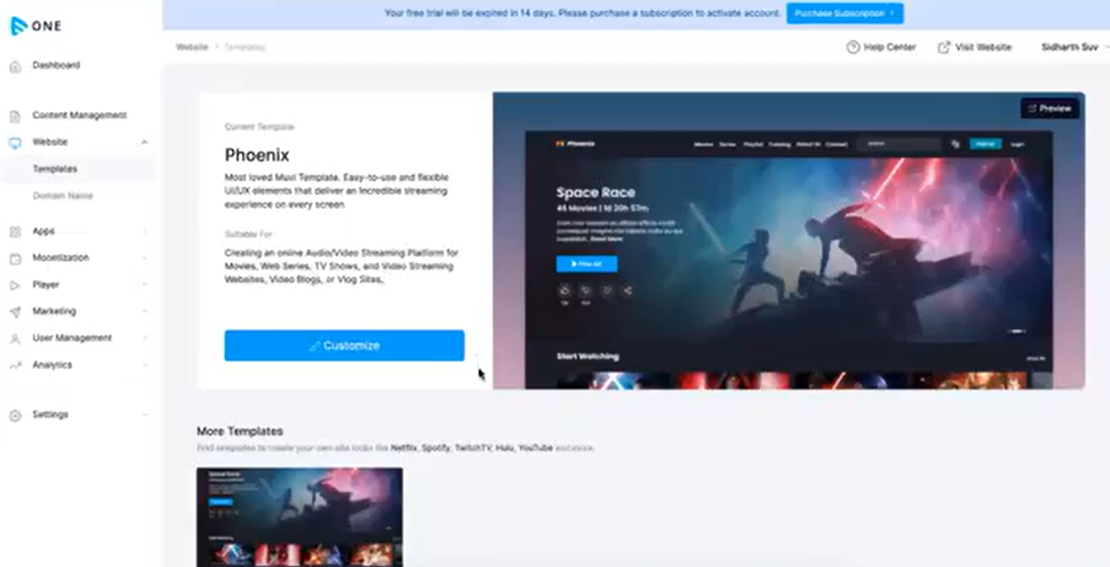 Once you click on "Customize", you will directly enter the Visual Designer. 
The entire Visual Designer is basically divided into two sections:
Settings

Canvas
From the settings section, you can access the styling and input settings, which will be explained later. The canvas section is where you will see your current website, and you can start customizing it according to your needs. 
Let's show you how you can use the Canvas Section to edit your website. 
1. Changing Logo
Muvi One's Visual Designer allows you to change your logo instantly. You just need to click on the logo in the canvas, and you will get an edit logo option on top of the box. Click on the edit button and edit your logo without any hassle. 
You can even drag and drop your logo to change its position, size, and other aspects. Explore all these functionalities through the gif given below:
2. Customizing Menu
You can add options to the menu, and drag and drop the menu bar to change its location. Let's show you what all you can do over the menu bar. 
3. Adding and Changing Texts
You can add new text anywhere on the website, including the banner section. You can edit all the existing texts, and change font style and font colors. Let's show you how you can add and edit texts on VD. 
4. Customize Banner
You can change your banner image, add a new banner image, convert your banner into a carousel, set the direction control on your carousel, and do a lot of other things. Let's take you on a ride of banner customization in VD. 
5. Adding Widgets
With Muvi One's visual designer, you can add multiple widgets to your website, anywhere you want! We will explain more about it in the input settings. 
Styling Settings
Under the styling setting, you can change any CSS attribute related to your platform, starting from the color, opacity of images, border spacing and size, and more! Let's explore more of it.
1. Change the Color
You can change the color of any design element from VD. In the style settings, you will get multiple color options to choose from. Choose one which you like the most!
2. Make It Opaque          
In the case of images, you can even decide their opacity, from the opacity tab in style settings. Reduce the opacity to make the images more transparent, or increase the opacity to make them more vibrant!    
3. Change the Spacing and Border
From the visual designer, you can change the spacing and border of all the elements. You can decide the spacing using the spacing grid and set an appropriate border size. You can also drag and drop the elements to place them in appropriate places. 

Input Settings
Input settings let you add new pages, new images, new texts, and even change your landing page. Let's explore more of it!
1. Adding Pages 
You can easily add new pages to your platform directly from the visual designer. We have done one for you below. 
2. Change Your Homepage 
You can now set any page as your homepage. We have set our About Us page as the new home page below:
The demonstrations we have given above are just the peak of the iceberg. VD is loaded with multiple features which makes it the most comprehensive OTT design studio ever!
Features of Visual Designer             
Muvi One's visual designer is packed with extremely powerful features that are unique to the industry. It is the first OTT platform designing studio where you can actually design and customize each and every element of the entire template, save the changes as drafts, preview them and then publish them with real-time effect. And if that does not suffice, you can even do code-level customization for developing highly sophisticated and unique platforms.    
Save Draft, Preview, and Publish Updates
You can save all your changes on Muvi One's visual designer. After doing the changes, just click on the "Save" button on the top bar. It will ensure that your changes remain intact the next time you visit VD. 
After you are done with the changes, you can preview the edited website to test the look and feel, and when you are satisfied with the design, click on Publish to make it live on your platform!
Separately Edit PC and Mobile View
Muvi One's visual designer allows you to have a look at your desktop and mobile website separately. It helps you edit the website in such a way, that it suits both views perfectly.  
Published Updates Go Live in Real-Time
Once you publish the changes, the changes get implemented in real-time. Hence, you can visit your website and see the magic happen then and there!
Add and Remove Static Pages
Muvi One's Visual Designer lets you add or remove static pages during the design time itself. It helps you design a well-planned and organized OTT platform effortlessly. 
Code-Level Editing 
If you want to add additional design elements to modify the look and functionality of your website, you can do so from the code editor. Code editor lets you write and add additional codes to your platform, which can enhance its performance significantly. 
Make Bulk Edits
Using Muvi One's Visual Designer, you can bulk edit multiple design elements of your template in a single attempt. And all these changes will go live together instantly as soon as you publish them. 
Template Marketplace
Our template marketplace caters to a wide range of video and audio streaming use cases and multiple industries, from Media & Entertainment to eLearning, from Sports to Religious streaming. You can use them to develop OTT platforms, audio streaming platforms, podcast platforms, eLearning platforms, live streaming platforms, and more!
SEO Functionality 
With Muvi One's Visual Designer, you can add different SEO components like meta titles, meta descriptions, Alt tags, and even code snippets for inserting different tools. Explore our SEO features in the gif given below. 
Benefits of Visual Designer      
Muvi One's Visual Designer is a powerful OTT website builder tool that can prove immensely beneficial in developing a professional, responsive, and beautiful OTT platform without writing a single line of code. Let's take you through some of the most prominent benefits of VD. 
Design a Unique OTT Platform 
Visual Designer lets you edit the logo, background colors, font style, text colors, and other design elements and ultimately build completely unique OTT platform that perfectly matches your brand identity. 
Decide What You Want to Show Your Consumers
With Visual Designer, you can edit the menu bars and decide which pages to present in front of your consumers and how. You can even add or remove pages, decide the footer content, and add headers, to deliver a really amazing website to your consumers.
Flexibility At Every Step
VD makes the entire website design completely flexible for you. You can edit and modify any section of the website whenever you want, without any hassle. 
Completely No-Code
As the visual designer is a completely no-code platform, you can use it very easily even if you don't have any prior web development experience. You need to just drag and drop to design a perfectly functional and professional OTT platform. 
Change Anything and Everything Available On Your Website  
VD lets you edit each and every text, image, logo, and design element present on each and every page of your website. You can change anything you want, to make it more suitable for your business. 
Design Your OTT Platform Today, With Muvi One!
Muvi One's template marketplace and visual designer provides you with cutting-edge design flexibility and convenience that is second to none in the industry. At Muvi One, you get the best collection of templates that other platforms fail to offer. And with Visual Designer, you can customize even the best-suited templates that match your company's brand persona. And you don't have to write even a single line of code in the entire process! So, why wait? Sign up today, and start developing your OTT platform with Muvi One!