Are you planning to launch your own Android app? 
Wondering where to start?
The traditional app development process involves lengthy steps of planning, coding, developing, testing and launching. You need to plan everything beforehand as per your app development goals like the key features, time and budget and most importantly, need to hire experienced developers unless you have good expertise in the same field. Furthermore, there is no way to preview your app – how well its features will work, how the UI and design will look etc. unless you pay for it. 
Well, not for Muvi One customers! Because they can develop, preview and try their own branded android streaming app in minutes with Muvi One's unique offering – 'Try Your App'! So, basically you get a complete streaming app with all the features as per your branding for your preview and try it out for free! And only if you like it, then you can take a subscription and launch it just through a few button clicks!
So you can avoid the hassles of –
✅Scheduling paid long consultation meetings with the app development consultants/teams.
✅Investing your money to build, preview and assess your app.
With Muvi One, you can bypass these steps and get a fully functional android streaming app to preview in less than 15 mins – completely free and without a single line of coding!!
Yes, you heard it right! Muvi One is the only platform in the world that lets you build your OTT android app in less than 15 minutes of time, check the instant preview and assess it completely for free! And not only that, you can design your app through its simple-to-use visual designer, customize and and monetize it – all just through a few button clicks! 
Intriguing, isn't it?? Well, there are more that it offers to help you transform your app idea into a successful reality. Let's see how!
Top Highlights of Muvi One's 'Try Your App'
There are innumerable advantages and opportunities that you can leverage with Muvi One's -15 min android app development. Here are the top highlights.
Get to preview your own app, before deciding to invest a single $ in development

No wastage of time, money or resources associated with building, and testing your app

You don't need to spend hours and days coding and testing your mobile app

There is no need to hire developers

You have 0 risk of ending up developing something not useful at all as you get to try it at first for free!

You get a completely transparent idea about the features, look and feel of your app

Availability of mobile templates marketplace and high level of customization options gives you more competitive advantages

Instant preview of the app is available!

You can test the entire workflow easily!

The APK file is delivered just within a few minutes!

Easy monetization and branded invoicing 

No other OTT or no code platform in the world can offer these!
Now, let's delve deeper to understand this amazing feature of Muvi One better!
Muvi One's Try Your App Feature: Key Solutions and Perks
Muvi One's try your app feature is equipped with a range of unique solutions. Here's a better insight into all.
1. Super Fast, Easy, and Competitive App Creation
Muvi One makes your android streaming app creation process super easy without letting you compromise with the app quality. You do not need any in-depth knowledge on development framework, tech stack or coding. Precisely, you don't even need to write a single line of code and still can build and preview a competitive enterprise-grade android app in a matter of a few minutes!
Sounds like a dream come true, right? Yes, exactly you get what you see here. All you need to do is, log in to Muvi One CMS and click on 'Try Your App' . The rest process hardly takes a few minutes – just fill up the basic details like email id, app, name, app launch icon and splash screen file and hit 'Build your App'.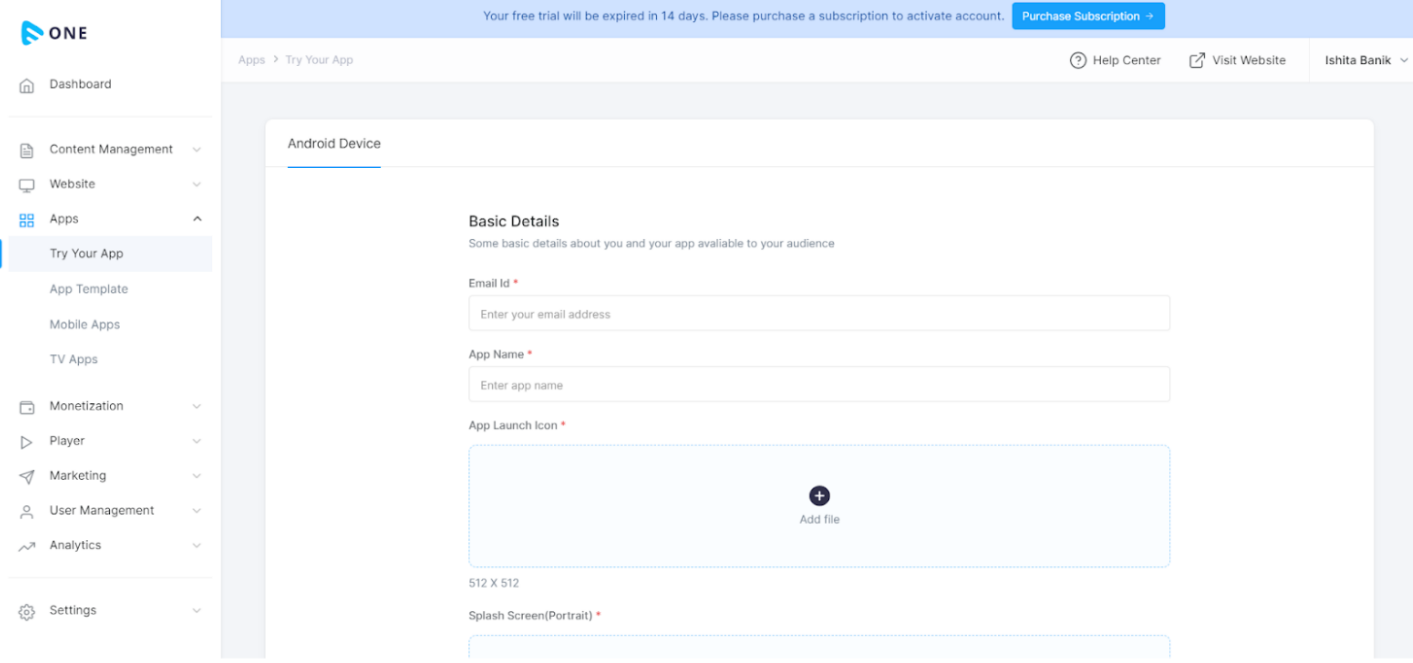 And guess what! Within less than 15 minutes of time you get the APK file delivered to your inbox as well as on Muvi One CMS!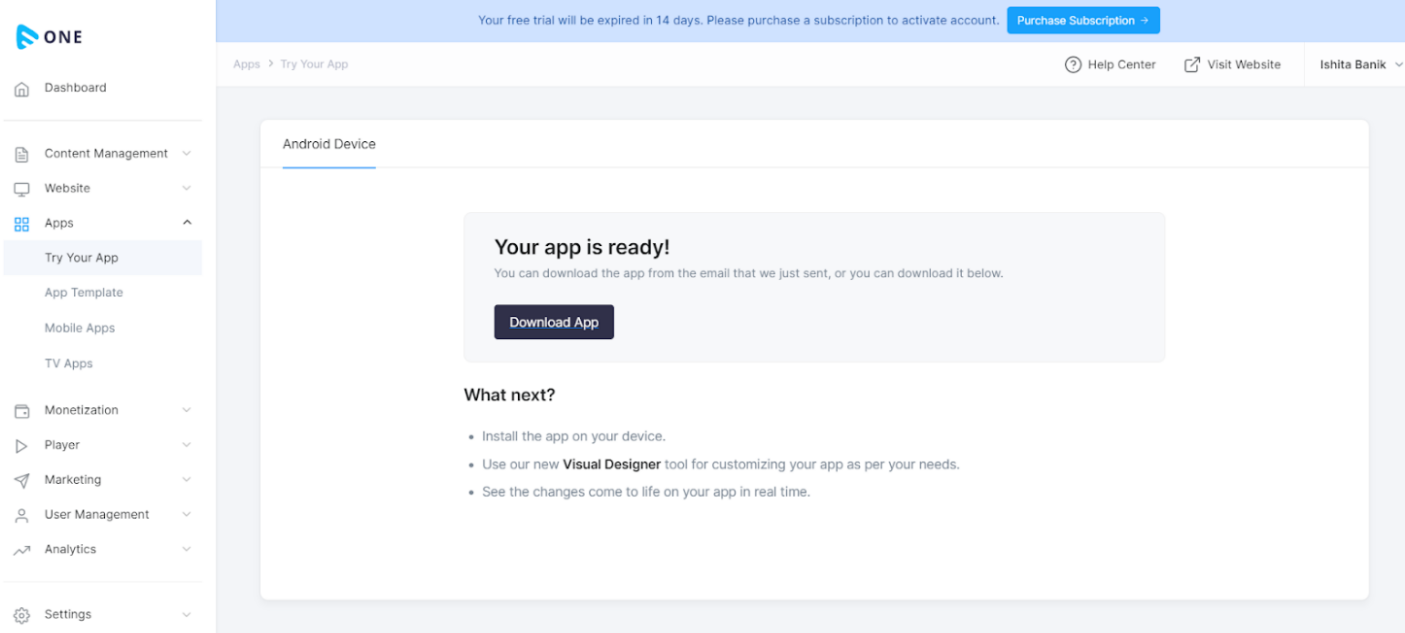 2. Simple Designing With Instant Preview!
It is crucial to check the look and feel of your app before you launch it to the market. And with Muvi One, you do not need to go through lengthy processes to ensure it looks good or all its features look as planned!
Because, this feature of Muvi One not only lets you easily design your app through its templates marketplace, but also lets you check the live preview of your app design and lets you test the entire workflow instantly!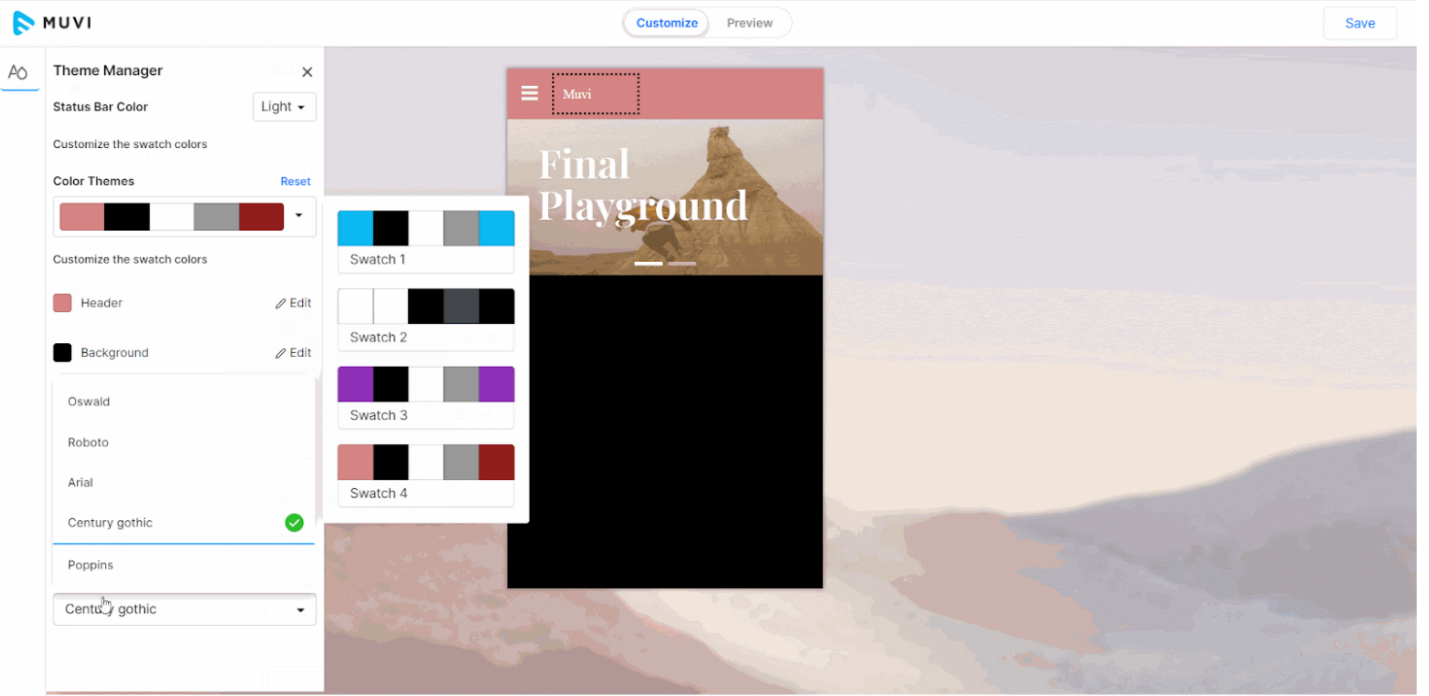 Once the APK file is ready, you can install the app on your device, connect it to Muvi One's visual designer and design it as per your preference. Read more on – Muvi One's Mobile VD – Edit and Personalize Mobile Apps & Websites In Minutes!
Below is a glimpse of a demo app created in less than 15 minutes of time!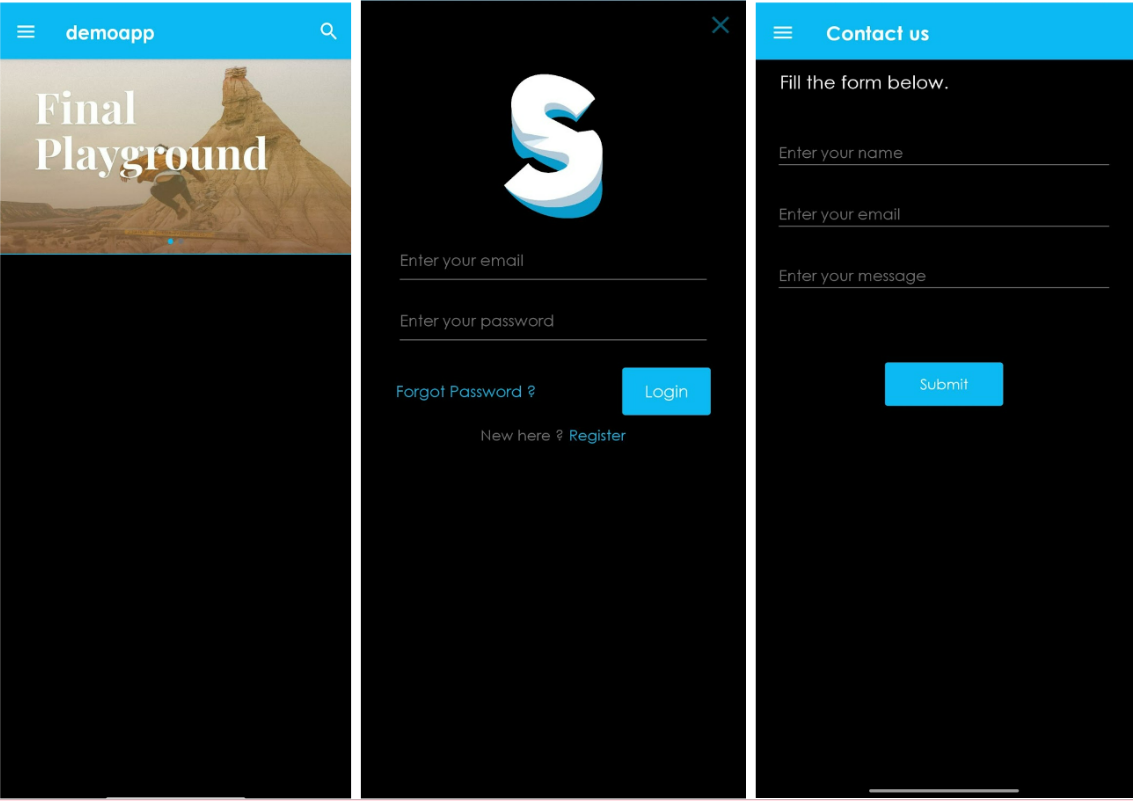 3. Simple & Fast App Publishing Process
Muvi One makes your app publication process simpler than ever as well! You do not need to wait for an indefinite time to make your app go live. You can publish it to the app store instantly just by filling up an app publishing form!
Launch A Top-Notch Streaming App on Android With Muvi One  
Muvi One's try your app feature is one of its kind and no other platform offers this extent of advantages yet. If you have a great plan to convert into a path-breaking app, then nothing can be better than Muvi One to build your android app within 15 mins and monetize it in a hassle-free way. 
Be it a OTT app for android or any type of video streaming app for android – you don't need an in-house team, coding expertise, a high budget or even days of time! All you need is a clear app idea and the rest gets automated here!
As you get to preview and try your own branded android app without paying anything, you have nothing to lose, but only endless opportunities to leverage.
So, what are you waiting for? Take a 14-day free trial now and get amazed by how easy it is!! (and no, we don't need your credit card details for a free trial)!