Did you know, nearly 40% of the churches streamed regular church services in 2022, while this figure grew to 96% during the pandemic? 
Well, the spiking rate of church live streaming was not just observed during the pandemic, but it tends to be a prominent practice that is taking the religion live streaming to a whole new level. 
Reaching out to a wider audience base, recording and storing such crucial church services for future purposes, comfort of watching from home for the viewers – the advantages are unlimited that has been driving the growing adoption of church live streaming since the past decade. 
With the rising usage of internet based content consumption, increase in usage of the smart devices, and expanding streaming services, live streaming is no more a complex technical process, but has become easier than ever even for a non-tech person! 
Before we walk you through the detailed steps of 'how', let's know, why should you do church live streaming in the first place?
Why Should You Do Church Live Streaming? Top Advantages
1. Wider Audience Base
Statistics says that 33% of the church attendees first discovered their church online which refers to the widespread digital presence of the church-goers. Not only that, nearly 17 million Americans visit church websites on a regular basis! 
No wonder that church live streaming opens the path to reach out to even a broader audience base irrespective of their places, time zones, and other factors.
2. Easy Storage and Repurposing
Not only does live streaming church services makes it easier to increase your viewership, but also lets you record, store, and repurpose it for future occasions and references. 
Such crucial church events can be stored forever and the audience can watch it later as per their conveniences.
3. Access to Holiday Services from the Comfort of Home
Through church live streaming, church holiday and special events like thanksgiving, charity events, Christmas sermons, and others get easily reachable to the viewers who are willing to watch or participate from the comfort of their homes. 
It is also useful for the elderly or ailing people for whom it's not that feasible to visit in person. You can make their participation as interactive and engaging as in-person events through the in-built solutions like live chats. 
4. Easy Community Sharing
Undoubtedly easy community sharing of live church streams is one of the top advantages of live streaming church services. 
You can easily embed the church live stream links on your preferred app/website/platform or share on social media or can choose to opt for private live streaming targeted to the specific communities. This altogether makes every church event or church services more purposeful.
How to Set Up for Church Live Streaming? Technical Prerequisites
Now that you have a better idea about the perks of church live streaming, let's get to the point, how can you live stream church services easily while ensuring a good viewing experience for the audience? 
It is crucial to set up the technical equipment at first, below we have given a complete list to ensure that you don't miss out on anything.
1. Video/Audio Source
First, you need to set up the audio and video sources. You can use the built-in webcams or a camcorder to capture videos. However, it is advised to utilize a high-quality camcorder for better quality. 
Your chosen church live streaming quality should be 1080p for better viewer experience. If not, it is advised to choose cameras that can broadcast at least 720p.
Although XLR mics may record audio in high quality and have other benefits like component changeability, adaptability, being better suited for portability, and others, they are frequently pricey.
Within your budget, you can select standing and USB microphones. If you need to walk around a lot while live streaming, another option is a lav mic that is fastened to your clothing. Additionally, the audio bitrate is significant in this case. 
The average bitrate for excellent audio is 320 kbps, whereas the maximum bitrate for CD-quality audio is 1,411 kbps. You must take these considerations into account while selecting your audio recording equipment.
While the above setup may work for small to mid size churches, larger organizations or a more professional setup may utilize professional cameras and sound system that captures the video and audio flawlessly and passes it on to a central A/V Console where there will be mixers and other equipment present. The output from a mixer in HDMI form will be taken for the live streaming purposes. 
Here's a list of the top affordable camera and microphone setups to help you with church live streaming.
2. Video Switcher
A video switcher enables you to switch between several video sources (e.g. multi-camera setup). Although switching between video sources is their primary function, they can also be used to mix video and add special effects to a secondary source. 
 Some examples are – Boxcast Switcher programme that lets you capture multi-camera events without the use of cables. Also, The Ronald VR-4HD has a range of hardware controls, including faders, buttons, and pots, and is intended for single-user use. Also, YoloBox from YoloLiv is a good video switcher for church live streaming.
3. Video Encoder
A video encoder converts analogue signals into digital signals. The process of translating or transforming a message into machine-readable code is referred to as "encoding." A data representation scheme specifies how binary digits, or "bits," will be employed.
The most popular kind of encoders are used to transmit live videos over the internet, and they are known as video stream encoders. Video encoders use many industry-standard compression techniques like VP8 and H264 while simultaneously using less bandwidth.
Hardware encoders are the type of streaming hardware that are used the most. They work by transforming a video feed into an internet-transmittable data stream. This real-time method doesn't require any editing or post-production. 
The encoded output from these devices can then be transferred without further processing directly to a computer's web browser, a mobile device, or a set-top box. The main advantage of using hardware encoders for church live streaming is that, unlike some other types of streaming devices, they are simple to use and do not need to be installed on your computer.
4. Video & Audio Mixer
For streaming, a mixer and an external sound card are the ideal mixing tools. This will guarantee that you have all necessary inputs, outputs, and controls to provide your audience with audio of the finest quality. The most well-known USB sound cards are often made by Creative Labs and M-Audio, while Behringer provides a large selection of mixers.
Additionally, you can use video mixers to combine several live video sources to make expert visual effects. Choose a high-quality standing mic, an XLR (External Line Return) microphone, or a USB microphone for high-quality audio recording.
5. Live Streaming Platform
You need to choose a quality live streaming platform to live stream church services. It is recommended to opt for a live streaming platform that comes with a range of inbuilt solutions to let you live stream easily while ensuring quality. 
Also, you should look for more in a live streaming platform like ease of sharing your live streams, audience engagement tools like live chats, analytics and insights and others to make the most out of it.
A Complete Guide to Church Live Streaming 
Church live streaming with Muvi Live, an all-in -one live streaming platform, is easy even if you don't have any technical knowledge.
1. Church Live Streaming on Muvi Live Platform 
The steps for live streaming on Muvi Live platform is as shown below –
The live streaming equipment gives the Audio/Video output to onsite A/V Mixer → A/V Mixer gives output to Hardware Encoder → Hardware Encoder is connected to Laptop / Computer that is equipped with OBS (Open Broadcaster Software) →  the output from the OBS is pushed to Muvi Live → from Muvi Live, you can embed live stream to any website/app/social media
Also, you need to configure OBS for live streaming through a few simple steps as shown below.
How to Configure OBS for Live streaming
Once you are done with downloading and installing OBS, follow these steps –
Step 1: Open OBS and click on the "+" icon under "Scenes" to add a scene.
Step 2: Click on the "+" icon under *"Sources" to add a source. 
Step 3: Select "Select Video Capture Device" from the list and click on "OK" to add the capture device.
Step 4: Go to "File" → " Settings" → " Stream".
Step 5: From the drop-down menu, select "Custom" and type the "Server" and "Stream Key" 
Step 6: Click on "Apply" and "OK".
Step 7: Click on "Start Streaming" in the bottom right corner of OBS to start the church live stream.
Follow these simple steps for church live streaming-
Step 1: Sign in with your account credentials, select "managed stream," enter a title, description, and appropriate poster for your live stream, then click "Save".
Step 2: Download the OBS studio broadcasting software before beginning the live stream. Set up OBS, pick "Scenes," click "+" to add a source (capturing device), select "File" > "Settings" > "Stream" button, select server, and set up stream key.
Step 3: Select "start stream" from the menu. Click on "stream info," then copy and paste the "stream key" into the "OBS stream key" section before clicking "okay."
Step 4: Tap the "start stream" button on OBS, wait a moment for the connection to the live stream server to establish itself, and then wait for the output. You can include the link and retain it on your website so that your visitors can watch the stream.
2. Church Live Streaming Using Third-Party Live Feed
You can also use any existing live feed from a third party as a source when live streaming using Muvi Live. If you currently have a free-to-air HLS feed or an IP camera stream, you may simply convert those into live streams with enhanced distribution and security features. You must choose the "Feed" option and add the live feed as a source when creating the live stream content in Muvi Live. 
Your viewers will be able to watch the church live streams via the Website, iOS, Android, or even Roku app. Muvi Live supports the HLS Feed URLs in live streaming. First, you need to add the content to the CMS and while you add the content, you need to type the URL of the existing video feed (HLS). Once you are done, your audience will be able to watch the live streaming of the video on your website.
In this case, the third-party service provider will direct their encoder to our server and stream the content on your website using the stream URL and Stream key you provided.
In the "Live Streaming Content" box, first add live streaming content by choosing the "Camera" option → Get the Stream URL and Stream Key 
Once you begin live streaming in Muvi Live, you will automatically receive the streaming server URL and stream key. The streaming encoder needs to be configured using the streaming Server URL and Stream Key i.e. OBS, vMix. 
The live stream's output is produced as an HLS Link and an Embed Link (iFrame), which you may configure for your users to access the content or website, respectively.
Add Live Feed as a Source
Step 1: Click "Manage Live Stream" to add a live stream → click "Add Live Stream" under "Live Stream Library."
Step 2: Type "Stream Name" → about the live stream, type "Description." → select "Source".
If you have a live feed to stream (HLS, RTSP), choose "Input (Feed URL)". The current feed can be typed into the box.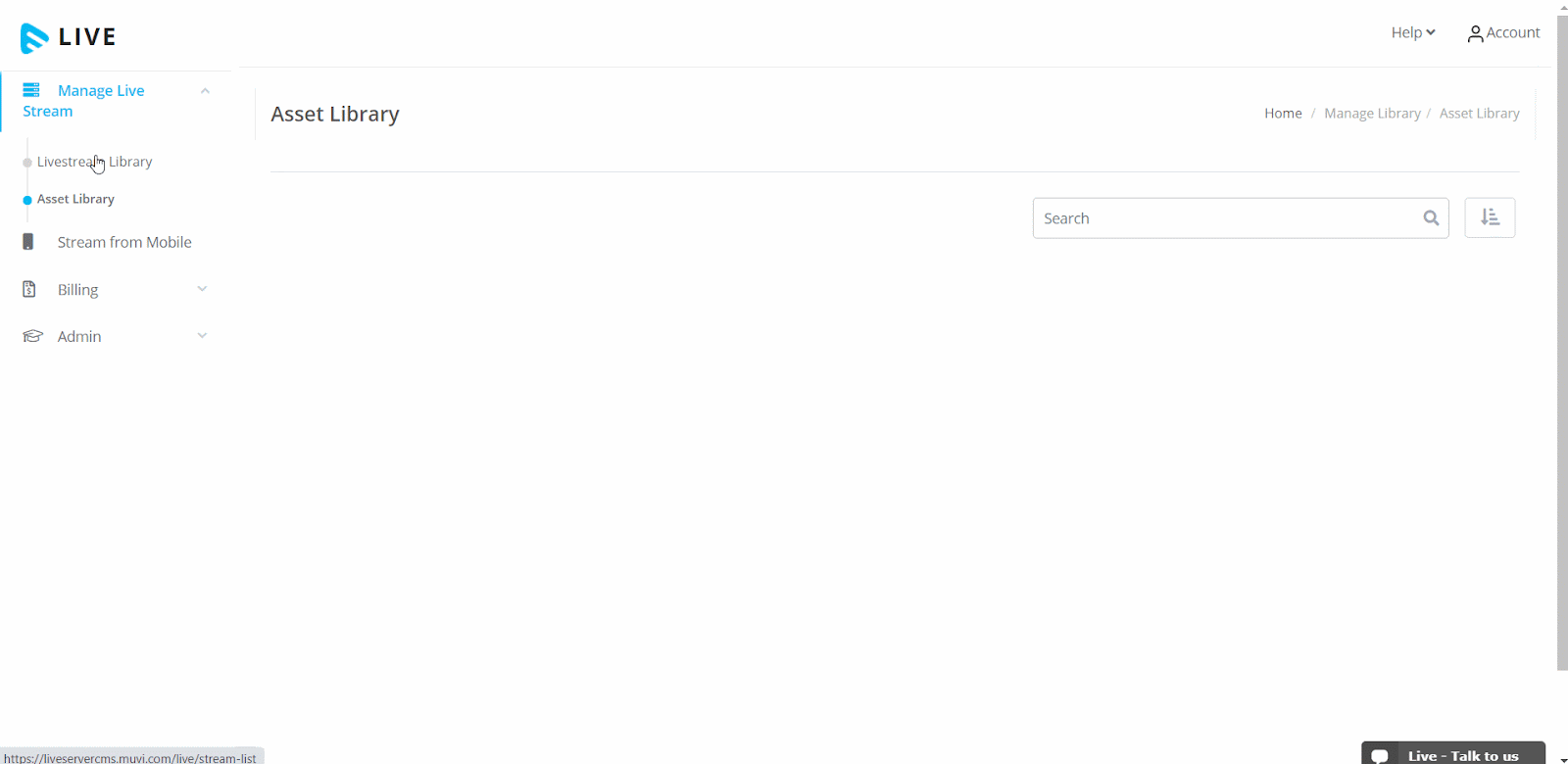 Step 3: If you want to record the live stream, choose "Record Stream." Once you stop the live stream, it will be captured and made available in the "Asset Library."
Step 4: From the drop-down menu, choose "Location." To quickly connect with the live stream server and decrease the latency of the stream → click save. You can choose the server location closest to your church for quality church live streaming.
Start the Church Live Stream
Step 1: Click "Strat Stream" under "Action" on the right-hand side of the live broadcast content to begin the live stream . The Live Server connection process will take a few minutes.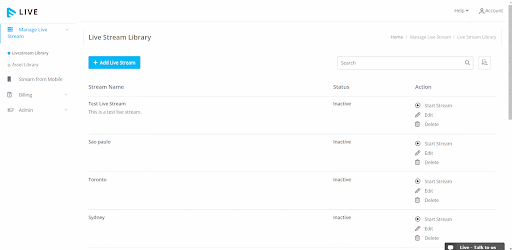 Step 2: Once the live broadcast is begun, you can preview it by clicking on "Preview".
How to Stop the Church Live Stream?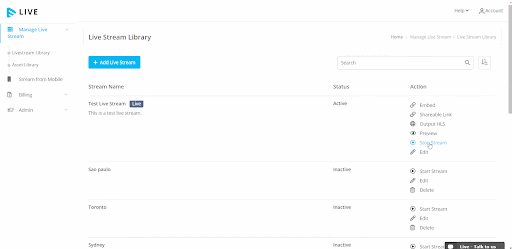 To stop the live stream, click on "Stop Stream" → When asked for confirmation, click on "Confirm", the live stream will be stopped.
3. Church Live Streaming With Muvi Live App
You can also live stream church services using the Muvi Live App on an iOS or Android mobile device. For live broadcasting, there is no need to configure streaming encoders (like OBS or viMix). 
Simply register with Muvi Live, download Muvi Live App from the App Store (Google Play or iTunes App Store), and live stream using the camera on your mobile. Once you start live streaming, the Live App will generate an HLS output that you may use to share the stream on any platform for even higher views on your live church streams. Here are the steps to follow –
Step 1: To find the Muvi Live App, go to the Google Play Store and do a search. From the Play Store, download and install the Live App.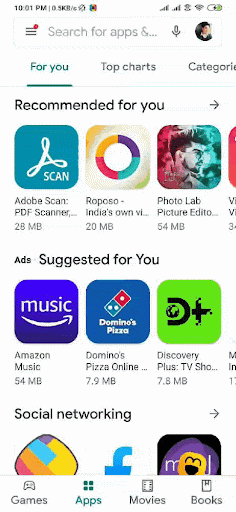 Step 2: Log into the Muvi Live App with your Muvi Live account's email address and password in order to add the live stream. The credentials are the same as you used to sign up with Muvi Live.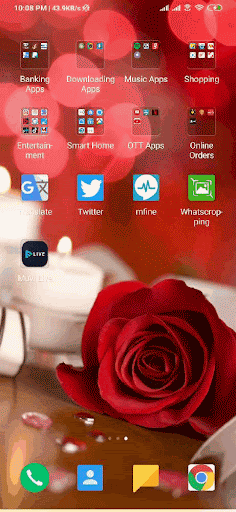 Step 3: Click on "Add Stream"  → then type "Stream Title" → to save the live stream, click "Save Title." 
Repeat the above step to add more live streams.
Step 4: Tap "Start Stream" to launch the live stream in the Live App. To begin the live broadcast, simply hit "Yes" when prompted for confirmation → at the bottom of the app, tap "Go Live" → Give permission to the app.
Step 5: Allow the app to connect to the Muvi Live Server by waiting for some time. Once the software is set up, you can live stream using either the front camera or the primary camera (back camera) on your mobile device. During the church live streaming, you can also flip between the cameras.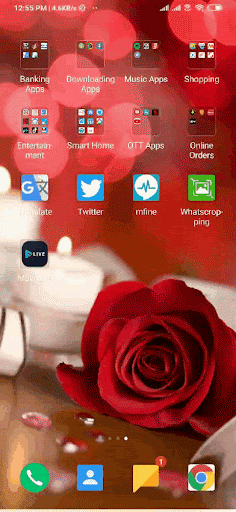 You can easily share your church live streams with Muvi Live through a few simple steps.
The HLS URL, which is produced automatically once the live stream has begun, can be used to share the live stream feed. Share the HLS URL on your website or app by copying it → tap "Stop" at the bottom of the app to end the live feed → Whenever you are prompted for confirmation, select "End Live Video." There will be no more live streaming.
Now that we have understood how to live stream church services, let's know how to insert/add the live stream to your website or apps, so that your followers can view this. 
With Muvi Live, you can easily embed your church live streams to websites, apps or social media in multiple easy ways. Let's see how! 

4. Sharing Church Live Streams Via HLS Feed
When you begin live streaming in Muvi Live, an HLS output URL is produced. To obtain the URL, select "Output HLS." If you already use Muvi One, you can add this URL to your CMS to live stream content.
Step 1: Navigate to the CMS's "Manage Content" → "Content Library" page. Then, select "Add Content."
Step 2: From the drop-down menu, pick the "Video Live Streaming" form under Content Forms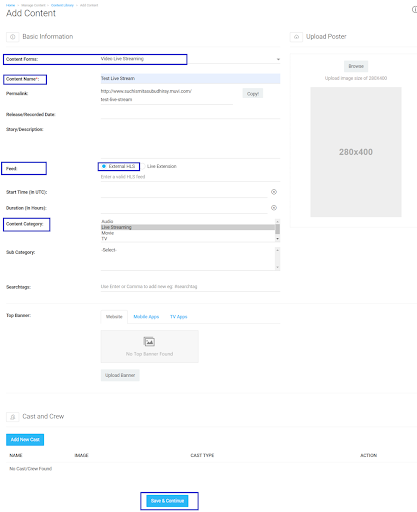 Step 3: Enter the name of the live streaming content in the "Content Name" field, and an automatic "Permalink" will be created. The permalink can also be modified.
Step 4: Select the Release/Record Date from the calendar.
Step 5: Briefly describe the live streaming in the Story/Description area.
Step 6: Select "External URL" in the "Feed" section and enter a valid HLS (HTTPS) URL (for example https://www.churchstream.com/live/playlist.m3u8) 
Step 7: Choose the "Start Time (In UTC)" from the calendar. Decide what time live streaming will begin. 
By selecting the "Book" button on the content details page, the user will be able to add the event to his or her calendar. Please keep in mind that the Start Time is just for your users' convenience and is not actually the time when the event will begin. 
You can enter the Feed URL right before the start time if you don't want viewers to access the content before it starts.) Also, the "Duration (in Hours)" of the live streaming content should be typed in
Step 8: Choose a content category.
Step 9: Insert "Search Tags" in the appropriate field. By entering the tags in the search bar, visitors can quickly find the material using search tags. 
As search tags, you can use relevant terms for your church live streaming. First, add "#" to the text field to add search tags. Enter the word or the hashtag, like churchstream or churchservices. You can add up to five search tags. 
Step 10: To upload a poster for the church live stream, select the "Browse" button under Upload a Poster.
Step 11: Select "Save"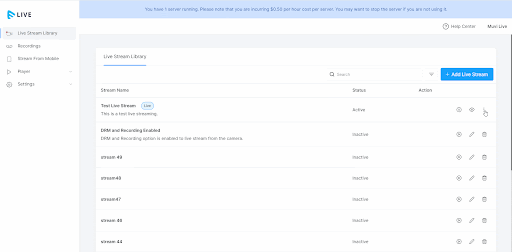 There are two ways to play the URL for the HTTP live streaming broadcast. Either Flash Player can be used to play the content or the SSL for your store needs to be removed (If you remove the SSL, then Flash Player is not required to play the content). 
But keep in mind that if you've implemented DRM for your store, we advise against disabling SSL because it can interfere with some devices' ability to play the content.
5. Sharing Church Live Streams Via Embed Link
Once you start the live streaming in Muvi Live, an embed output URL (iFrame) is generated. To obtain the URL, select "Embed." To access the live stream output, you can embed it into any website.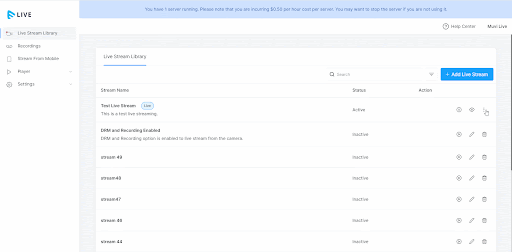 6. Sharing Church Live Streams Via Sharable Link
A sharable link allows you to share your church live stream without much hassle. When you select "Sharable Link," an automatic link is generated.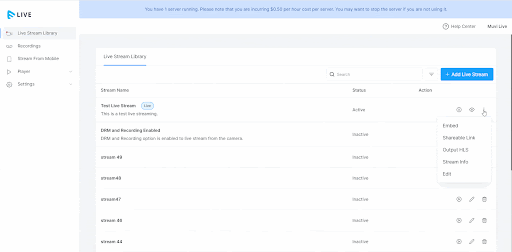 You just need to share the link with your viewers by copying it. To see the live streaming, end users can paste the URL into their web browser.
So, that's all about church live streaming; with a simple-to-use live streaming platform like Muvi Live, it's easier than ever now! 
With Christmas around the corner, you must be intrigued to get all ready and the good news is that, all you need to do is take a free trial and we will set it up for you if you like it!