Price, convenience, and personalization are the three primary reasons; subscription business models have gained popularity in recent years. 
According to Gartner, all new software entrants and 80% of historical vendors have kept SaaS options in their business model to avoid losing out on the market traction. From airlines to the hospitality industry to car wash, the subscription model has helped businesses capitalize on customer relationships' compounding value – which means your subscribers will continue to pay for your services till they find the value. 
Among the strategic areas to look upon, customer experience and plan management are crucial to subscription success. This means you need to have a reliable recurring billing engine that effortlessly conducts recurring transactions and offers ample scope for revenue potential optimization. 
What is a Recurring Billing?
Recurring billing is a payment model used by subscription businesses. With a recurring billing method, subscription businesses charge customers for products or services on a regular billing schedule. The recurring billing goes on automatically monthly or annually as per the schedule or as per the plan chosen by the subscribers until they cancel the subscription. Examples of recurring billing services are
OTT platforms – Netflix, Prime, Spotify
Web applications &  SaaS products
Internet providers
Pet food supply services
Gyms
Gardening maintenance services
Now, the question that must be pondering you is if to develop a customized billing engine of your own or go for the existing subscription billing solution available in the market? Both have their share of advantages and challenges. Let's dive in.
The Build vs. Buy Conundrum
Each business is unique. So, it's natural for you to seek a billing engine suitable for your business needs. However, do keep in mind that as you start to grow and scale, every additional subscriber adds to your billing woes with random payment modes, change of plans, upgrade, downgrade, and more. Managing these internally all by yourself will be like running a second product simultaneously within your core service. 
Building an in-house subscription billing engine requires extensive planning, development, testing, bug fixing, maintenance, and more, for which you will have to hire an in-house IT team. Besides, the security and compliance part is rigorous enough to give you sleepless nights.
If you still think about getting it in-house, you need to ask yourself a list of questions.
What is the size of your customer base?

What is the size of my company?
Do I have the engineering resources to build a solution and for timely maintenance?  
Can I keep my billing engine robust enough to cater to the ever-changing marketing team's needs?
How much customization should I allow?
How many payment gateways are enough?
How do I manage declined payments?
How to safe keep transaction history? 
Should I host data on my own server or third-party cloud servers?
How to manage tax and compliance law as I expand? 
In contrast, the new-age subscription software is more than the traditional billing systems. The conventional billing systems were earlier restricted to the sales and finance team. However, the new subscription billing platforms have a lot to offer to the marketing and customer success teams as well.  Today's robust billing solutions offer actionable analytics on campaigns and magnify possible revenue optimization opportunities with each billing cycle. 
But with companies crowding the subscription billing landscape, the differentiating factors are getting blurred. To decide better, you need to choose a platform based on Two indicators– Performance and Relationship.
The Performance Indicators
|Performance indicators of a standard billing engine are identified by its capability to execute seamless payment while being flexible and industry-agnostic.
Answers to the list of questions below will help you gauge the capabilities of any subscription billing management platform.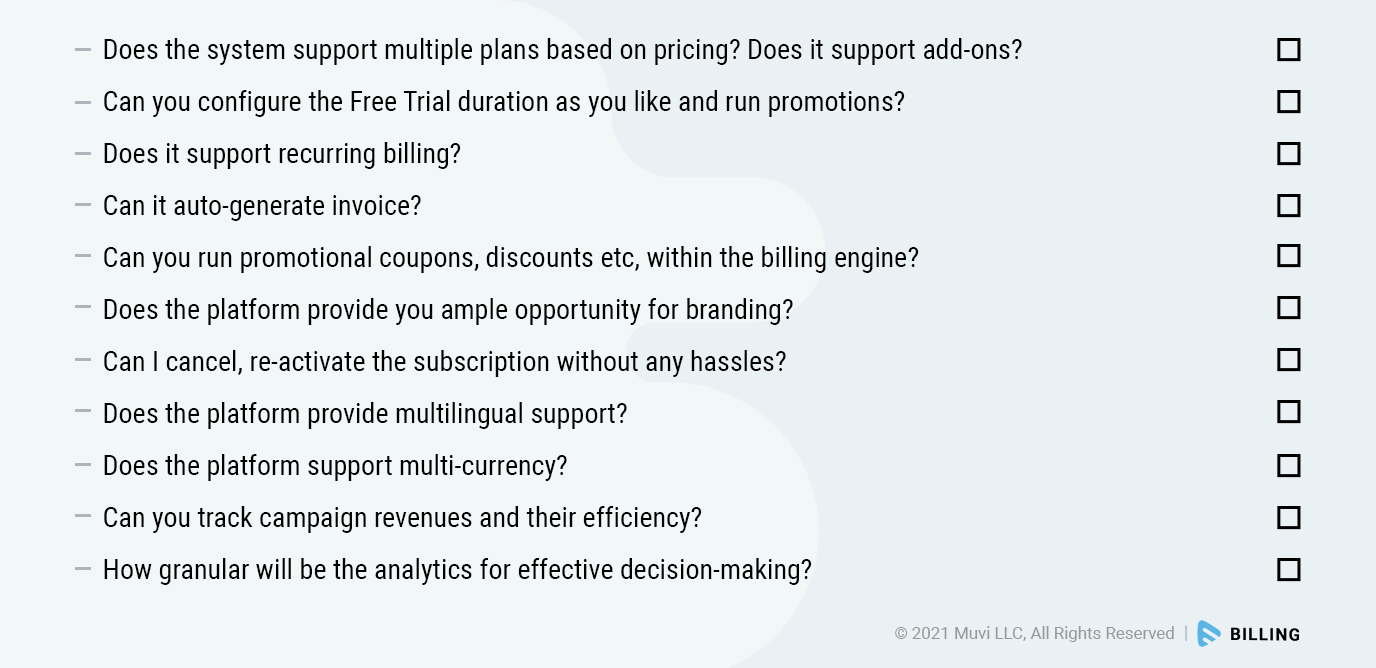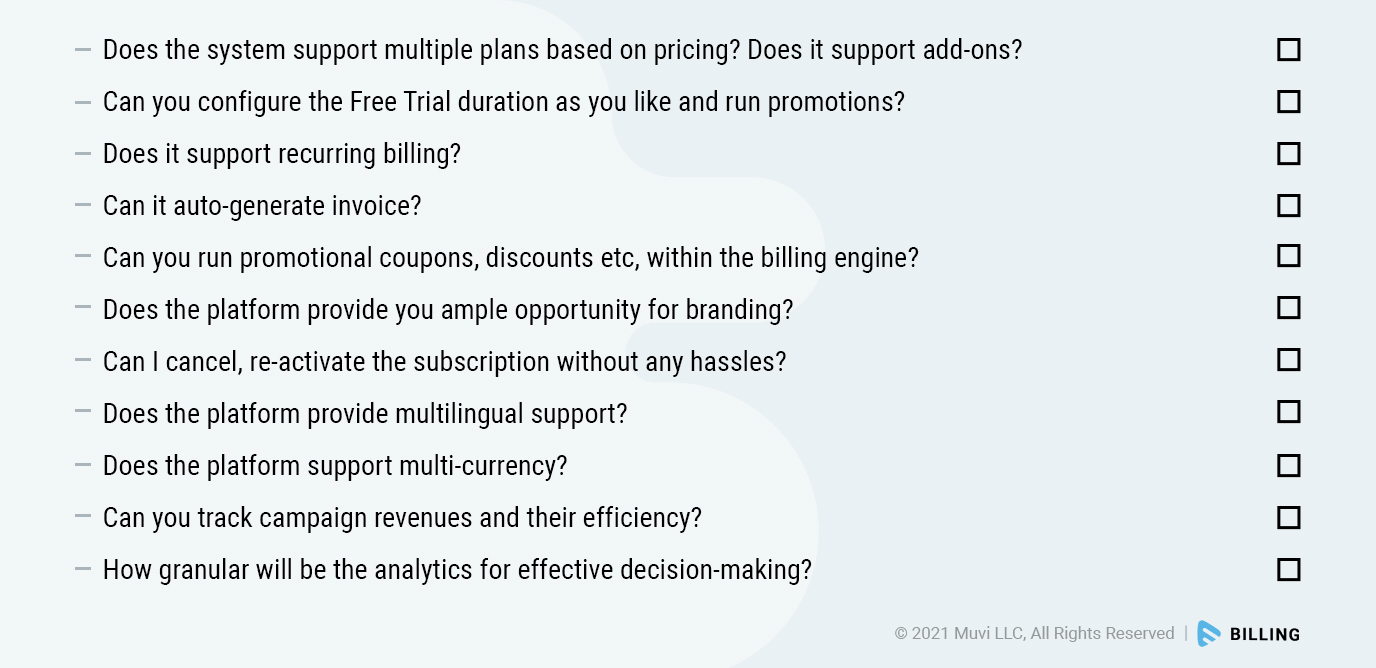 The Relationship Indicators
|Subscription SaaS is tricky. Remember, your customers may forgive you for a flawed product but will never forgive you for failure to provide support.
Relationship indicators are measured by a set of services that assures you a sense of security and handholding when you falter on the way. Ensure you get a positive response from your vendor for the questions listed below. 




Here are the detailed Pros & Cons of the In-house & third-party billing system.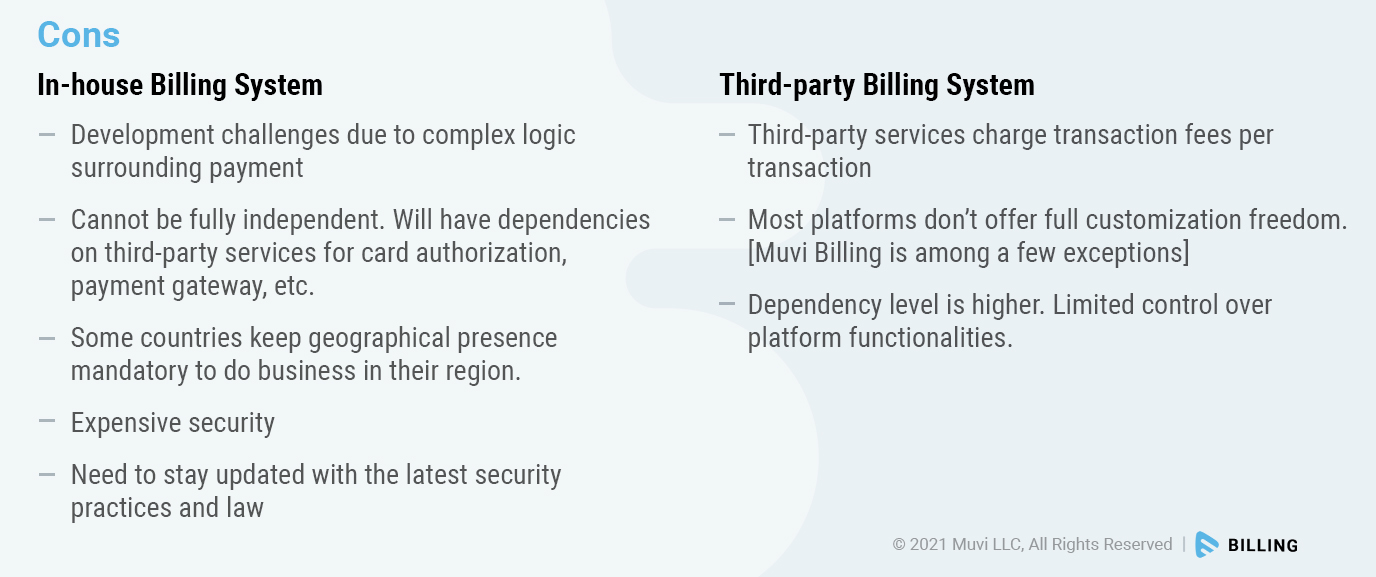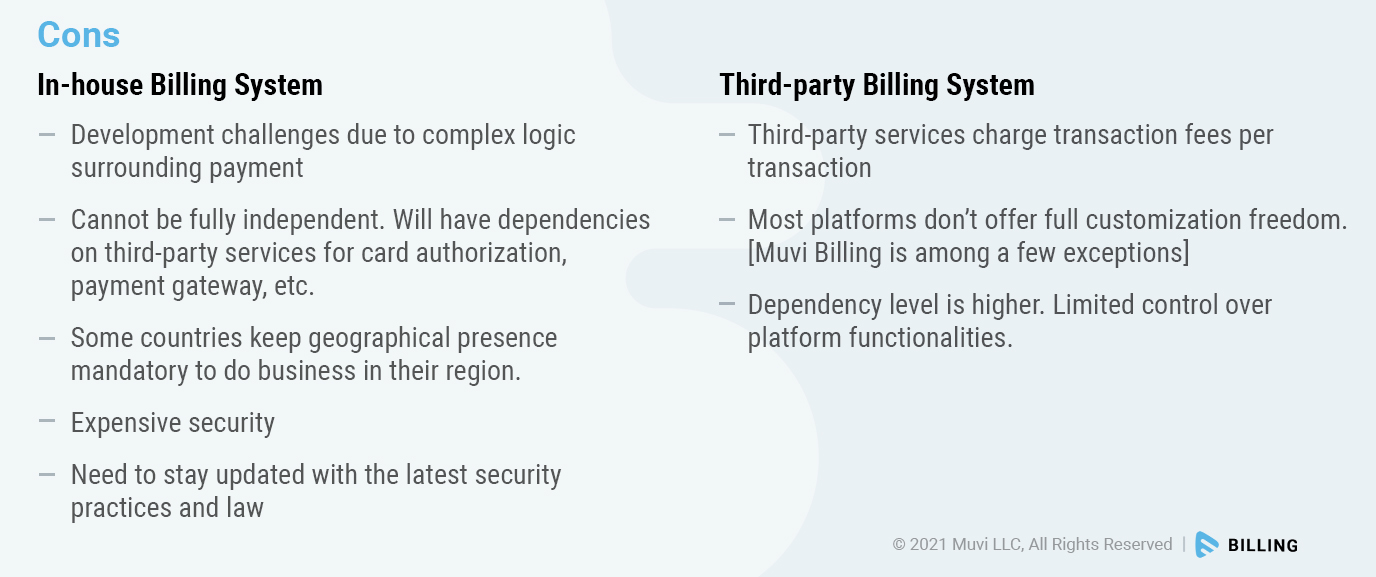 |Irrespective of ownership and deployment, you need to ensure your recurring billing solution is scalable as you grow, adaptable as your pricing evolves, and stays resilient as you experiment. 
You must automate the operational side of the billing process, i.e., checkout, subscription, invoicing, collections, etc. so that your team can focus on the strategic aspect of your business. 
So, we have curated an ultimate business-critical checklist to equip you with the necessary features and capabilities to weather known subscription-business requirements and challenges. 
The Ultimate Checklist for Subscription Billing Engine Platforms.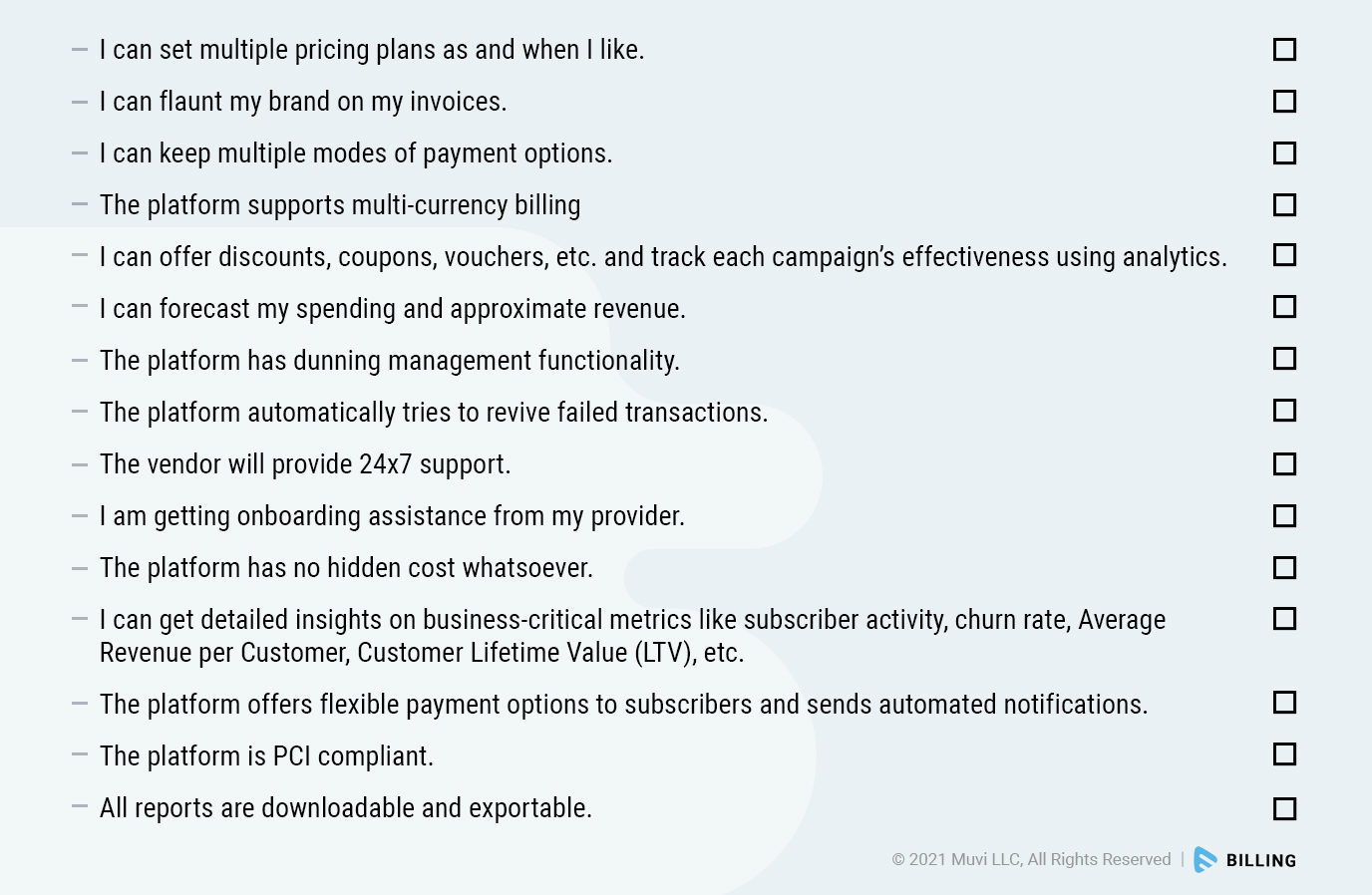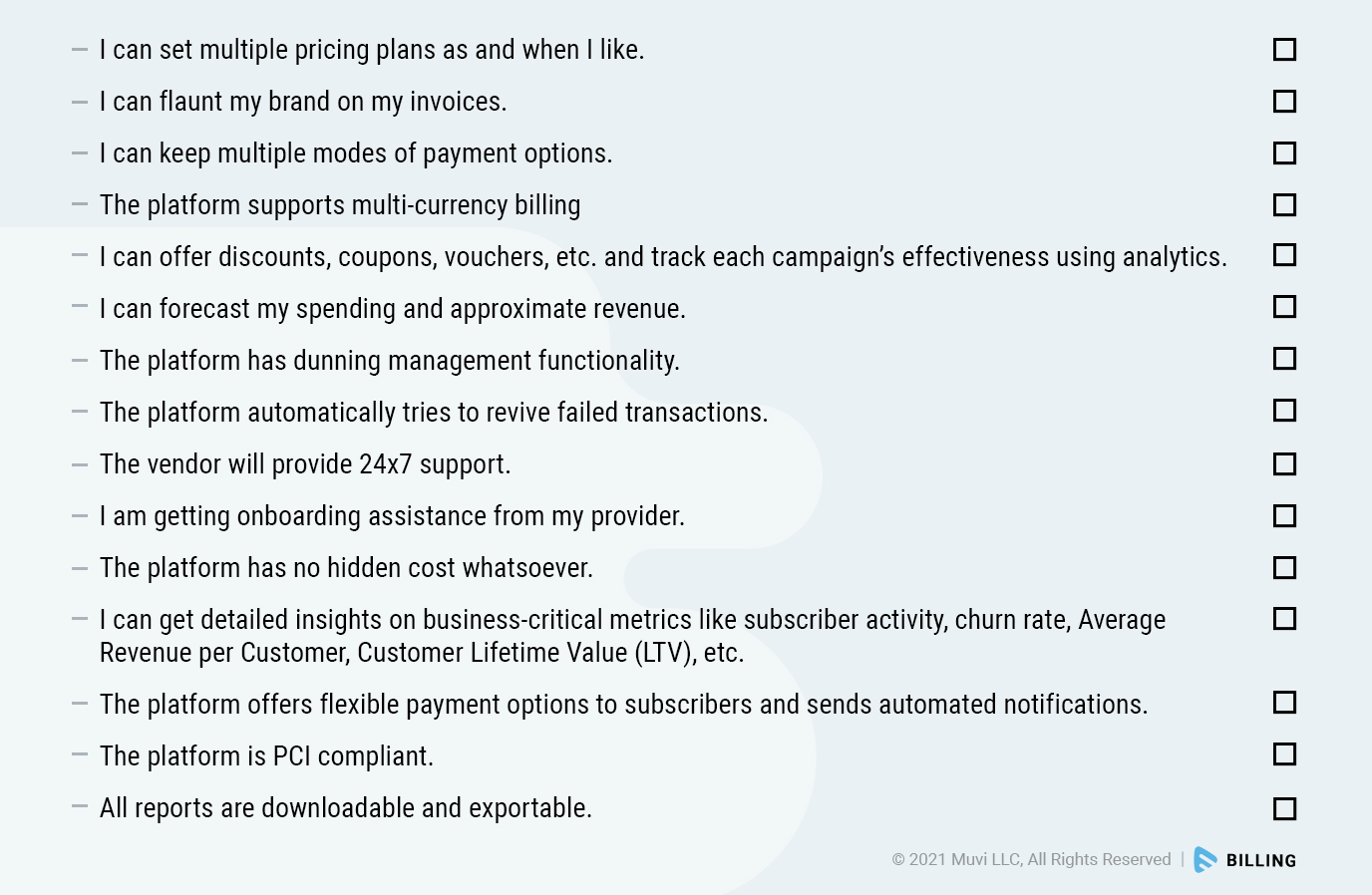 Choosing a subscription billing engine or building one are equally challenging tasks. Whatever option you choose, you need to gauge your current business needs and what feature you might want in the future. If your billing system does not comply with your business vision, you will end up with lost income and baffled customers. Solid planning and expert assistance are all you need before you kick start your subscription business.
Suggested Read: How to grow your subscription business?
[Discover how to make subscriptions a competitive advantage for your business – Take a 14-Day Free Trial of Muvi Billing – No Credit Card required]