DRM solution is the programme that help online businesses protect and control their precious digital contents like documents, videos, images, audio files, infographics, etc.    
According to industry experts, around one-third of the OTT revenue is lost due to piracy every year! Now, that's huge for any OTT platform. Content piracy and overall content security have been a big concern for the video streaming industry since its origin. Over time, multiple technological advancements have helped in tackling this threat to some extent. And in this list of technical innovations, Video Multi-DRM Solutions have been the most effective ones! 
In this blog, we are going to discuss everything you need to know about Video DRM Solutions, how they work to protect your content, and how you can choose the best Video DRM Solution available. So, let's begin!
What Is Video DRM Solution and Why It Matters?
Before understanding the term 'DRM', let's take a look at the history of DRM and how it evolved.
A few years back, Arthur De Vany, Professor of Economics at the University of California, Irvine, and David Walls, Professor of Economics at the University of Calgary conducted a study to estimate the changes in box office revenue of a movie, based on the changes in movie supply and sum the weekly effects driven by the availability of it's printed versions. Overall, the film grossed approximately $61 million or around $600/pirate source. Assuming that De Vany and Wall's data is representative of a typical movie with typical levels of piracy which seems reasonable, it's possible that 40% of the box office revenue of the film is being lost to piracy.
The fundamental question posed by this study led to the inception of Digital Rights Management or DRM. In layman's terms, a video DRM solution is an electronic content protection solution to protect your video content from going into the wrong hands! It ensures that your content is streamed to your original viewers, without the risk of any piracy or other security threats. 
The reason behind the development of video DRM is that it is necessary to prevent the widespread unauthorized access that the digital environment enables. Because in today's times, if we fail to protect our content, it will have a serious impact on the revenues generated by content creators. 

How do Video Digital Rights Management (DRM) Solutions Work?
Digital Rights Management is a complicated process involving many individual segments. Accordingly, there can be DRM infrastructures involving multiple segments, often referred to as multi-DRM infrastructure. 
But, the most simple video DRM infrastructure usually follows a two-step workflow, which is explained below. 
Encryption:

The first step is encryption. In this step, the video content is packed using multiple DRM schemes.

DRM solutions

scramble the data in a file rendering it unreadable to anyone without the appropriate unlocking key.

In simple words, you can compare this packaging to a locking process, requiring a specific description key to get unlocked. Unless the key is matched, the user will not be able to access the content. This package ensures the transmission of your content in a completely end-to-end encrypted manner so that only authenticated users can access the content. 

Authentication:

Authentication systems stand between users and video content. Whenever the users try to access your content, the video player requests the description key from the server. The video gets played only when the decryption key matches the request generated. Hence, the DRM solution ensures that only people with the proper permissions can obtain a decryption key, and the pirates cannot enter the system.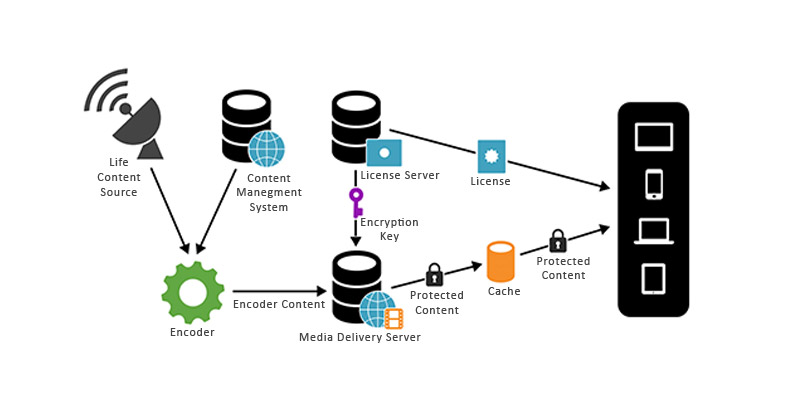 How Does DRM Secure Your Videos? Is DRM Encryption Better Than Standard Encryption?
A DRM Secured Playback is always much more secure than the standard encrypted playback because of many reasons, some of which are discussed below. 
The DRM encryptions use the black box key exchange mechanism. The DRM process involves certain cryptographic keys which are responsible for protecting your content. The DRM client operating on the viewer's device would need the keys to unlock the videos.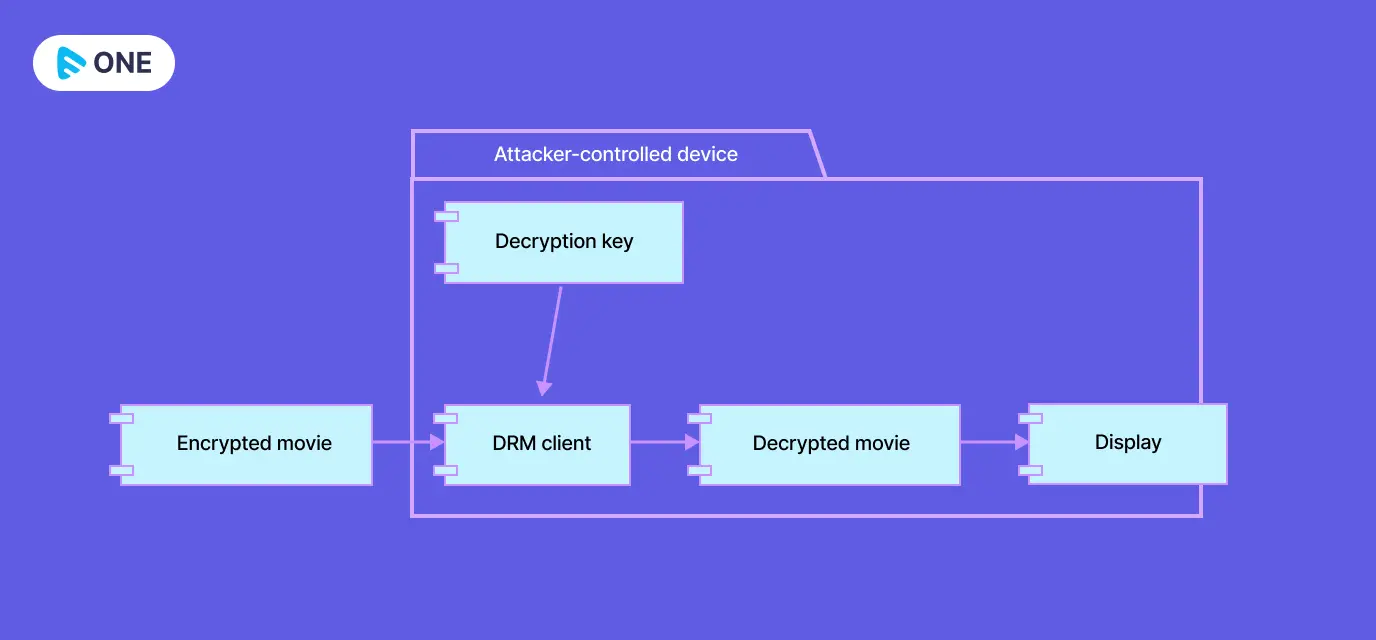 2. Most of the time during the playback, the required keys are already present in the DRM client key store. But in case they are not present, the DRM client will inform the application that the key is not available. In such cases, the app needs to generate a key request or license request to acquire the key. Only once it receives the key, the content can be played through the application.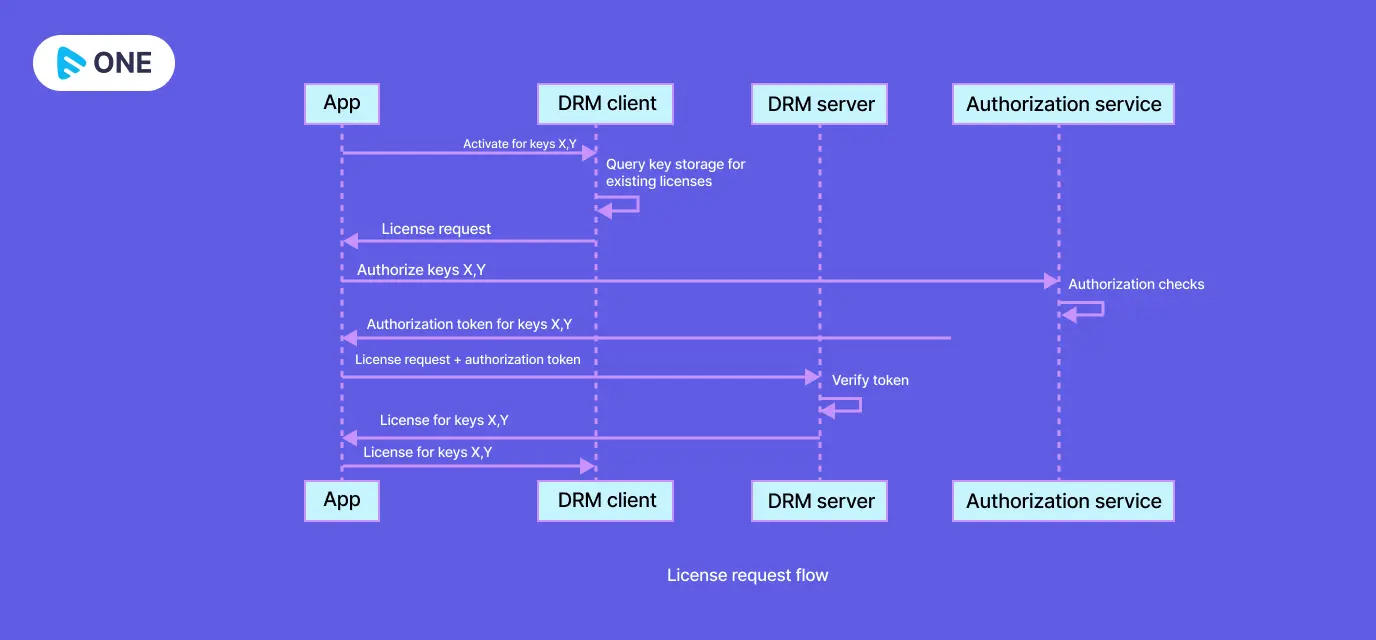 3. Hence, here we can see that only authorized users can play the DRM-protected content through authorized applications only. In the case of standard encryption, such multi-level protection is not easily available. 
4. The entire process is possible through a CDM (Content Description Module) which comes pre-installed in a web browser. These CDMs are responsible for decrypting the DRM-encrypted content using the correct keys. 
5. Different browsers and OS environments use different CDMs, with the most popular ones being Microsoft PlayReady on Windows, Google Widevine on Android, Apple FairPlay on Apple devices, etc. We have prepared a short table below, on the CDM and DRM compatibility of different browsers and OS. 
Browser/OS Environment

Widevine

Modular

FairPlay

PlayReady

Chrome

Compatible

—

—

Microsoft Edge

—

—

Compatible

Firefox

Compatible

—

—

Safari

—

Compatible 

—

Android, Android TV, Chromecast

Compatible

—

—

iOS

—

Compatible 

—

Apple TV

—

Compatible 

—

Roku

—

—

Compatible

Fire TV

—

—

Compatible

Samsung Smart TV / Samsung Tizen

—

—

Compatible
Prerequisites for Enabling Video DRM Solution
The video DRM solution usually involves the following steps:
Packaging the content

Storing it in encrypted form in Media Delivery Server

Requesting the Authorization key by the player

Matching the authorization key between server and player

Decrypting the content by CDM

Playing the content in the viewer's device
And each step has certain prerequisites, which must be satisfied. Like, during the packaging of content, the encoder must pack the video into a DRM-compatible video format, most preferably HLS or MPEG-Dash! Nowadays, most of the OTT platforms, including Muvi One, have built-in encoding and transcoding support for HLS video format. 
In the next step, you will need a good-quality video streaming server, with capabilities of handling the key requests. A CDN would be even more beneficial. Platforms like Muvi One offer you built-in AWS CDN, which can handle all of your DRM requirements with ease. 
Also, for DRM-enabled video streaming, the video player must be DRM-compatible. It must be able to request the authorization key for every piece of content, and also decrypt the content once it receives the key from the server.
Video DRM Solutions: Uses and Benefits
Video DRM solution has multiple benefits. Let's take you through some of them.
The DRM solution ensures that only genuine users can access your content. 

Also, since the content requires keys to be decrypted, cyber hackers cannot steal the content while it is being transmitted from the server to the user's device. 

In addition, the multi-DRM solution comes with multiple features like forensic and dynamic watermarking, screen recording protection, geoblocking, and other features, which help in preventing any kind of piracy attempts. 
We will discuss multi-DRM in detail in our next section. 
Multi-DRM: Why do you need Multi-DRM architecture?
Multi-DRM is a more secure alternative to DRM architecture, which offers license management features for multiple DRM setups like Apple FairPlay, Google Widevine, and Microsoft PlayReady. Hence, with multi-DRM, you can protect your content in multiple formats, compatible to be played on multiple devices.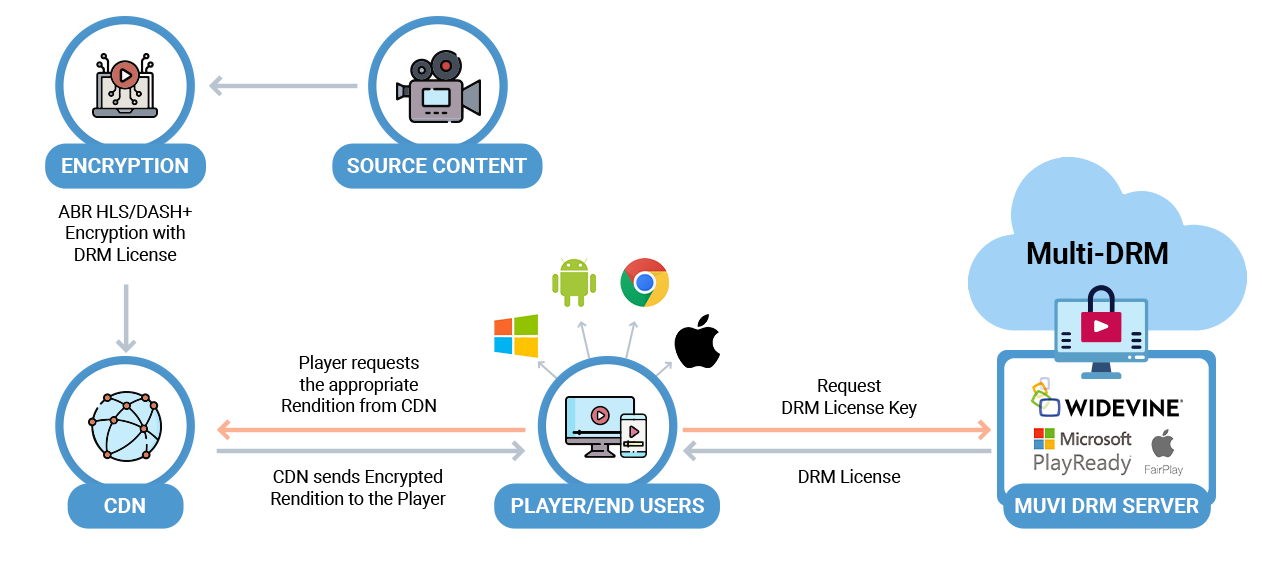 Along with multiple license management, some multi-DRM architectures also offer additional security features. Let's take you through some of those features. 
Forensic and Dynamic Watermarking 
Forensic watermarking means a watermark that cannot be detected by the human eye. Hence, the pirates cannot easily detect and remove such watermarks. While dynamic watermarking means a watermark that does not remain static. It keeps moving throughout the screen. The random movement of the watermark in every scene makes it extremely difficult to erase. 
Screen Recording Protection 
In a multi-DRM setup, the viewers cannot take screenshots and screen recordings of your content. Hence, they cannot reuse it in other formats for other purposes.   
How Does Multi-DRM Secure Your Videos?
With multi-DRM, different DRM technologies like Widevine and PlayReady are used to secure each and every video. Hence, when viewers using different devices and browsers request to play your content, the server generates DRM license keys for appropriate DRM technology, depending on the device and browser requesting it. 
Thus, with Multi-DRM you can secure your content across all devices, and ensure a smooth viewing experience for your viewers. This enhanced security shield makes sure that your content is end-to-end encrypted and no device, browser, or person can decrypt it en route to your original viewers. 
Must-Have Features of an Ideal Video DRM Solution
An ideal video DRM solution is usually categorized into the following segments:
Platform-based Rights Management:

Platform-based DRM solution for video enables a broad range of business models, including purchase (TVOD),

subscription (SVOD

), rental (Pay Per View), and gifting. It also enables playback on single and multiple platforms via streaming, downloading, or sideloading; and provides playback restrictions that guard against copying via HDMI outputs and similar other media outputs.

Content Encryption:

DRM solutions encrypt content during all kinds of downloads and file transfers. Hence until and unless the content is decrypted with proper keys, it cannot be played. 

License-based Rights Management:

License-based DRM solutions require a server to manage the request and issuance of licenses. Some also incorporate domain controllers, which manage the multiple users to play content under a single license, and metering servers which track usage data and total plays for royalty purposes.

DRM-enabled Player:

A DRM-capable player can communicate with the license server and enforce all software and hardware-related playback restrictions. For computer and notebook playback, some DRMs use an existing plug-in. For instance, Adobe Primetime uses Flash, while Microsoft PlayReady uses Silverlight, while other technologies, such as Google Widevine and DivX, require a plug-in download.

Dynamic Watermarking:

Dynamic watermarking helps protect your content from piracy attempts, as the content gets a watermarking that keeps floating throughout the screen, making it very difficult to reuse its copied versions. 

Geo-Blocking:

You can block access for users living in a particular geographical region. 
In addition to the features discussed above, an ideal DRM solution must have the following features:
The DRM solution must provide users with a transparent experience over managed or OTT networks.

The DRM must be independent of platforms or devices and be able to deliver security on any device, any network, anywhere.

If a security breach occurs, the DRM solution provider should be able to react quickly to locate the source of the problem and use any means to fix it.
Therefore, choosing the right DRM solution package is of utmost importance for securing your video streaming service.  
Some Popular DRM Packages: A Brief Outlook
There are many DRM packages available in the market, and choosing the right one can be confusing at times. That is why we have discussed the most prominent options below, which will help you choose the right solution efficiently. 
Adobe Primetime DRM
Adobe Primetime DRM is a premium DRM solution developed by Adobe. It is an UltraViolet-approved content protection platform, mainly catering to premium quality professional video streaming services. According to the official website of Adobe Primetime DRM, the solution can protect multiple formats of content and supports flexible business models like anonymous, subscription, rental, and download-to-own content for desktop (Windows, Mac), iOS, Android, Roku, and Xbox. It can also support embedded device platforms.
Apple FairPlay
Apple FairPlay is a DRM solution developed by Apple, primarily catering to iOS devices, Mac, and apple-manufactured devices and software. FairPlay Streaming (FPS) technology uses content encryption and a security key exchange mechanism. 
Google Widevine
Google Widevine is Google's DRM solution for protecting premium media content. It is one of the most prominently used DRM solutions globally, currently being used by major OTT players such as Netflix, Disney+, Amazon Prime Video, HBO Max, Hulu, Peacock, Discovery+, Paramount+, and many more, along with Google's in-house video streaming solutions like YouTube, and browsers like Google Chrome.
Marlin DRM
Marlin is a one-of-its-kind DRM solution developed by an open-standards community called the Marlin Developer Community or MDC. It fulfills some specific DRM goals like importing content from multiple independent sources, allowing peer-to-peer connection, and interoperability of devices. 
Microsoft PlayReady
According to Microsoft, Microsoft PlayReady is the widest-deployed content protection technology in the world! It can protect both VoD and Live streams, with the capability to accommodate multiple monetization models. PlayReady is a one of its kind DRM solutions because it is compatible with multiple OS and devices, including Windows, iOS, Android, and Linux. In fact, it can be implemented for Game Consoles, Blu-ray and DVD players, Smart TVs, and STBs too! That is why you would see that devices like Fire Stick and Roku Stick are compatible with Microsoft PlayReady DRM. 
Exploring the Video DRM Solution of Muvi One: What All It Offers?
Muvi offers you an out-of-the-box DRM solution with a built-in Multi-DRM architecture for all our streaming services, including Muvi One, Muvi Live, and others. 
The multi-DRM architecture of Muvi One is capable of handling license requests of multiple DRM packages like Widevine, Microsoft PlayReady, Apple FairPlay, and others. Our DRM architectures work in coordination with the AWS CDN network to ensure end-to-end encryption of content and secured streaming.  
Our multi-DRM infrastructure supports both VoD and Live Streaming, along with accommodation for multiple monetization models like Subscription, AVoD, Pay-per-View, Coupons, etc. Also, in order to ensure complete protection from hacking and piracy, we provide additional features like dynamic and forensic watermarking, geoblocking, secured content staging, offline streaming protection, and protection against screen recording. 

Join Muvi For The Best Streaming Security!
Secured Streaming is Muvi One's biggest USP! We take multiple measures and integrate multiple features to ensure that your video content remains hundred percent intact throughout the streaming process. 
But secured streaming is not the only thing we focus on. Muvi One is packed with 100+ industry-leading features which makes it one of the most complete OTT and video streaming platforms out there in the market. Try it out yourself! Start your 14-day free trial today!
FAQs:
Q1. What are the 4 types of DRM Solutions?
Ans. DRM Solutions are usually of 4 types:
Platform-based Rights Management

Content Encryption

License-based Rights Management 

DRM-enabled Player
Q2. How do I protect a video with DRM?
Ans. If you enable DRM protection for your video, it will be encrypted while transmitting from the server or CDN to the end user's device. During playing the video, the player will request a key that can decrypt the video content. Until and unless it gets the right key, the player will not be able to play the video. 
Q3. Can any software remove the DRM security?
Ans. There is no proven software, though there are some techniques that may breach through weak DRM solutions. That is why you should always choose multi-DRM solutions that are stronger and more difficult to breach. 
DRM Glossary: Know All About DRM Keywords & Technologies
Encryption:

During content encryption, the video is content from the playable data to unreadable or unplayable encrypted data which needs a key to get decrypted. 

Decryption:

During decryption, the unplayable or unreadable encrypted data is converted back to the playable or readable video.  

Authentication Key:

The authentication key acts as a key to the lock called encryption. It means, the encrypted data starts to get decrypted as soon as it receives the authentication key. 

License Server:

The license server is responsible for managing the DRM license key. This server decides which user or device is eligible to get the license key, and which user cannot get the key. 

Media Delivery Server:

Media delivery server is responsible for delivering the media content from the source to the user's device. 

Content Management System:

A content management system is the admin portal that controls the entire content uploading and distribution process, right from encoding to DRM settings and analyzing the performance of the content. 

Encoder:

An encoder is responsible for taking the raw video that you upload and converting it into a format that is suitable for DRM encryption. 

CDN:

Content Delivery Network is a network of multiple content delivery servers that work together to ensure seamless delivery of content. 

DRM License Key:

A DRM license key is the key generated by the DRM license server that grants the right to decrypt the encrypted video content to the consumer. 

DRM Video Player:

DRM Video player is a video player that is capable of playing DRM-enabled video content.