Improve your overall video streaming QoE and witness a surge in your revenue flow down-the-line.
Whether your subscribers are complaining about bufferings, lags, delayed video starts, or video resolution degradations, implementing our tried-and-tested practices can effectively resolve all these video streaming related issues and ensure a satisfactory quality of experience for your end-users.
Here in this blog, we are going to cover everything from flawless video production to seamless video delivery and playback across multiple devices, in a very simple language.
So, let's get started and understand how to deliver better video streams.
1. Maximize the Initial Quality of your Videos
If you are a content creator, you must record videos using a professional camera for high resolution image processing. Do not use cell phone cameras, as they provide very poor quality videos, especially in low-light. Remember, if the original recording version is of poor quality, there is nothing you can do to fix it.
Hence, first, record your videos in the highest quality possible.
Then comes the post-production part. In this stage, you need to eliminate all the stains and black frames present in the videos. Also, clear the audio distortions and make the necessary light & color adjustments. Once every scene/frame is refined, render and generate video in maximum quality i.e. 4K (3840 * 2160) or Full HD (1920 * 1080).
Look, if you don't control the initial quality of your videos during recording & post-production, then there is no way, you can deliver better videos to your end-users. So, plan accordingly and prepare high-quality videos that your audience would love to stream without any interruption.
In case, you don't produce videos on your own, we recommend licensing high-definition videos from secure media marketplaces like Sanjh and stream them right away on your channel.
2. Choose the Right Encoder Settings
An encoder is a software or hardware tool that transforms your videos into streaming compatible formats.
To determine what's the best configuration for an encoder, let's understand all the values that contribute to the overall encoding performance of a streaming platform.
Codecs: An online video distribution platform desperately needs a video codec for compressing video streams into a more manageable size, ensuring seamless content storage as well as delivery. Currently, HEVC (h.265) is the most commonly used video codec known for its low latency encoding process with 50% better compression efficiency in real-time. For audio codec, you can always go with AAC.
Bitrates: Bitrates mainly refer to the total amount of data in your video/audio streams per unit of time. High resolution videos/audios involve more data, hence the bitrates for streaming such content is always high. Since the resolution/quality varies from content to content, we suggest using Variable Bitrates for both video and audio content and avoid any unfortunate hassles during the streams.
Frames per Second: FPS is a performance measurement factor that analyzes the number of frames/images of a video stream that occurs each second. The greater the FPS, the smoother the video stream appears. Our experts suggest to set Frames per Second at 30. You can also use higher FPS upto 60 for high-quality videos, but that would simply require a higher bitrate.

So, this is all about recommended encoding settings for delivering better video streams to end-users. The above encoding configurations may seem a bit technical, but don't worry, with a little practice you can handle them all. In case you need any expert help, just raise a support ticket, and our architecture consultant will be there at your service.
3. Use Adaptive Bitrate (ABR) Technology for Transcoding
This is the most effective practice that directly influences overall video streaming quality. By integrating Adaptive Bitrate Technology into your streaming platform, you can ensure very little buffering, fast start time, and a comfortable viewing experience, no matter how's the internet connection & device's screen size at user's end.
ABR technology dynamically converts your video's bitrate and resolutions into a suitable format that is best suited for streaming on user's device. Further, depending on the device's processing power and connectivity, it keeps on changing the video quality behind the scene, without any user interaction or command.
For a better understanding of how Adaptive Bitrate streaming actually works, let's have a look at this Bitrate ladder.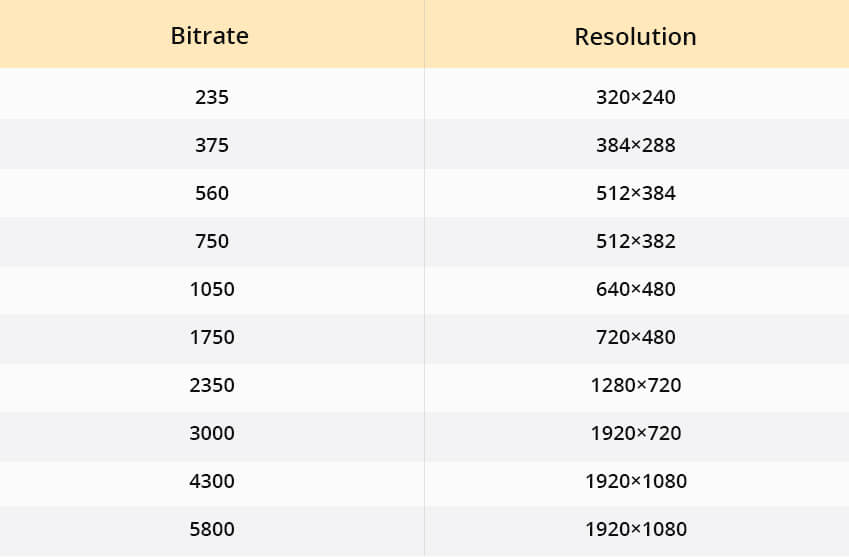 For a viewer on slow internet connection and small screen, the transcoding will be according to the top of ladder i.e. low bitrates, low frame rate, and low resolution streams. But with high-speed internet connection and high-tech displays, the video streams will get better and automatically switch towards the bottom of the ladder.
Considering the above perks, a majority of OTT service providers prefer delivering ABR streams via advanced HTTP-based technologies such as Apple's HLS or MPEG DASH. Our streaming experts also recommend following the same ABR protocols for improving end-user QoE. You can also configure RTMP streams for multi-bitrate streaming, if you want, but that would involve a lot of technicalities.
4. Configure Multiple CDNs for Ultra Fast Video Playback
CDN or Content Delivery Network is a system of geographically distributed network servers that delivers video streams quickly to numerous end-users worldwide.
Every time a viewer attempts to stream a video, it is the CDN that determines the nearest edge server to user's device and delivers the best quality videos. As local servers deliver the video streams, and not the main server, the process of video distribution is faster and smoother, which then allows the end-users to watch high-quality videos on their preferred devices without buffering or lags.
However, with the increasing volume of video streaming users globally, the local servers are experiencing network congestion and thus failing to handle the never-ending streaming requests of streamers. Most of the time, these servers break down at critical nodes, which leads to streaming QoE deteriorations.
In such scenarios, the only feasible way to deliver seamless videos to your end-users is using multiple Content Delivery Networks. The logic is very fundamental – If one CDN fails, then the other would complete the work.
Configuring multiple CDNs like Amazon's Cloudfront, Akamai, Edgecast, Limelight, and other top-rated reliable network servers, can greatly connect all cache copies of videos closer to the viewer, and avoid any upstream congestion on internet through intelligent routing.
Don't be afraid about the expenses involved in using multiple CDNs. Simply opt for the Pay As You Go plans and restrict your monthly CDN costs.
5. Monitor all the Quality Control factors 
To ensure optimal viewing experiences and financial returns in OTT industry, you need to keep track of each performance monitoring & analysis.
QoE monitoring solutions simply provide a detailed overview of the entire video workflow from initial processing to playback at user's end and effectively help OTT owners in scaling and calibrating their streaming services, before it's too late to sustain the growing market competition.
Here are some key QC factors to cross check before you distribute your videos to end-users.
Start with load Testing – Check the performance of your streaming website & apps, and identify potential weak points in the architecture.
Test the initial quality of your videos  – Make sure the latency and quality levels of videos are up to the mark.
Check the video playbacks with multi-bitrate streaming – Test the video quality at different bitrate levels on both slow & fast internet connections.
Monitor the CDN performance – Track the placement of every edge-server, HTTP status codes, overall traffic volumes etc. and identify the mitigating network congestion issues.
Conclusion:
Hope, now you are clear about how to deliver better video streams to end-users without cracking your head in stress. Apart from the above practices recommended by our platform experts, you can also try out other techniques for maximizing the quality of your video broadcasts.
Here at Muvi, we offer an instantly deployable streaming platform that is specifically designed to deliver the highest-quality video streaming to users all across the globe. Our platform comes with built-in 2X faster encoding engine, adaptive bitrate streaming, multiple CDN integrations, cloud transcoding, and a fully-featured online video player.
Sign-up now and take a 14-days free trial for better understanding.