In today's video and entertainment industry, piracy is one of the biggest concerns. Whether it is movies, media broadcasts, sports live streaming, or even VOD content, piracy is a threat everywhere. Over the years, multiple technologies have been innovated to tackle the threat of video piracy. Dynamic Watermarking is a step forward in this process. 
When it comes to technologies against piracy, DRM (Digital Rights Management) comes as the top choice. It prevents screenshots and screen recordings during streaming. But what if the pirates use other cameras to record your screen? Normal DRM fails to protect you there. This is where multi-DRM protection with dynamic watermarking comes to play! 
In this blog, we will take you through the technical details of Dynamic Watermarking, including what it is, how it came to existence, what are its benefits, and how you can enable it to protect your videos from piracy. So, let's begin! 
What is Dynamic Watermarking? 
Watermark – I am sure you are aware of this word, aren't you? 
From time immemorial, watermarks have been used in books and documents to leave a mark of authenticity. With the digital revolution, videos took place of books and documents, but the use of watermarks continued.    
By definition, a watermark stands for a transparent symbol that appears on the content to prove its authenticity. Now, the watermarks placed on videos can be of two types. One is static watermarking, and the other is dynamic watermarking. 
The static watermarks mean that the watermark displayed will remain static in the same position without any motion. On the other hand, dynamic watermarking is a type of moving watermark that keeps moving throughout the screen. 
Dynamic Watermarking has many more benefits as compared to static watermarking, which we will discuss in the sections to come, but first, let's take a quick look at the evolution of dynamic watermarking over time. 
A Brief History of Dynamic Watermarking
Watermarking is quite an old technique that has been used for ages. Some experts say that the first watermarks were developed around 1282, but they were obviously on paper. As far as digital watermarks are concerned, they came only around 1990. The term "Digital Watermark" was coined by Andrew Tirkel and Charles Osborne in December 1992.      
Once digital watermarking came to light, people started to modify it in order to remove its shortcoming. At first, the video watermarks were all static, and quite simple too. But with time, there came watermarks with slightly highlighted texts. Then came the transparent watermarks with text over the background color. They were a bit easier to spot compared to normal static watermarks which often got mixed within the scene. 
Finally, dynamic watermarks came much later, but gained popularity very quickly. We will now talk about the benefits that make dynamic watermarking so popular. 
Benefits of Dynamic Watermarking
If you are applying a dynamic watermark, you are actually adding an additional layer of security for your video which is quite unique from any other anti-piracy technologies. Also, they provide additional flexibility to watermarks which makes them more screen-friendly. Let's discuss the benefits in a bit more detail one-by-one.   
Firstly, dynamic watermarking is much more secure than static watermarking. It is because static watermarks are easier to remove, but removing dynamic watermarks is extremely difficult. We will be understanding how they protect against piracy in detail in our next section. So, keep reading the blog.    

Next, since dynamic watermarking keeps moving throughout the screen, the viewers don't get irritated by a fixed image that keeps appearing in the same place. 

Also, as dynamic watermarks can change their position, their position automatically gets adjusted according to the scene being displayed. As a result, they don't obstruct the scenes as much as the static ones do.       
How Dynamic Watermarking Help Protect From Piracy?           
If you are using DRM, you are already assured that no one will be able to record your screen. But what about recording from other devices? They can be tackled using a watermark. 
When someone records your video on any other device, the recorded video also bears your watermark. Hence, the pirates cannot publish it as it is, as it will mean a direct copyright infringement. 
So, what's the next option? – Try removing the watermarks. 
When they try to remove the static watermarks, it becomes somewhat easier for them to do so, because, static watermarks are static in a single place. Hence, they need to remove the watermark from the same portion of the screen throughout the video. It makes the process somewhat more disguisable. 
But, when it comes to dynamic watermarking, the process becomes a bit tricky. Firstly, they need to identify the position of watermarks in each scene, and carefully wipe them out. Secondly, the end result will still not be the best, as spots (in the form of wiped-out watermarks) will appear in multiple positions throughout the video. As a result, the chances of any pirate attempting to leak your dynamically watermarked videos become minimal. 
How to Enable Dynamic Watermarking For Your Videos?
At MUVI, you can very easily set dynamic watermarks to your videos. You just need to follow some simple steps which are discussed below.
First of all, you need to add watermarks to your videos. To do so, click on "Player" in your Muvi CMS.

A check box with "Add Watermark on The Player" will appear on your screen. Check that check box. 

At MUVI, you can add any one of four credentials as your watermark. These four options are "User Email Address", "IP Address", "Phone Number" and "Date". Select the check box according to your preference.

If you wish you can choose more than one option too.
Once your watermark is selected, it's now time to choose its type. To set dynamic watermarks, click on "Player" again, and go to "Watermark Position".

Select "Dynamic". The watermark will now become dynamic. You can even set the frequency of your dynamic watermark. 

To do so, select "Show infrequently". Type the time (i.e., 5, 10, 20, etc.) and select "Minutes" or "Seconds" from the drop-down.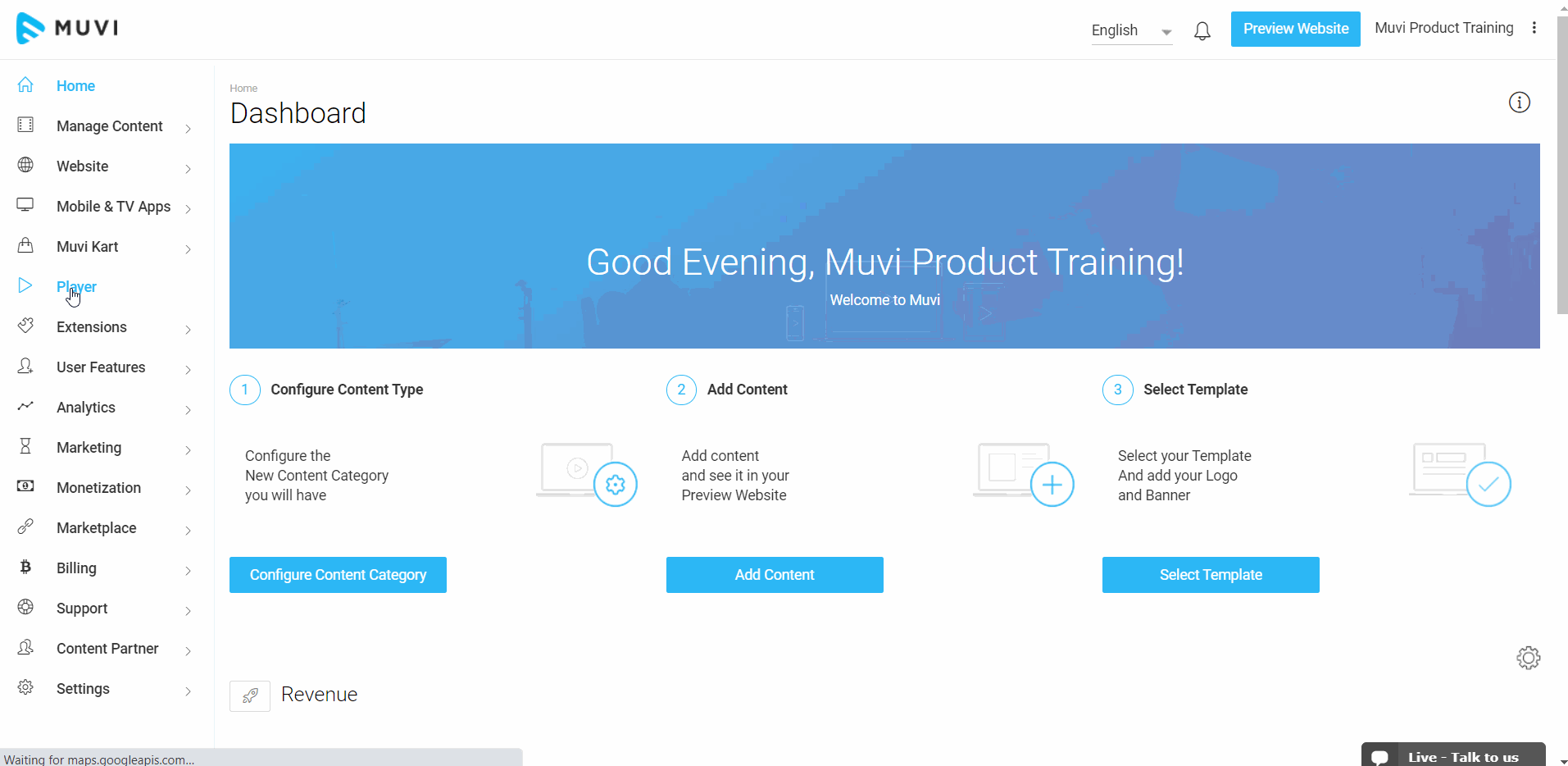 You can do even more than this. You can set the opacity of your watermarks, make them static, and keep experimenting with their type and position. Read our help article to know the process in more detail. 
Wrapping Up 
Dynamic Watermarking helps make video piracy extremely difficult. And, when it is combined with mutli-DRM protection, you can rest assured that your OTT content is 100% protected from piracy. 
If you are looking to develop an OTT platform with built-in DRM and dynamic watermarking, switch to MUVI! Along with multi-DRM and watermarking protection, we also offer built-in CDN, integrated Ad servers, multiple payment gateways, and 100+ industry-leading features! Sign up to start your 14-day free trial today!