Global internet penetration has seen a new high in 2022. Stats say that around 5.07 billion people across the world are using the internet today, which accounts for approximately 63.5% of the global population. And it is expected to grow even further in 2023. And with the spread of connectivity, linear TVs are fast getting replaced by internet-connected devices that support FAST channels. 
Due to the immense potential of FAST, many linear TV operators are now looking to migrate to FAST. If you are also looking to start your own FAST channel, this blog is for you! In this blog, we will cover everything you need to know about scheduling content for your FAST channel. So, let's begin! 
The Rise of
FAST Channel
s – A Numerical Ride
Free Ad-Supported Streaming TV Services – also known as FAST, enable viewers to watch free live TV channels without the need for any subscription. They insert ads in between the live stream to generate revenues. And this revenue is not at all small in number. Reports suggest that the advertising revenue generated by FAST is expected to reach over US $6B by 2025.  
One of the biggest advantages of FAST is that it lets you extend your linear TV content to inter-connected devices. That is why FAST saw a 99% rise in the number of channels in 2021. Furthermore, 53% of the TV viewers spent sufficient time in October 2021, which was 15% more than the previous two years. 
This rapid growth of FAST channels is expected to grow even further in the coming years, and this rapid growth is triggered by the unique benefits and features that FAST offers, In our next section, we will take a quick look at some of those. 
If you want to know more about FAST Channels, read our blog "What is FAST Channel?"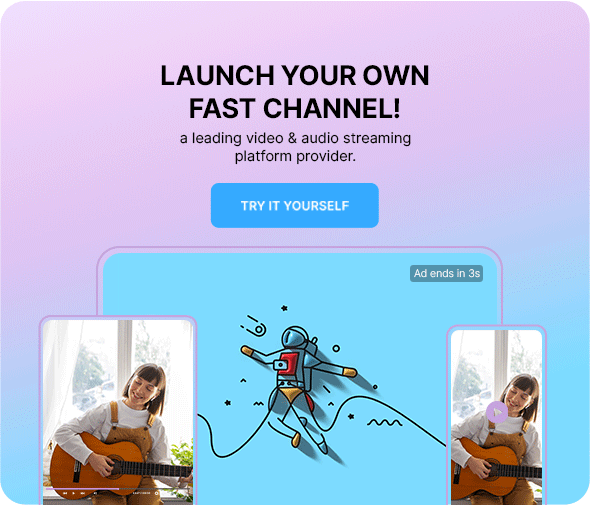 Features That Make
FAST Channel
the Future of Entertainment
When it comes to FAST channels, free entertainment is what comes first in our minds. But free entertainment is not the only benefit of FAST. It has multiple unique features which makes it a go-to choice for both viewers and content creators. 
Repurpose Your Old Content
Using FAST channels, linear TV content curators can easily repurpose their old content. They can rerun their already-telecasted content on FAST, which helps the audience to catch up with the missed episodes and stream their favorite content again and again. The best part is, you can even retelecast your recorded feeds as live feeds, and hook your viewers for longer periods of time! 
Free Unlimited Streaming                  
As a content curator, you always want to optimize your profits, but your viewers would always want to gain maximum content at the least cost. FAST channels help fulfill both motives. With FAST, you can gain revenue by adding advertisements in the middle of your content feeds, and your viewers can enjoy the content without having to buy any subscription!
Cordless TV Experience
The trend of cord-cutting is on the rise throughout the globe, and that is why FAST channels are fast taking the position of Linear TVs in many modern households. As a linear TV content creator, you can secure your future by launching your FAST channel and releasing your television content on FAST. 
Hook Your Viewers For Long
In FAST channels, your viewers can watch all the episodes of a television series in one go. Hence, they don't have to wait for long, they can binge-watch the entire show. This is a great way of hooking your viewers for a longer period of time.        
Prerequisites For Starting Your Own
FAST Channel
Starting your FAST channel is both easy and tricky at the same time. It is easy because the combination of Muvi One and Muvi Playout lets you launch your own FAST channel instantly, without the need for any additional software infrastructure. But, it is tricky because you need to take care of a few prerequisites before launching your FAST channel. Let's take a quick look at some of them. 
Collect & Organize Your Content
Before you start your FAST channel, you will have to collect and organize your content. You need to select your content based on the preference of your audience base, and the latest trends in the industry. Also, you should organize them carefully on the basis of genre, and make sure you offer a good variety of content to your audience. It would be good if you can diversify your offerings.                 
Decide The Type and Genre Carefully
FAST can offer many types of content. It can offer on-demand content as well as live-streaming content. So, you will have to decide whether you want to use your FAST channel for on-demand content, live-streaming content, or both. And once you have decided on the type of content, you will have to reorganize it on the basis of its type and genre, which will help you schedule your content library efficiently.          
Make Full Use of Analytics
Analytics is an important tool that will help you analyze which content your audience prefers to watch. Also, it will help you analyze which content has the potential of getting multiple repeated views. Also, the analysis will help you realize which ads are getting good acceptance from your audience, and which type and genre of content are getting good results. 
Choose A Good Content Scheduler 
An EPG or Content Scheduler is very important for FAST channel administrators. Pick a good scheduler like Muvi Playout to help create and schedule your fast channel more efficiently and in an organized manner.               
Pick A Good Ad Management Server
Finally, a good ad management server will always help you in deliver good-quality advertisements at the right time. So, Pick a good ad management server like Google DoubleClick to help you in this process. 

Content Scheduling For
FAST Streaming
– Why Is It Important?
When you launch your FAST channel, you bother the least about scheduling content for your FAST Channel, right? The common thought is that since it is on-demand, you don't need to bother about the scheduling. But, let me tell you that it is one of the biggest mistakes that FAST streamers often do. 
Launching content on your FAST channel at a proper time is one of the most important things to consider. Let's understand it with an example. Suppose, you are live streaming the FIFA finale on your FAST channel. Then it will definitely be the best time to schedule all your sports documentaries and sports-related content around that time, as it will have the chance of getting maximum viewership at that time. 
Similar is the case for AVOD content. Like, you can launch your horror series content around Halloween, festive, light-hearted, family entertainment content in December. In short, you need to understand that people search for specific types of content around a specific time of the year. Hence, launching your content at that time would ensure maximum viewership. 
How to Schedule Your Content For
FAST Channel
?
Scheduling your content for the FAST channel has certain steps, that all of you need to follow to maximize your viewership. Let's take a look at the steps for scheduling content for the FAST channel. 
Step 1 – Analytics
The first step is researching adequate data from the analytics. Some of the most important data you would need are:
The time when your audience is watching content 

The time when they are spending minimum time consuming what type of content 

The type of content they are watching

Mapping is there any connection between the type of content watched and the time of the day

Overall viewing behavior, like the time spent over a month or a quarter, and the type of content that was most prevalent during this time period. 
In short, you need to keep track of the likes, dislikes, view time, and view preferences of your audience. A wise use of analytics will help sail through the next steps very easily.              
Step 2 –  Create An Overall Broadcast Schedule
Based on the findings of your analytics R&D, prepare an overall broadcast schedule. It will precisely comprise the type and genre of content that you want to fit in at a specific time of the day and a specific day of the week. It will help you decide the launch schedule of the programs in your next step. 
Step 3 – Create A Program Schedule
To prepare the launch schedule for programs, you first need to divide them on the basis of genre. Once you have done that, take the help of the broadcast schedule that you have prepared above, and decide on the launch schedule for the program based on their genre. For example, in your broadcast schedule, if you have planned to launch a music reality show on weekends in the late evening, you can schedule the launch for your music reality show content around that time, and create a program launch schedule accordingly.              
Step 4 – Arrange the Schedules On Your Calendar 
Once you have prepared the schedules for all your programs, arrange them on the calendar, and make sure to spread them evenly, so that your FAST channel gets at least one new launch in a day when you are starting up. 
Step 5 – Start Playing
Once you have prepared the calender for at least one week, you can start streaming! But, in the first week and the weeks thereafter, it is important to keep analyzing the performance of your FAST channel, as it will help you improve viewer engagement based on past performance and data, basic idea is to take weekly analysis and create the next week's schedule. 
Develop Your
FAST Channel
With Muvi
So, if you are looking to start your own FAST channel without any hassle, you must try Muvi! Our Muvi One and Muvi Playout will help you launch your FAST channel in a jiffy, without any coding or software and hardware architecture. You will get the entire software architecture built in, and just a few mouse clicks are enough to get going! Sign up to start your 14-day free trial today!