The global streaming devices market is growing steadily with the Apple TV holding nearly 3% of the market share as of 2020.  Despite having comparatively high price, Apple TV is subject to strengthening its position further in the global industry owing to the exclusive perks it offers to the users such as, streaming tons of channels of their preferences, ease of set up, easily controllable with the iPhones, and powerful processors for lag-free streaming, to name a few. While more users tend to opt for it in the near future, the streaming industry players are also launching their Apple TV apps to expand their audience base. If you too have a streaming business and have a plan to leverage this opportunity, then you must create your own Apple TV app development so that you can easily reach out to the Apple TV users to turn them into your long-term customers. And in this blog, we will give you a detailed guideline of how to create an Apple TV app. So, let's start with the basics before we delve deeper.
What is an Apple TV App?
Apple was one of the first companies to enter the streaming race with Apple Music and iTunes which typically were streaming services but were limited to Audio only. So, way back in 2007 Apple decided to enter the video streaming space with the launch of their 1st generation streaming box called "Apple TV". However it was not until recent updates to Apple TV ecosystem and introduction to Apple TV+ extension that the Apple TV devices were opened up to 3rd party developers who could build their own streaming apps and publish them to Apple TV app stores for end consumers to download and install on their Apple TV boxes. 
So, it's an over-the-top platform for the Apple TVs and Apple TV 4K streaming boxes that lets the viewers stream various VOD content on their Apple devices. 
How to Create an Apple TV App? A Detailed Guide
There are three ways to create an Apple TV app-
1. Launch through a White Label OTT App Provider
If you want to scale up your streaming business in the long run by launching your own Apple TV app, then going for a white label OTT app provider like Muvi is the best way to do it in terms of quality, cost, time, and the lifetime support provided by them. 
Even if you don't have a developer team, you can easily launch your app as it doesn't require much technical knowledge from your end. All you need to do is use the pre-existing technical tools and follow the simple steps to launch the app.
The steps are quite simple-
Sign up with

Muvi

Go to the Muvi CMS → Go to 'Billing' → Go to 'Muvi Subscription'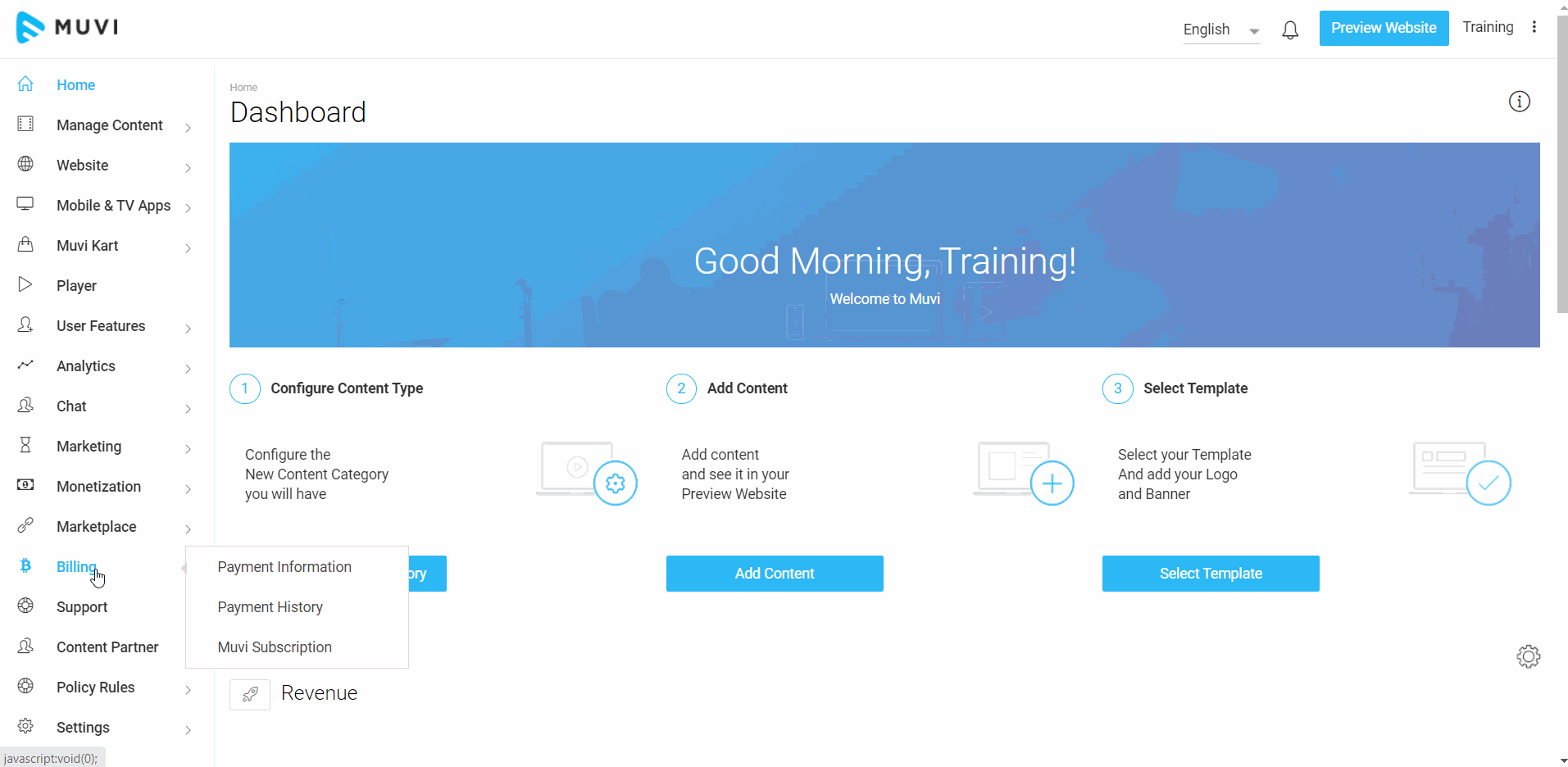 Select the app option under 'Application' → checkout. In this way you can purchase the app and it's all yours (fully white labelled)

Navigate to 'Settings' → choose 'Advanced' in the CMS

Just select the checkbox for the Apple TV app and click on 'Update'
Also, you need to provide with the necessary information through the CMS by following these steps-
Navigate to 'Mobile & TV Apps' → 'Apple TV App' → 'Publish to App Store' in the CMS
Type your App name in the 'App Name' field 
Navigate to 'Short Description' field and fill up a brief description of the app
In the "Description" field, include more information about the app

For uploading app icon and other related images, there are different sizes and types you can choose from such as-
App icon large
App icon small
Splash screen for your app (the image that appears before the main screen of the app)
Transparent app icon for inside page
Concept image displayed under the content list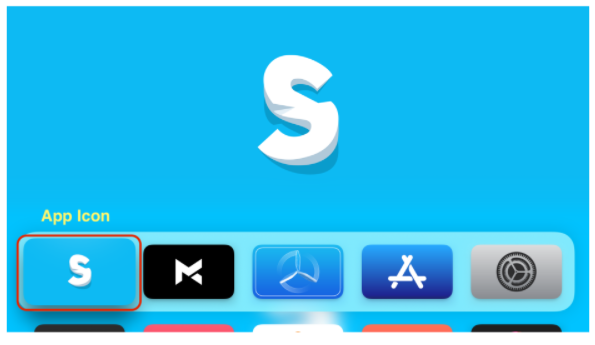 The rest of the steps are even simpler to follow- selecting distribution demography, language, website name etc. Just click on the save and you are done! Muvi will build the Apple TV app for you and you will get it ready in the next couple of weeks (maximum)! 
You can also opt for customized options if you want to try something else apart from the predefined templates. 
Here, you will not need to go through any technical steps like coding, developing etc. and all will be done from the OTT app provider side. Once the app is ready, Muvi will send it to you for testing from your side and giving your final approval. Once you check everything and approve it, your Apple TV app will be published in the iTunes app store. Starting from adding your content to customizing it- all you can do just through a few button clicks and every technical step is taken care of by the OTT app provider. As you can see, if you choose a good one like Muvi, you will get everything ready in no time.
No matter whether you are a beginner in the streaming industry or want to extend your business by launching your own Apple TV app, you should opt for this method. Not only will you get everything faster and at an affordable cost, but also you will have 24/7 support for any assistance. Furthermore, a sound OTT app provider offers the perks like-
Supports multiple monetization models like SVOD (Subscription-based Video-on-Demand), AVOD Advertising-based Video-on-Demand, PPV (Pay Per View) etc.

Easily customizable and can be integrated with third party solutions

Your revenue is not shared with anyone (not even with Apple)!

You get a fully featured Apple TV app where you don't need to compromise with the quality of your app; be it subscriber registration or viewing your content, or sending push notifications to your customers- all are executed smoothly

Provides you with thorough analytical reports about how your app is doing- viewing time, popular resolution, bandwidth consumption etc.
And many more! 

2. Opt for a Custom Built App
If you have a higher budget and enough time in hand then you can go for custom building of your app. This will require a professional team with expertise in iOS development. The perks of this method are- you will have higher flexibility in terms of app customization and as everything is built from scratch, you can make it as unique as you want. However, the total cost including developing, testing, security, support, hosting etc. is quite high and may not be a right choice unless you are ready to take risk by making a huge investment. Additionally, there are maintenance, troubleshooting and other costs in the long run as for any bugs, errors, or issues, you have to handle it entirely on your own.
3. DIY Apple TV App Building
In case your budget is quite tight and you are ready to compromise with the design, quality and the total time taken, this can be your go-to option to launch your app. The steps look simple but can be difficult to follow and most importantly, may take days and weeks-
Visit the online learning platforms offering iOS and OTT app development courses and tutorials

Learn thoroughly

Build the app entirely by your own when you are ready
However, it is likely that you will need technical support and intervention at several points of the developing, testing and go-live process. And it may take even longer to customize or fix issues or errors etc.
Wrapping Up,
No doubt that launching your own Apple TV app is a lucrative option to target the Apple TV viewers and iOS users. And before you choose any method, always weigh the pros, cons, budget, time frame and the competitive advantages you may get. Among all the methods, the first one should always be your pick owing to the facilities it provides at such a low time frame and budget. All you need to focus on is finding a suitable tvOS or OTT app provider.
Muvi, the all-in-one OTT app provider, lets you launch your own branded Apple TV app in a jiffy. With Muvi, you get everything at your fingertips- fully featured native Apple TV app, Muvi Onyx support for near deployment quality work preview, integrated billing and analytics & insights, to name a few.
Take a 14-day free trial today to know more (no credit card needed)!