In today's world, a sports streaming brand considers live streaming as the most interactive way to engage with the audience and establish its presence. With the advent of mobile technology and the internet, the audience can access live sports anywhere, anytime. That is why sports events are considered one of the most widely streamed live events across the globe. 
And it is hard to imagine a sports match without live commentary. Whether it is a football world cup game, live cricket commentary, or even an Olympic event, sports commentators play a significant role everywhere. 
And as we stand on the preset of the much-awaited football magnum opus in Qatar, the FIFA World Cup 2022, it is the perfect time for all football commentary enthusiasts to launch their own sports commentary channels. If you are wondering how to do so, then you are on the right page! We will cover everything you need to know for starting your own sports commentary channel. 
So, let's begin!
How Live Sports Commentary Started?
History says that the first prerecorded sportscast occurred in 1911 in Kansas when a small group of players recreated the major events from a real football match. Ten years later, the world heard the first ever live radio sports commentary of a boxing match from Pittsburgh in 1921. And after the development of television, the 1939 Summer Olympics was officially broadcasted over television for the first time, from the United States to the entire world! Sports commentary has never looked back since then. 
And in this digital era, live sports commentary has moved from your television sets to your mobile phones. Nowadays, a sports fan can remain connected with live happenings and live scores on the go. That is why live sports commentary sites and channels are growing more and more popular. Apps and platforms like talkSPORT live commentary, and YouTubers who mix innovation with sports are giving a new dimension to sports commentary. 
Latest Trends in Live Sports Commentary
According to the official numbers released by FIFA, the FIFA World Cup 2018 Final match was viewed by 1.12 billion people simultaneously worldwide. Also, the overall viewership numbers crossed 3.5 billion which is almost half of the total population of the world! The numbers prove that sports streaming, especially when it comes to big events like the FIFA World Cup, has immense potential. 
And this potential is now being mixed with the latest innovations in technology. Online sports streaming has already been in trend over the past few years, and it is expected to break all the previous records during the FIFA World Cup Qatar 2022. 
Some of the most innovative trends for this edition include:
Accessibility:

Sports are for everyone, including people with disabilities. Keeping this in mind, the FIFA World Cup Qatar 2022 will see the application of Bonocle, the world's first Braille entertainment platform

Regional Commentary:

Though this trend is not absolutely new, regional sports commentary is going to get a new dimension during FIFA World Cup Qatar 2022. With the involvement of local individual commentators, sports enthusiasts can get the feed in their own native language 

Advanced Match Ball: The official match ball of FIFA World Cup Qatar 2022 is being called Al Rihla. Launched by Adidas, the ball contains a sensory chip that will send ball data to the video operation room 500 times per second
FIFA Player App:

This app will be used by the players to get all the insights related to their performance after the matches. It will be used to track, monitor, and improve their individual performance. 

AR-VR and Metaverse:

This world cup will see the inclusion of AR-VR technology and Metaverse, which will make the sports streaming experience much more engaging and interactive for viewers.
This time, FIFA World Cup live commentary is not going to be restricted to a few TV channels only. The live commentators and football enthusiasts will be eager to participate in the global celebration of football wholeheartedly. And MUVI is ready to help them efficiently! 
Benefits of Having Your Own Live Sports Commentary Channel
If you are already a sports commentator, you must be wondering why you should have your own sports commentary channel, as many of you might be well-established on other platforms like YouTube, right? But, let me tell you that you are missing out on many advantages by not developing your own customizable live sports commentary channel. And in addition, you need to face many additional challenges like:
YouTube Demonetization:

As the YouTube algorithm keeps changing now and then, you remain at constant risk of losing your income source overnight

Constant Screening:

As a sports commentator, you should be aware of the constant screening that goes on to identify and target certain live commentary channels. Why bear the constant risk of getting banned? When you can sit back and relax by starting your own sports commentary channel!
By starting your own live sports commentary channel, you can reap the following benefits:
1. Full Control Over Monetization 
In your own platform, you are the sole authority for taking every monetization decision. Whether you want to have a monthly subscription or charge specific rates for specific content, you can implement them all in your own platform. Especially if you build your platform using Muvi, you can implement multiple monetization models including SVOD, AVOD, PPV, Private subscription, coupons, vouchers, and much more! 
2. Greater Engagement With Your Users
When you develop your own live sports commentary channel, you get access to all your user data. You can use the data to engage directly with your users and offer personalized discounts and benefits. It improves overall customer satisfaction by leaps and bounds. 
3. Personalized Analytics
No-code platforms like Muvi provide you with advanced analytics tools on your platform, which help you analyze the end customer's browsing behavior, content performance, views, likes, subscriptions, and more!
And this is not all. By choosing the right OTT development software, you can reap additional benefits like built-in CDN for buffer-free streaming, multi-DRM security, integrated ad servers, payment gateways, and more!

How to Launch Your Own Live Sports and Commentary Channel With MUVI?
Muvi makes launching your own sports commentary extremely easy, as you don't have to write a single line of code! Just follow the steps given below and launch your one live sports commentary channel instantly. 
Step 1 – Sign Up
The first step is signing up for our platform. 
Visit

https://www.muvi.com/

 

Click on the free trial button, and fill out the sign-up form. 

As soon as you submit the sign-up form, your free trial account will be activated. 
Step 2 – Design Your Frontend
Once your account gets created, log in to your Muvi CMS and start developing your sports commentary channel. The first thing you should do is design your frontend. To do so, follow the steps given below:
Start by selecting a template for your platform. 

To select a template, go to "Website" → "Templates" → "Manage Template" in your CMS.

Go to manage templates. There you can see 5 templates. Choose the most suitable one and click on "Preview" to preview. If you like it, click on "Activate".
After selecting the template, you can upload suitable banners for your sports commentary platform. Beautify the platform as much as you want, to suit your viewer's interest.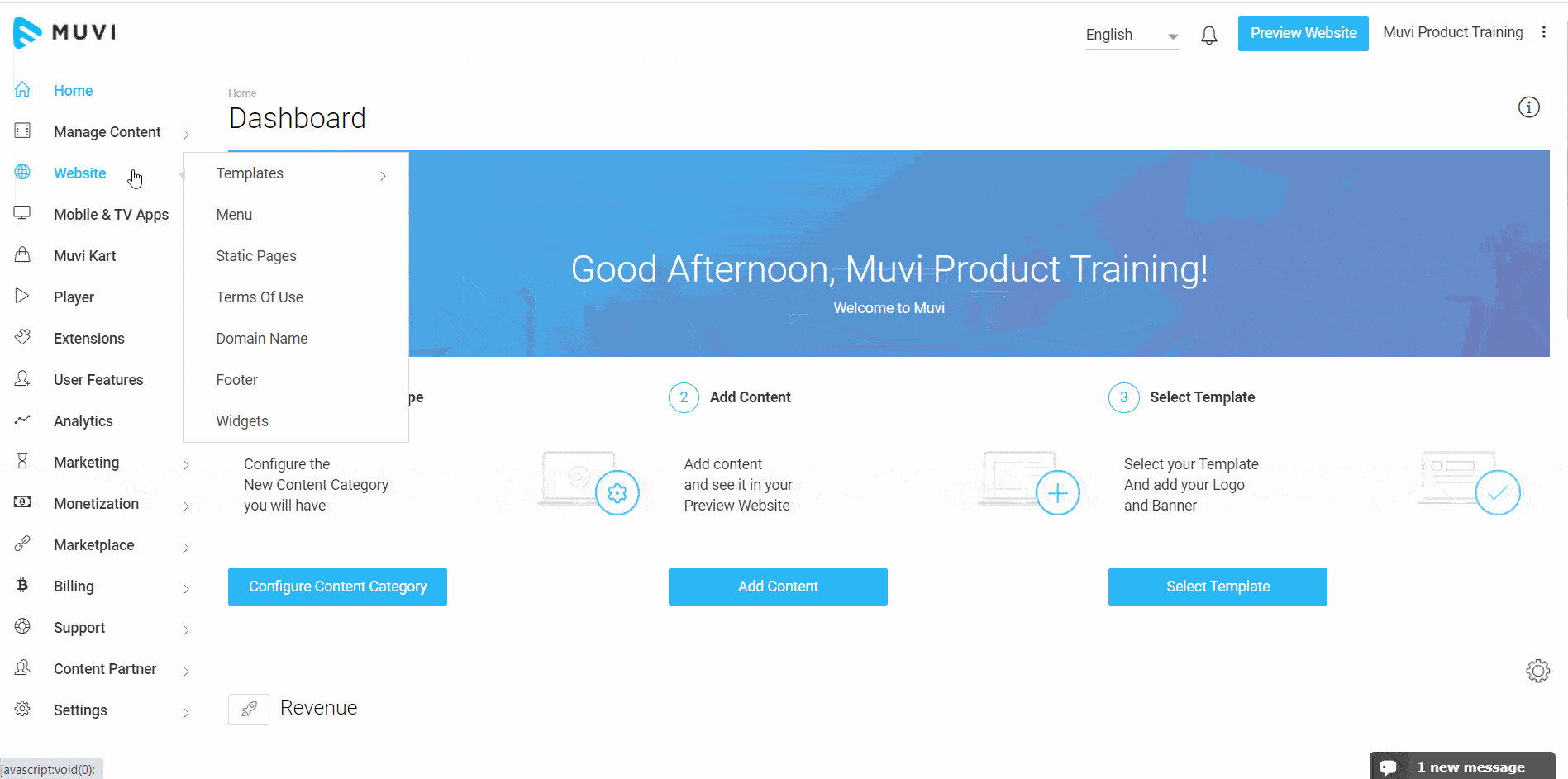 Step 3 – Add Sports Videos to your platform
As a sports commentator, you must be working on different types of sports videos, including previews and post-match analysis. Many times, all of them may not be live feeds. No worries, you can add on-demand (pre-recorded) video content to your platform too! Follow the steps given below to do so. 
Go to "Manage Content" and click on "Video Library" in your CMS.

Then click on "Upload Video".

If you have the video file stored on your computer, select "From Computer" from the drop-down menu.

Click on "Upload File" to upload the video from your computer. 
Step 4 – Enable Monetization
Next, come to the most important step. To earn revenue from your live sports commentary platform, you will have to set up a suitable monetization model. To do so, follow the steps given below:
Go to monetization and click on settings.

The entire list of monetization models will be visible on your screen.

Select all the models that you want to apply, and click on update. 
You can also manage the conditions of different monetization models from CMS. Click on the links given below to know more:
Step 5 – Enable Chat Feature
In order to engage with your audience during the live chat, you can enable the live chat feature. To do so, follow the steps given below:
Go to "Marketplace" and click on "Manage Apps".

Under "Chat", click on "Activate".

A confirmation message will pop up, click on "Yes".

When prompted, provide the credit card details and click on "Pay Now".

Once the payment is successful, the Chat feature will be enabled.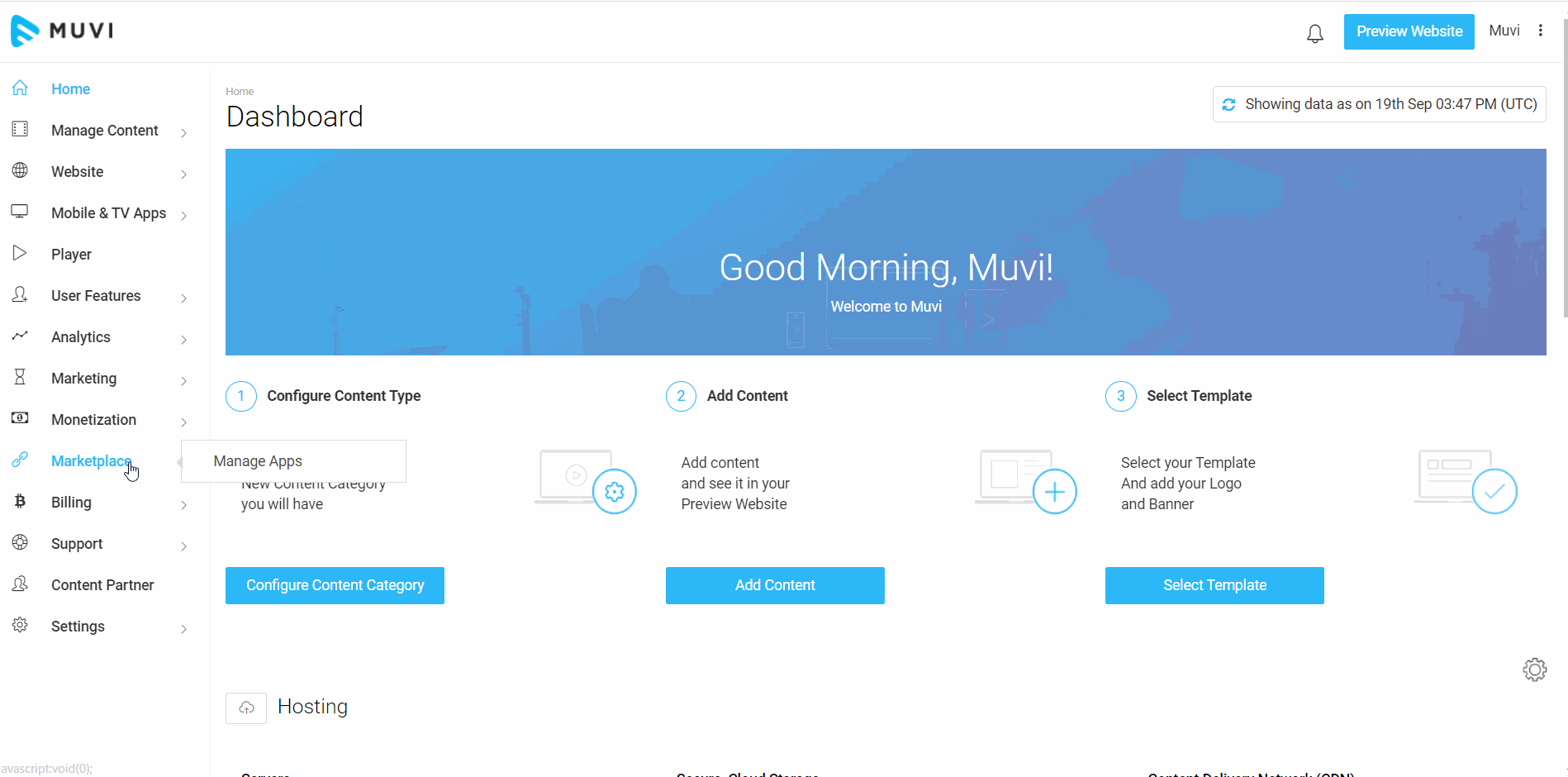 Step 6 – Mask through OBS Studio
If you are doing live commentary of a match, I am sure you would want to display the scores and other statistics on the screen side by side. This can b achieved by masking. In masking, you would apply a second video layer above your live commentary video layer. This second layer is called a mask. This mask will display the scorecard and other statistics related to the game. 
Step 7 – Start HLS Live Streaming with 3rd Party Live Feed
Once your masked feed setup is ready, it's now time to go live! 
Go to Muvi CMS and enter  "Manage Content"  → "Content Library".

Go to "Add Content ".

In the add content page, set the format as "Video Live Streaming" from the drop-down menu.

In the "Content Name", fill the name of the match that you are going to comment on. 

Once you fill in the name, "Permalink" will be automatically generated. You can also edit the permalink.

Select Release/Record Date from the calendar. Also, select the start time. 

Now, in the Feed field, select "External URL".

Next, go to OBS Studio, navigate to the Sources section, and click + to add a new source.

Click on "Select Video Capture Device" from the list, and click "OK" to add the capture device.

Now go to "File", enter "Settings", and select "Stream". 

Click on "Start Streaming" on the bottom right corner of OBS to start the live stream

Obtain the HLS live stream URL of the OBS live stream. 

Now re-enter your Muvi CMS, and place the HLS link that you got from OBS. 

Click on save and continue to start your live sports commentary. 
Conclusion
By following the above-given steps, you can very easily start your own sports commentary channel. Along with 100+ features, Muvi provides you with 24×7 customer support, zero revenue sharing, and a completely white-label platform. So, why wait? Start your 14-day free trial today!