According to current market research, the worldwide streaming market would rise to $19–20 billion by the end of 2023. In the age of Over The Top (OTT) entertainment, streaming has become an essential aspect of the commercial marketing cycle. More or less, each and every business battling on the digital platform is using video streaming as a key weapon towards getting customer engagement. 
The streaming business is divided into 2 categories: one is trending live streaming, and the next one is classic video on demand, popularly known as VOD. Deciding which one will be best suited for your OTT business can be a troublesome task.
In this blog, we are going to discuss the differences between VOD & live streaming and which video streaming style will be best for redirecting your marketing activities towards achieving targeted business growth and client conversions.
The topics we are going to cover:
What is live streaming?

What is VOD?

What are the differences between live streaming and VOD?

What are the features to look out for in a unified platform?
Let's proceed with the general definition of both the streaming types:
What is live streaming?
Online streaming media that is created and broadcasted simultaneously in real-time is called "live streaming." Some of the widely popular live streaming platforms are Facebook Live, YouTube Live, Twitch, Periscope, Mixer, etc.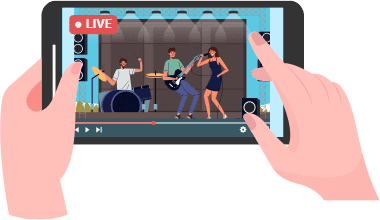 In live streaming, video is delivered to the end users' devices over the internet through streaming protocols. Some of the more well-known video delivery technologies behind live streaming are RTMP, HLS, and WebRTC.

Live streaming serves a wide variety of industries like tournaments, events, conferences, festivals, breaking news, competitions, etc. The evolution of the live streaming industry has offered people the comfort of just sitting at home and attending live events going on in any other part of the world.
What is VOD?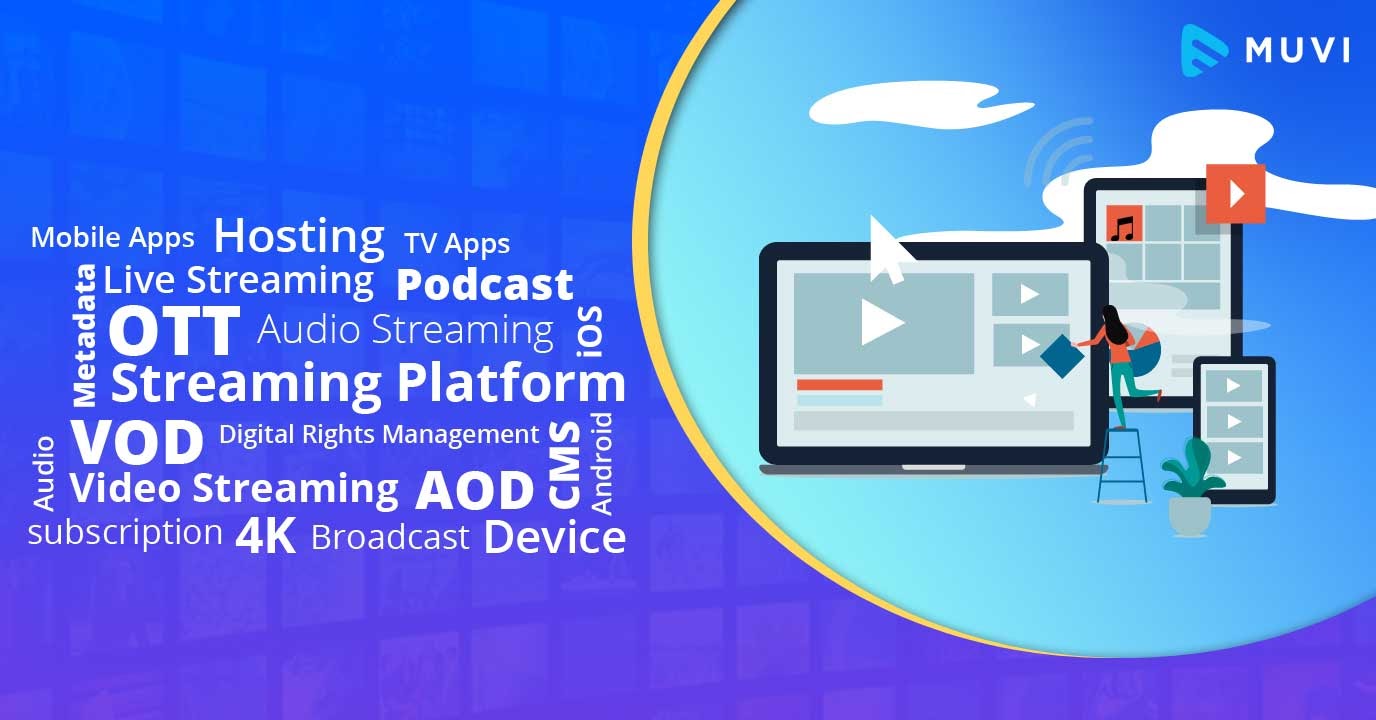 By introducing an easy-to-use digital platform to play pre-recorded videos available on OTT platforms regardless of location, time, or device, VOD (Video On Demand) has rendered cable TV obsolete.
Some of the popular VOD platforms are Netflix, Hulu, and Disney+.
How does VOD work?
Videos are first converted to digital format and then stored on video hosting sites. When a device sends a streaming request, the demand request is sent, and the requested video is compressed and transmitted over the internet. 
Live Streaming VS. VOD: Which One to Choose?
Both VOD and live streaming have their own audience base and have proven to be the best in their respective functionality. Choosing one over the other can be difficult.
The Analysis
At the end of the day, without creating the video content, you cannot deliver either live streaming or VOD. For some businesses, live streaming is performed to monetize events, tournaments, and shows, but again, in the latter phase, the same videos are saved in the video library and are delivered as on-demand videos. Thus, the maximum benefits of video monetization are achieved when both the streaming types are adopted by businesses. It expands content reach and helps with high revenue generation from the same set of video content.
Hence, going forward with both video streaming types can help your business target a wide range of customers and perform the highest revenue-based monetization functions. To leverage the best benefits of live streaming and VOD, it is recommended to go for a unified streaming platform that supports both streaming types. 

Let's take a quick look at some of the core features of a unified OTT platform to assist you choose the correct one.
4 must-have features to look after in your unified OTT video streaming platform-
1. Global video delivery –
Being in the OTT business, it has become primary to focus on the global audience. With global video delivery services, your company will be able to deliver premium video content regardless of geo-boundaries or streaming servers.
2. Security –
Selecting an OTT platform that supports DRM, Server Side Security, Firewall, SSL Certificate helps in securing your content and restricting it to your subscribers. This prevents content spamming and pirates while also increasing trust in the end-user experience.
3. Transcoding is done automatically –
The automatic transcoding feature allows video creators to create individual settings for each video file. Once it is done, the transcoding technology converts the video file size to the most compatible with web apps and mobile apps and delivers high-quality video with zero lag.
4. Monetization –
The right unified OTT platform serves as the most authentic video monetization strategy. Monetization strategies offered by unified platforms are AVOD, SVOD, and TVOD.
Ad-based video on demand monetization (AVOD)- 
AVOD is one of the most commonly used traditional video monetization strategies used by streaming giants like YouTube. It helps you make money by inserting ads into your video.
Subscription-based video on demand (SVOD)-
In this monetization model, the end-user can watch video content only when he/she has subscribed to any of your monthly or annual plans. By paying a certain amount of money, end-users will get unlimited access to all the video content available on your OTT platform.
Transactional video on demand (TVOD)-
It allows users to pay for what they want to watch; that is, pay-per-view. This type of video monetization is highly profitable for businesses that are offering premium, high-demand content like sports events, competitions, or movies.
Conclusion
After going through the whole discussion, I am sure now you are clear about your streaming business requirements and the solution. But in case you still need some time to think, you can have a look into Muvi's all-in-one OTT platform.

Now you can take a 14-day free trial of

Muvi One

and explore the customized services offered for SaaS businesses.
Try out Muvi's free trial now and taste the difference of excellence. Happy Streaming!!!!