OTT will lead LATAM growth
After Asia and Western Europe, the geography which is attracting much of an OTT traction is Latin America. Despite having limited broadband penetration and high levels of piracy, Latin America shows great potential to become OTT dominated region in coming 5 years, given the changing habits of consumers.
Statista recorded the user penetration for OTT services in the region at 9.7% in 2016, which is expected to reach 15.7% by 2021. At a CAGR of 15.1%, and an ARPU of US$15.44, the LATAM video on demand market is forecasted to grow some double in revenues from US $425 million in 2016 to US $859 million in 2021.
Many subscription VOD services are expanding into the region looking at its high potential and growing market scenarios, especially in countries like Brazil, Argentina and Mexico. Netflix alone is ruling homes in both Brazil and Mexico – the biggest OTT markets in the region. In fact, Brazil and Mexico are Number 4 and Number 5 on the global list.
360 Overview of the Future of OTT market growth in Latin America
The subscription VOD market in LATAM countries is recorded at a revenue level of US $290 million, which is forecasted to grow at US $651 million by 2021 at a CAGR of 17.6%. The Audio Streaming market is also set to mark $434 million revenues by 2021, growing from $289 million in 2016 at a CAGR of 8.5 %. Surprisingly, Video Advertising shows a great sign of growth from that of US $466 million revenues in 2016 to US $2,257 million by 2021, following the CAGR of 37.1 %.
Let's have a deeper look at the state of video streaming in high potential markets of the region:
Brazil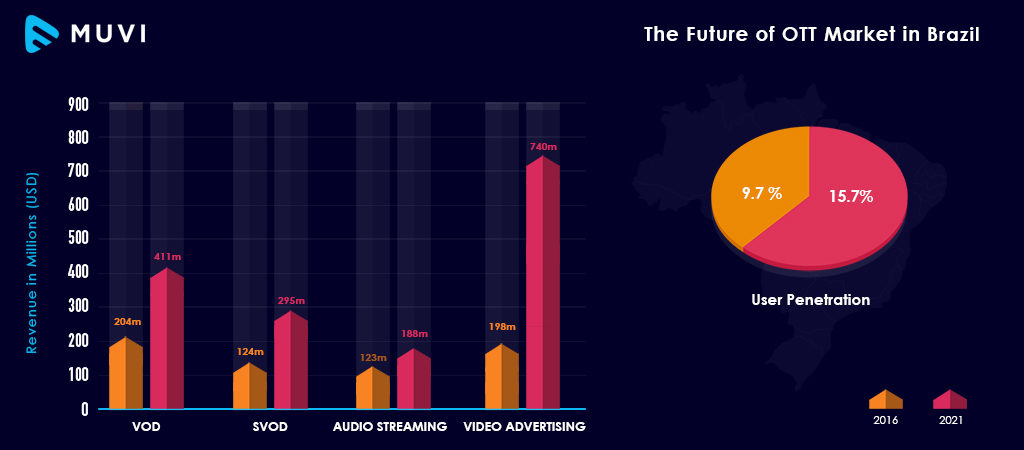 Brazil has been a Pay TV dominant market for quite a long time, along with massive threat to piracy and low internet penetration. However, the entry of Netflix in 2011 acted as the biggest catalyst of change in the OTT paradigm in Brazil.
Pay TV providers such as Globo, Bandeirantes, Globosat, FOX and HBO are also launching their own OTT services after Netflix's strong head start. Because of the early entries by Netflix, iTunes and Google Play in in Brazil's OTT market, these players were able to establish a strong user base in the country. In fact, Netflix alone currently holds more than 2 million subscribers in Brazil.
Despite many barriers such as payment method, lack of credit card holders, lack of high speed broadband, and others, consumer habits are changing. According to a recent Consumer Lab study, most Brazilians spend 36% of their time consuming videos and approx. 60% of them use their smartphones to watch videos, which certainly is a significant growth.
Another study by Conecta and a Network of Market Research, 49% of Brazilian internet users were found to be using at least one VOD service. With an ARPU of US $14.69 and OTT service user penetration increasing from 8.8 % in 2016 to 14.5 % in 2021, Brazil shows a great potential to become the biggest video streaming market in Latin America.
Statista estimated the video on demand market revenues in Brazil to grow from US $204 million in 2016 to US $411 million by 2021 at a CAGR of 15 %. Since there is more demand for subscription based services other than any other type, the SVOD market is expected to grow from US $124 million in revenues to US $295 million at a CAGR of 18.9%             .
In a country dominant of music streaming, there's going to be a small growth in the Audio Streaming market from US $123 million revenues in 2016 to US $188 million by 2021, at a CAGR of 8.8 %. However, Video advertising is set to surge at a CAGR of 30.1 % from US $198 million in revenues in 2016 to US $740 million by 2021.
Mexico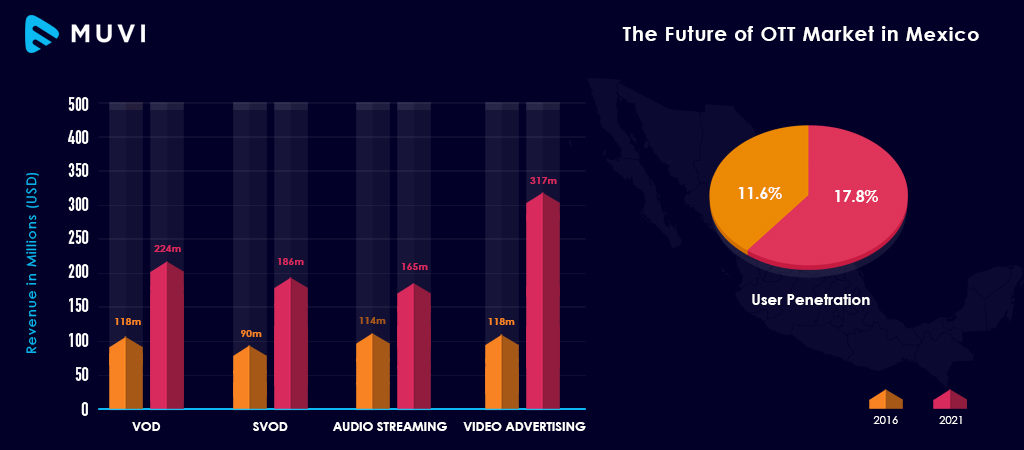 In the stable market for mobile and fixed telephone services of Mexico, only OTT video platforms are driving forward. According to Statista, the video on demand market revenues are expected to grow from US $118 million in 2016 to US $224 million by 2021 at a CAGR of 13.6 %.
The subscription VOD market is expected to take a jump from US $90 million in 2016 to US $186 million by 2021 at a CAGR of 15.6 %. Netflix again remains the market dominant. A Competitive Intelligence Unit study stated Mexico to have some 5-6 million subscribers for OTT services, with Netflix leading market by 68.9% share.
According to an analysis by Citibanamex, a third (30%) of Mexican households are expected to pay for OTT services by 2025. The study also stated that Mexican OTT video market is set to generate over $220 million income in less than ten years.
With an OTT user penetration of 11.6 % and an ARPU of US$11.16, the penetration is set to increase to 17.8 % by 2021. The Audio streaming market will show a little growth from US $114 million revenues in 2016 to US $165 million by 2021 at a CAGR of 7.7 %. On the other hand, video advertising is set to surge high from US $118 million revenues in 2016 to US $317 million by 2021 at a good CAGR of 21.9 %.
The popular OTT services in the country are Netflix, Clarovideo, Blim, Cinépolis Klic and HBO Go/Now.
Argentina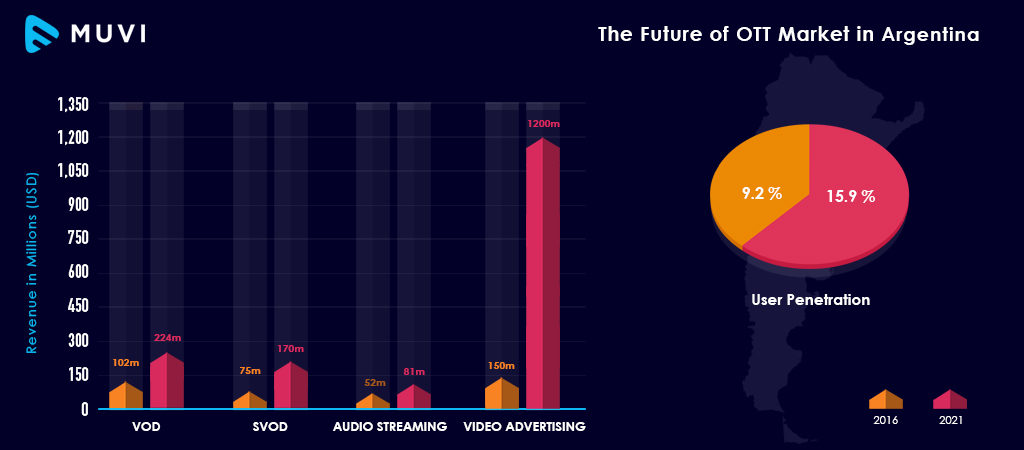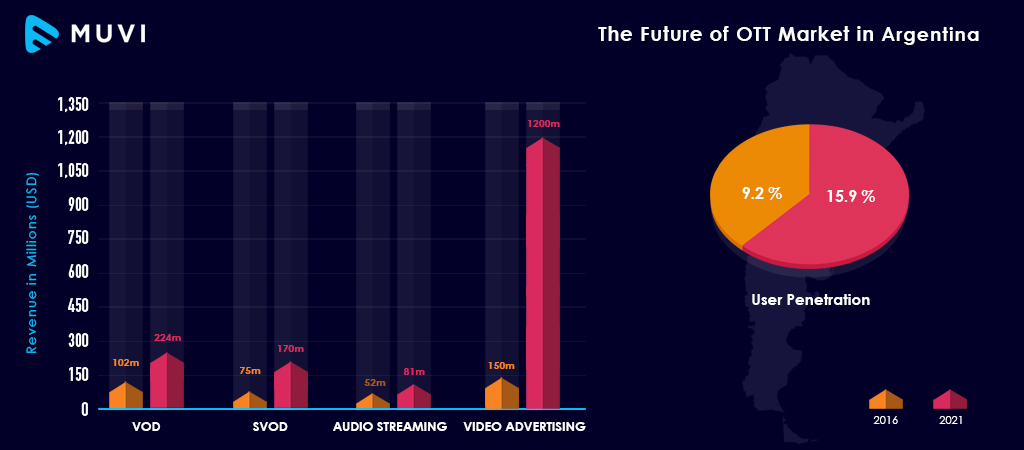 Argentina is one small yet the fastest growing OTT market in Latin America. By the end of 2015, the country had some 730,000 OTT subscribers, which grew to close it at 900,000 by the end of 2016, and a Dataxis study estimated this figure to grow at 1.8 million by 2021.
Argentina has the third highest internet penetration in Latin America after Uruguay and Chile, standing at 69.2 % and with an ARPU of US $34.28 the OTT user penetration is set to surge in Argentina from 9.2 % in 2016 to 15.9 % by 2021.
Video advertising in the fastest growing segment in the country. Statista estimated video advertising in Argentina to grow from US $150 million in revenues in 2016 to US $1,200 million by 2021 at a very high CAGR of 51.7 %.
The video on demand market also has huge potential to grow in Argentina from US $102 million in revenues in 2016 to US $224 million by 2021 at a CAGR of 17.1 %. Subscription services will amount to US $170 million revenues in 2021 growing from US $75 million in 2016 at a CAGR of 17.6%. The audio advertising market will show a substantial growth from US $52 million in 2016 to US $81 million by 2021 at a CAGR of 9.4 %.
Other growing LATAM markets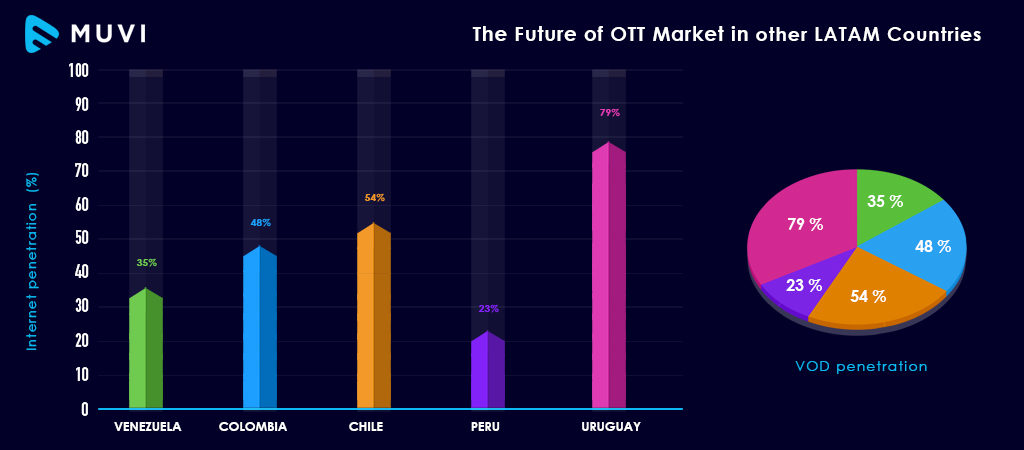 Brazil, Mexico, Argentina, Colombia and Chile are the prominent LATAM countries driving OTT growth in the region. Venezuela has been a very slow growth opportune to experience OTT uptake. According to a recent study the revenues from subscription VOD services in Venezuela were recorded at $.02 million in 2011(when netflix launched), which is expected to grow at 47.28 million by 2020.
Columbia on the other hand looks like the fourth potential OTT video market in Latin America holding 5.4% share of the estimated 4.5 million video-on-demand OTT subscribers in Latin America. Some 88% of Colombian population watches online videos on regular basis, but that accounts to UGC sites such as YouTube & Vimeo. The OTT adoption in the country accounts to 26% of adoption, which is for sure expected to increase, given the increasing availability of infrastructure.
According to a recent survey by Univeridad Católica de Chile, some 80% of Chileans said they found it difficult to stop watching an SVOD channel if the next episode was lined-up and 75% admitted that they've ended up binge-watching despite not intending to. 62% SVOD users subscribed to Netflix and a third of them consumed video content through free or pirate means. This clearly states that the consumer habits even in countries like Chile are changing and SVOD services are all set to take over even piracy.
A recent digital TV research stated that, Mexico, Chile, and Argentina are set to have the highest SVOD penetration rates by 2021, amounting to 28.3%, 23.9% 23.9% penetration respectively, whereas Venezuela will only show 12% penetration by 2021 given the country's economic and political woes.
Peru in fact, has a huge potential for online advertising, as according to a recent report, the over the top advertising revenue will account to $3.19 million by 2020 as compared to just $0.01 million in 2007.
The market indeed is very diverse in each of LATAM countries and has its own customs and habits and challenges to overcome. Subscription services such as Netflix, Movistar, Claro Video, Blim and DirecTV have found their ways to operate in this region and are winning subscribers increasingly.
Conclusion
Studies show that barely four in every ten LATAM household has access to proper broadband connection. Uruguay leads the internet penetration rate with 79% homes accessing broadband, followed by Chile at 54%, Argentina at 49%, Mexico and Colombia at 48% and Brazil at 43%. Most countries even fall below the average rate, with Guatemala standing at 17% broadband penetration, Nicaragua at 16% and Honduras at 9%. Among other LATAM countries, Paraguay has 16% access to broadband, followed by Bolivia at 6%, Peru at 23% and Venezuela at 35%. OTT services are being launched every day in Latin America but are limited to countries like Mexico, Argentina and Brazil.
However, paradigms are changing slowly. Latin America has come a long way from experiencing economic imbalance in most countries to the increasing internet penetration, and having consumers driving towards OTT adoption. According to a Blanco study, Mexico will account for 45% of the OTT market's revenues by 2018, followed by Brazil at 23.4% and Argentina at 11.8%. And in terms of subscribers also, Mexico will lead the way at 35.6% share of the total OTT VOD accounts by 2018, followed by Brazil at 30.8% and Argentina at 15%. We hope for the other countries in the region to also take up and join increasing OTT trend.
Looking to launch your own Video Streaming platform? Muvi will help you do that in an instant, managing your platform end-to-end, across devices and screens.
Sign Up for Muvi's 14 days FREE Trial !!