5G technology is going to bring an overwhelming revolution to the way we interact with the internet. And it is obvious that everything that connects to the internet will get impacted by the integration of 5G technology. However, the greatest impact of 5G is expected to fall on the video streaming industry. It is because the 5G network will deliver peak data speed, ultra-low latency, and massive network capacity. In short, for both video content creators and viewers, it is a dream network to work with!
In comparison to its predecessor, 5G is better in every aspect. While 4G network latency is around 50 milliseconds, 5G has the capability to send and receive signals in one millisecond! 4G is capable of using a limited section of the spectrum, ideally between 600 MHz and 2.5 GHz. On the other hand, the 5G network is spread through three separate bands: low (600Mhz to 900Mhz), medium (1.7GHz to 4.7 GHz), and high (24–47 GHz). All these capabilities and more make the 5G technology highly influential for the streaming industry. 
Major Benefits of 5G in Streaming
The impact of 5G on streaming can be gauged through the wide array of benefits it offers to video streamers. From speed to bandwidth, and from latency to seamless publishing, it covers everything under its belt.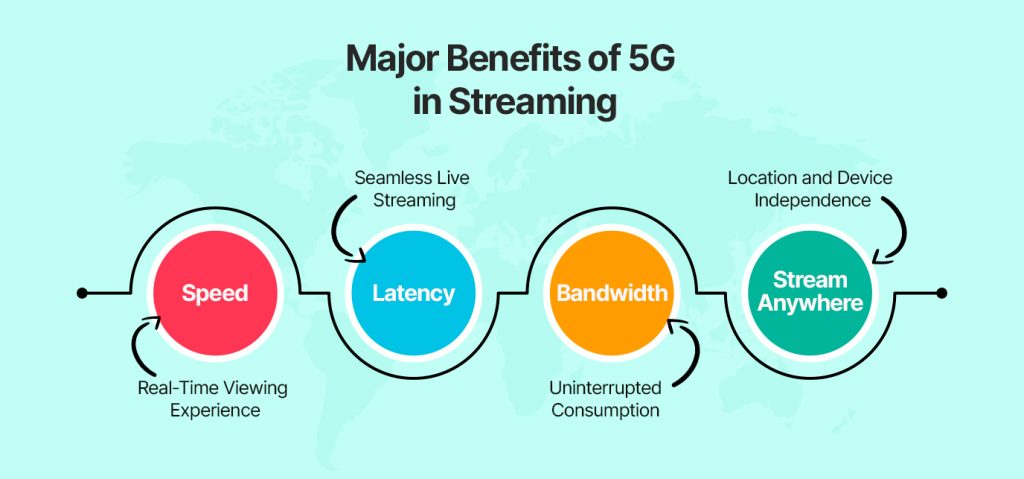 Speed: Real-Time Viewing Experience
In one single sentence, 5G is the fastest network we have ever seen. It is almost 100 times faster than 4G. The top potential speed of a 5G network is expected to hit 20 Gbps, while the normal operational speed usually ranges between 50 Mbps to 3 Gbps. It means that by using 5G, the viewers can enjoy a real-time viewing experience, continuously, without even the slightest lag.                                                                              
Latency: Seamless Live Streaming
As already stated, the 5G network has the capacity to transmit data in one millisecond. Hence, while live streaming, the digital objects will get replicated in real-time, resulting in instant interactions with the audience.          
Bandwidth: Uninterrupted Consumption 
As 5G is spread through three different bands, it provides unique network solutions to users and businesses. It provides different frequency ranges and speeds for different use cases. Hence, the users experience uninterrupted consumption for all forms of streaming content at the highest resolutions. 
Stream Anywhere: Location and Device Independence
The 5G network is designed to accommodate all forms of devices, starting from PCs, laptops, tablets, and mobile devices, to Smart TVs. And the best thing is, even if you stream on the same network on multiple devices, 5G will run at zero dips!       
Major Challenges for OTT Platforms In The Era of 5G
5G technology is set to bring a revolution in terms of testing methodologies, real-time advertising, and satisfying the diversified choices of the audience. Let's discuss these challenges one by one.           
Dynamic Testing Environments
With the evolution of 5G, the OTT testing environments are becoming more and more unpredictable. In modern software architectures, one needs to test multiple nodal networks at varying frequencies. Also, with the integration of the latest and advanced features, the items to be tested in an OTT platform have gone up significantly.  
Improving Real-Time Advertising
The 5G network transmits data in the blink of an eye. But, at times this might create problems for the ad servers. Reputed ad servers like Google Ad Servers will be under constant pressure to introduce new innovations in advertisements, like AR-VR-based ads. And if they do integrate innovative ads, they might have to upcharge for their services as well.         
Keeping Up With the Expectations 
The 5G network will allow the content creators to stream 4K videos to their viewers themselves, without waiting for the professional broadcasters or professional setups. Hence, now the professional platforms will have to compete with individual creators in terms of quality, pricing, and all other aspects!                        
How Can MUVI Help?
Being the best OTT platform service provider, Muvi has already integrated solutions to all these challenges. Here's what they have in store. 
Real-Time Support In Setup and Testing
Muvi provides real-time support to all its clients. You just need to raise a ticket and our CS team will get in touch with you. They will help you set up your platform, set up monetization, and advertisements, test the features, and all other aspects. Hence, you don't have to suffer while self-testing your OTT platforms.           
Multiple Ad Server Integration Makes Real-Time Advertising Seamless
With Muvi, you can integrate multiple ad servers into your OTT platform. With more servers, you get more variety in advertisements, making way for more innovative ads. You don't need to depend on the services of a single ad server anymore!  
Onboard Content Partners, Share Revenues, and Grow Together!
5G will empower individual content creators to create and publish their own videos. Similarly, Muvi empowers you to connect with talented content creators, onboard them as partners, and even share revenues with them! Hence, you don't need to compete with them anymore, rather, you can grow together!  
To Sum Up
The 5G technology is going to make streaming faster, seamless, and instantaneous. And with amazingly faster speed and ultra-low latency, it is going to transform every passionate individual into a professional video content creator. To brace for the change, you need to think about how you can gain something valuable out of this development. And with Muvi, you can do that a bit more easily! Connect with us today! 
FAQs
Q. Does the 5G network support 4K streaming?
Ans. 5G has a much broader bandwidth, distributed into three different bands. Thus, it has the capacity to support the full 4K viewing and streaming of all types of videos. 
Q. Can you live stream on 5G? What are its benefits?
Ans. The 5G network can transmit data within a single millisecond. Hence, it is the most preferred network for live streaming, as it can replicate visuals almost instantly in the viewer's system. Zero dips, no lag, and negligible latency are the major benefits of live streaming on 5G. 
Q. How does 5G impact the picture quality?
Ans. 5G helps stream high-resolution 4K videos instantly. Hence, it delivers the best picture quality effortlessly.