HTML5 video player are an integral part of video streaming/hosting platforms. It not only enables embedding of videos on websites but also provides viewers using diverse devices with seamless viewing experience. While most of the sound video streaming platforms and video hosting platforms offer built-in HTML5 video player, on a time to time basis, you may need to choose them based on your requirements.. To guide you through this, in this blog we have listed out the best HTML5 video players in 2023. Before we delve deeper, let's start with the basics.
What is an HTML5 Video Player?
An HTML5 video player builds a custom set of controls over an HTML5 video element and enables the video broadcasters to embed/share the videos over any website/app/third party platform. Basically, an HTML5 video player is a JavaScript library that helps in uploading/embedding a video over web pages including different browsers without any additional plugins. However, the quality/solutions provided by an HTML5 video player and how seamlessly the videos can be played over various platforms and devices may vary and so it's important to know the must-have features or solutions to look for in an HTML5 online video player.
How to Choose an HTML5 Video Player?
There is no rule of thumb in choosing an HTML5 video player. Most of the time it is already in-built in your streaming platform/video hosting server. But you must have some basic knowledge on what to look for while opting for one. Below are some of the solutions you must look for in an HTML5 video player-
1. Multiple Video Sources Specifications
In order to share your videos on different websites and platforms, browsers need to support your video source files. But it may not be possible that every browser will support the same video codec/source file, hence, the HTML5 video player must support multiple video source specifications for seamless integration across diverse browsers.
2. Flexible Video Control
This ensures that you can easily show/hide various video controls like volume, download, play, pause, full screen mode and others on various browsers. For instance, you can choose to hide/turn off 'download' or 'full screen' for a specific browser and so on.

3. Customizable Fittings of Videos
This solution lets the videos fit over diverse platforms by customizing different video elements like scaling a video to fit in any video container while keeping the aspect ratio and video size intact. As a result, viewers will be able to watch high quality videos over any platform.
4. Additional Functionalities/Solutions
A sound HTML5 player not only does the basic needful, but comes with more functionalities to provide your audience with top-notch streaming experience. Some of the must-have solutions are captions/subtitles, controlling playback speed, playback start and end timestamps specification, autoplay, mute, loop etc. 
The Best HTML5 Video Players in 2023- Features, Pricing and Limitations
Here we have listed out the top HTML5 video players in 2023 along with their features, limitations, and pricing. Let's have a look-
1. Muvi Flex
Muvi Flex, an immersive video hosting platform, comes with its in-built HTML5 video player that not only provides all the prime features of an HTML5 player, but offers unlimited perks and solutions to take your video hosting & management to the next level.
Key Features & Solutions
Robust HTML5 video player offering cross-platform, cross-browser and cross-device compatibility

Auto-transcoding and encoding into an wide range of formats and resolutions

Supports multiple monetization models including SVOD, TVOD, and AVOD

Easy playlists creation and management along with playlist API 

Scalable and customizable Video CMS (Content Management System) with secure cloud storage

MRSS feeds to bulk export and share audio and video files over third party platforms for higher traffic and additional benefits

Feature-rich player SDKs (Software Development Kits)  for iOS and Android apps

Easy social media integration and publishing of videos/audios

Robust security with multi-DRM, forensic watermarking, encryption and more

Flexible and simple-to-use content partner portal

An overall comprehensive video hosting platform packed with industry-grade solutions
Pricing
Muvi Flex offers a range of pricing plans according to the business size, requirements, and budget-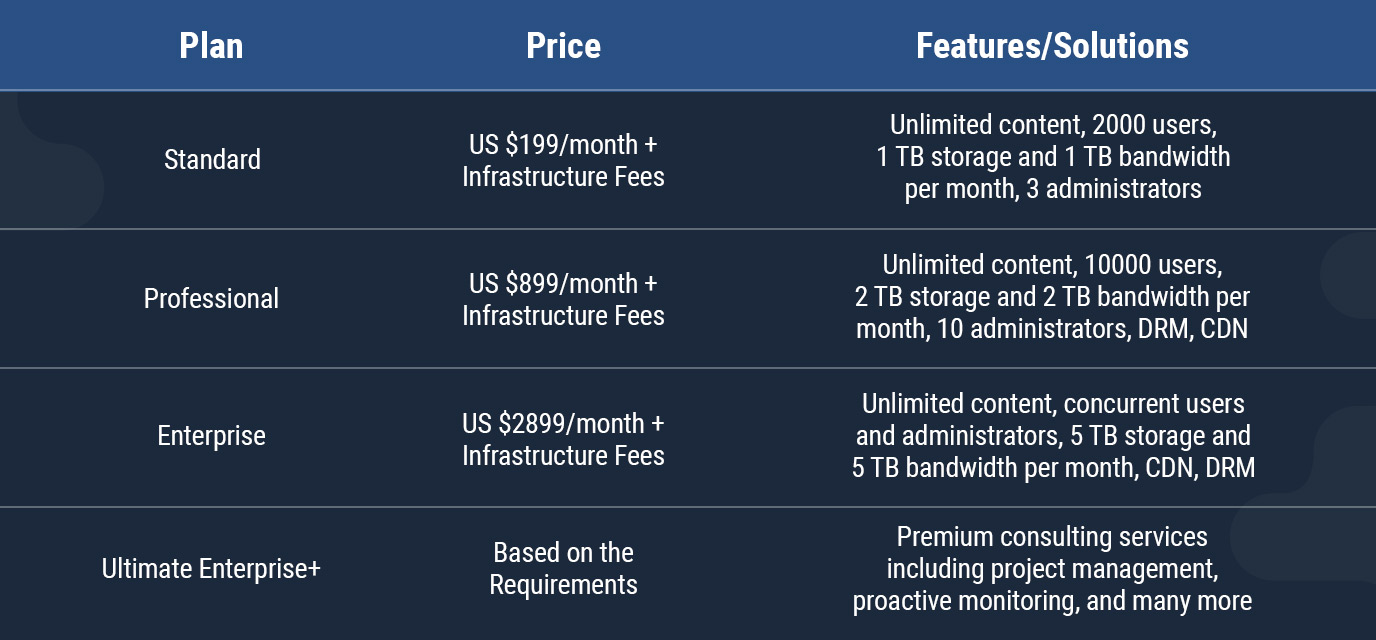 2. JW Player
JW Player's HTML5 video player offers a fast and robust solution for buffer-free seamless streaming over multiple platforms/devices for the audience. However, despite having some compact feature-rich solutions, it has a few limitations as well. 
Key Features & Solutions
HLS (Http Live Streaming) and DASH (Dynamic Adaptive Streaming over Http) for buffer-free quality streaming experience for the viewers

Showcase solution to set up custom video gallery

Ad optimization including broad standards support and audience engagement tools for higher CPMs and ad revenues

Analytics & Insights
Pricing
JW Player offers Starter and Enterprise Plans for small to big businesses.

Limitations
The Starter plan is not sufficient for even small to medium businesses in the long run as it lacks features

No unlimited content for the starter pack

Less range of pricing plans with well-defined features

No flexible monetization model
3. Wistia
Wistia comes with a customizable HTML5 video player that supports high resolution videos and adaptive streaming with HLS. They offer a variable range of plans that can accommodate the business requirements of small to big businesses from diverse industries.
Key Features & Solutions
Easy video implementation with light-weight embed code

Responsive player to optimize videos for mobile 

Customization tools to add/edit CTAs, change colors, thumbnails etc.

Flexible player API to customize appearance and controls of the video player

Timeline action solution that includes lead collection, relationship building, CTAs and others

Built-in social sharing

Advanced video analytics
Pricing
Wistia's three-tier pricing plan starts from Free and extends to Advanced to meet the dynamic business requirements-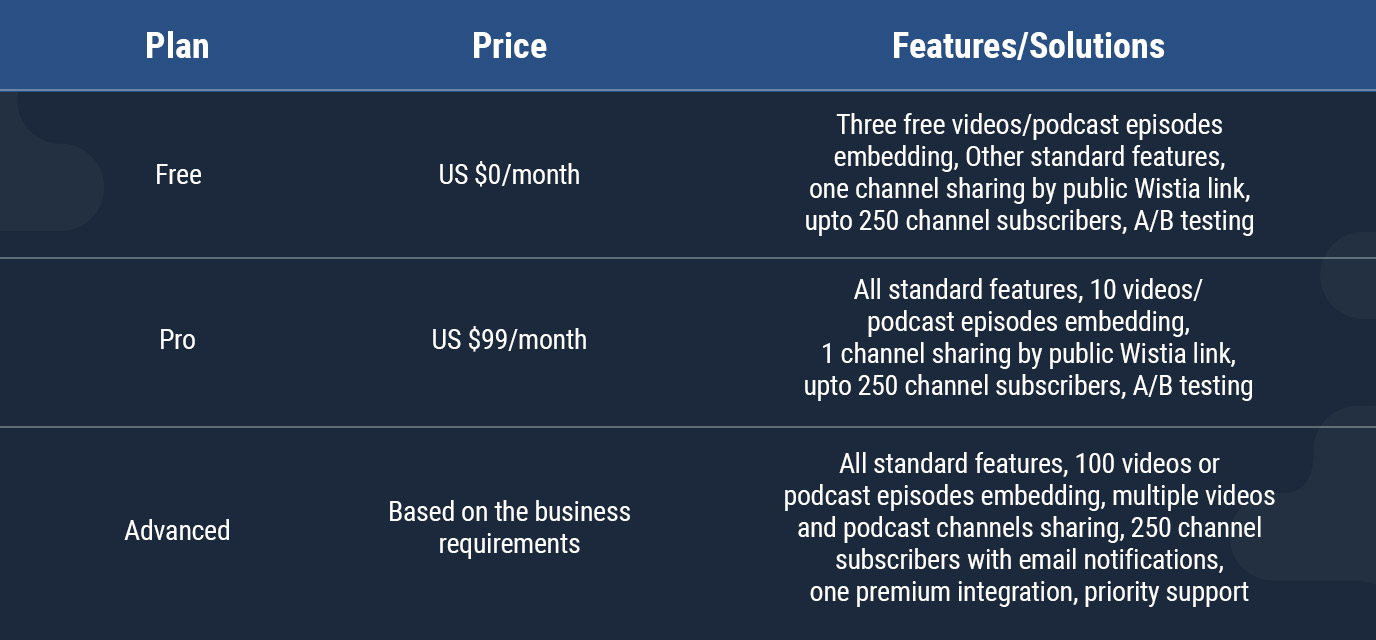 Limitations
The Free plan is only good for trial purposes as there are a lot of limitations.

There is no option to add your own branding (Wistia's branding will be visible everywhere)

Not a good fit for the streaming businesses like OTT platforms as even in the Advanced plan, there is limitation with respect to content

Most of the solutions are limited like subscribers, channel sharing etc.

Lacks add-on tools and features to give competitive advantages
4. Bitmovin
Bitmovin's cloud based video player offers high quality streaming with cross-device and cross-platform compatibility, and easy sharing over any platform along with fast delivery.
Key Features & Solutions
Instant player with low buffering time

Server-side ad insertion

Mobile SDK solutions

Multi-codec streaming

DRM

Low-latency playback with cross-device compatibility

In-built analytics
Pricing
Bitmovin offers flexible pricing for its video hosting solution with HTML5 player-

Limitations
Only provides the basic features of HTML5 player

Analytics & insights are not included and you need to pay extra for that

Lacks overall features and solutions compared to the price
5. VdoCipher
VdoCipher's dynamic HTML5 player provides a compact solution along with robust security that ensures that the videos streamed through its player can't be downloaded using any internet plugins or softwares. 
Key Features & Solutions
Adaptive multi-bitrate playback

Dynamic player control

Customizable playback speed

Multi-language subtitles

Easy embedding options with plugins, iFrame and API

Custom overlay and tracking
Pricing
VdoCipher offers a complete hosting solution including its HTML5 video player with a broad range of pricing plans that suit the requirements of various businesses-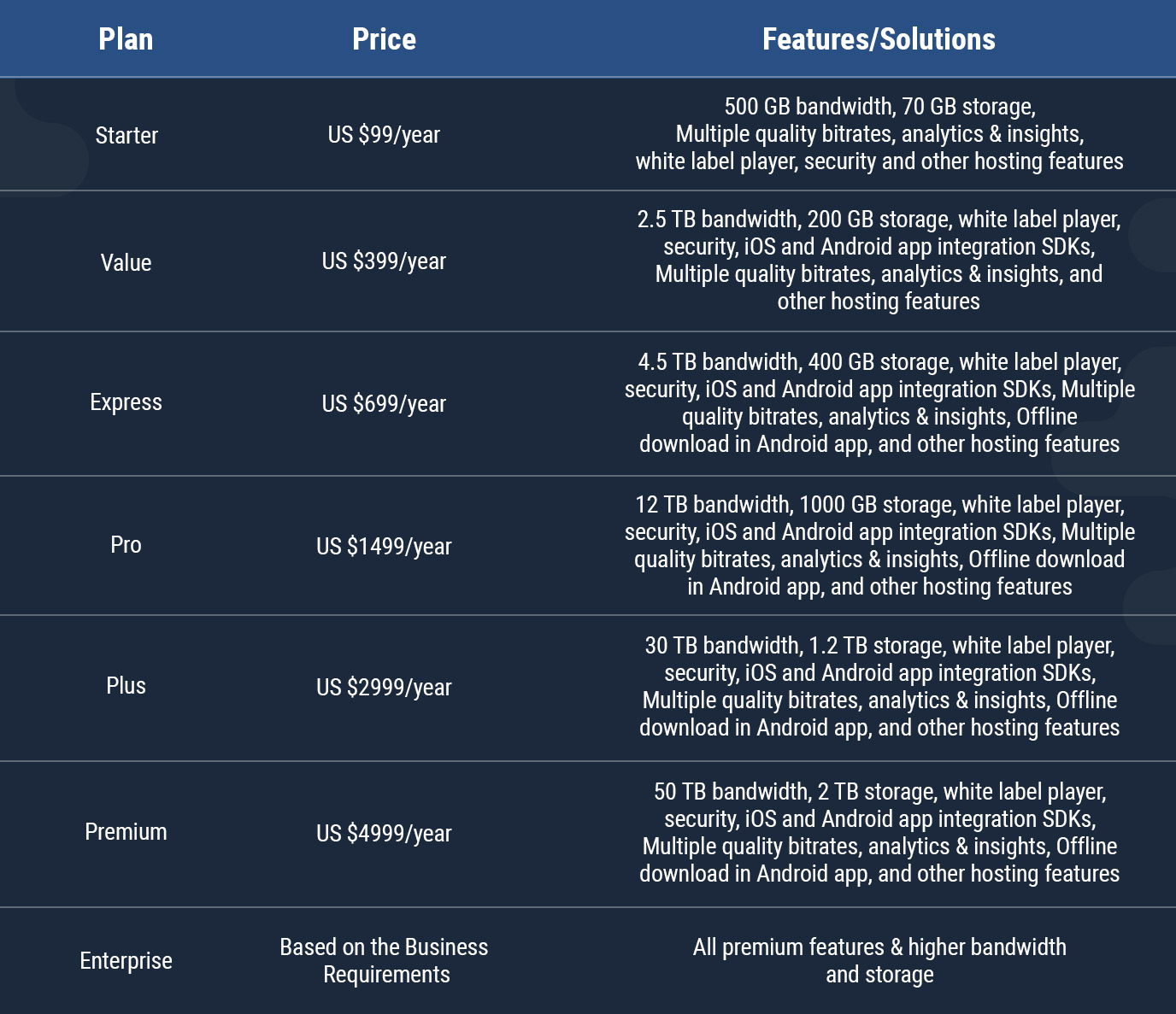 Limitations
Costly compared to the storage and bandwidth limit

Complex navigation and UI

Lacks add-ons for marketing and optimization
Wrapping Up,
It might seem like nothing, but the HTML5 video player is an integral component of your video hosting solution that majorly determines the quality, speed, compatibility, sharing, adaptability and a lot of other factors for your streaming. It is important to give attention to every detail of the solution provided and features while choosing one. While the above-mentioned comparative study will help you make the right decision, you must keep in mind that your business has its own unique requirements and targets to fulfill, and a hosting platform with a quality HTML5 player must cater to that. 
It is recommended to try them first hand before making a final decision. If you are yet to opt for a good HTML5 player with other hosting solutions, try a 14-day FREE Trial of Muvi Flex (no credit card needed). If it matches the criteria you are looking for, we will set it up for you!