The streaming trends and patterns have undergone a drastic transformation over the past decade. Not only has traditional television broadcasting been replaced by internet-based streaming, but the introduction of advanced digital media streaming devices has changed the entire scenario. 
On one hand, the streaming media devices and the respective ecosystems are evolving further, on the other, the leading streaming players are re-strategizing their approaches taking into account these dynamic factors. Apple TV and Roku being two of the most popular digital media streaming devices, are often the focus areas of the streaming businesses.
As stated in a recent report by Statista, there are over 63.1 million monthly active users of Roku in the United States itself as of the second quarter of 2022, while the number of active Apple TV devices surpassed 26 million in only the United States. This just gives a glimpse of the high popularity of both Apple TV and Roku which is significantly driving the shift in the streaming industry. 
If you are new to streaming or planning to target Apple TV or Roku ecosystem or simply want to have better insight on Apple TV vs Roku, then read on. In this blog, we will walk you through the differences between Apple TV and Roku, their key features, performance, and more.  
Apple TV 
Developed and marketed by Apple Inc., Apple TV is a digital media player that comes with a micro-console and lets the users stream multimedia content on television over the internet. The origin and history of Apple TV date back to 2006 when Apple announced the first generation Apple TV. In the following years, there were several releases of Apple TV from Apple Inc.-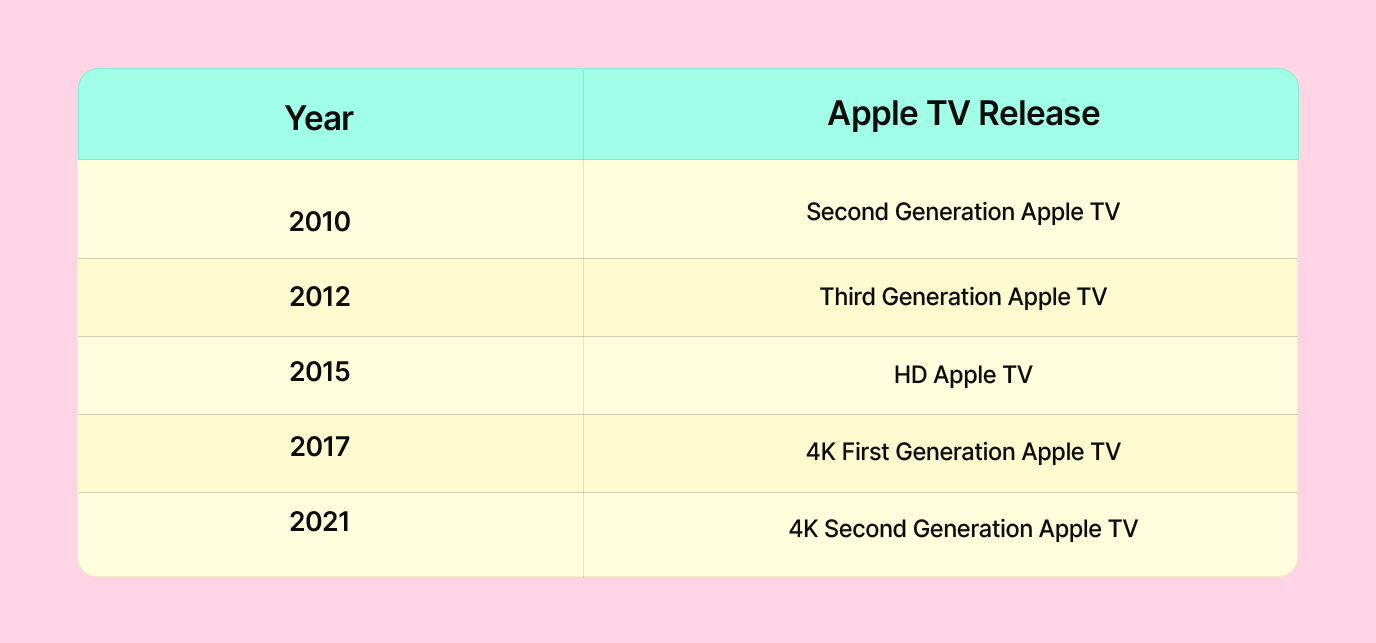 With the growing popularity of smart TVs, the audience has become more inclined towards Apple TV.  Apple TV is basically a streaming set-top box that you can connect to your HDTV or EDTV (Enhanced-Definition Television) through an HDMI (High Definition Multimedia Interface) to stream digital content from your iOS devices as well as other various resources. 
As announced by Apple in 2015, Apple TV 4 is equipped with its own operating system as well as its own dedicated Apple TV app store which has made it even a more lucrative option to explore for streaming players. Starting from Netflix to NBA – it supports streaming from various sources while offering an easy setup solution and comes with an advanced Siri remote which makes it highly sought-after among the audience. But there's more. We will discuss it later in this blog.
Roku
Roku is another well-known name among the hardware digital media players. Released by American company Roku Inc. in 2008, Roku lets you easily play streaming content on your devices. Since its first release, there have been several generations of Roku digital media players or set-top boxes that have become a part of the Roku ecosystem. Here's a glimpse –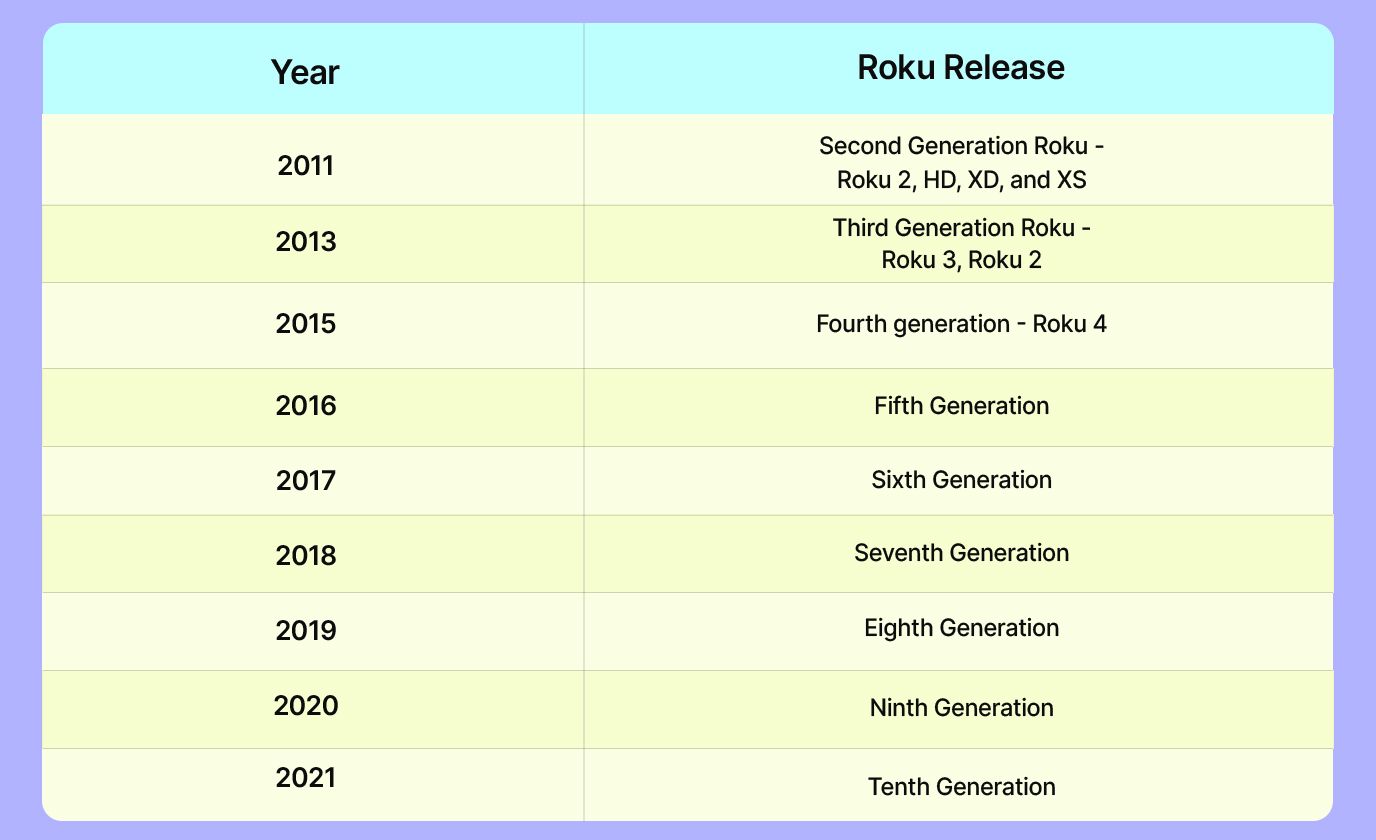 Supporting more than 250 channels and being equipped with a simple-to-use Roku remote, it is compatible with diverse devices including your smartphones and laptops. Not only does it let you stream over the internet but its Dolby Vision/Dolby Atmos transforms your whole viewing experience. With an average estimated reach of 56% in North America itself, Roku is a tough competitor to Apple TV. If you are wondering how these digital streaming media players are different from each other, then read on.

Apple TV Vs Roku: The Key Differences
Apple TV vs Roku – both are unique in their own terms and there are several factors that make them different from each other as listed below.
Apps & Ecosystem
For Apple lovers, Apple TV definitely stands out to enhance your experience. Starting from Apple Music to Fitness+ – all the major apps are featured by Apple TV. On one hand, this makes it highly popular among the end-users. On the other hand, it is one of the key reasons why streaming business players are creating their own branded Apple TV apps to leverage the growth scope in the Apple ecosystem and to target its diverse audience. Also for gaming lovers, Apple TV can be preferred for its unbeatable offerings. 
Though Roku doesn't support any other Apple TV apps apart from Apple TV+, or not that competitive in terms of gaming experience, it supports a broad range of Movies and TV channels and apps such as Netflix, Hulu, Disney+, HBO Max, Spectrum TV, and Peacock TV, to name a few, apart from the other Roku channels. The viewers with differential preferences often opt for Roku, while the streaming businesses targeting diverse streaming ecosystems create their own branded Roku apps to align with their business goals.
Models
There are mainly two different models for Apple TV – Apple TV HD and Apple TV 4K. Equipped with 32 GB storage, an A8 chip, HDMI 1.4, and Bluetooth 4.0, Apple TV HD supports up to 1080p resolutions. Another Apple TV model, Apple TV 4K supports up to 64 GB of storage, Wi-Fi 6, and Bluetooth 5.0. Both of them come with an advanced Siri remote which is an additional advantage over Roku. 
Roku offers a range of models with differential prices to choose from. Some of the popular Roku models are Roku Ultra, Roku Express, Roku Streambar, and Roku Express 4K+. If you want a high-quality streaming experience without investing heavily, then Roku Ultra can be your choice. Similarly, if high audio quality is your preference, then Roku Streambar can be a good fit for you. 
UI
Apple TV comes with a simple-to-understand UI (User Interface). You can easily have a glance at the list of all your streaming apps which are displayed on a grid-style layout. One of the advantages of Apple TV UI is it lets you select or navigate very fast without any lag at all. Also, it suggests a range of streaming services to choose from. If you don't want to get distracted by ads during your watch time, then you can rely on Apple TV's UI as the ads are displayed on the screen accordingly.
Roku also displays your app list on a grid-style layout that is customizable as per your requirements or preferences. The learning curve for Roku UI is very simple and the ads displayed are neat and not distracting. Some of the perks of Roku UI are its overall response time is almost lag-free, the navigation is smooth and the download process is very simple.
Remote
Not only does Apple TV come with a Siri remote with advanced functionalities, but its built-in finish is also competitive, robust, and sleek. Equipped with a touch and motion-based interface, the Apple TV remote is popular for being fast and smooth, and for its advanced features. One of such features is its fast-forward or rewind options –  you just need to make a circular gesture on the outer ring. Also, the voice control makes it stand out from the crowd of other streaming digital media players.
Roku also comes with an advanced remote that lets you customize its shortcuts as per your viewing preferences or frequency. Its headphone jack makes it more user-friendly while it offers a simple learning curve. Though Roku Voice Remote Pro offers voice control and supports Google Assistant and Alexa, Apple TV's remote wins in terms of its in-built voice control feature.
Performance
The performance of a streaming digital media player majorly depends on the video quality, buffer time, and compatibility. Roku Ultra and Apple TV 4K both support HDR (High Dynamic Range) videos as both of them come with a 4K resolution and support frame rates of up to 60 fps (frames per second). While Roku Ultra is highly sought-after for supporting HDR10+, Apple TV 4K, and Roku Ultra, both support Dolby Vision and HDR10. Apart from video quality, both of them ensure a lag-free seamless streaming experience.
Apple TV 4K Vs Roku Ultra: A Comparative Chart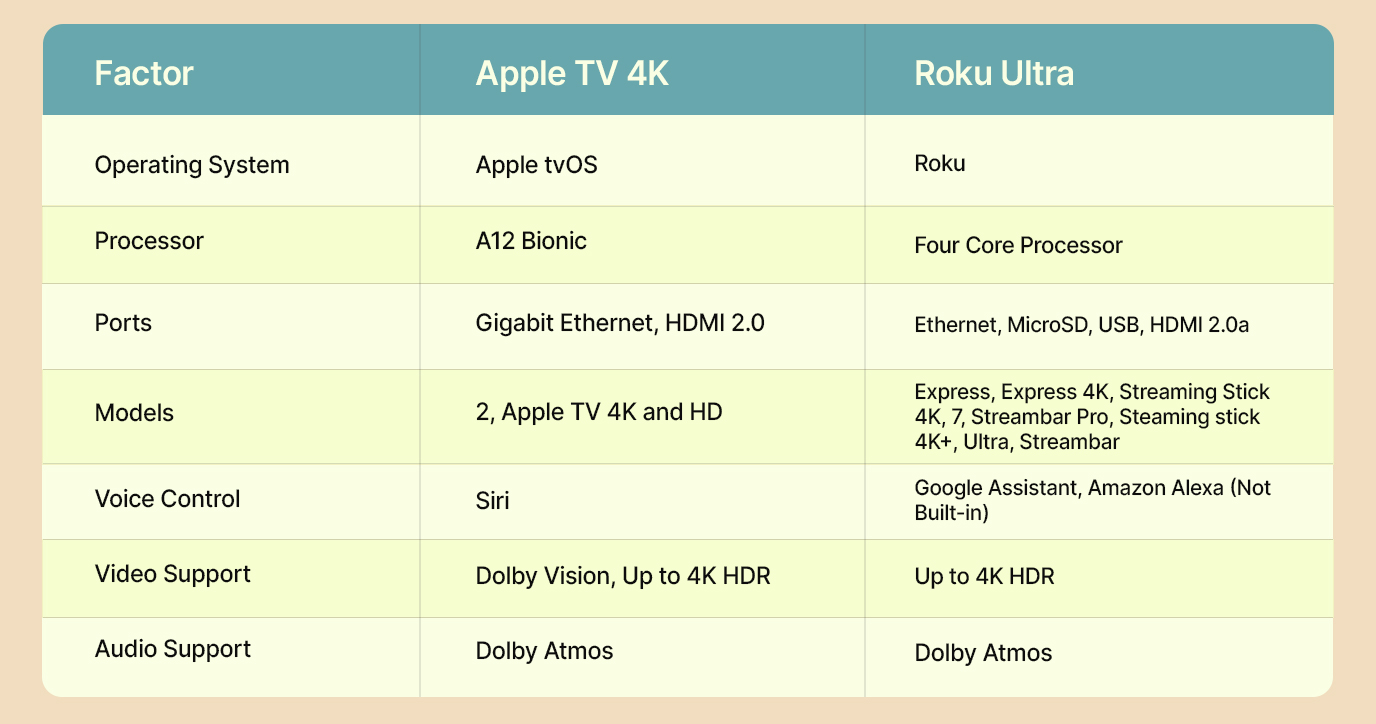 Apple TV or Roku? The Bottom Line
Apple TV and Roku are two of the most popular names in the streaming industry. The Roku ecosystem is widespread around the globe with millions of customers in North America, Europe, and Latin America. Not only is it the number 1 streaming platform in Canada, The U.S., and Mexico by watch hours, but is widely adopted by consumers across the globe. Apple TV, on the other hand, is a crucial part of the Apple TV ecosystem and offers unlimited growth scope for the streaming business players. Not only does it let you target more than 40 million Apple TV streaming subscribers but makes it easier for a streaming business to scale further.
In a nutshell, Apple TV and Roku both can open new opportunities for your streaming business if planned right. And no matter whether you are an expert in this field or a beginner, Muvi, an all-in-one OTT platform provider makes it easier for you by letting you create your own Apple TV and Roku App/channel just through a few button clicks. And that's not it!

Muvi supports 16+ environments and lets you easily create channels/apps for Android TV, Fire TV, LG TV, and many more. Also, it offers a range of extensive solutions such as scalable CDN, SEO optimization and audience engagement tools, multiple monetization models, and analytics & insights, to name a few. Take a 14-day free trial today to get started (no credit card needed).