The quality of your video and hence the viewers' experience majorly depends on the streaming protocol you adopt. For any streaming or VOD business, this should be one of your focus areas to ensure the optimum video quality and better audience experience. 
UDP and TCP being two of the most popular video streaming protocols, the debate of UDP vs TCP is not new in the streaming industry. Many of the leading streaming businesses and VOD platforms have adopted these streaming protocols but then again, you need to decide as per your requirements and streaming business goals. For instance, Netflix and Amazon Prime use TCP as transport layer protocol, while YouTube has adopted both UDP and TCP protocols. So, UDP vs TCP – which one is better for streaming? Read on to know.
What Is UDP Streaming Protocol?
The UDP streaming protocol is one of the most popular video streaming protocols. The UDP or User Datagram Protocol refers to a lightweight data transfer protocol that works on the top of IP. While this protocol helps in detecting the corrupt data in the data packets, it is not that efficient in solving the issues such as out of order or lost data packets. Being fast and simple compared to the other protocols working on IP, UDP is adopted widely in the streaming sector where fast delivery is of high priority.
How does UDP Work?
One of the factors that differentiates UDP from the TCP protocol is, in UDP no error checking process takes place, as a result this process becomes faster. In the UDP streaming protocol, when the datagrams or data packets are sent to the recipient, the sender doesn't wait to ensure whether the packet is reached or not. Instead, the sender keeps sending the data packets. As a result, the process becomes faster but unreliable as there is no way to check whether all the packets are sent from the sender to receiver or not. But, UDP is highly sought-after in the time-sensitive streaming applications such as live streaming, online gaming and others.
What Is TCP Streaming Protocol?
TCP or Transmission Control Protocol is one of the most popular protocols of the TCP/IP network. This connection-oriented protocol first establishes a connection between the sender and the receiver and then it sends the data in segments. Such data segments are carried by the IP packets from the sender to the receiver.
How does TCP Work?
The TCP streaming protocol works with the technique called positive acknowledgement with retransmission. This implies that if a data packet is sent but positive acknowledgement is not received, then the copy of the same data packet is retransmitted again. Being a reliable streaming protocol, it is often the first choice for the streamers to ensure a highly reliable end-to-end byte stream over an unreliable network. Furthermore, it makes it easier to monitor the bandwidth between the sender and receiver and ensures the optimum video quality for streaming accordingly.

Pros and Cons of TCP and UDP
Now that we have a better understanding about UDP and TCP in streaming, let's know which one is better. From a reliability standpoint, TCP is a better streaming protocol as it lets the relevant devices communicate with each other frequently to check errors and also ensures the error recovery is done on time. Not only it ensures the arrival of all the data packets at the receiver's end but also makes sure that they are in order. So, if accuracy is on your focus such as for VOD streaming, then TCP streaming protocol can be your choice. Also, for transmission over an unreliable network, TCP works better than UDP due to its high reliability factor.
As discussed above, the TCP streaming protocol ensures accuracy but it's slow. As the error recovery process doesn't take place in case of UDP streaming, it is faster than the other. So, if you mostly deal with time-sensitive streaming such as live streaming, then UDP streaming protocol can be a better fit. However, due to the lack of data sequencing, checking and recovery it may end up resulting in glitches in audio/video such as missing frames, and others.
While most of the HTTP communications take place over TCP connections, making it highly popular, UDP is famous for high speed and hassle-free applications. Let's have a look at this chart to simplify it –

UDP and TCP differ from each other significantly, but by stacking UDP with another protocol, we can get certain TCP-like capabilities. For instance, if we use UDP with the RTP header, RTP will provide sequence numbers, time stamps, and an identity for the audio or video source, as well as allowing the RTCP protocol to report loss. Also, voice packets are sent with regular spacing based on the codec output when utilizing RTP with UDP. 
Simply put, TCP is most commonly used for non-real-time communication since it is well-established, provides packet ordering, retransmissions, and prevents packet loss. When every frame/packet must be transferred, TCP is utilized. Because the delay is not critical and TCP transfers can be easily handled over HTTP and web browsers without the need for additional plugins and software, video streaming services such as Netflix, Hulu, and Youtube all use TCP to reduce the buffer time and avail other facilities.
If your streaming content is recorded and made available to the viewers later, such as in the form of VOD, then TCP works well. On the other hand, UDP is typically used for live streaming and multicast video conferencing. Such applications normally require their own protocol (commonly RTP/RTCP over UDP) on top of UDP.
UDP Vs TCP in Streaming: in a Glimpse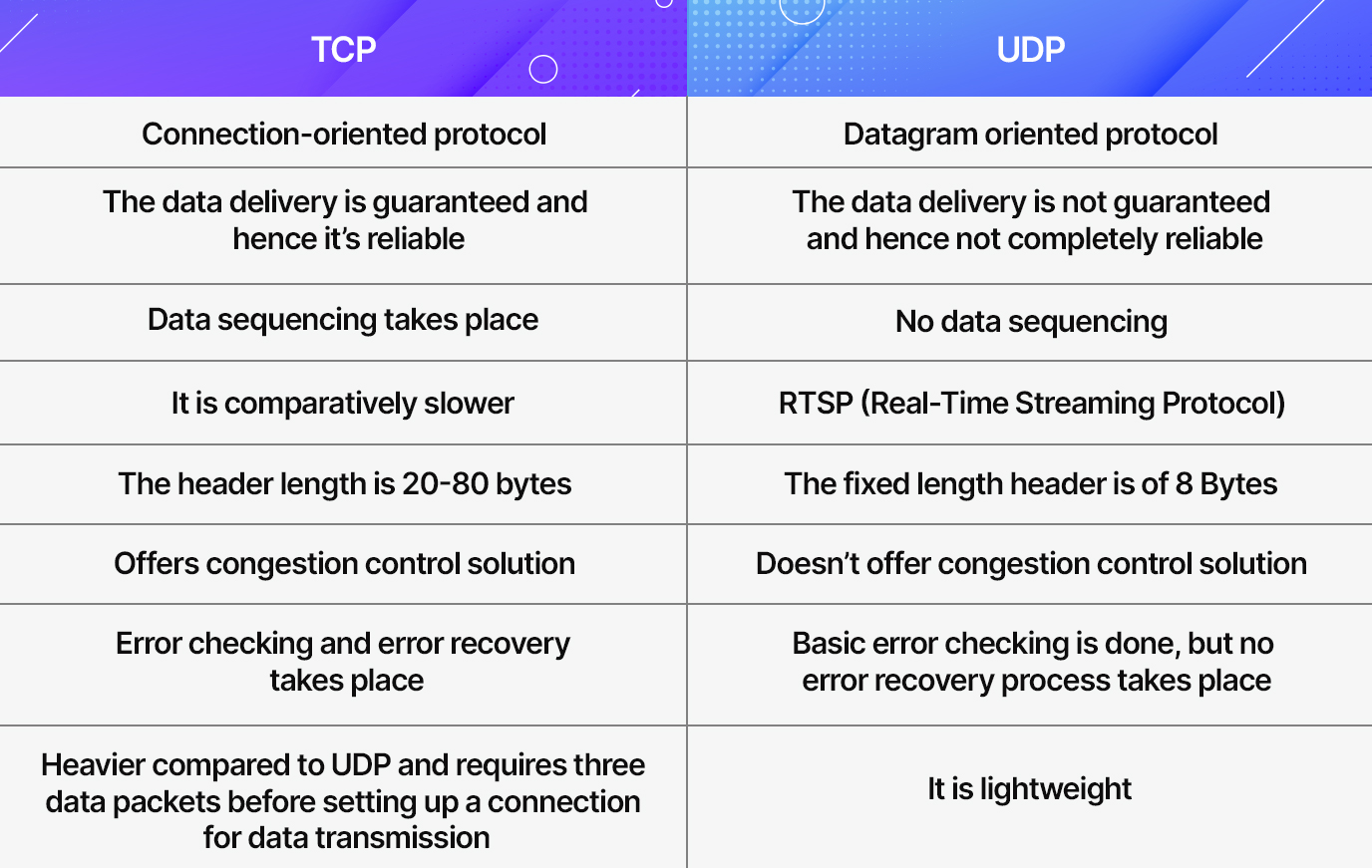 Wrapping Up
It is of utmost importance to know and understand the streaming protocols that work the best for your streaming business. The above information will help you have the right concept and choose accordingly. However, if you opt for a top-notch streaming platform, then it will ensure that the right streaming protocols are utilized to serve the purpose as per your streaming requirements.
Muvi, an all-in-one OTT platform provider, stands out from the crowd by ensuring the optimum quality and speed of various forms of streaming such as VOD and live. Also, it comes with a lot of competitive solutions such as its own branded platform, SEO optimization tools, customizable and scalable CDN, multiple monetization models, and social media integration, to name a few. Take a 14-day free trial today to get started (no credit card required).