Video aspect ratios play a significant role in any video content and the overall experience your viewers will have based on the platforms/devices the content is displayed. And for any video streaming platform, be it live steaming, OTT app, or website, video aspect ratios and resolution go hand-in-hand determining the streaming quality for the users. While we all are familiar with many of the popular aspect ratios such as 4:3, 16:10, widescreen or full screen view etc., they are more than just numbers or ratios determining the screen size the content will be played on. Wondering what these aspect ratios really mean, or are they important? Well, we are going to provide you with the thorough knowledge on that. Read on to have a better understanding of video aspect ratios and all you need to know about them.
What is Video Aspect Ratio? 
The video aspect ratio is basically the proportion of the video width to the video height. A video aspect ratio denotes how wide your video is. Some of the common video aspect ratios and what they indicate are as follows-
1:1 – Square
4:3 – Standard
16:9 – Widescreen
2.4:1 – Ultra widescreen 
Etc.
Let's know a bit more about the different types of aspect ratios, what they mean and their usage.
Different Types of Video Aspect Ratios
For decades, 1.37:1, also known as academic ratio, used to be the standard aspect ratio. But gradually, with the introduction of OTT channels, multiple VOD platforms, and commercialization of TV sets, more variety of aspect ratios came into the play. Be it live streaming over OTT platforms or videos shared on social media, there are different video aspect ratios that suit the best in each of these cases. Let's have a look-
This aspect ratio defines the normal widescreen format and is slightly wider than 16:9. While this is a common aspect ratio for films, many television shows and video content requiring a cinematic effect are also shot in 1.85:1. Such content is displayed with thin black bars at the top and bottom on TV screens or computer monitors.
Known as anamorphic widescreen format, the 2.39:1 aspect ratio is the most suitable for shooting landscape views. This aspect ratio is also quite common in modern movies, feature films etc.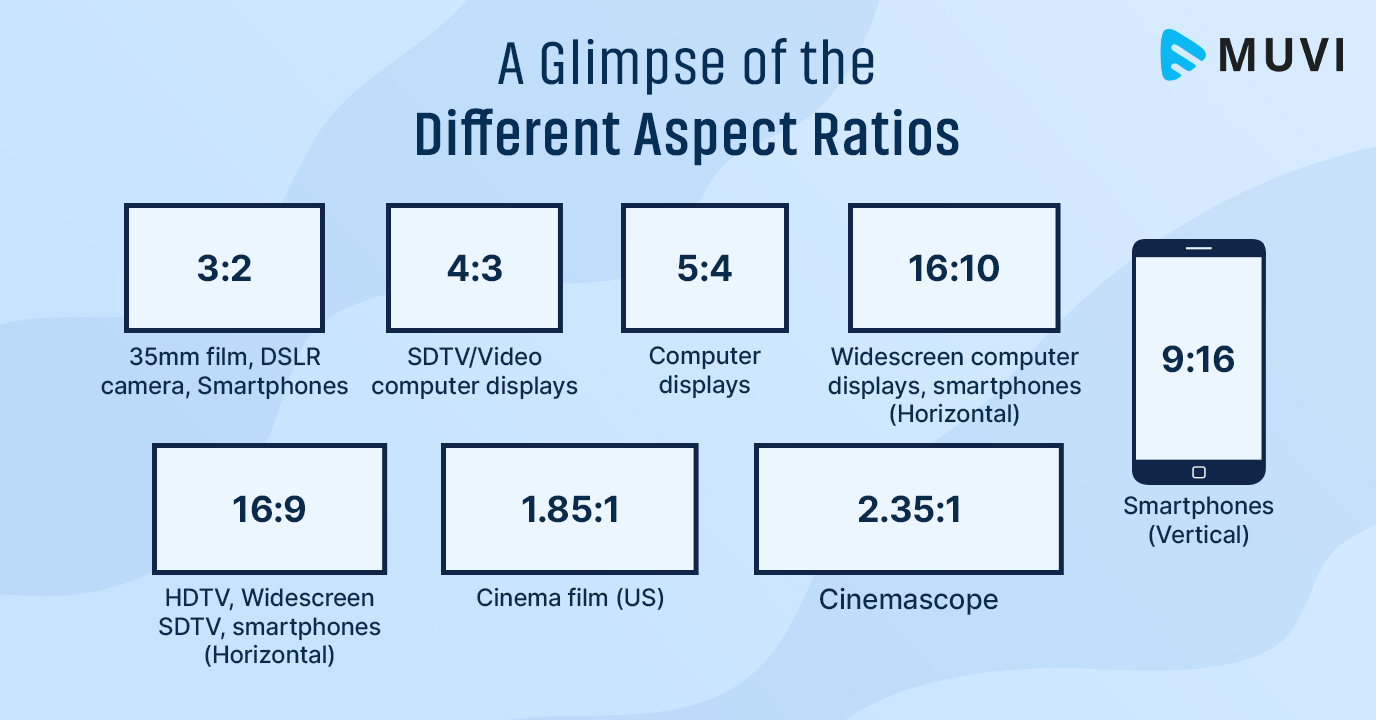 Years ago, the 4:3 aspect ratio was the most popular and common one among filmmakers. However, it is more apt for the television sets with standard definition than the widescreen HDTVs.
This is definitely one of the most commonly used aspect ratios, be it shooting for TV or videos to be streamed online. Being the standard size for most of the computer monitors and high definition widescreen TVs, 16:9 is a widely adopted aspect ratio among the video content makers. Unless you are releasing your content in theatres, this can be your go-to choice.
The 2.76:1 aspect ratio is extensively used in films that are displayed on the big screens of IMAX. In order to provide the audience with the exclusive experience of watching in theatre and not only in TVs, most of the movies are bringing this back.
With the rising popularity of smartphones, vertical videos have garnered more popularity than ever. 9:16 aspect ratios are suitable for the videos played on smart mobiles. This is also the standard aspect ratio for the videos on many social media apps and websites. 

Video Aspect Ratio and Video Resolution
As mentioned in the beginning of this blog, video aspect ratio and video resolution are interlinked but different from each other. Video resolution is the number of pixels in each frame of a video that determines how clear the quality of your video is. Higher number of pixels implies high resolution video while lower number of pixels indicates the video resolution is low or poor. To get the aspect ratio from a video resolution, you have to simply divide the width by the height. For instance, if the video resolution is 1920 px by 1080 px, then the aspect ratio will be 16:9.
Note that, for a single aspect ratio there can be multiple video resolutions.
I,e. for 16:9 aspect ratio, the possible resolutions are- 
1600

x 900 (HD+)

1280 x 720 (HD)

3200 x 1800 (QHD+)

2560 x 1440 (QHD)
Etc.
Also Read: SD, HD,and 4K- Streaming Video Resolutions Explained
How to Choose the Aspect Ratio for Your Videos
The aspect ratio has a major role in determining the mood, composition, and overall impact of your video content on the audience. A few tips to choose your aspect ratio-
Always choose the aspect ratio before shooting your content.

Opt for the aspect ratio based on the media your content will be played on. For instance, the standard aspect ratio for YouTube on a computer is 16:9, also for live streaming this is usually the best aspect ratio.

Plan beforehand which platforms your video content will be shared on and make a list of the best respective aspect ratios so that your videos don't turn out to be cropped or with black bars at the top or bottom on the main platforms.

16:9 works for almost all platforms, devices, has high quality and is easy to capture. However it is recommended to have a clear knowledge on other aspect ratios as well.
Also, there are specific aspect ratios that work the best for various social media. And you must be well-aware of that before streaming or sharing your video content on these media-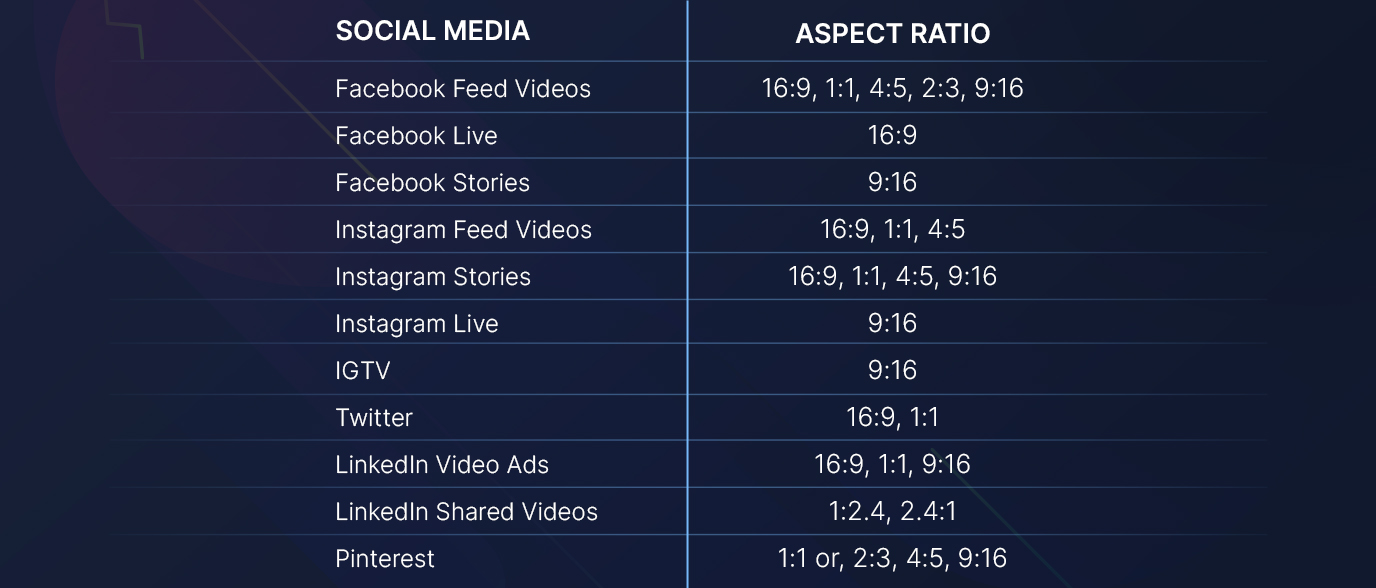 Wrapping Up,
Understanding video aspect ratios is one of the basics to nail before you make your video content and stream those over various platforms. Based on the type of videos, audience, as well as which platforms it can be shared on later, you should opt for a video aspect ratio. Even for live streaming, always keep in mind where it will be viewed the most, for instance, there are different aspect ratios that work the best for different social media and so on. Having a clear idea on video aspect ratio will help you in the long run, especially if you are operating in the streaming industry.
Muvi Live, the enterprise-grade live streaming platform, lets you deliver buffer-free video content from multiple screens, cameras, and platforms with differential aspect ratios easily without any external support. Muvi Live comes with the exclusive feature-packed solutions like ultra-low latency live streaming, recording & sharing live streaming across various platforms, DVR-enabled live streaming, offline viewing and social media integration, to name a few.
Take a 14-day free trial today to know more.