Connected TV (CTV) advertising refers to the practice of delivering video ads to viewers on internet-connected televisions (TVs), rather than traditional broadcast or cable television. This can include streaming devices such as Roku, Amazon Fire TV, and Apple TV, as well as smart TVs with built-in internet connectivity.
Unlike the traditional means of advertising on IPTV setups, connected TV advertising gives more personalized and targeted ad delivery and allows the advertiser to reach beyond the reach of Linear TV and display targeted ads on every device on which content is being streamed. 
Prabhvir Sahmay, senior director – India & South East Asia for Samsung Ads is very optimistic about CTV Advertising. "We offer ads on our millions of Samsung Smart TVs in the region, where we work with advertisers to position content and brands within the native TV viewing experience. This also includes in-stream video ads served during short commercial breaks on our free, ad-supported streaming TV service, Samsung TV Plus which now has over 70+ channels in India many of them local" he says.
Courtesy: Exchange4media
Here are some interesting insights about CTV Advertising & its future:
According to the FICCI-EY report, connected TVs have increased to 10 million in India alone and the numbers are expected to cross 40 million by 2025. 
eMarketer estimates that about two-thirds of the US Population will watch CTV content in 2022 with overall AVOD demands surpassing US $140 million. Advertising therefore on CTVs will be a great option for marketers.
In India, Disney+ Hotstar partnered with Kantar to develop a pristine CTV measurement solution. By using Disney+ Hotstar and Kantar's CTV Measurement Framework, advertisers can optimize their ads and finetune their ads to target desired audiences.
According to GlobeNewswire, CTV ad attention is on the rise. The average CTV ad now commands 34.5% attention, up from 31% in 2021. Viewability also increased from 60% to 64% in the same time period. 
According to Google, Connected TV is big and is now taking almost half of global video impression share.
164 million US internet users access video on CTV.
How does CTV Advertising work?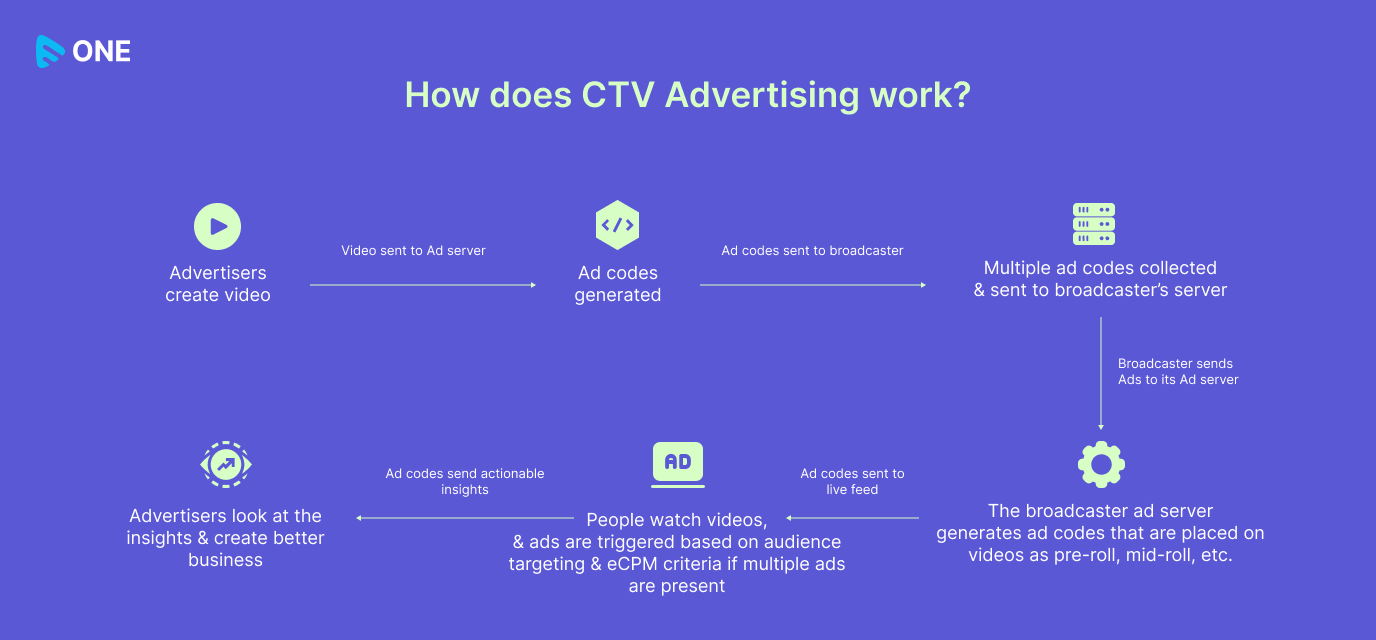 Connected TV (CTV) advertising works by using a combination of internet and television technologies to deliver advertisements to the viewers. The most important component of CTV advertising or any internet-based advertising is an Ad Server. 
An ad server is a technology platform used to manage and serve online advertising. It allows advertisers to upload, traffic, and measure the performance of their online advertising campaigns. They can also be used to target specific audiences, track ad performance, and generate reports on ad campaign results. Some of the most popular ad servers include Google Ad Manager, Adobe Advertising Cloud, and Amazon Advertising Platform.
Using an ad server, here are the steps to create & deploy Ads on the CTV network.
Advertisers create Video Ads: Multiple advertisers create video ads in various formats, such as pre-roll, mid-roll, and post-roll ads, which can be customized for different platforms and devices. Ads are created suitable for various duration such as 4-5 seconds or even 15 Seconds. 
Ads are Uploaded to Advertiser's Server & Ad Code is Generated: Now, all the ads that are created are sent to the advertiser's Ad server whose job is to assign it a specific ad code which is then shared with the broadcaster along with the requirements. 
Advertisers select the target audience: Advertisers select the target audience for their ads based on factors such as demographics, behaviors, and interests. This can be done through the use of data from third-party providers or through first-party data collected from the advertiser's website or mobile app. There are various options to run – pre-roll, mid-roll, and post-roll with targeting options based on location, device, interest, category of video, etc, and Demographics – Age, Gender, Language, income, etc.
Requirements are sent to Broadcaster's Ad Server:: A showrunner may have multiple ads coming their way from individual companies to Google Ad Sense. Now, all these different advertisers send their ad codes to the broadcaster which are fed into the broadcaster's ad server which ensures it runs all these multiple ads based on the CPM and a new ad server code is generated.
Advertiser's Ads get placed on CTV platforms: Broadcaster places their ad server code onto their website and apps across various platforms like TV apps, streaming sticks as well as mobile apps like android and iOS.
Ad performance is measured: Advertisers can use various metrics to measure the performance of their CTV ads, such as viewership, engagement, and conversion rates using insights obtained from the ad codes. These metrics can be used to optimize future ad campaigns.
Advertising is about creativity and the use of CTV advertising allows you to reach the audience of your choice thus refining the quality of your ads and even allowing for A-B testing your viewers. 

Benefits of CTV Advertising
Connected TV (CTV) advertising offers a number of benefits over traditional television advertising. Some of the main benefits include
Freedom to Select Audience
CTV advertising allows advertisers to target specific demographics, behaviors, and interests, which can result in more effective and efficient ad campaigns. For example, a sports goods company can refine its advertising by specifically targeting young people watching an NFL game in their ad by running merchandise and equipment ads. Chances of viewer engagement therefore increase.
Measurable Insights
CTV ads provide a more precise measurement of ad performance, allowing advertisers to track viewership, engagement, and conversion rates. This data can be used to optimize future ad campaigns and make necessary adjustments dynamically. The data is analyzed in real-time and hence advertisers can finetune their ad strategy almost instantly, thus improving their ROI.
Cost-effective Plans
CTV advertising can be more cost-effective than traditional television advertising, particularly for smaller businesses and advertisers targeting specific niches. Also, since you can define a lot of parameters yourself, you pay for specific ads targeting exact metrics. CTV advertising allows advertisers of all budgets to get started and has lowered the entry barrier for new sponsors and advertisers. Traditional TV advertising requires huge budgets and placement, and CTV advertising has changed and broken these barriers. 
Interactive and personalized
CTV advertising allows advertisers to use interactive and personalized ad formats, such as overlays and pre-roll ads, which can enhance viewer engagement. It comes down to creativity and  CTV advertising offers you to be as creative as you can.
Increased reach
As suggested by the insights shared above, with the growing trend of cord-cutting and the increasing number of streaming service users, CTV advertising can reach a wider audience than traditional television advertising.
Better ROI
CTV Advertising is becoming more and more efficient, thus providing a better return on investment. These benefits help to ensure that your marketing budget is being spent in the most effective way possible.
Connected TV (CTV) advertising gives the producer or broadcaster capabilities to refine and push ads that have a better chance of a conversion. With OTT live streaming replacing the traditional IPTV setups where people sat in front of their television sets, it becomes all the more necessary to opt for CTV advertising as users today are watching content on iPad, mobile phones, laptops, smart TVs and many more will be included in the future. CTV advertising gives the producer a cost-effective plan to target the audience with the product allowing flexibility like never before.
Launch Your OTT Platform with Muvi One
Thinking about launching your very own OTT platform and broadcasting your own branded content on a wide range of native apps? With just US $399, you can start distributing your content on all the popular platforms such as Fire tv, Android tv, Chromecast, Apple TV, etc.
Muvi can be your technology partner providing you with all the support that you need to grow your OTT presence. With Muvi One our users get
Built-in infrastructure with 24/7 support.
1000+ features such as Ad-supported subscription plans, Cloud Hosting, Online Video Player, etc.
Easy deployment of various monetization combinations.
CMS Management for OTT providers.  
Professional Platform Customization
Live Streaming Capabilities
Cross-Platform Compatibility 
Get a free 30-day trial today.