Do you prefer watching Netflix over watching movies in a movie hall? 
Or, do you like browsing movies through Amazon Prime instead of downloading poor quality pirated movies?
Then you must know why movie streaming is a rising trend in the entertainment industry. The growth of most of the OTT and VOD streaming platforms like Amazon Prime, Hulu, or Netflix is mainly driven by their huge collection of movies including the original ones. To give you a glimpse, the viewership of Netflix crossed 300 million in June 2022, globally, while Amazon Prime video is expected to surpass 240 million subscribers by 2026, as stated in a recent market report. 
As per the latest report, the global video streaming market is likely to grow to US $183.93 Billion by 2031 with the movie streaming sector having a significant contribution to it. If you are planning to start a profitable business with high growth potential, then creating a movie streaming platform can be one of the best options for you. In this blog, we will discuss all you need to know about building your own branded movie streaming platform.
What Is a Movie Streaming Platform?
A movie streaming platform refers to a VOD streaming platform to deliver movies to the audience. Technically, a movie streaming platform works similarly to a VOD streaming platform. The main difference between a movie streaming platform or a general VOD streaming platform is – in the former one, movies get streamed while in the latter one different types of VOD content get streamed such as movies, shows, concerts, and others. 
A majority of the OTT platforms are mainly focused on movie streaming which also signifies how profitable a movie streaming platform can be. If you are still wondering why movie streaming is a big deal in today's world, read on to find out the reasons behind its popularity.
Why are Movie Streaming Platforms Getting Popular?
Gone are the days when buying DVDs and Blu-Rays was the only option to watch high quality movies at the comfort of your home. The entertainment industry has paced up with the technical and digital advancements and it has helped provide more comfort, flexibility, and facilities to the viewers. Let's walk you through the top reasons behind the popularity of movie streaming platforms.
1. Quality Streaming Experience
While watching movies from the comfort of home became widely popular over the past decade, there is one common concern for the viewers – the quality of the movies. Many of the viewers who rely on downloading free movies often face this issue of poor audio and video quality. 
Also, the download speed, accessibility, device compatibility, your geographical location, and other factors can affect it. But a movie streaming platform offers high quality streaming experience to the audience. It is one of the main driving factors to the popularity of movie streaming platforms among the audience. 
2. Access to a Wide Pool of Movies
Subscribing to a movie streaming platform gives you access to a wide range of movies of various genres to browse through. Not only does it cater to your requirement for watching your preferred types of movies, but saves your time and effort as you don't need to go through the process of searching for the best quality movie or downloading every time you want to watch a movie.
3. Better Viewer Control
Watching movies on a dedicated movie streaming platform offers the viewers the perks that are not available even when you watch movies in a inox. Here you can easily watch your preferred movie/movies, pause, rewind, forward or even download them for watching later. No doubt that in this way a movie streaming platform offers better control to its viewers and improves the overall viewing experience.
4. Portability 
Subscribers of a good movie streaming platform can watch the movies on any device such as laptops, smart mobiles, tabs, and others. This in turn offers great portability and ease of watching for its viewers without compromising with the quality.
5. Cost-Effectiveness
By subscribing to a movie streaming platform, the audience can get access to unlimited movies and watch them anytime they want. They just need to pay a monthly, quarterly, or yearly subscription fee which is way cheaper compared to the broad range of movies and facilities they are offered. So, cost-effectiveness definitely remains a key driving factor to the spiking popularity of movie streaming platforms.
Steps to Create a Movie Streaming Platform With Muvi
It is evident that launching a movie streaming platform can turn out to be a highly profitable business idea. But it is often confusing for the beginners that from where to start or what steps to follow. So, here we have come up with our experts' guide to launch a movie streaming platform with Muvi, a one of its kind OTT streaming platform provider. So let's get started!
Step 1: Sign Up With Muvi
At first, you need to sign up with Muvi to launch your movie streaming platform. Muvi has an easy sign up process and all you need to do is fill in some basic details like name, company name, mobile number and others to sign up and get started. 
Once you sign up and create your account, you need to customize the platform as you want and configure your movie streaming platform as shown in the next step.

Step 2: Customize and Configure Your Movie Streaming Platform
The next step is to choose the proper categories for your content (Video/Audio). For a movie streaming platform, it will be video. You also need to choose from the content formats such as single or multi-parts content. 
For movies, you can choose a single part or, if there are multiple parts of a movie, you can upload it in multiple parts. As it is a movie streaming platform, the content type should be on-demand. The work of defining the aforementioned components is crucial since it provides a general notion of the content structure and flow of your movie streaming platform.

Once the content configuration is done, you can customize your website as you want. It is recommended to focus on offering a simple to understand yet catchy and competitive user interface for your customers. One of the top perks of launching your movie streaming app/website through Muvi is – you don't even need to write a single line of code. Be it customizing the front-end appearance, or enhancing the visual appearance of some parts of your app or website – you can easily do it all even without writing any HTML and CSS codes.
Step 3: Upload Movies to Your Library from the CMS
Muvi lets you easily upload your movies to your library from the CMS just through a few button clicks. Just enter the movie name, category, description, release date and other relevant information to start the uploading process. 
The content of your movie streaming app/website matters a lot in determining how successful it will be and you need to include a variety of movies of different languages and genres on your movie streaming platform to target even a wider audience base. 
Once you upload the movies, you can also preview it to ensure it looks as expected from the viewers side. The time required to upload the movies depends on the file sizes. However, if you face any issues at any point, you can submit a ticket and Muvi's technical support team will take care of it.
Step 4: Set Up Proper Monetization Models
Next, you need to set up the monetization models suitable for your movie streaming platform. Muvi offers a range of monetization models that are easily implementable.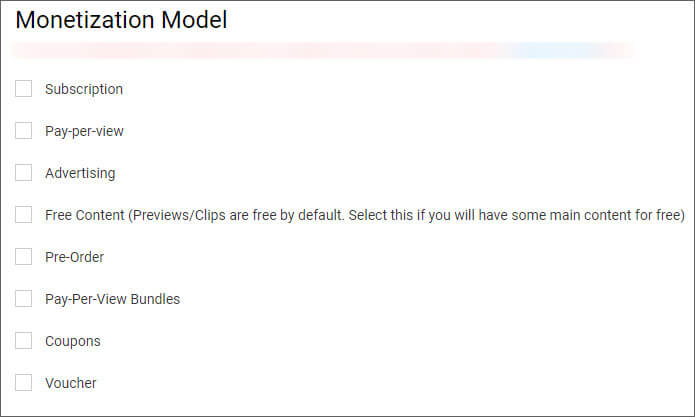 It is a good idea to opt for multiple monetization models such as subscription-based, ads-based, pay per view and others so that your viewers can choose from them as per their convenience. You can also offer free trailers, teasers, and other promotional content to your audience or implement coupons or vouchers easily.
Step 5: Launch and Promote
Once you are done with the above steps, you are ready to launch your movie streaming platform. Muvi gives you the liberty to launch your own branded app and website while offering full revenue sharing with you without any hidden charges. Furthermore, its easy social media integration and SEO optimization tools cater to the marketing of your movie streaming platform.
To Conclude,
The movie streaming industry has a bright future and to leverage the market potential, now is the best time to launch your movie streaming platform. The above guide will help you launch your own Movie streaming platform in the easiest way possible. 
As you can see, you can easily launch a competitive movie streaming platform with Muvi even if you are not from a technical background. Furthermore, Muvi comes with a lot of other competitive solutions such as scalable CDN, multiple payment gateways, multiple currencies, audience engagement tools, and analytics & insights, to name a few. 
Take a 14-day free trial today if you are yet to stream with Muvi (no credit card needed).