We have entered an era where viewers spend hours consuming video on Snapchat, TikTok, Instagram, YouTube, Twitter, Facebook and more.  Between 2013 and 2018, the amount of time that people spent watching videos online increased at an average rate of 32% per year. So, you can see that creating and posting videos on social media always help you drive toward your existing marketing goals. From creating brand awareness to promoting exclusive product videos, social media video marketing can be more beneficial than you can imagine. Here's a quick overview of what exactly social media video marketing is and why you should be including it in your video marketing plan.
What is Social Media Video Marketing?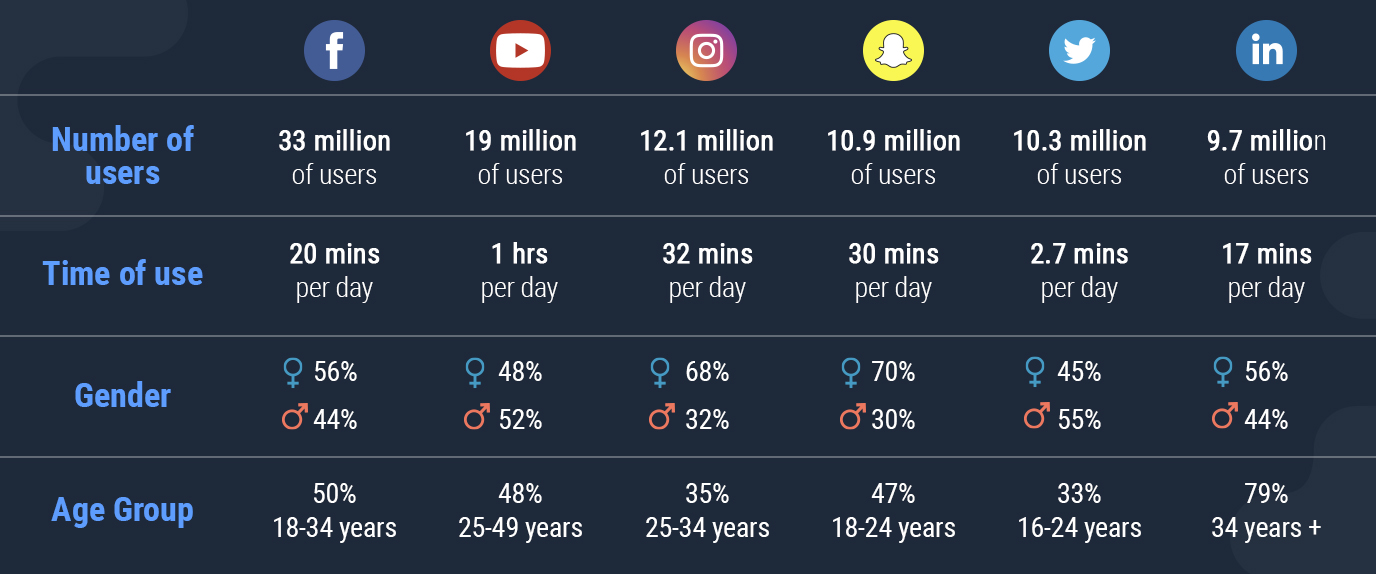 An integral part of video marketing, social video marketing is an effective channel to increase audience engagement through social activity around a published video. It is a special kind of video marketing where videos are created and tailored as per the specific requirements/parameters of various social media platforms.  
We're fortunate enough to have several social media platforms that excel when it comes to video. While YouTube is perhaps the biggest for video hosting, other popular platforms for social media video marketing include Facebook, Twitter, Instagram, LinkedIn, Snapchat and TikTok. These social media platforms have prompted businesses to orient their brands as per these platform algorithms.
In a successful social media video marketing campaign, creating and posting videos to social should always be focused to fulfill your video marketing goals. For example, if your goal is to get more downloads on the latest eGuide, you could create a short teaser or how-to video and post the full link to the ebook's landing page in the copy of your social post.
Did you know that YouTube is the second-largest search engine after Google?

Why use Video in Social Media Marketing For your Brand?
Research states that 93% of brands have gained new customers due to videos on social media. In an era where the majority of consumers have at least one social media account and are always available online, the user base for social platforms is quite heavy giving brands the opportunity of maximum content outreach. Here are a few reasons why you should incorporate video in your social media marketing plan.
1. Video is more engaging on social media than images or text posts. On LinkedIn, video is 20x more likely to be shared than text or image posts. While on Facebook, video posts generate the most engagement.
2. Millennials who are always online on social media have reduced attention spans hence their preference to watch product review videos, how-to's, live demos, webinars, and the like have a greater impact than plain blogs. 
3. Social videos convey more information using the least amount of time. It also assures better understanding because viewers utilize more senses with an audio-visual format.
4. Across social media, video has become a dominant content format. Facebook and Twitter get a combined 10 billion video views per day, proof that people want more video.
5. Transmission of information, in this case, videos, consumes extremely less amount of time on social media. With just a click of a button , your video is passed on to millions. That's clearly a huge outreach capacity increasing the likelihood of your videos to be watched. If you create a video that is compelling, consumers will quickly share it with their friends, family.
6. It's a good idea for content to be optimized for search engines. Social media channels are quickly becoming like search engines themselves, so it's important that you make your video relevant and discoverable on these search engines. 
7. By curating engaging videos on social media, you forge a relationship between brands and customers, and develop both trust and credibility.
With an enterprise video hosting platform like Muvi Server, you can easily publish content from your streaming platform on social media channels like YouTube and Facebook and ensure your content gets delivered to millions of viewers.
Advantages of Marketing Social Videos with Muvi Server
With Muvi Server, we have built a product that streamlines the social video publishing workflow including analytics across social media platforms so you can comprehensively understand performance. Social media video marketing can reach new heights with Muvi Server- here's a brief snapshot of what you can do with with our cloud hosting server:
Publish video to native players on social channels–

Use the advantages each platform gives to native video content by easily selecting videos and adding metadata to publish natively to Facebook and YouTube
Single account usage– With Muvi Server, all you need is a single account to handle your social media videos. You just have to log into your account in the CMS and directly publish your videos to social channels without having to go through multiple logins or upload videos individually for different accounts. 
Social video analytics– View and compare video analytics for Facebook, YouTube, and Twitter, as well as other web properties, to understand video performance. You can t

rack viewers engagement across social media platforms through real-time analytics and

capture feedback such as likes, comments, and shares to better understand viewer preferences.
Select multiple social channels-

Muvi Server's Social Publishing feature allows you to add multiple social media platforms and create new destinations for publishing content. 
Schedule videos– You could schedule videos to be published on social channels using our CMS and you could set your time zones for different regions for maximum post outreach 
If you're interested in learning more, check out our guide How to Publish your Content on Social Media Platforms.
Wrapping Up,
There are many ways that video can be used in social media marketing. From curating targeted ads to publishing perfectly polished educational videos, there are so many possibilities of using social media video marketing. Finally, videos just prove to be the best content for social media and receive higher engagement than any other content format. With the option of opting for an enterprise video hosting platform like Muvi Server, it's easier than ever to dip your toes into the social video marketing world. 
Take a 14-Day Free Trial of Muvi Server, now!