Automated billing is the process through which you can automate all the billing related activities such as generating invoices, handling customer billing cycles, managing various pricing plans, and others. While manual billing is obsolete for a while now, the demand for automated billing is growing fast due to the additional benefits it can give.
An automated billing system not only streamlines the billing related activities, but also gives the perks of implementing add ons like coupons, discounts, vouchers etc., customizing payment gateways and taxes, getting analytical reports on billing related metrics and many more.
Still wondering, what does an automated billing system actually mean? Let us simplify it for you even further-
Automated Billing System Explained
An automated billing system provides an automated solution for multiple activities associated with billing – handling delayed payments to managing the changes in payment policies, tax structure etc. at any point of the customer billing cycle. Not only this, an automated billing system helps you in various ways – implementing coupons, add ons, vouchers, additional offers, bundle services, etc. It also provides an online platform complied with the security standards for making safe & secure payments by the customers.
Nowadays most of the automated billing systems are recurring or subscription based. A subscription billing system is the most suitable for subscription-based businesses such as Netflix, Amazon Prime, Uber Eats, Xbox, and LinkedIn, to name a few. And as you can see, automated billing systems are used widely across diverse industries  like OTT, food, gaming, job portal etc. 
Recurring billing system is a more generalized version of the subscription billing where the payments are processed in a recurring way or at the given intervals of time such as monthly, quarterly, annually etc. There is a thin line between subscription and recurring billing systems- subscription billing systems are for subscription based businesses, while recurring billing is a good fit for recurring processing or deduction of payment for any business.
Advantages of Automated Billing System
Automated billing systems are getting widely adopted across various industries owing to the hassle-free payment processing and other additional benefits they offer. 
Here come some of the top advantages of an automated billing system that make it highly sought after for various businesses –
1. Multiple Payment Gateways
We all know that the sole purpose of an automated billing system is streamlining billing activities. But that's not all, there are other unlimited advantages and multiple payment gateways is one of them. For any business  be it online or offline, customers may need to have the option of multiple payment gateways, so that they can pick up the ones of their preferences or if one doesn't work they can pay through other ones. And an automated billing system can help with this. Most of the top automated billing systems offer multiple payment gateways and if you choose a more sophisticated one like Muvi Billing, you will be able to add your own payment gateways as well. 
2. Advanced Record Keeping
Gone are the days when people used to do record keeping in excel sheets. What are the cons? Well, the rate of errors such as data entry errors, calculation errors and other human errors was high. And such discrepancies used to affect from granular to bigger levels. As a result, there were more challenges related to increasing or identifying revenue, recurring revenue, customer lifecycle values etc. With the introduction of automated billing systems such problems can be solved. Such billing systems offer smart record keeping that is a more advanced version of the traditional record keeping free from such errors. And this enables you in identifying the payment or billing related metrics easily- starting from monthly profit to increase in customer lifecycle value.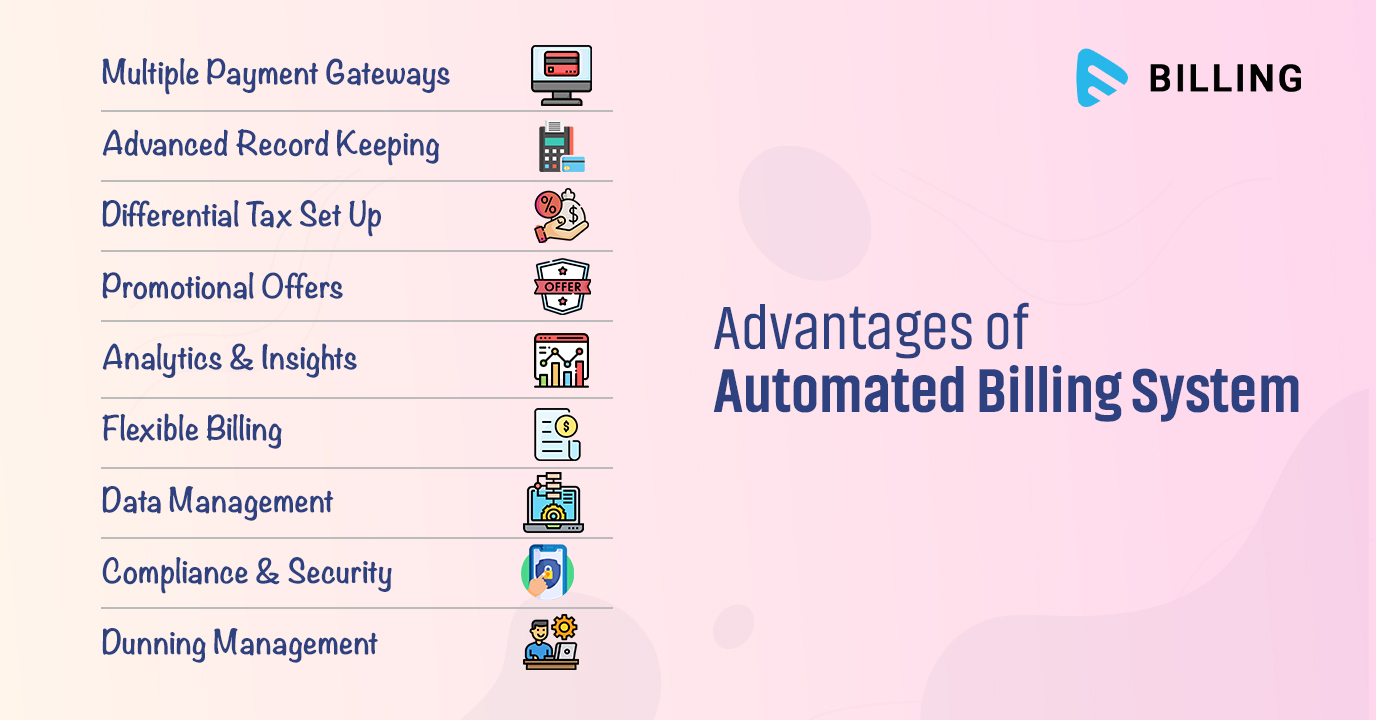 3. Differential Tax Set Up
You need to set up and manage differential taxes based on your products, services, country or state from time to time basis. And the whole procedure becomes even more complicated when you are scaling up or globalizing your business or extending your business to a new region. Furthermore, there can be changes in tax rules & regulations or changes in your services, products or offerings. And everytime changing, or managing or setting up such tax brackets can be tiresome and error-prone work unless you automate the process. A quality automated billing system not only simplifies the process, but  bypasses the overhead related to coding, testing and go-live as well. For instance, with Muvi Billing, all you need is to log in to your dashboard and set up the required taxes in a jiffy.

4. Promotional Offers
For every business, promotional offers play a vital role in attracting customers, inspiring impulse buying, and most importantly, increasing sales. Such promotional offers include discounts, coupons, vouchers, additional products or services offerings, and others. No doubt that manually implementing all these will be impossible or even if you have an automated billing tool not that efficient, it will take too long to set up. But with a billing software, like Muvi Billing, it will take just a few minutes to implement, manage, or remove such promotional offers as and when needed.
Also Read: How Automated Billing Solution Can Help Business Growth?
5. Analytics & Insights
Most of us are not yet aware that a sound billing system can provide you with detailed insights on all the billing activities including the important metrics like recurring revenue, average order value, subscription churn, monthly recurring revenue and many more. And you won't need any additional tool at all to get such analytical reports! 
6. Flexible Billing
An automated billing system lets you offer flexible billing solutions for all your customers such as changing billing plans or monetization models, incorporating changes in the middle of the customer lifecycle, and others. Such flexibility also implies you can make any required changes to its feature-rich solutions, starting from adding a new monetization model to delete or add a payment method!
7. Data Management
Data management becomes a tedious task as your business grows. There are innumerable data associated with multiple factors- customers' average order value to churn rate or monthly revenue. Unless you keep track of those and have the right figures, chances are your business will be affected negatively like, difficulties in revenue generation or recognition, lack of proper strategic plans etc. Automated billing systems swiftly handle all such data without any risk of errors or ambiguities making your task simpler than ever!
8. Compliance and Security
It is mandatory to comply with the safety & security protocols such as server level security, SSL certificate, VPN detection, and Generally Accepted Accounting Principles (GAAP). And most of the automated billing systems will take care of this part!
How to Choose the Best Automated Billing System?
Coming to the part of choosing a suitable automated billing system for your business, it can be tricky and confusing at the same time. While every automated billing system automates the billing process, what to look for in such systems before opting for the best one? Well, some of the feature-packed solutions that are must-have-
High flexibility

Multiple and  customizable payment gateways

Differential tax options

Dunning management for late & failed payments

Robust security

Unlimited add-ons – coupons, discounts, vouchers, and other promotional offers

Analytics & insights

24/7 support
Muvi Billing, the enterprise grade automated billing system for websites and apps, not only offers all the above-mentioned solutions, but comes with the additional perks of multi-currency & multi-language support, policy engine, gifting, and many more! Also, Muvi Billing requires very  less technical knowledge and hence can be easily handled without any in-house technical team.
Take a 14-day free trial of Muvi Billing to explore more (no credit card required).