 Offline Streaming. Designed for Anywhere Access
Airlines to Cruise Ships, Offshore bases to Space Stations, Streaming without Internet made possible.
Easy setup
Mobile Access
Private Network Streaming
Interactive Offline Experience TRUSTED BY GLOBAL LEADERS
Revolutionize Streaming: Offline Access, Limitless Possibilities
Revolutionize Streaming: Offline Access, Limitless Possibilities
Do you cater to audience located in remote areas, on long flights, or even in regions with spotty connectivity? – Muvi Offline has you covered. Our innovative technology enables users to connect to your private wireless network, ensuring that they can enjoy content without any interruptions. You no longer have to rely on the availability of Wi-Fi or mobile data to access your streaming platform. It's as simple as typing the URL or scanning a QR code, and your users are instantly transported into a world of offline content.
Redefining Offline Streaming
Muvi Offline offers an unparalleled offline streaming experience with features tailored for offline access with in-built security.
Instant Offline Access
Share the URL or allow users to scan the QR to access the content.
Secured Offline Streaming
Keep your content secured with Muvi's robust security infrastructure.
Multi-Platform Support
Experience the power of offline streaming from any device and anywhere.
Sync Content
Sync new content when the device is online or using a data transfer drive.
Start Streaming Now!
Offline Access
Deliver Content Anytime, Anywhere.
No Internet, No Problem.

Nominal One time Setup Fee then
Pay As You Go
Universal Solution to the Challenges of
Unreliable Internet Access

With Muvi Offline, you can offer passengers a seamless entertainment experience while they are on the move – be it Aircraft, Trains, or Cruise Ships. Travelers can access a wide range of movies, shows, and other content without relying on an internet connection. They can simply connect to the private network, scan a QR code, or type a URL, and dive into hours of uninterrupted entertainment.

For researchers, explorers, or anyone stationed at remote locations like mountains or deep forests, Muvi Offline is a boon. They can stay updated with the latest content or indulge in their favorite shows without the need for internet connectivity.
In military bases or conflict zones where internet access might be restricted or compromised, Muvi Offline provides soldiers with a source of relaxation and entertainment. It ensures morale remains high, even in challenging environments.
For government agencies handling sensitive information, secure communication is paramount. Muvi Offline allows for confidential data sharing, training modules, or important announcements to be disseminated securely without the risk of external breaches.
Corporations can utilize Muvi Offline for confidential internal communications, training sessions, or product launches. Employees can access vital information without the risk of leaks, ensuring that proprietary data remains within the organization.
In areas where students lack consistent internet access, Muvi Offline bridges the educational gap. Students can then access this wealth of knowledge without needing an active internet connection. Whether it's a remote village school or a student traveling, learning never stops. This ensures that every student, irrespective of their location or internet availability, has an equal opportunity to access quality education and resources.
Robust Architecture
A robust infrastructure based on AWS (Amazon Web Services) – a highly resilient and scalable technology framework that leverages AWS cloud services to build and maintain a dependable and adaptable IT ecosystem.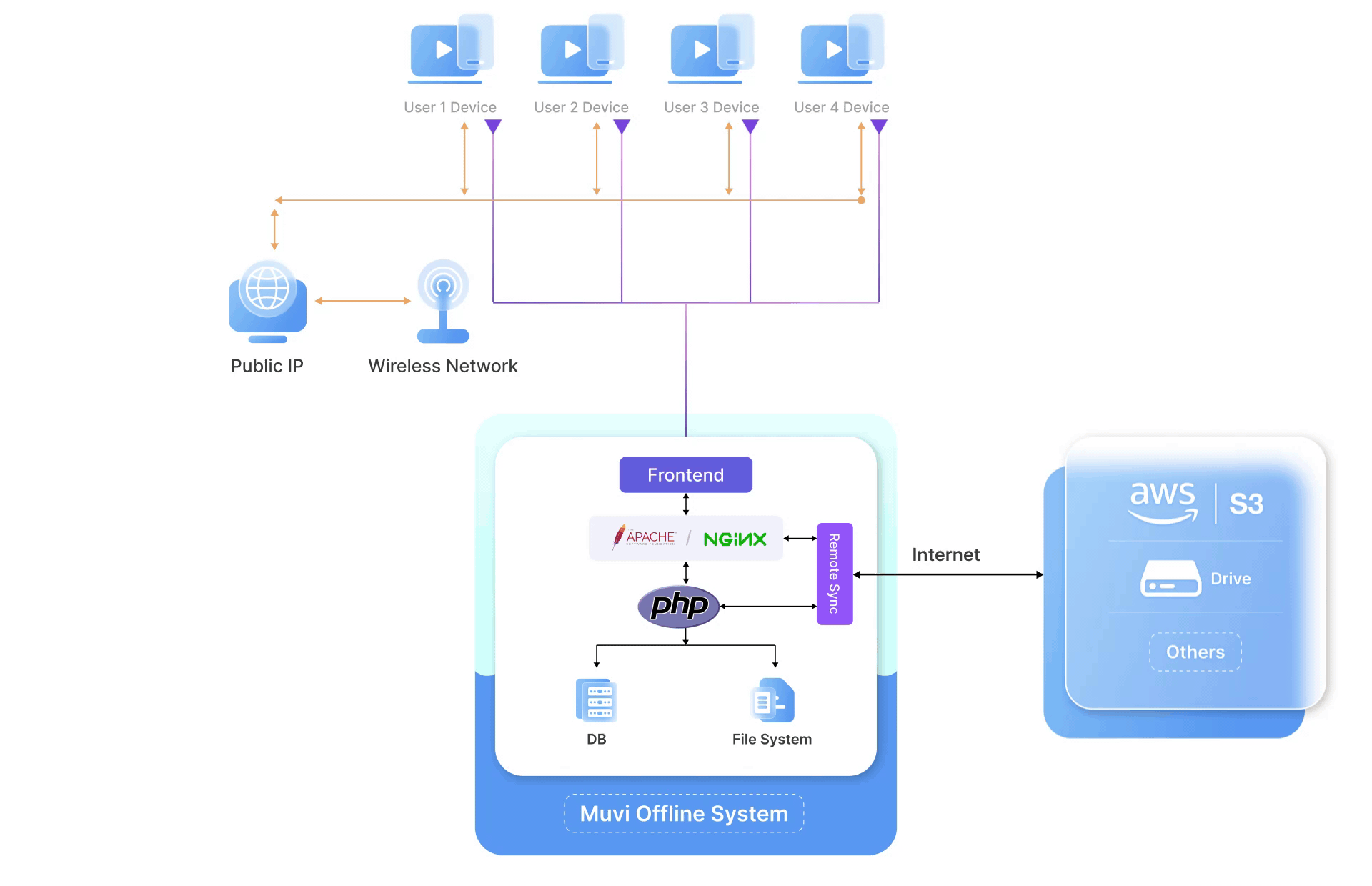 Used and loved by businesses
Don't take our word for it. Check out what our customers say about us

Thanks to Muvi, we achieved our goals with ease. Their platform provided clear user feedback and usage data, helping us gain 15,000 web registrations, 10,000 Android users, and 5,000 iOS users. The robust analytics in Muvi's content management system empowered us to make informed decisions, driving streaming for audio and video. We are highly satisfied with Muvi's services.

Kashif Khan
Chief Executive Officer, EnterInfi

We wanted a platform that is reliable. We made the research and found Muvi, we felt Muvi was the best solution that met our requirements. The fact is that it is DRM Enabled, it protects content from getting downloaded, screen scraped or even screen sharing is not allowed.

Danji Thotapalli
Festival Director, Indic Film Utsav Customer Highlights
Content creators and owners across the world turn to Muvi One to build and launch their own digital streaming platforms.
Pickbox now

Supported platform:
Web, Android, iOS, Android TV, Apple TV
Read more

YAY TV

Supported platform:
Android TV, Apple TV
Read more


Vew All Customer Examples


Explore Muvi's product suite
The simplest, and fastest, way to launch your OTT platform with a full featured website and 16+ app platforms that includes mobile & TV. Host, publish and monetize video/audio content with utmost ease.
Live stream eSports Tournaments, Corporate Events, Shows, Training Session on any device and platform worldwide. Deliver brand-defining live video experiences with Muvi Live
The simplest, and fastest, way to deliver video and audio experiences on your websites, apps, and other platforms. Host, publish, manage video, and audio files in one place.
The simplest, and fastest, way to deliver video and audio experiences on your websites, apps, and other platforms. Host, publish, manage video, and audio files in one place.
Launch your live TV & Audio channel and broadcast pre-scheduled on-demand content in real-time. Schedule both on-demand content and live feeds on multiple linear channels using an advanced scheduler.
Try Muvi Offline
Empower Your Content: Create an Offline Streaming Platform

Feature-rich CMS

HTML5 Video Player

Voucher Monetization