As a streaming platform owner, delivering a seamless video streaming experience to your viewers is paramount. One of the key factors in achieving this goal is through the proper encoding of your video and audio content. By default in Muvi One, all videos you upload are encoded to 8 resolutions and 2 formats, and you can create an unlimited number of encoding profiles, this ensures maximum compatibility with various devices and browsers as well as internet speeds and ensures a buffer-free streaming experience. 
However, as a streaming business owner, you may want to have better control over the number of profiles a video gets encoded into, for various reasons and to set and customize as per your business requirements and audience preferences. To cater to this exact requirement, Muvi One now offers a dedicated solution for customizing and encoding video profiles. 
Muvi One's Custom Video Encoding Profile Feature, lets you control the video streaming experience delivered to your viewers, including the cases where you know your users are in a controlled environment so that you can envision them utilizing only a certain type of video profiles. 
By allowing you to customize and control the number of profiles in which your videos are to be encoded it lets you control your viewer's experience as well as potentially save on storage and bandwidth costs. And that's not it! There are even more solutions and advantages of this feature of Muvi One that we are going to walk you through for better insight!
A Glimpse of Muvi One's Encoding Profiles Customization Feature
1. Easily Set Up & Control Multiple Encoding Profiles
Setting up encoding profiles is easier than ever with Muvi One. You just need to log in to Muvi One CMS and can define as many encoding profiles as you want. Also, you can set up a default encoding profile to automate the process further. 
So that whenever you add a video/audio to the library, it automatically gets encoded to the default format. Also, you can switch among the defined encoding profiles at any time as per your needs. 
Muvi One customers can create encoding profiles based on their required encoding configuration and can configure upto 8 resolutions, 2 output formats, and also enable/disable DRM for the profile as shown below –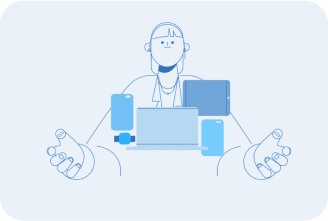 Typically when you as a platform owner upload a 1080p HD video, Muvi One's Encoding Engine will encode this into multiple formats like 144p, 240p, 360p, 480p, 720p, 1080p, QHD, and 4K. This is done so that while viewing the video, based on the viewer's internet speed, the best video resolution is dynamically delivered to the viewers to ensure a buffer-free experience. 
The top advantages or perks of this highlight are –
Allows for efficient management of storage space and costs

Enables customization of video/audio quality and playback experience for end-users

Reduces the overhead to switch between different encoding profiles as needed

Allows for the use of different DRM encryption settings based on encoding profile

Permits the selection of multiple resolution and output formats for optimal streaming for diverse audiences
2. Customize Video Encoding
The video encoding requirements can vary depending on your viewers' platforms, internet connection, and other relevant factors and with this solution you can automate and streamline this process seamlessly. You can define specific resolutions, output formats, and security like DRM (Digital Rights Management) for every video/audio content that you upload. 
For example, you can set a profile, say "X," with DRM enabled for videos in 1080p and 4K, in both HLS and DASH formats. Add another profile, say "Y" for videos in lower resolutions such as 360p and 720p, and output formats in HLS without enabling DRM.
The top perks of this solution are –
Allows for tailored viewing experiences for different audiences by providing a range of resolution and format options

Can save on costs by only encoding necessary formats and resolutions

Increases security by enabling DRM for specific content

Provides flexibility to switch encoding profiles based on current needs and audience demand

Enhances the overall user experience by providing the optimized playback quality
3. Select Multiple Resolutions & Encoding Formats
Muvi One's this feature gives you the liberty to choose diverse encoding formats and resolutions without any constraints and ambiguities. For instance, you can choose a range of output formats like HLS, MPEG DASH, or both for every content you upload as well as can choose a broad range of multiple resolution formats such as 144p, 240p, 360p, 480p, 720p, 1080p, 2k, and 4K for video content. For audio content, you can choose multiple formats from MP3, ACC, Ogg, WAV, and others.
This solution has multiple advantages for your streaming platform/business such as –
Provides flexibility in streaming quality to match the viewer's device and network capabilities

Allows for optimized streaming experience and reduced buffering for viewers

Enables efficient use of bandwidth and storage resources

Allows for easy adaptation to new and emerging devices and technologies

Enhances customer satisfaction and retention by offering a personalized viewing experience
4. Minimize Bandwidth, DRM, and Storage Costs
By utilizing Muvi One's encoding profiles for your video and audio content, not only can you effectively minimize costs associated with bandwidth usage, storage, and delivery, but you also have the flexibility to enable or disable DRM for specific content without compromising on streaming quality. 
This allows for even greater cost savings by reducing unnecessary expenses associated with DRM. Additionally, you can easily monitor and manage all your encoding profiles in one place and make adjustments as needed to ensure optimal performance and cost efficiency.
5. Ensure Optimum Streaming Experience
By creating custom encoding profiles, you can ensure that your streaming platform delivers an optimal viewing experience for your end-users. This can be achieved by carefully selecting the appropriate resolution for different types of content. 
For instance, you may choose a higher resolution for premium content to enhance the viewing experience, while using a lower resolution for free-content to save on bandwidth costs. Additionally, you can also adjust other parameters such as bitrate, frame rate, and codecs to further optimize the streaming quality. This approach allows you to deliver the best possible streaming experience to your audience while also maximizing the efficiency of your platform.
Not just limited to the above highlights, Muvi One's encoding profile customization offers even more. Visit our Customize Encoding Profiles Feature Page to know more. If you are yet to stream with Muvi One, take a 14-day free trial now (no credit card needed).