Advertisements are bringing new revolutions in the OTT sphere. Only recently, OTT giants like Netflix have announced their Ad-Supported plans, offering budget-friendly alternatives to their purely subscription-based plans. If we look at the statistics and forecasts, AVOD is predicted to grow at the fastest pace. Also, in recently conducted surveys, viewers have stated that they don't mind watching relevant ads if they get a subscription at reduced prices. Hence, the importance of AVOD in the OTT sphere is currently at its peak. 
But, if you analyze the situation carefully, you will realize that two aspects are really important in the success of AVOD, the first being the amount of relief it brings to the wallets of people, and the second and probably most important factor is the relevance of ads. 
If the advertisements are not relevant enough, your audience might get irritated, and might lose interest in your platform. To avoid such scenarios, the OTT Industry has now started using advanced ad placement markers like SCTE Markers. 
If you want to learn more about them, then you are at the right place. This blog will cover everything you need to know about using SCTE Markers in OTT platforms, starting from their types, workflow, applications, and benefits they offer when used in AVOD content. So, let's begin!
SCTE Markers and Their Applications in OTT Industry
SCTE Markers are used for multiple purposes in the OTT industry. Though they are primarily used for ad insertion, they have multiple other functionalities too. Let's take a quick look at some of their prominent uses in both AVOD and Live Streaming. 
AVOD
SCTE Markers play a key role in delivering interactive and engaging ads to OTT viewers. They help in understanding the choices of the audience and deliver ad content that matches the choice and needs of the viewers. That is why, the OTT industry uses SCTE Markers to make AVOD ads more relevant, user-friendly, and engaging. 
Such types of ads do not irritate the viewers. Hence, they enjoy your AVOD content more than ever. 
Dynamic Ad Insertion (In Live Stream)
During live streaming, there is very little time for manual ad control. That is why SCTE Marker-based dynamic ad insertion has special significance in live streams. During live streaming, SCTE 104 and SCTE 35 markers go through the live feed, identify suitable places for ad insertion, analyze the content to select relevant ads, and place only relevant and valuable ads into the right places in the live feed, without any human intervention. This process makes ad insertion flexible and adaptive to the viewer's preference. Read our blog on "How SCTE Markers Revolutionize Ad Insertion in Live Streams?" to know about this process in detail. 
How SCTE Markers Make Ad Insertion Efficient in AVOD?
Till now, we have discussed the gross benefits of using SCTE markers in AVOD ad insertion. It's now time to look at these benefits in detail. It will help us understand how SCTE markers make AVOD Ad Insertion much more efficient than ever.
They Make Ads More Relevant
We have already told you that SCTE Markers Make the ads more relevant. But do you know how they do that? Let's discuss it in a bit more detail. 
Actually, SCTE Markers are a type of timed Metadata. So, they crawl through the entire video, and in this process, understand the type of content, find out relevant ads for the content and then insert them in relevant places. 
Hence, in this process, relevancy is maintained at multiple levels. Firstly, these markers help insert ads that are related to your content and are based on viewers' preferences. Secondly, they are inserted at places that are suitable for inserting ads. In this way, the audience does not get irritated by too frequent ads.   
They Make Ads More Adaptive to the Audience's Behavior
Some of the SCTE Markers offer SIS (subscriber information service). Through this feature, you can know how your subscribers are interacting with the ads displayed to them while they watch your videos. This data helps in targeting a specific group of audiences with a specific set of ads. 
Hence, these SCTE Markers adapt to your audience choice automatically and adjust the list of ads being displayed to them. As your audience finds value in the ads, they don't get irritated when the ads are displayed. 
Types of SCTE Markers Used for Ad Insertion in AVOD
Depending on the purpose of your use, SCTE Markers are of multiple types. Each of these types performs different functions. In normal OTT and Live Streaming ad insertion, we generally use SCTE 104 and SCTE 35 Markers. But if you want advanced control over the ad insertion process, you can use more advanced markers like SCTE 138 Markers. 
SCTE 104
SCTE 104 markers work as video splicers. When the automation system traverses through the video feed, they insert SCTE 104 markers whenever they find appropriate. These SCTE Markers act as indicators for other SCTE Markers who actually insert the ads.           
SCTE 35
SCTE 35 markers are indicators for the ad servers. Whenever they get an SCTE 104 marker in the video feed, they send signals to ad servers for inserting relevant ads. They also contain all the necessary information needed by the ad servers for successful ad insertion.       
SCTE 30
They act as a bridge between the SCTE 35 Markers and the ad servers. When the SCTE 35 markers want to send signals to the ad servers, they take the help of SCTE 30 markers to do so. Hence, the function of SCTE 30 markers is to transport the message of SCTE 35 markers to the ad servers and vice versa.              
SCTE 138
SCTE 138 Markers are used for targeting a specific group of audiences with a specific set of ads. In other words, you can customize the ad viewing experience of your viewers by delivering the ads that suit them the most. 
SCTE 130
SCTE 130 Markers are advanced ad insertion markers that can perform multiple tasks at once, like:
Ad Management Systems 

Ad Decision Service (ADS)

General Information Services (GIS)

Content Information Service (CIS)

Placement Opportunity Information Service (POIS)

Subscriber Information Service (SIS)
Hence, you can have a fully automated ad insertion process using SCTE 130 Markers.       
How SCTE-Marker Based Ad Insertion Works?
Now that you have a basic understanding of the SCTE markers, let's start understanding their functions in a bit more detail.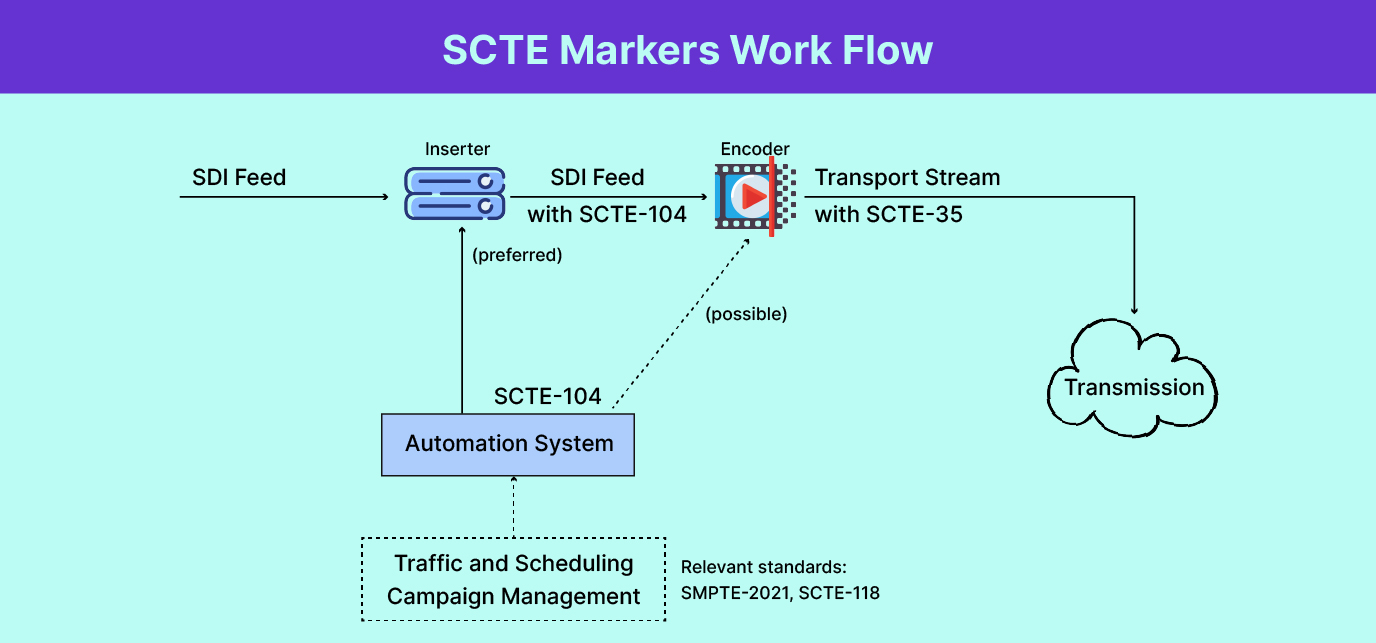 As we discussed earlier, the SCTE markers act as the signaling units to the ad servers. If you use SCTE markers in your ad insertion, your ad servers will not be able to pick up and insert an ad randomly anywhere in your video. Hence, you will gain additional control over the OTT ad insertion process through SCTE markers. Want to know how it happens? Let's take you through the steps involved in this process. 
In the first step, the automation system of the programmer's side in OTT architecture analyzes the baseband video feed. Depending on their analysis results, the automation system categorizes the ads available to be displayed as high-priority ads and low-priority ads. 

In the next step, the automation system marks out suitable segments for inserting ads. This marking on the baseband feed is done using SCTE 104 markers. 

Next, the video feed is sent to the encoding and transcoding system, where the encoder or transcoder compresses the baseband feed and converts it into multiple pieces of small video fragments. 

During the encoding process, the encoder identifies the SCTE 104 markers placed by the automation system and inserts SCTE 35 markers in the same location. Finally, the video feed is uploaded to be broadcasted. 

When a viewer streams the video on their OTT account, the ad servers get triggered whenever the viewer nears an SCTE marker. Using the information received from SCTE 35 markers, they insert relevant ads in the locations marked by SCTE 104 marker. In this way, a simple ad insertion process in AVOD takes place. 
If you want to gain additional control over your ad insertion, you can insert SCTE 138 or SCTE 130 markers into your video feed. SCTE 138 markers will allow the ad servers to play only selected ads to specific viewers. They will not allow any irrelevant ads. That is why the viewers will see only some selected ads. 
While the SCTE 130 markers will take logical decisions on the go. They will use their Content Information, Subscriber Information, and Ad Decision service to customize the ads according to the location and behavior of the viewer. Then they will signal the ad servers to insert a specific ad that suits the viewers the most. 
Benefits of Using SCTE Makers in OTT Ad Insertion
Throughout the article, we have already talked about the multiple benefits of using SCTE markers in Ad insertion. Let's take you through some of the benefits in a bit more detail.
Customized and Automated:

SCTE Markers take logical decisions using the information collected by them. Hence, they automate the ad customization process. You don't need to manually analyze the relevance of your ads anymore. 

Appearance Control:

How your ads appear on screen is important. SCTE markers allow you to control the alignment and appearance of your ads on the screen. 

Dynamic Ad Insertion:

During live streams, SCTE markers help insert relevant ads at relevant places automatically without any manual intervention, hence assisting in dynamic ad insertion.  
Factors That Impact Quality Ad Insertion in OTT and AVOD
Till now, we have tried to analyze and understand how SCTE markers make AVOD ad insertion efficient. But, it is only a small part of the whole cake. Because efficient ad insertion is a combination of multiple technical factors, all of which work together to make relevant and dynamic ad insertion possible. It's now time to take a look at all of these factors that take part in this process. 
SCTE Markers
As explained before, SCTE markers decide where to place which ad and how to display them to viewers. So, if we talk of the overall ad insertion process, then, SCTE markers are responsible for deciding the ad location mainly, along with some other factors like the type of ad content. The other processes are carried out by the automation system, encoder, and ad servers. 
Automation System
It is a software architecture present on the programmer side of the OTT architecture. As its name suggests, it automates the ad insertion process. It means that all the major decisions including the position of placement of markers, the priority of ads depending on their content, and all other factors are suicided by this automation system.                       
Built-in Encoders
Encoders are the heart and soul of the ad insertion process. Without encoders, there would be no video splices and no ads will be inserted into them. It is the responsibility of the encoders to devise the videos into fragments and insert SCTE 35 markers into the correct fragments so that the ad servers can insert the ads inside the gap. 
Ad Servers
Ad servers are the final units of this cycle. They complete the ad insertion process by inserting the ads in positions marked by the markers. But before inserting, they first retrieve all the information from SCTE Markers, decide which ad to insert and how, and finally insert the ads accordingly. 
Thus, delivering the best AVOD experience to your viewers involves a perfectly coordinated effort of the entire ad insertion setup that includes an automation system, SCTE Markers, Encoders, and Ad Servers. If any one of them fails to perform, the entire ad Insertion process would get derailed. 
Deliver the Best AVOD Experience To Your Viewers With MUVI!
At MUVI, you get the complete setup for delivering the best AVOD to your viewers. Our built-in Encoders and transcoders integrated with multiple ad servers, and super flexible ad insertion framework makes the job super easy for you! 
Hence, if you are looking for an OTT platform that will give you enough flexibility with hybrid monetization and AVOD content, then you must try MUVI! Along with multiple monetization and in-built infrastructure, we also offer built-in DRM security and over 100 features that make us the best OTT platform provider in the world! Wanna try? Sign up to start your 14-day free trial today!