Black Friday and Cyber Monday are knocking on the doors! And this time, the streaming industry will see some fantastic offers that you simply can't miss! 
This is the shopping time of the year again! You must be gearing up for the upcoming Thanksgiving, Black Friday, and Cyber Monday. And if you are a binge-watcher or a streaming enthusiast, we are here to tell you about some amazing deals that are going to save you a good number of bucks. 
This Black Friday, offers are running across streaming segments, including streaming service subscriptions, streaming devices, and streaming platforms (SaaS). In fact, you can save a good number of bucks on video editing software and cameras too! Seems interesting? Keep reading the blog for more!
Best
Black Friday Streaming Deals
For Viewers
If you love to binge on multiple streaming platforms regularly, then this section is just for you. This Black Friday, you can save big numbers on multiple streaming platforms and devices, and hence enjoy an amazing winter full of festivities and streaming parties!
Deals on Streaming Devices
If you are missing out on online streaming on bigger screens just because your TV is not smart, then this Black Friday has brought the deal of your lifetime! You can buy Amazon Fire TV Stick, Roku Stick, and more, at massive discounts!
Best Buy is giving an amazing offer on Amazon Fire Sticks. If you order Amazon Fire TV Stick 4K from Best Buy, you are going to get free 4-month Amazon Music Unlimited, 3-month Apple TV+, and 30-day fuboTV Pro subscriptions. And do you know the best thing? All of these comes at a complete 50% discounted price! If you order it right now, you will be getting the complete package at just $24.99!
Great offers are running on Roku devices too! Get a Roku Streaming Stick 4K with Dolby Vision and HDR10+ picture quality at just $24.99 and get $25 off on MSRP
Want to know the difference between Roku and Amazon Fire TV? Read our blog to know more! 
Deals on Streaming Services
If you are looking to cut out some streaming subscriptions to save just a few extra bucks, then hold on! You need to hear this news first. Lucrative offers are running on multiple streaming platforms. 
This Black Friday, earn a Paramount+ Essential subscription with every Walmart+ membership, and that too at just $12.95/month or $98/year. 
In addition, if you are a student or an EBT cardholder, you can sign up for Amazon Prime at straight 50% off, which means you will have to pay just $6.99 per month. 
And if you are streaming professionally yourself, then it is the right time to invest in your streaming setups and platforms. Keep reading the blog to know what Black Friday has in store for you.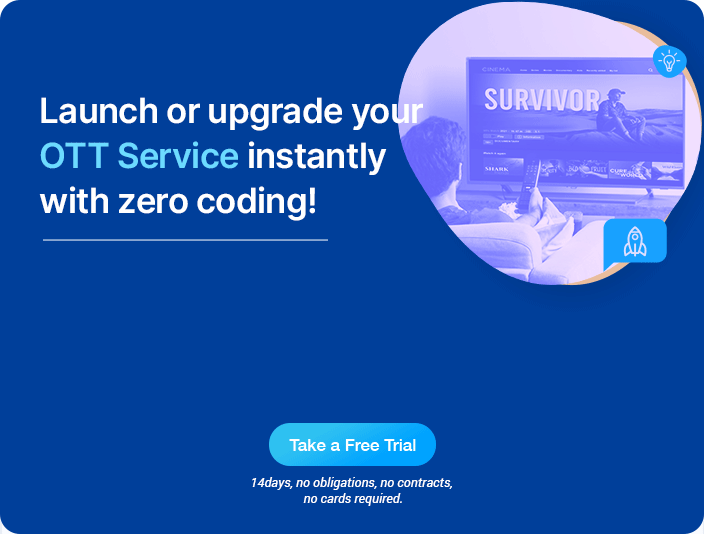 Grab-or-Gone
Black Friday Streaming Deals
for Professional Streamers
Looking to start your own streaming platform? Then, you need to sit down and read the offers running on the Black Friday deal. From platforms to editing software, and from cameras to webcams, you can get massive discounts on your entire setup. 
Streaming and OTT Platform SaaS
Need no-code software for starting your own streaming platform? Then grab this offer right now! 
The world's best OTT platform, Muvi is giving out a massive 30% discount for the first three months of Muvi One subscription. The Offer will run from 22 November to 5 December 2022. Use the coupon code "BLACKFRIDAY30" to grab the offer. 
For those unaware, Muvi is the world's best no-code OTT platform software, where you can develop your very own white-label OTT platform without writing a single line of code. Isn't it great?  
Video Editing Software
This Black Friday, lucrative offers are running on many video editing software too! 
Leading video editing software VideoStudio Pro is running multiple offers across its products. The offer ranges from 40 to 45% off on VideoStudio Pro and Ultimate.
Another video editing software WeVideo is also giving up to 50% off on their annual plans. 
Streaming Equipment
This Black Friday is a good time to invest in your streaming setups. If you are struggling with your old and hazy camera, or if your webcam has recently gone haywire, then get ready to indulge in some good shopping expeditions. 
Good discounts are running on streaming and shooting equipment in multiple e-commerce platforms like amazon, for example: 
Get GoPro HERO 11 for just $450, and save $50
Buy Shure MV7 Microphone for $224 and save $25
Get Logitech Brio 4K Webcam for $137 and save $63
And this is just the beginning of the list! Explore the various e-commerce platforms to learn more!
Start Your Streaming Platform With Muvi! 
Black Friday is always the correct time to invest in your streaming platform. And this year, as we are standing at the cusp of the FIFA 2022 world cup, the demand for online streaming is set to rise rapidly worldwide. 
So, if you are still thinking of starting your own OTT platform, don't waste your time anymore! You will never get an opportunity to grab a flat 30% off on Muvi One subscription for three months! And you get 100+ industry-leading features, giving you a mileage over all your competitors. Some of our leading features include DRM, built-in CDN, built-in encoder and transcoder, multiple monetization models, integrated ad servers, BYOA, recommendation engines, and much more! Sign up to start your 14-day free trial today!