If your streaming service offers a freemium subscription to lure new subscribers, you have only one primary goal: convert those free subscribers to paid streamers.
Well, getting new subscribers through free-trial is much easier, but retaining & converting them takes a lot of planning and efforts. It's actually the hardest part.
On an average, only 15-25% free streaming users convert to paid subscribers while the rest of the users simply take advantage of the free trial service without any intention of converting.
Now talking about your streaming service, what's your monthly paid conversion rate? Is it above the average or below?
If you haven't calculated yet, do it now. Get the list of free trial subscribers from last month's reporting and find out how many of them upgraded to paid subscriptions.
In case, the conversions are lower than expected, it's important for you to understand the criticality of the situation and act accordingly.
Paid conversion rate for a streaming service completely depends on how satisfied the subscribers are during the free-trial period. When subscribers are happy with the OTT offerings, they automatically upgrade to paid subscriptions and continue to enjoy the premium streaming experience without any interruptions.
However, there is nothing to worry about the low conversion rates. Fortunately our experts have got a feasible way out for that. By practicing the below-mentioned tactics, you can swiftly encourage your free subscribers to upgrade to paid subscriptions and generate a profitable recurring revenue at great ease.
So, let's get started then.
1. Study the behavior of your free-trial streamers
This is important. Without understanding the streaming habits and content preferences of free subscribers, it's hard to strategize an effective paid conversion process.
We recommend to use your platform's analytics for gathering critical information about every free user. Simply identify subscriber's location, age and gender. Find what's attracting them – is it the content library or they just love your exclusive features. Also, check out which genre of content are mostly streamed by these free users and how much time is being spent on them.
If such stats are not enough for analyzing the behaviour of your trial users, you can always conduct a survey through email-communications, asking them to rate your streaming service with a transparent feedback.
Combining all these actionable data, then figure out where your subscribers are actually facing problems and what's stopping them to pay a subscription fee.
Checkout Muvi Analytics, the most loved feature of Muvi users.
2. Eliminate all the conversion frictions
To analyze what's wrong with your current conversion strategy, you need to go through the entire process, just like a streamer does. From sign-in to payment, test every functioning on own and tick out all the frictions that are troubling the subscribers in upgrading to paid subscriptions.
For your information, here are some common conversion frictions  –
High subscription fee
Boring & repetitive content library
Confusing navigation and user-experience
Continuous buffering & lags during streams
Complex payment process
Not much variety in subscription plans
No humanly communication during the trial period
No customer support
If you can reduce all these friction factors and deliver utmost value during the free trial period, for sure the conversions will be much smoother and easier.
3. Restrict access to premium content
When your content are fresh & unique, and not available with any other streaming service, there are high chances the free streamers will definitely go after them.
In such scenarios, allow the users to explore all their favorite content at great ease and ensure them utmost comfort throughout the free trial.
Once they get immersed in your premium content, simply take advantage of the situation and nudge them to take a paid subscription.
This can be as simple as restricting the watch-hours of all the premium content available in the library. Eventually, when the free-users will reach a threshold, where they won't be able to access the exclusive content anymore, they will ultimately land on a crossroads deciding whether to upgrade or not.
In the Q2 of 2019, Hotstar, the popular Indian OTT streaming service, used this particular strategy to convert its free subscribers to paid streamers and successfully witnessed a surge of 25% in its paid conversion rate.
4. Build a sense of urgency using drip email campaigns
Since free trials are valid for a limited time only, creating a sense of urgency during the trial period often encourages free streamers to convert to paid subscribers. The feeling that they'll miss out the exclusive OTT offerings if they don't upgrade, simply compels them to take a decision in favor of the streaming service.
Here all you need to do is, just create a drip email campaign and inform your free users about the end of the trial period. Use direct and actionable messagings like

Every time you communicate with your free subscribers with such messagings, it delivers a sense of urgency, and considerably increases the paid conversion rate of free trials.
5. Offer a special promotion before the free trial ends
Imagine, out of your 100 free subscribers, 74 users are satisfied with the content & user-experience you are delivering, and are on the verge to upgrade their OTT subscriptions after the free trial is over.
What would you do in such a situation?
Will you wait for them to convert at the end of the trial or take immediate action to close the possible conversions ASAP?
Well, according to our experts, offering a special promo or discount would be a wise strategy to make the conversion process more lucrative and appealing. By doing this, you can make your audience feel like they are getting more value for their spending and the fear of losing such a tempting offer would simply urge them to buy the premium plan instantly.
Here are some effective examples of promo offers that would drive your free users crazy during the trial period.

6. Use multiple pricing editions – Weekly/Monthly/Yearly
Free streaming users are often confused about which subscription plan to pay for. Many subscribers might prefer a discounted annual plan over a monthly plan. But they may still prefer to pay monthly rather than a large lump sum once a year.
In such scenarios, we recommend offering multiple pricing editions to cater the needs of every individual user. Simply try out with three different pricing options – weekly, monthly & yearly and allow your free streamers to comfortably upgrade the subscription plan as per their expenses.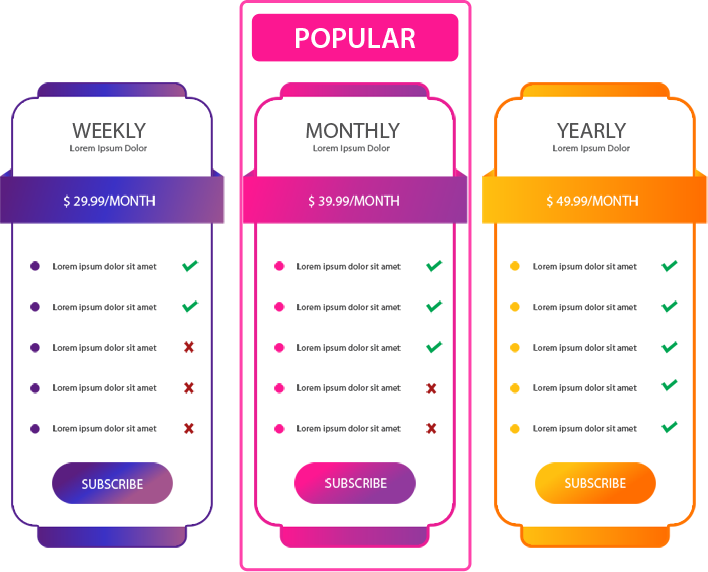 To make the decision making process easier, you can also use price anchors like 'Recommended subscription plan' or 'Best Choice'.
Such tags are very effective in grabbing the attention of free users and closing a conversion, which is already matured.
Just make sure, the overall structure of the pricing page is well-organized and the messagings are simple & clear with no hidden costs at all.
7. Automate the payment process and reduce involuntary churns
Do you ask for payment information at the time of free-trial sign-up?
Well, collecting credit card or bank details of free users can effectively help you in automating the billing process after the free trial is over. Many big players including Netflix are using this strategy to convert their free users to  paid streamers.
There is nothing wrong in practicing this. If your users are happy, they will continue to enjoy your streaming services without canceling the subscription. However, if they are not convinced with your OTT offerings, they can always opt out and cancel the service anytime during the trial period.
With a No-strings cancellation policy, you can make the conversion process more transparent and compel the first-time subscribers to drop their payment details without any hesitation, which would then eventually reduce the involuntary OTT churn rate.
Just a small tip from our experts – 
'The shorter is the free trial period, the better are the chances of paid conversions.' Hence, we recommend limiting the length of the trial period to a maximum of 30 days. Even 7-days or 14-days free trials would also work well.
Not limited to the above practices, you can always experiment new conversion strategies as per your business demands. In case, you still don't see any major changes in the paid conversion rate, you can always contact our OTT Growth Hacker.
Start your 14-Days Free Trial with Muvi and explore the best OTT features which are meant to increase your paid conversion rate at zero upfront investment.