Video on demand (VoD) content has grabbed the spotlight in the streaming industry. Growing audience indulgence towards the diverse VoD content is turning it into a lucrative business opportunity around the world. According to a recent report, the global VoD market was worth US $38.9 billion in the year 2019 and is set to reach US $87.1 billion by 2024. This gives an estimation of the growing potential of the VoD industry as well as the wide growth scope for the players in this field. 
If you are looking for business ideas, then starting your own video on demand website should be your first option to consider in 2022. And if you are still wondering from where to start, then this blog is for you. We are going to give you a detailed guide on how to create a video on demand VoD website in 2022. 
Let's start with the basics before we delve deeper!
What is a VoD Website?
A VoD website or platform (app/website) is a medium/tool to deliver pre-recorded streamed content to your viewers. Here, the content is called video on demand content that can be of different categories, genres, forms etc. like movies, webseries, pre-recorded TV shows etc.
Some of the famous examples of VoD websites are Netflix, Hulu, Amazon Prime, Disney+ etc. where the audience can stream VoD content on various devices such as laptops, tabs, connected TVs and others.
Why Should You Create a Video on Demand Website in 2022?
Let's start with a few statistics to give you a glimpse of the growth scope this sector holds-
The revenue in VoD sector is subject to reach US $98.686 billion in 2022

The revenue in VoD industry is set to grow at 8.28% CAGR to reach US $135.673 billion by 2026

The viewers/users penetration is projected to grow by 29.2% by 2026

Subscription Video on Demand (SVoD) will remain the largest segment with a market volume of US $82.431 billion in 2022 and will grow further in the coming years
Furthermore, there are multiple reasons why you must start your VoD website-
The cost involved to create a VoD website is quite low

Can target a very wide audience base who like to stream on different devices like mobiles, tabs, laptops etc.

Easy to globalize your business or target global viewers irrespective of your location

Due to affordability and ease of connectivity, it is easy to acquire new customers for your VoD website

You can keep growing your business consistently through micro targeting and content analytics & insights
Guide to Create a Video on Demand Website in 2022
Now that you know the perks of creating a video on demand website, let's guide you through the stepwise process-
1. Decide Your Audience
It is a good idea to decide your target audience before you start planning content for your VoD website. It will be easier to plan and structure your website based on the types/genres, languages, and categories of the content based on the viewers age, location, language and other demographics.
2. Plan Your Website and Content
Once you have a clear idea about the target audience, you need to chalk out the VoD content you want to put on your website. For instance, if the main target audience is from the age range between 13-18 years old, then you need to research on the trending VoD content for teenagers, which content from the existing VoD websites are drawing high engagement etc. The same applies to the audience of any demographic. 
A few tips that may help you in this step-
List out the trending VoD content

Analyze the audience, engagement etc. for the same

List out your competitors and the type of content they are providing to their target audience

Plan your website and content accordingly that can give you competitive benefits, more ROI and help in customer acquisition

3. Produce Your Content
If you have a well-defined idea about the type of content that will be the USP of your VoD website, you can easily streamline the content production process without wasting your effort unnecessarily. Always prioritize the content you are about to deliver to your audience. 
Have an estimation of the resources you have such as in-house script writers, casts etc. 
Other options like pre-released movies, shows, pre-recorded TV episodes can also be housed on your website. Don't forget to focus on specific genres, based on the audience and current trends. For instance, if the audience you are targeting are more into the sci-fi genre, make sure there is enough content under this category. 
Remember, there are plenty of VoD websites having a good audience pull in the market. And content is something you should never compromise on, as the audience experience majorly depends on it.
Also Read: What is OTT and How Does it Differ from VoD?
4. Develop & Launch Your Website
Developing and launching your website is the most important part to take the first step in the streaming sector and there are mainly two ways to do it-
Getting your website built by developers

Launching it through a third party

VoD/OTT platform provider
Building a website needs good resources and investment. There are a lot of VoD platform providers in the market that may confuse you. However, by doing the right research, you can easily launch your VoD website. Here is a checklist for you to ensure before you opt for such a platform provider-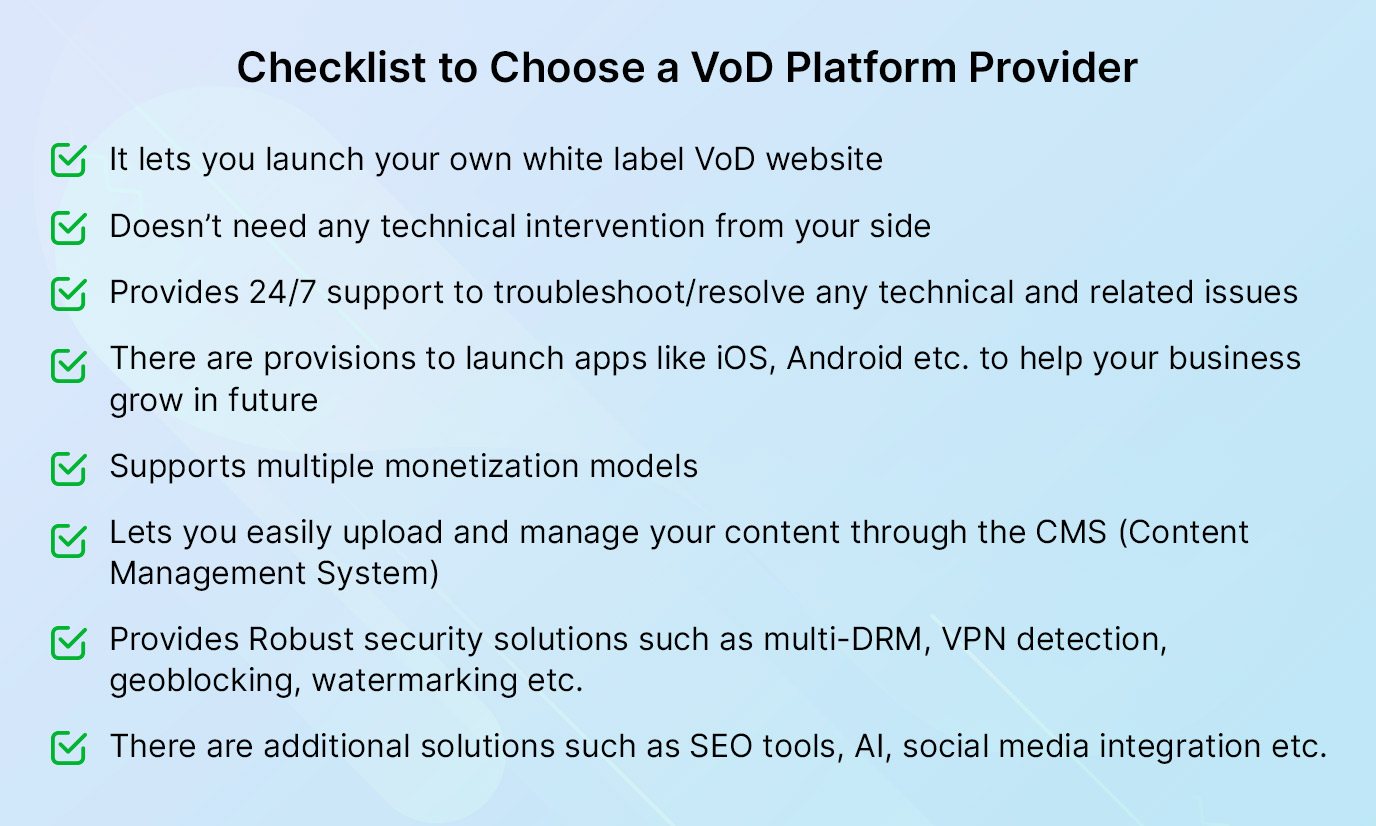 5. Market Your Website
Marketing your website is crucial to reach your audience. Create hype around the launch, release snippets of features you are going to launch, and don't forget to run promotions on all possible platforms including social media, even before you launch your website. Most of the good VoD platform providers offer analytics and insights to monitor and keep a track on audience engagement, peak hours, bounce rate, acquisition rate, watch hours and others to help you come up with the most relevant marketing strategies.
Wrapping Up,
Creating your VoD website is the easiest way to start with your streaming business. And no matter how competitive the market is, you can always sustain and grow by starting in the right way. One of the most vital parts here is choosing your platform wisely, so that you can expand and globalize your business as and when you want beyond only a VoD website.
Muvi, an all-in-one VoD monetization platform provider, takes care of your every requirement while building your VoD website easily without you needing to code, test and wait for indefinite time. Muvi's compact solution is not only limited in the VoD website creation and monetization but it accommodates every other requirement be it SEO optimization of your website or customizing anything and everything as and when you want.
Give it a go! Take a 14-day free trial now and create your own VoD website through a few button clicks (no credit card needed)!