Creating a video platform strategy is one of the most critical as well as a time consuming effort. One of the biggest challenge to a platform owner is to strategize and prioritize which all platforms to launch with. Nowadays iOS and Android platforms are a given, the debate still continues on what Streaming Boxes should be included in the initial launch, and what comes after. A right strategy and platform means tapping into a huge potential of audience they come with. Also going multiple devices means spending equally more time and money to build, test and launch on them, which may delay the overall roll out of your platform, and thus, having the right strategy is essentially important.
We take a look at few of the popular devices available in the market today, from an OTT platform owners perspective and compare them to present with you an idea of the strengths and weaknesses of each of them so that it's easier for you to make your decision.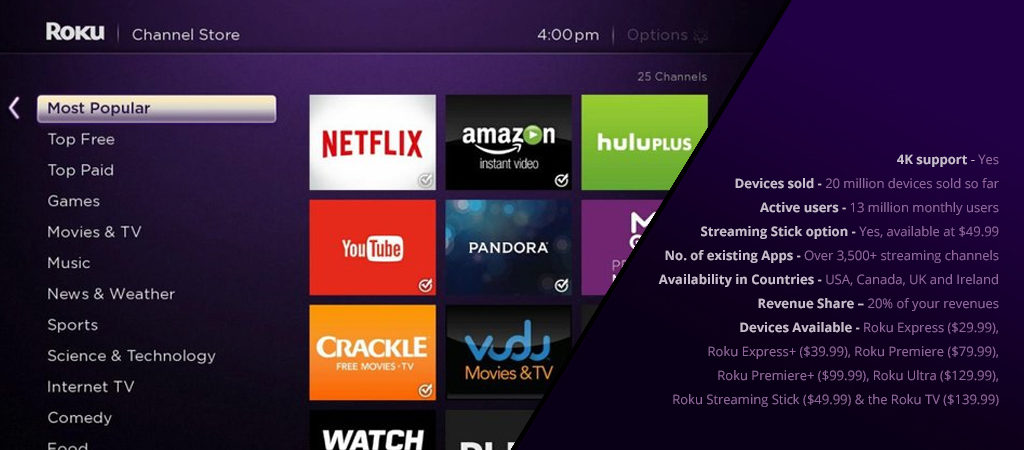 4K support – Yes
Devices sold – 20 million devices sold so far
Active users – 13 million monthly users
Streaming Stick option – Yes, available at $49.99
No. of existing Apps – Over 3,500+ streaming channels
Availability in Countries – USA, Canada, UK and Ireland
Price / Affordability – Roku has one of the most affordable range of media streamers available in the market today (cheapest device available at $29.99) and thus, the platform enjoys a diversified range of user base spread across categories.
Devices Available – Roku Express ($29.99), Roku Express+ ($39.99), Roku Premiere ($79.99), Roku Premiere+ ($99.99), Roku Ultra ($129.99), Roku Streaming Stick ($49.99) & the Roku TV ($139.99)
App Monetization options – Content owners can monetize their Roku apps in in any ways they wish to including the Subscription based (SVOD), Advertising based (AVOD), and Transactional (TVOD) monetization models.
Revenue Share: When opting for purchasing and payments option with Roku, the platform takes 20% of your revenue received (net of credits, refunds, etc.)
User interface – The reason why Roku is immensely popular is its easy to use interface, unmatchable search capabilities (new Roku devices come with voice search capable remotes) and the variety of content libraries available. Some new Roku devices also come with motion sensing and standard headphone jacks for the ease of usage for its customers.
App discovery – Roku has a 'Featured' section on its website for new apps, which means content owners can score free promotion for their new apps and can even feature their apps themselves for more exposure. Roku's powerful search capabilities even allow content owners to get listed in the web.
Submitting the app – The only thing about Roku is the time submitting an app takes on this platform. Roku's QA generally takes 4-6 weeks for approving your app however, once the app is submitted, you will enjoy a broader reach and better discovering capabilities for your OTT platform.
Verdict – It is of no surprise that Roku is one of the most popular media streamers among households today. Launching your app on Roku instantly allows you to tap into and enjoy the already built user base of more than 13 million monthly users. If your OTT platform majorly caters to the entertainment household category, launching your own Roku app would be the best option for you.
Also Read: What's inside the Roku's Low-priced 4K & HDR Streaming Media Boxes?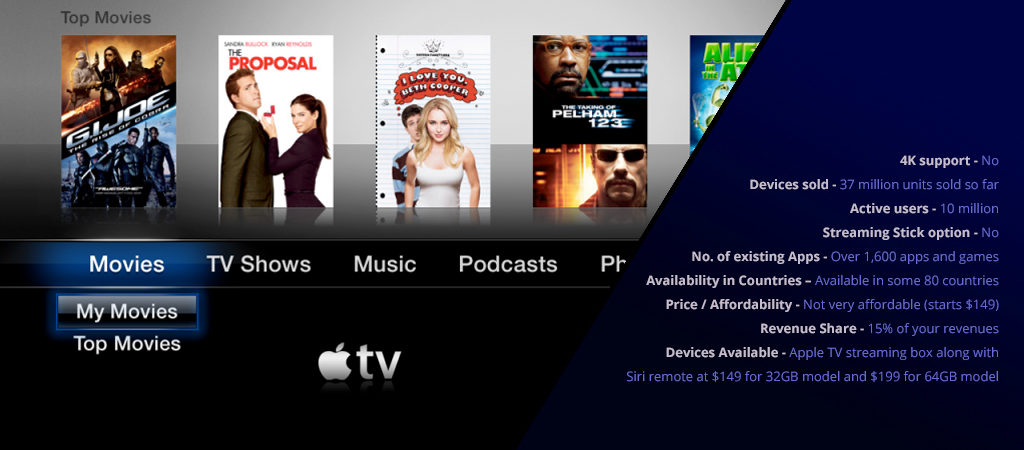 4K support – No
Devices sold – 37 million units sold so far
Active users – 10 million
Streaming Stick option – No
No. of existing Apps – Over 1,600 apps and games
Availability in Countries – Available in some 80 countries
Price / Affordability – Not very affordable (starts $149)
Devices Available – Apple TV does not have a plethora of streaming boxes. It just offers the Apple TV streaming box along with the siri remote at $149 for 32GB model and $199 for 64GB model.
App Monetization options – Apple TV offers various monetization models for content owners to choose their monetization strategy including the universal purchase, app bundling, etc.
Revenue Share: The fee apple TV takes from your revenues is 15%.
User interface – Apple TV is quite popular among all Apple users, because it looks and feels quite similar to the Apple apps store. Apple TV has a simple, clean and uncluttered UI, along with really cool search capabilities, not just for apps but within the apps.
App discovery – Discovering an app in apple TV is not be that easy for users as it does not have a 'recent' section to find apps that were last browsed. However, having Siri, and the newly launched 'TV app' that works with recommendations, search becomes easy and fun.
Submitting the app – Apple is very specific about its app selection criteria. They have a set of rules to follow before submitting the app, however, once submitted, it takes an average of 4-6 days for getting the apps approved.
Verdict – Apple Airplay OTT App Development is a big feature that lets iOS users stream their mobile content onto the Apple TV connected, big screens. Apple even works in a way to sync and install apps simultaneously on all its devices if the user installs an app on one device. By creating such features, Apple is trying very hard to create an unmatchable ecosystem of synced Apple devices and a better TV experience via Apple TV and thus, very soon we are going to see many more innovations in iOS & tvOS ecosystems.
Putting your apps on the Apple TV platform may help it get picked by the luxury segment of users, who are always ready to pay some extra for good content. The reach of some 10 million active Apple users is a great number to put your app in front of.
Unfortunately, Apple TV does not supports 4K content and if you have 4K content or an audience that enjoys 4K, Roku or Amazon Fire TV would be better options. Apple TV also lacks in price affordability starting at $149.99, as it caters to only a section of the consumers and thus may not be a good option if your audience base is not that much of Apple lovers now introduce new develop apple watch app.
Also Read: Apple TV brings A Unified Approach to Watching TV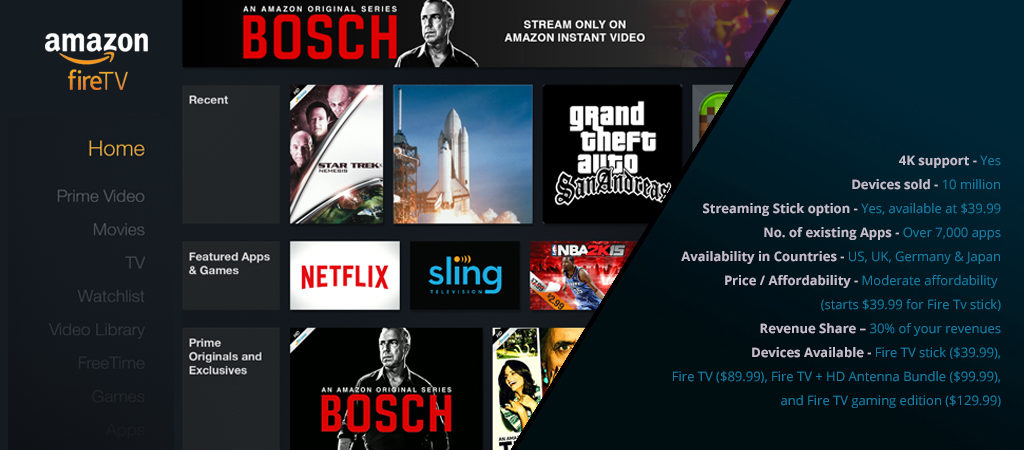 4K support – Yes
Devices sold – 10 million
Streaming Stick option – Yes, available at $39.99
No. of existing Apps – Over 7,000 apps
Availability in Countries – US, UK, Germany & Japan
Price / Affordability – Moderate affordability (starts $39.99 for Fire Tv stick)
Devices Available – Fire TV stick ($39.99), Fire TV ($89.99), Fire TV + HD Antenna Bundle ($99.99), and Fire TV gaming edition ($129.99)
App Monetization options – Amazon Fire TV allows Subscription (SVOD), Transactional (TVOD) monetization model, Mobile Ads and In-app purchasing options for monetizing your Fire OS app development.
Revenue Share: The platform takes 30% rev share of your marketplace list price.
User interface – Amazon Fire TV provides great ease of navigation for its consumers, along with a good range of content libraries and app search capabilities including the voice search through remote control.
App discovery – The platform provides a searchable web link for your channel, so you can easily redirect users. The only drawback here is that the interface does not have an option to feature or promote your apps, unlike Roku.
Submitting the app – Amazon Fire TV platform has a very quick QA and app approval policy, however, content owners sometimes may find holes with their customer support.
Verdict – Amazon Fire TV also comes with a gaming device, which means you can target streamers as well as gamers as your target audience by launching your apps on this platform. On top of all, Amazon has been making quality hardware for their consumers for years now and they are far ahead in refining their technology timely. Affordability, easy search capability and speedy app approval processes are the good reasons to grow your OTT business with Develop Amazon Fire TV app.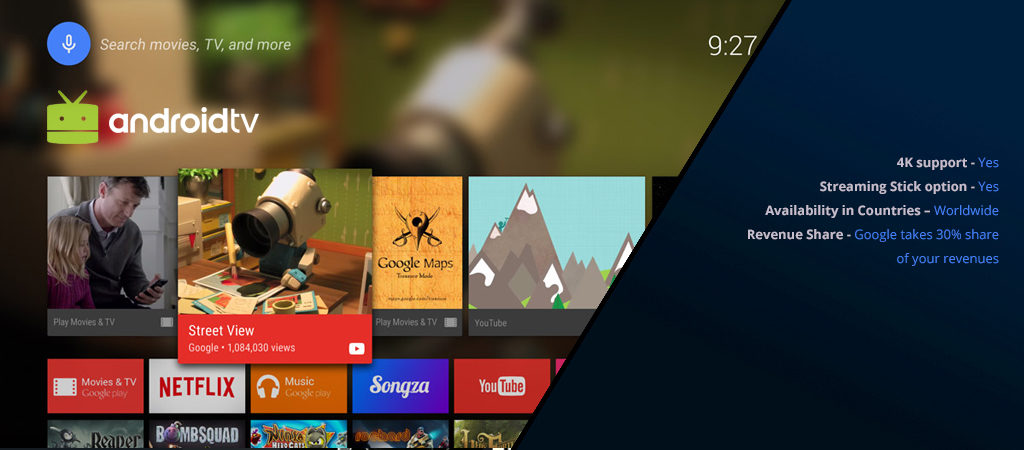 4K support – Yes
Streaming Stick option – Yes
Availability in Countries – Worldwide
App Monetization options – Android TV apps can be monetized in numerous ways, just as Android mobile apps. Content owners can adopt subscription models (SVOD), Purchase models, advertising models and can integrate in-app billing.
Revenue Share – Google takes 30% share of your revenues on app purchases.
Devices available & price affordability – There are many device manufacturers that provide Android TV (Smart TV with in-built Android OS) or the media boxes that turns any TV into an Android powered Smart TV. These online streamers come in a variety of types and price ranges, suiting every consumer's needs. There is a plethora of manufacturers and providers that cater to the Android TV market offering a range of TVs and media boxes, that too with high level of customization options, this all comes due to the fact that Android OS is available as open source and easy to install and adapt by any and all device manufacturers, thus leading to even the likes of Sony to ditch its ambition to built it's own OS to take on LG and Samsung and go for Android TV powered OS for its Smart TV line.
User interface and discovery – The best thing about Android TVs is that they have a recommendation engine for suggesting apps and content on users most viewed behavior. Though Android TVs play a selection of content from that of available for Android mobile phones, the TV ecosystem enables games and comes with better search capabilities (Google voice search capability), along with bookmarking and favoriting of channels, which certainly acts to platform owners' benefits. Many new age Android TVs also come bundled with the new Google Home speakers, making searching for users within home easy and seamless.
Verdict – Android TV is a widely spread platform across a variety of users for streaming OTT content, especially in households. The biggest advantage Android TVs enjoy is being part of the large Android ecosystem. Android today has a reach of over 1.4 billion users worldwide, which is a great number to look up to. Content owners can create their apps compatible for the Android TV platform and reach the massive Android use base. Even a lot of Android mobile apps can also be played on Android TVs with a little hacka and modification.
The best thing about android TVs is that anyone can manufacture and launch their own Android TVs or the media boxes and distribute with their own apps in-built. This type of customization for content owners isn't available with any other provider. You can easily target the vast Android ecosystem by designing and launching your own Android TV box with your own choice of apps included in it.
Also Read: Google's big launch and what's in for Video Streaming?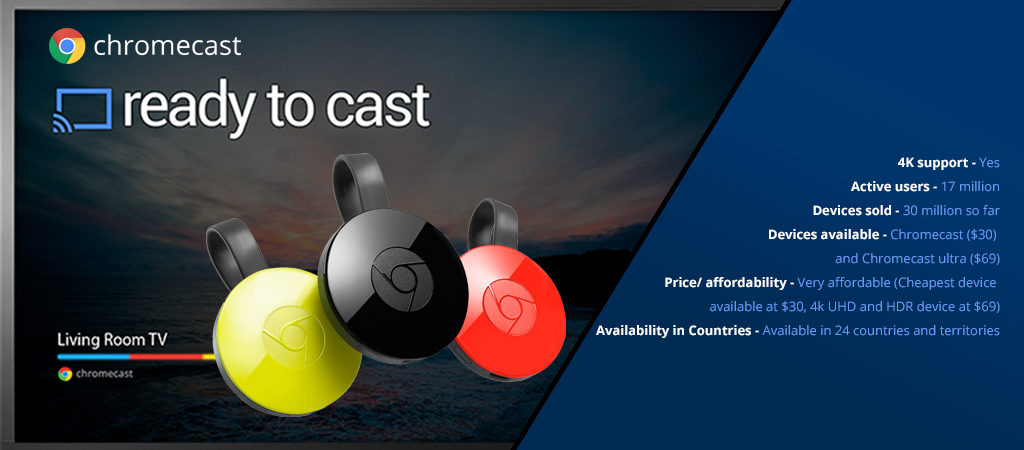 4K support – Yes
Active users – 17 million
Devices sold – 30 million so far
Devices available – Chromecast ($30) and Chromecast ultra ($69)
Price/ affordability – Very affordable (Cheapest device available at $30, 4k UHD and HDR device at $69)
Availability in Countries – Available in 24 countries and territories
Verdict – Chromecast after Roku is the second most popular streamer available for OTT content worldwide. Chromecast is an HDMI streaming device that plugs into any TV with HDMI and USB Input and lets users stream (or rather cast) media from their computer or mobile device onto the TV screen. Having sold over 30 million devices so far, Chromecast offers affordability and simplicity of usage at the same time.
The best thing about this media streamer is that content owners don't have to launch their apps separately on this platform, all they have to do is to make their existing OTT apps Chromecast (cast) enabled. Muvi by default provides this capability for all its clients, making their web and mobile apps always Develop Chromecast app ready.
Thus, no matter what platform you're choosing to launch your OTT apps, ensure that you include Chromecast support for your apps and enjoy the access to 17 million Chromecast users with minimal effort.
Also Read: The Rise and fall of Gaming Consoles as Media Centers
Conclusion
We hope this comparison was helpful in providing you insights on the capabilities and advantages of each of above mentioned platforms and now you will be able to make better decisions on how to go about choosing your launch on various streaming platforms that best suits your audience type and the platform offerings.
Choosing a platform also depends on your audience type and the geography you're targeting with your service. If you're targeting the typical household entertainment audience, Roku and Amazon Fire TV are your picks; and if yours is a specific audience such as gamers, sports, millennials, music or any specific genre, having Android TV as target platform makes sense. Android TV is also more popular in Asian and African regions, whereas Apple TV caters majorly to the audience in US & European markets where there is a complete Apple ecosystem and are big on streaming movies, music and sports. Amazon fire TV is making its footprints across the globe slowly and steadily, also with its prime service trying to defeat Netflix. So, analyze each market and platform well and then proceed towards making the final choice.
While launching an OTT platform, it is essential that you work with a distribution platform that guides you at every step of the way and lets you make better decisions for always scaling your OTT business high. Muvi is one such one-stop solution for all your OTT needs. Muvi's powerful streaming solutions allow you to mark your presence on whatever streaming platform you choose effortlessly, without any re-work every-time you wish to scale up to a new platform.
Whether you wish to launch your apps across platforms all at once or choose to go one-by-one, Muvi acts as your technology backbone, providing all-round support throughout the journey. Be it Roku, Apple TV, Amazon Fire TV or Android TVs, Muvi has support for all and lets you launch your solution instantly. Chromecast support is the default feature of having Muvi powered apps, that too at no additional charges. So, Sign Up for Muvi's 14 days Free Trial and join the OTT ecosystem to launch your apps across streaming platforms instantly today!