Over The Top (OTT) market has seen a rapid rise in the past few years. Gone are the days when people had to depend on TV for watching their favorite shows. In the present times, people prefer to stream their favorite shows on OTT platforms like Netflix, Amazon Prime, and others. That is why, the global OTT market size has already crossed $121.61 billion in 2019, and is expected to reach $1,039.03 billion by 2027, hence showing an impressive growth rate of 29.4% during this period.                             
OTT Market Trends by Device Type
Multiple surveys have conducted a comparative study of the performance of OTT platforms on different devices. We will discuss smartphones, smart TVs, PCs, and gaming consoles. 
Smartphones
As expected, the highest viewership of OTT comes from mobile devices. And the number of people watching OTT streaming on mobile is expected to go up significantly between 2019 and 2027, showing a massive increase of over 90%. And this trend is expected to grow even further in the future. 
Smart TVs
After smartphones, come to the smart TVs. Though smart TVs have reached only the halfway mark of viewership as compared to smartphones, they are one of the fastest growing devices for OTT consumption. When compared to 2019, OTT streaming through smart TV is expected to grow by 85% in 2027. And with the integration of the 5G network, Smart TVs will definitely give tough competition to smartphones in OTT streaming.        
Laptops, Desktops, Tablets
In 2019, the total viewership on laptops, desktops, and tablets taken together was almost equal to the viewership through Smart TVs. But, as we proceed towards 2027, the experts are expecting a slight dip in laptop/desktop viewership, when compared to smart TVs.                   
OTT Market Trends by Revenue Models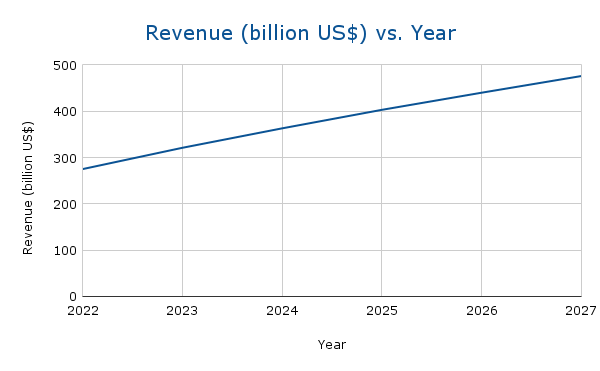 According to market experts, the total revenue of the OTT video segment is expected to reach  US$275.30 billion by the end of this year. Let's take a look at the trending revenue models. 
Subscription
In 2017, subscription was the most popular monetization model for OTT apps. And it is expected to remain the same even in 2027. However, the user-preference trend might see a slight change. Especially because the number of users streaming Ad-Supported free content will climb from 1926 million (as in 2017) to 3436.5 million in 2027. Thus, advertisements will grow massively alongside subscriptions during this period. We will discuss it in detail in the next section. 
Advertisement  
In 2017, the total revenue generated through video advertisements on OTT platforms stood at US$ 35.54 billion. By the end of 2021, this figure has crossed the US$ 150 billion mark. And by the end of 2027, this number is expected to double, crossing the US$ 300 billion mark.   
Pay-per-view
Pay-per-view content is a type of monetization where the viewer pays a specific amount for a specific content piece. It is useful for viewers who want to watch a particular content and hence do not want to buy the full subscription. 
In 2021, the revenue generated from pay-per-view amounted to US$ 9.14 billion, and it is expected to touch US$ 12.89 billion by 2027.                          
OTT Market Trends by Country
In 2022, the top five countries in generating revenue through OTT platforms were the USA, China, the UK, Japan, and Germany. A comparison of revenue generated by each country is tabulated below. 
| | |
| --- | --- |
| Country | Revenue (in million US$) |
| United States of America | 119,100 |
| China | 70,220 |
| United Kingdom | 14,500 |
| Japan | 8,702 |
| Germany | 7059 |
Why You Should Have Your Own OTT Platform?
After going through all the stats given above, you must have now realized that OTT platforms are emerging as the major source of video consumption globally. In this scenario, there are immense benefits of having your own OTT platform, where you can stream your video content to your viewers, and earn good revenue from the same. 
But, developing a video platform demands complex coding and multiple IT resources, right? Well, not always! You can easily create your own OTT platform using Muvi. And the best part is, Muvi provides all the latest OTT features and trending monetization models, with 24×7 IT support. 
Some of the major benefits of Muvi are:
 You get DRM protection for all your video content. 

Get fully-managed end-to-end solutions for all your streaming needs, with instant assistance and IT support.       

Try out multiple monetization models, including subscription, ads, pay-per-view, and more!

Do SEO optimization of your platform and track analytics.                                                                            
With Muvi, you get all these and more! Keep integrating innovative solutions and stay ahead of your competitors. Take a look at the most recent innovations which will have a massive impact on the OTT industry. 
New Innovations That Are Impacting OTT Industry
With faster internet, AI-based recommendations, and innovative monetization, the OTT industry will surely experience a rapid upsurge. And technological innovations like the 5G spectrum, AR-VR, and AI are set to play a pivotal role in it. 
5G Spectrum
5G is the fastest internet network ever! With ultra-low latency, 5G transmits data at a speed that is 100 times faster than 4G. Hence, you don't need any professional setup for streaming 4K videos anymore! 
To know more about the impact of 5G technology on the OTT Industry, click here!
VR/AR
Integration of AR-VR in OTT is set to deliver live streaming and video streaming experiences like never before. Especially in sports, audiences can now enjoy live streaming of sports events from the grounds, virtually, from all parts of the globe. 
Content Customization and Enhancing User Experiences With AI
Deliver what your viewers like to view the most! With AI-based recommendation engines, you can deliver a fully-personalized user experience to your viewers. Such personalized content is extremely beneficial in keeping your viewers hooked for a longer period of time. 
Looking Beyond Subscriptions: Explore Other Innovative Monetization Models 
With the change in user preferences, OTT companies must start exploring innovative monetization models, other than subscriptions. While Advertisements and Pay-per-view have already seen the rise, new monetization schemes like Pay-per-view Bundles, coupons, and vouchers are also becoming popular. 
On top of that, you can now generate multiple sources of revenue through merchandising, fan events, and more! And if you want to develop an all-in-one OTT platform that supports all of these monetization schemes, you must visit Muvi! 
Integrating Accessibility in Streaming
Statistics says that around 27% of the global population is suffering from some kind of disability. Hence, if you want to achieve a wider reach for your videos, you will have to make your streaming accessible to people with disabilities. 
This process is not that difficult. You just need to have quality captions and subtitles and make your user interface accessible. Platform services like Muvi have in-built features which let you add automated captions to your videos.
Expectations For the Future
Some experts have predicted that the OTT market will hit US$ 1241.6 billion by 2030. And with the integration of 5G, AR-VR, and SI, OTT viewers will enjoy the best streaming experience. Thus, we can say that the OTT industry is set to rake in billions worldwide! 
If you want to indulge in this wave of OTT video streaming, and launch your own OTT platforms, connect with Muvi today!