Membership sites are becoming immensely popular in recent times. Because of its multiple benefits to both users and business owners, many people are looking to create their own membership sites online. And, building membership sites become even easier with no-code platforms! If you are looking for the best no-code platform to develop your own membership website, then you are at the right place! In this blog, we are going to talk about the 8 best membership site builders in 2023. So let's begin!
What is a Membership Site?
In case you are not aware, Membership Sites are those websites that offer exclusive gated content to their members. Here, members specifically mean anyone who has registered for the services that the website is offering. 
These gated members-only content can be of different types, starting from news, recipes, and courses, to exclusive merchandise, videos, and more! And, it is not compulsory to pay the website to access those. The website admin can decide the criteria for membership, and the price associated with it. To know more about membership sites, read our blog here.

Steps for Building Your Membership Site
Before you jump into the actual development process, it is important for you to be aware of the steps involved in this process. 
Developing a membership website usually involves the following steps.
Decide the Membership Model
Before you plan the development of your membership website, it is important to decide the model in which it will operate. You must have a well-thought membership model, which will provide adequate value to your members, and in turn, will increase your chances of success. 
For this, you will have to chalk out the answers to three vital questions:
What type of content or services will you offer to your members?

What will your members have to pay to avail of your services?

Will there be any additional benefits for members who pay or want to pay more?
For the first question, you will have to analyze your industry and your intention for starting your membership website. For example, if you are an online tutor, you will obviously be providing online courses and study materials to your members (who are actually your students 🙃). But, if you are, suppose, a marketing influencer, then the offerings might not be that clear. In such cases, list down your possible offerings, and analyze their demand amongst your target audience. 
Once you are done analyzing your offerings, it's now time to decide a price for it. Depending on the demand for your services and your competitor's offerings, decide a price that would be comfortable for your potential members. Remember that for membership sites, there are no lower or upper limits on monetization. There are membership sites that offer access to their content and services free of cost, while there are sites that charge premium charges for the same. So, analyze where you fit in, and decide the cost accordingly. 
Finally, you can think of multiple membership levels. It will obviously depend on the diversity of your offerings, and your capability to offer additional services to the members who are willing to pay for them. For example, if you are an online tutor, you can offer access to online classes and lecture videos to all your members, however, you can give access to additional study materials only to your premium members. 
Create Content For Your Members
Once you are done deciding on your membership model, it's now time to create some content for your members. Creating content beforehand helps in streamlining the content delivery in the initial days of your website so that you don't end up frustrating your members.          
Choose a Membership Platform   
Once your content is ready, you are now all set to start developing your membership website. For that, you will have to first choose the right membership builder platform for yourself. We will list the top 10 membership site-building platforms later in our blog. You can use any one of those. 
Publish Your Pages
Once your membership site is ready, you can start publishing your pages, using the content that you have created already. You will also have to create and publish additional pages like the About Us page, Membership Sign Up page, Terms & Conditions page, Offers Page, and more, depending on your needs. 
Promote Your Membership Offer
Once all the major pages are live, you can start promoting and marketing your membership site. For this, you can run offer coupons on your site, and send emails promoting the coupon codes. You can also prepare newsletters about all the latest and exciting content on your platform, which might stimulate the readers to sign-up for your membership website.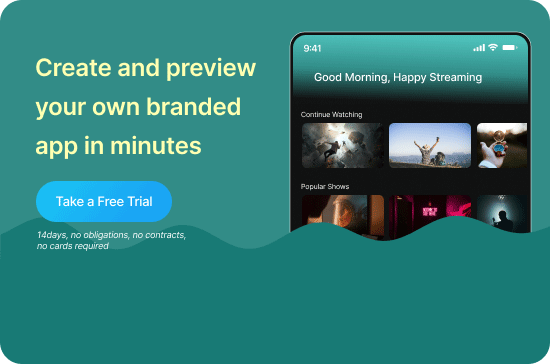 Membership Site vs Video Membership Site vs Subscription Site: Which One Would Suit You?
Before you start developing your membership site, you must understand the basic differences between a "Membership Site" and a "Video Membership Site". Only then you will be able to decide which one would be best for your business needs. 
A membership website is basically a website that gives access to its content or service only to its members. For a general membership site, that content or service can be anything, starting from e-commerce goods to music or video. Some examples are www.timesofindia.com, Book Riot, Mark Manson, and others. 
On the other hand, a video membership site is a sub-type of membership site that deals with video-based content only. It can be an eLearning site where you publish video lectures, it can be an exclusive video streaming platform, or something similar. Some examples are Skillshare, Alison, and others. 
Now, you must be wondering how a membership site is different from a subscription site, right? Well, for a membership site, you have to become a member for accessing the content or service. Whether you pay or not depends on the policies of that specific site. There are many membership sites that do not need any payment and are completely free. But, a subscription site is a site that lets you access its content or service only when you pay the subscription fee. Hence, payment is compulsory for subscription sites. Examples include Amazon Prime, Netflix, and others. 
| | | |
| --- | --- | --- |
| Membership Site | Video Membership Site | Subscription Site |
| Caters to all types of content and services. | Caters to only video content. | Caters to audio, video, e-commerce, eLearning, and many other types of content. |
| Becoming a member is compulsory for getting access to content and services.  | Becoming a member is compulsory for getting access to content and services.  | Paying the subscription fee is compulsory for getting access to content and services.  |
Hence, if you want to create a community of members with similar tastes and needs, then membership sites are perfect for you. You can share your content with the site members, allow them to comment or like your content, and allow them to add content from their sides too! 
Top Membership Site Builders in 2023
Developing a membership site becomes very easy if you use a no-code platform. By doing so, you don't need to write any complicated codes or accumulate the required infrastructure like Servers, Hosting, etc. You get everything out of the box.
But choosing the right membership site builder is important. Let's walk you through the top membership site builders of 2023, their features, and their benefits. 
1. Muvi One  
Muvi One is the best all-in-one video membership site builder in 2023. Wait, don't believe us? Check our G2 rankings yourself! 
With Muvi One, you will get everything you need to develop a video membership site so that you can develop the entire site in minutes, without writing a single line of code. It is very easy to use, fully secured, and delivers a buffer-free streaming experience to your members. 
Your members can upload their own content in the form of User Generated Content, and you can check their quality before approving them to make them live on the website.  
Major Features of Muvi One
Build your own membership website and

mobile apps

without writing a single line of code.

Design unique membership sites that reflect your brand aura and stand out amongst the crowd, using the world's first no-code

streaming platform design studio

– Muvi One's Visual Designer. 

Promote your site, and offers and build bonds with your members using Muvi One's email and social media marketing tools. 

Analyze the performance of content uploaded by you and your members using powerful

Muvi One Analytics

. 

Ensure the security of your and your member's content with Muvi One's Studio-approved DRM. 

Restrict access to your site in specific countries of the world using Geo-blocking. 

Deliver a buffer-free streaming experience to all your members using Muvi One's multi-CDN architecture. 

Multiple monetization options like subscriptions, AVOD, pay-per-view, coupons, and vouchers make membership flexible for your users. You can even offer free access to your members, and then insert Ads into your video content. 
Apart from the ones listed above, Muvi One offers 100+ industry-leading features, probably the most by any membership site builder platform. You can check the full list of our features here. 
Pricing 
We currently offer the following pricing plans:
Standard Plan:

With our One Standard Plan, you will get your own website or app along with Hosting and CDN. It will cost you US $399/month. Please note that you might have to charge additional amounts if you need additional infrastructure.

Professional Plan:

With our Professional Plan, you will get all the benefits covered in our Standard plan plus additional benefits like Alie Recommendation Engine & Other Premium Features. For this, you need to pay US $1499/month, with additional infrastructure charges.

Enterprise Plan: With our Enterprise Plan, you will get all the benefits covered in the Professional plan plus some additional benefits like a Dedicated Server and Enterprise Support, and you need to pay US $3900/month for the same, in addition to the infrastructure charges.
You can get the full detail of our pricing plan from here. To know all about our infrastructure costs, click here.             

2. Membership Site Using Wix
Using Wix, you can easily create a membership site. Wix allows you to add a members area, add a "My Account" area for your members where they will get details of their profile, and access to the member-exclusive content. 
Major Features:
You get your own white-label website

Easy to customize and design your website

No-code platform
Cons:
Wix does not offer any built-in DRM, so your videos are prone to piracy.

You won't get free tracking and analytics

Wix lacks advanced SEO features
Pricing:
We all know that Wix offers very diverse plans, which can cater to very different types of organizations. You can even develop a complete website for free, it won't be that effective though! 
If you want a professional solution, then we would suggest one of the following plans of Wix:
Basic Plan:

This plan is basically for starters, and it gives you 50GB of storage space with 5 hours for video. One of the biggest pros of this plan is its e-commerce functions. You need to pay $27 every month for this plan.

Unlimited Plan:

If you are a bit experienced, you can try this plan that gives you 100GB of storage with 10 hours for video. It will cost you $32 for one month.

VIP Plan:

It is one of their premium plans that give you unlimited storage and video time. In addition, you can enjoy some really good loyalty program features along with customized reports and analytics. It will cost you $59 per month. 
3. Membership Site Using WordPress 
You can develop a membership website on WordPress, using a plugin called MemberPress. You need to follow the steps given below, in order to develop a membership website using this plugin:
First set up your WordPress website.

Next, install the MemberPress plugin.

Configure the MemberPress plugin.

Set up your monetization methods and payment gateways, and decide the membership levels.

Decide the Terms and Conditions for your members.
You are all set! Just curate the members-only content and publish them. 
Major Features
Ideal for online courses and community building.

Support multiple payment gateways.

Offers tax calculation and PDF invoice features.       
Cons:
You won't get built-in DRM, but you can install a separate plugin for the same.
Pricing:
MemberPress offers three subscription plans:
Basic Plan:

Enjoy unlimited members and courses with multiple payment gateways like Stripe and PayPal at $179 per year.

Plus Plan:

Manage 2 websites simultaneously with Zapier's custom integrations and advanced marketing features at $299 per year.

Pro Plan:

Manage 5 websites simultaneously with improved customer support, advanced subscription management, Authorize.net, and TaxJar integration at $399 per year. 
4. Membership Site Using Squarespace
Like Wix, Squarespace allows you to add a specialized member's area to your website. You can create members-only pages so that your members can gain access to exclusive gated content. It lets you decide on a special membership price too!                        
Major Features:
Supports all major content types. 

Easy website designing with pre-built and customizable templates. 

You can allow your members to contribute to your site.

You can manage your membership site from your mobile. 
Cons: 
Just like most of the other website builder tools, Squarespace also lacks a studio-approved DRM. 
Pricing:
Squarespace offers the following pricing options:
Personal:

It is their starting plan that gives you a fully customizable website with some good templates at $16 per month.

Business:

This plan allows you to monetize your content, and you need to pay $23 per month for it.

Commerce (basic and advanced):

These plans are specifically for sellers. The basic plan starts at $27 per month, but for more advanced tools you need to pay $49 per month.
5. MemberSpace
We know that MemberSpace is a WordPress plugin, but we are still giving it a special mention for a reason. This plugin works with multiple site builders like WordPress, Wix, Squarespace, and even HubSpot! Hence, once installed, you can control your membership site from literally any CMS. This is what makes it the most flexible membership site plugin ever! 
Major Features:
You can add unlimited members and send automated emails to them for personalized communication. 

You can integrate marketing tools and payment gateways.

You can use their analytics to analyze the performance of your content.  
Pricing:
It offers three pricing options. Here, note that they charge transaction fees, and the percentage depends on the plan you choose. 
Starting Plan:

It is curated for those making less than $2,000 per month. You will have to bear a transaction fee of 4% in this plan, but you can have unlimited members at a subscription cost of $29 per month. 

Growing Plan:

With this plan, you will have to bear a transaction fee of 3%, and you will get your own website with your own brand identities. You will have to pay a subscription charge of $49 per month. 

Advanced Plan:

This is their premium plan which comes with a transaction fee of only 1%, and costs you $199 per month.
6. Teachable
Teachable is most suitable for those who want to create an eLearning membership website and sell courses through it. They help you create good courses and provide a proper learning management system. But it is their con too, as they are too focused on being an LMS, and they often fail to cater to other industries or purposes. 
Major Features:
Develop online courses in multiple formats including audio, video, and PDF.

Develop custom-graded quizzes and assignments. 

Provide course-end certification. 

Hold one-on-one coaching sessions for your students. 
Pricing:
Teachable offers a free plan too, but if you are a professional, you better go for one of their priced plans:
Basic Plan:

It lets you create a members-only community. Plus, you will also get course creator training. It will cost you $29 per month, plus 5% per transaction.

Pro Plan:

In this plan, you can create graded quizzes, get access to user reports, and provide course certificates to your learners. You need to pay $99 per month.

Business Plan: You can enroll unlimited students and enjoy advanced customization, with up to 20 admin accounts. You need to pay $249 per month.
7. Weebly
Website is another website builder tool, just like Wix, using which you can create your own membership website. You can also monetize your content and add subscription plans. 
Major Features:
They provide good SEO tools to bring traffic to your website.

You can use their mobile app builder to develop mobile apps too. 

You can create multiple membership levels. 
Pricing:
You can use Weebly for free, but for better results, you might need one of their paid plans:
Personal Plan:

You can use a custom domain with SEO tools, SSL security, user pop-up notifications, and shipping tools. It will cost you $6 per month.

Professional Plan:

With this plan, you will enjoy advanced site statistics and unlimited storage at $12 per month.

Performance Plan:

This plan will enable product reviews, PayPal integration, abandoned cart emails, eCommerce insights, and much more, at $26 per month.             
8. Wild Apricot
Wild Apricot is specially designed for creating membership websites only. Hence, you can create multiple membership levels, and enjoy advanced member management. 
Major Features:
Get all data of your members in a single place. 

Host and manage members-only events. 

Enjoy advanced email marketing features. 
Pricing:
Wild Apricot offers the following pricing plans:
| | | |
| --- | --- | --- |
| Plan Name | Price | Contacts |
| Personal  | $48/mo | 100 |
| Group | $60/mo | 250 |
| Community | $110/mo | 500 |
| Professional | $190/mo | 2,000 |
| Network | $350/mo | 5,000 |
| Enterprise | $420/mo | 15,000 |

How to Build Your Membership Site With Muvi One?                
Building a membership site with Muvi is extremely easy. You just need to follow the steps given below:
Sign up with Muvi

Design your front using Visual Designer

Enable User-Generated Content

Set Approval for User-Generated Content

Enable Fan Report for Uploaders. 
And you are done! Want to know the process in detail? Read in detail here!
To Sum Up
Membership sites help in developing a close-knit community and growing your business faster. And using a no-code video membership website builder like Muvi, creating your own membership website becomes extremely easy! 
With Muvi, you can ensure that your membership site is 100% secured, as it is guarded by our studio-approved DRM. Create multiple monetization models, integrate multiple payment gateways, and provide a completely buffer-free streaming experience to your members, only with Muvi One! Sign-up today to start your 14-day free trial (no credit card needed!). 
FAQs
Q. Which website is best for creating membership sites?
Ans. There are many good platforms for developing membership sites like Muvi, Wild Apricot, Weebly, etc. But if you are looking for a suitable video membership site builder that offers secured and buffer-free streaming experiences, then you must opt for Muvi. 
Q. Are membership sites profitable?
Ans. Yes, they are, if you know how to grow them! Click here to read about how to grow your video membership site. 
Q. How to create a subscription-based video membership site?
Ans. You can create a subscription-based video membership site using Muvi. Muvi allows you to decide the subscription cost for your website, along with multiple other monetization models like AVOD, Coupons, and Vouchers.