Since 2015, Tizen OS has been empowering Samsung Smart TVs. Developed with the motto of "Screens for Everyone", the Tizen OS claims to offer the best family entertainment time to their users. It is because Tizen OS can offer endless contents, apps, and features that are personalized to a specific user. 
For those unversed, Tizen OS is a Linux-based open-source operating system developed by Samsung. Though it is mainly used in the smart TVs developed by Samsung, it is compatible with multiple devices, like mobile devices and home appliances. Due to its wide range of flexible and personalized features, it has gained wild popularity within a very short time. 
According to a report released by Fierce Video, the Samsung Tizen Operating System had the largest individual share of the global TV market in 2020. The number of TVs operating on Tizen OS had already reached 162.3 million, which accounted for more than 12% of the total smart TV usage. That is why, for OTT platforms, having their own Tizen TV App is mandatory nowadays. But, developing a Samsung Tizen App is not that easy, as the developers need to face multiple constraints. In this blog, we will tell you how you can develop your own Samsung Tizen TV App without any hassles, with Muvi! So, keep reading!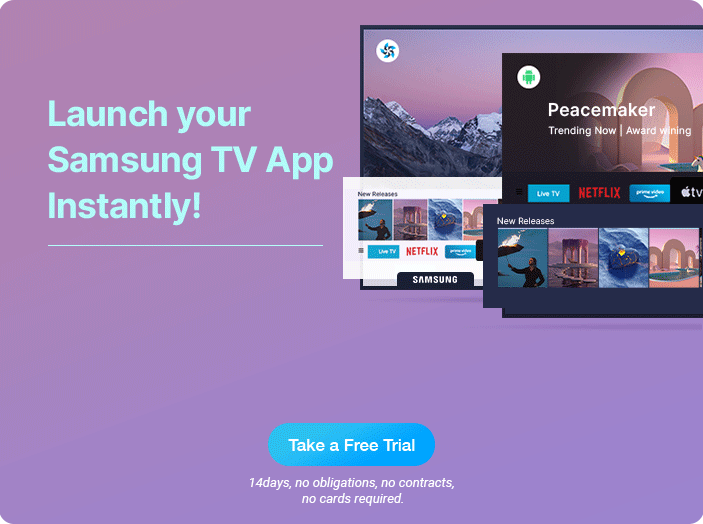 Challenges in Samsung Tizen App Development
For the Samsung Tizen app developers, the main difficulty arises due to the complicated IDE, difficulty in app testing, and non-compliance with third-party libraries. We have tried to highlight the most common issues faced by a Tizen App Developer below.
Tizen Studio – A Short-Term IDE
Tizen Studio is the go-to IDE for developing any Samsung Tizen App, be it a web app or a TV app. But, developers often face issues while using this IDE, because Tizen Studio is a bit slower and supports outdated features only. However, if you want to use the default Tizen CLI and Samsung Development Bridge, there is no other way except to use Tizen Studio. 
That is why, many developers often shift to other IDEs midway, to ease the development process. But this shifting process is itself very troublesome, as it includes a threat of significant data loss. 
Develop Apps Compliant With Chromium Engine Versions
If you are planning to develop a web-based application for Samsung Tizen TV, then be aware that Samsung smart TVs run all of their web applications on the Chromium Web Engine. Now, here comes the catch. There are different versions of chromium web engines, which are fitted in Samsung TVs of different models and years. So, you need to make sure that your application is compatible with all the required versions of Chromium Web Engine. 
Follow the Certification Criteria
Like any other app store, the app store of Samsung Smart TVs also has certain certification criteria. The complete details of these criteria are available on the Samsung developer's website. So, if your application doesn't meet these requirements, your app will not be published in the app store of Samsung Tizen TVs. But some of the most obvious ones are as follows:
The developers need to keep track of the FCC-compliant accessibility standards. 

They must also take care of the various screen resolutions. 

They must also implement the Samsung Multitasking feature. 
Avoid Third-Party Libraries
The Samsung Tizen TVs follow a very strict security policy. While this is extremely good for the users, it sometimes causes issues for the developers. Due to the strict privacy policies, the third-party libraries do not load properly, leading to unexpected bugs in the application. Also, the Tizen OS is not so friendly with interoperability too! 
Limitation of Skilled Resources 
While developing any app, finding the right developer is the most important thing. You might think of hiring one or contracting with a 3rd party agency to build your Samsung Tizen App. But, it's not an easy skill to find.
Moreover, building the app is just half the battle, the other half consists of finding the right team to build the streaming engine and work on the IT Infrastructure to support the app, which also includes the cloud infrastructure. 
Hence, if you look to hire the entire team and build everything from scratch, it will cost you big numbers, and you might even end up investing most of your working capital upfront into this.
And the risk doesn't end here. The biggest risk still remains – what if they quit mid-project? How will you complete it then? You will have to start from scratch again, and bear additional expenses too!
Furthermore, all these issues will hamper your project timeline, which is very important. At this pace, you will end up spending 3-5 months building this app, while your competition will have already gathered multiple subscribers by then, and you will lose time-to-market.
All Problems, One Solution – MUVI!
If you are tired of conquering the above-discussed problems while developing your Tizen TV application and want an easier way to develop your app in less time, then Muvi is here to help you out! 
For those unversed, Muvi is the world's fastest deployable OTT Platform SaaS, which currently holds the #1 spot in G2 rankings. Using Muvi, you can develop your own white-labeled Samsung Tizen TV App without writing a single line of code! 
In addition, Muvi offers 100+ industry-leading features and a completely built-in architecture that makes the entire development process seamless for you! And after your app is ready, our engineers provide all the help you need in testing and publishing your app into the Samsung Tizen app store. 
Interested to know how to build your Tizen App with Muvi? Keep reading this blog to know all the steps that you need to follow. 
How to Build Samsung Tizen App Using Muvi
Developing your Samsung Tizen App with Muvi is much easier than you would have thought. This is because we provide you with a complete setup with built-in AWS CDN, DRM, encoder and transcoder, DVR-enabled live streaming, and more! You just need to follow the steps given below and develop your own Tizen App in just a few clicks. 
Step 1 – Signup with MUVI and Set Up Your Backend 
In this step, I will be guiding you to your CMS. If you are already a MUVI customer, then you can directly log in to your MUVI CMS. But, if you are not on MUVI yet, then you need to first sign up with MUVI and create your account. After you sign up, you need to log in to your CMS and set it up. Follow the steps given below: 
To sign up, you need to click on the "Free Trial" button available in the top right corner of the website, and then fill up the signup form. You can also

sign up by clicking here

. 

Once your account is created, log in to your CMS Dashboard. Then, you will have to enable your Samsung Tizen app from the CMS. 

To enable your Samsung Tizen app, go to "Billing" and click on "Muvi Subscription". On this page, under "Applications", you will have to select the Samsung Tizen App. 

After updating the Applications page, you need to go to the "Settings" menu to activate your Samsung Tizen TV app. 

So, navigate to "Settings" and click on "Advanced". Some checkboxes will appear along with the name of the apps. Select the checkbox in front of the Samsung Tizen app to activate it on your platform. Your Samsung Tizen app will now be fully enabled. 
Step 2 – Configure Template – Decide the Look and Feel
In our templates section, you will be able to decide the look of your platform. Here, do not we generally use our default template to develop the Samsung Tizen app. But if you want to customize your app, you need to raise a support ticket for the same. To raise a customization request, follow the steps given below:
Go to "Support", and click on "All Tickets" in your Muvi CMS.

On the "All Tickets" screen, there will be a "Add Ticket" button. Click on that button to add a new ticket. 

On the Add Ticket page, add the title of your ticket. In this case, you can give "Request for template customization of Samsung Tizen TV App as the title". 

Then, under the description, give a detailed description of the customization that you need on your template. If you want to give references, you can also upload a sample template. 

In the field for selecting the type of app, select the Samsung Tizen app.

Once you fill out all the fields, click on the submit button to submit the ticket. 
In this way, you can send your customization request to our Samsung Tizen TV App developers.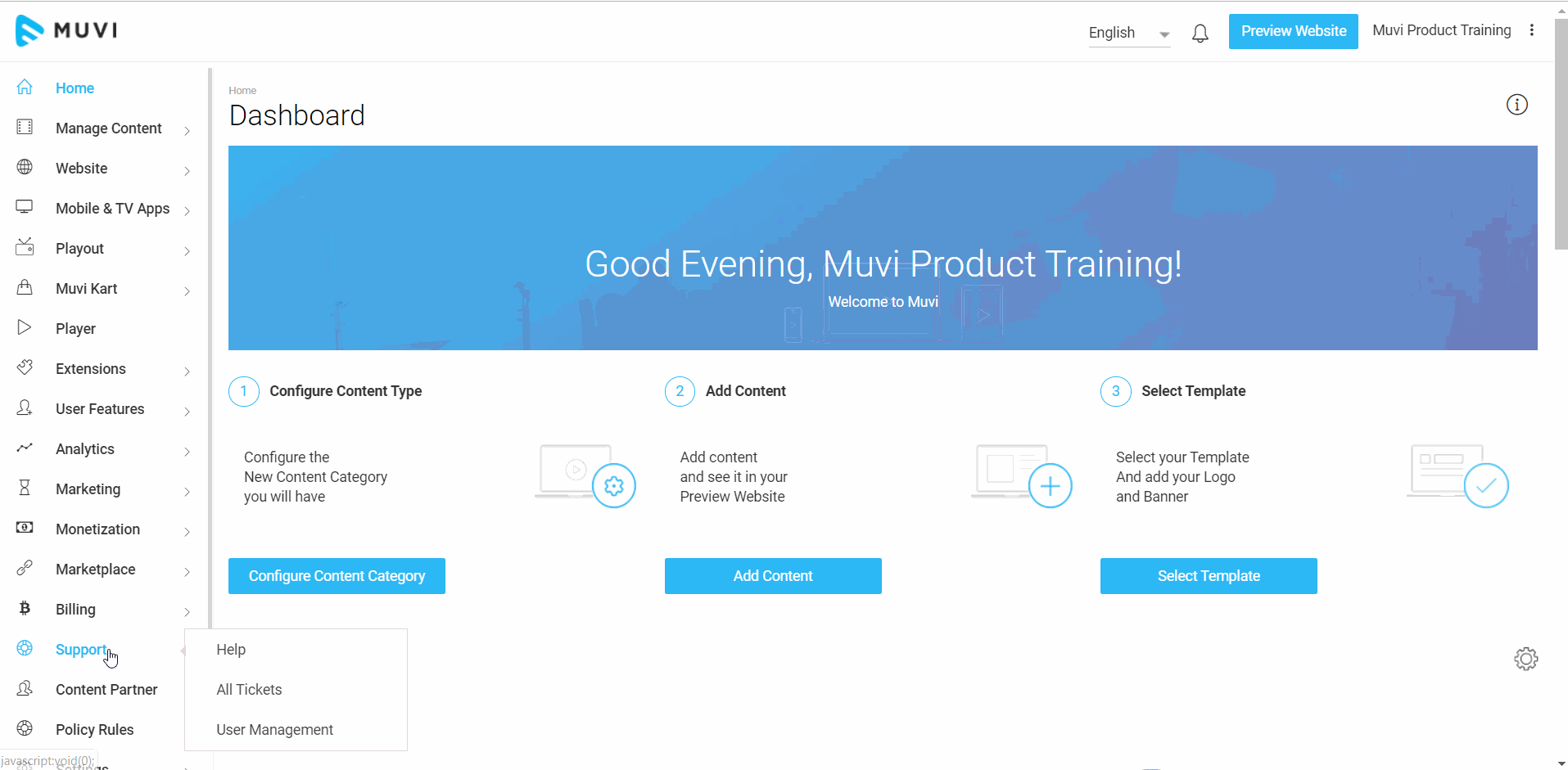 Step 3 – Upload / Add Content To Your Platform
If you want to upload content to your platform, you can go to "Manage Content" section of CMS, and add your content in a few simple steps. Please follow the steps given below to do so:
Go to the "Video Library" section under "Manage Content". 

In this section, click on "Upload Video" to upload your video file. 
Muvi provides you with a built-in encoder and transcoder. That is why, you can upload literally any video format and size, as our encoder and transcoder automatically compresses it and converts it into MP4 format.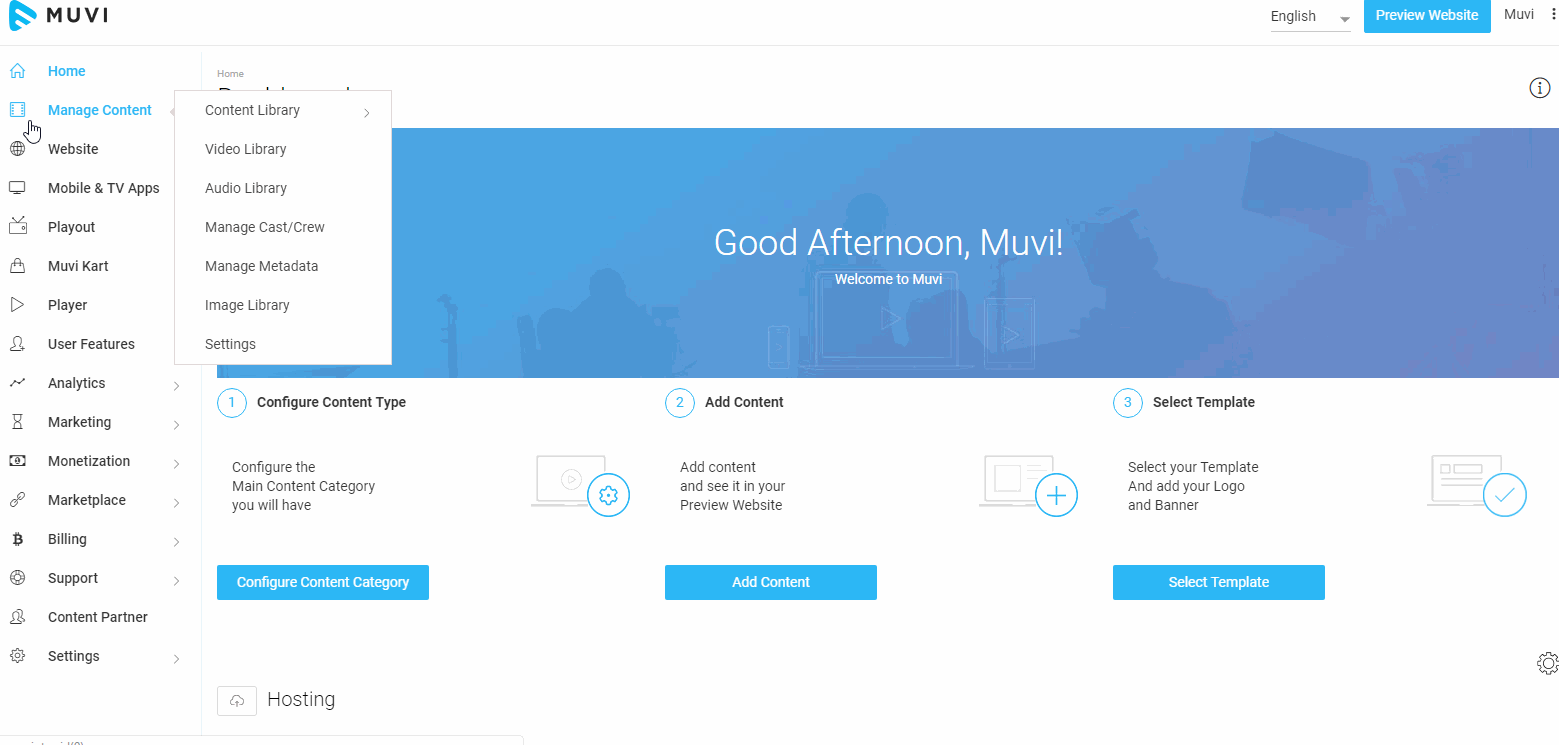 Step 4 – Configure Payment and Monetization Gateway
MUVI offers you multiple monetization models like SVOD, AVOD, PPV, Coupon, Offer etc. So you can provide more flexibility to your users.
To configure your preferred monetization models and decide on their priority, you need to follow the steps below:
Go to the "Monetization" menu and click "Settings"

The full list of supported monetization models below will appear on your screen.

From this list, please select the monetization models that you would like to enable on your platform.

If you select multiple templates, you will need to decide the priority of the monetization templates. It's important because when several monetization models are available for the same asset, the models with the highest priority are shown first.

To configure the priority, go to the "Monetization Priority" section at the bottom of this page. There will be a drag-and-drop list. You will need to drag and drop the monetization models into a specific order of preference. 

Next, you need to configure the payment gateways. Go to the "Payment Gateway" page in the "Monetization" menu.

A payment gateway number will appear on your screen. All you need to do is select the gateway you want to integrate, enter the secret and public keys in the pop-up form and click "Integrate Payment Gateway".             
Step 5 – Setup Your Samsung TV – Tizen OS App Configuration
This step involves configuring your Tizen TV App, so you must complete this process carefully. For this purpose, you need to go to "Mobile & TV Apps" in your CMS, and click on "Samsung Tizen App".            
On the "Samsung Tizen App" page, please provide detailed information related to your app, as described in the steps given below:
First of all you need to type the name of your app in the "App Name" field.

Next, describe your app in just a few words in the "Short Description" field.

In the "Description" field, describe your app in detail. 

Next, click on "Upload App Launch Icon ", and upload an icon for your App. 

After the icon, you need to have a logo too! So, click on "Logo Asset with Transparency" to upload the Logo for your app.

You can upload a background image too. For "Background Image", click on "Upload Background Image".  

You should also fill up the "Support Contact" information like Email, Phone, and Website. This information will help your users reach out to you in case they experience any issues with your app.

Next, type the address and name of your company in the "Address" field.

Define your privacy policy which will guide the usage of your app in the "Privacy Policy" field.

Select the "Category" from the drop-down. Your app will be displayed in the store under this category. 

Once you have filled out all the fields, finally, click on "Save".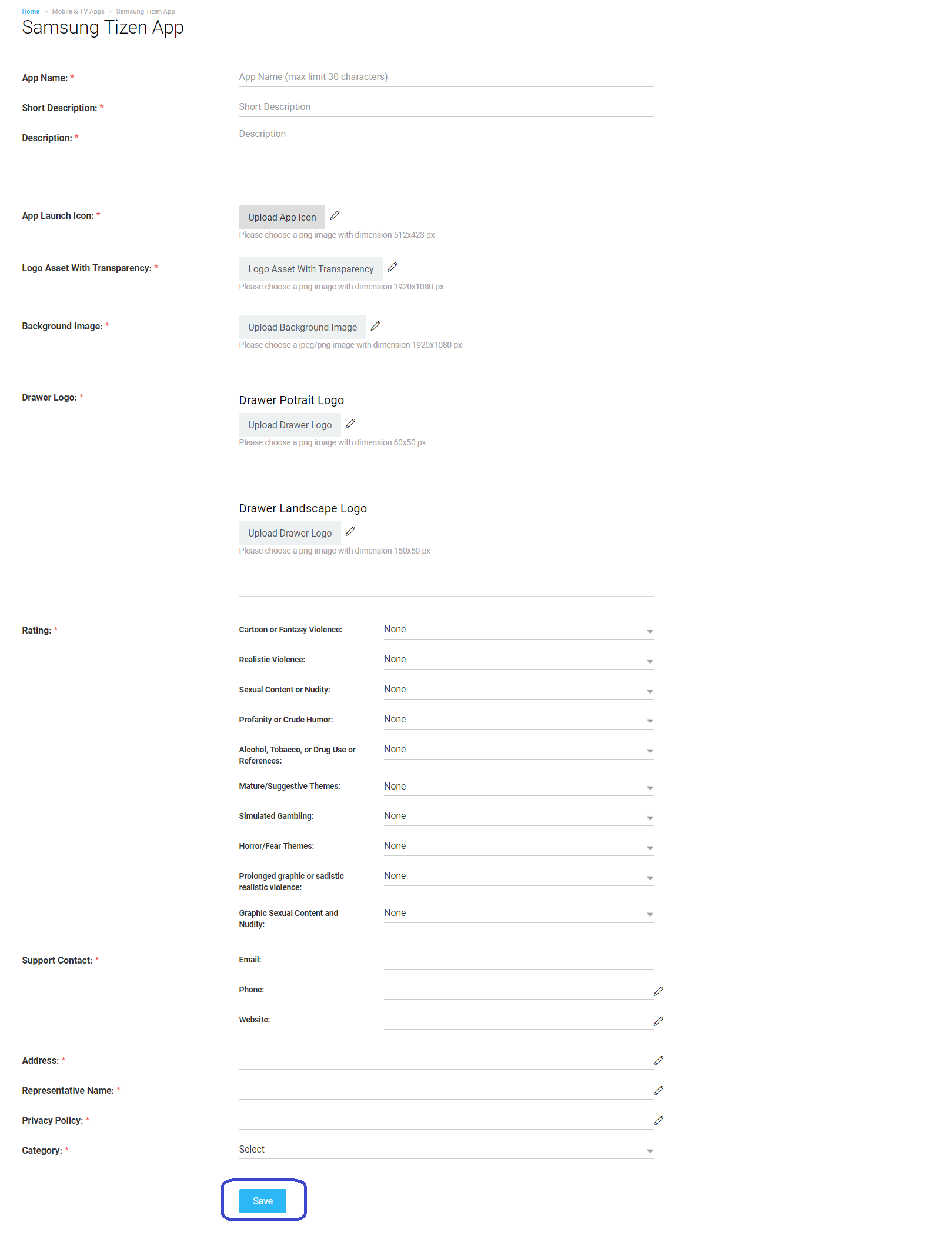 Step 6 – Enable In-app Purchases and Payments  
In the final step, you will have to enable in-app purchases and payment gateways for your app users. Integrating payment gateways is very important because your users will transact using the integrated payment gateways while purchasing something from your app. 
In order to integrate payment gateways into your platform, you need to follow the steps given below:
Go to "Monetization" and click on "Payment Gateway". 

The complete list of available payment gateways will appear on your screen. 

Select the payment gateway that you would like to integrate into your platform. 

Finally, click on "Integrate Payment Gateway" to complete the setup. 
Step 7 – Testing Your Samsung Tizen App
Once we receive all the information needed to develop your Samsung Tizen Application, our developers will start working on your app right away! 
And once the app is ready, we will send you the .wgt file for testing the app. You can check the entire application, and give us your feedback. We will work on the feedback and remove the shortcomings. 
Once the final testing of your application is completed, you need to send us your approval. After getting your approval, we will publish the app in the app store from your Developer Account.
Our Developers Will Handle Everything Else! 
Once you fill up all the information on your CMS, you literally don't need to do anything else, as the complete development process will be taken care of by our Samsung TV application developers. 
We will deliver the application as soon as possible, and help you in testing and publishing it. In fact, our engineers will always be there to help you out in case you need any maintenance or update for your app. Hence, you literally need to just sit back and relax, as our developers will fulfill every need of your Samsung Tizen application! 

Why Choose Muvi For Developing Your Samsung Tizen App?
If you are looking for a no-code platform to develop your Samsung Tizen TV app, then Muvi is the best choice for you! We are the global leaders in delivering SaaS-based solutions for developing Samsung Tizen apps. Also, we are the top-rated OTT-platform software according to G2. 
Wondering what makes us so popular? It is the wide range of features and benefits that we offer! 
Providing Services Across 16+ App Environments
With Muvi, you can develop OTT applications, Music Streaming applications, Podcast applications, Live Streaming channels, and more – over 16+ app environments! You can develop web-based applications, android apps, iOS and Mac apps, Roku channels, LG TV apps, and even an Ayoba app for your platform! So, in one line, you can develop apps for literally ANY OS ENVIRONMENT – Using MUVI!
Completely No-Code and Extremely Easy to Use
Whatever you develop, you just need a few mouse clicks, and it will be done! No need to write a single line of code! Just choose templates, setup, and CMS backend, and you are ready to go live! Trust us, Muvi is one of the easiest no-code OTT app development platforms in the world!        
Go Live or Deliver On-Demand Content – We Support Everything Perfectly
Are you confused about whether you should have a live-streaming platform or a VOD platform? Well, why don't you do both on a single platform? 
At Muvi, you can do live streaming, and live podcasts, hold live seminars and events, and deliver on-demand videos to your users, over a single platform. We support everything perfectly! 
Get The Complete System Architecture At One Place
Muvi provides you with built-in CMS, built-in AWS CDN, built-in multi-DRM security, built-in decoder and transcoder, and the entire system architecture needed to deliver the best buffer-free and scalable streaming experience to your viewers.                           
No Revenue Sharing, Completely White-Label
We have a "Zero Revenue Sharing" policy! It means all your revenues will be completely yours! Also, you will get a completely white-label platform, which means you will be the sole owner of your brand, content, users, IP, and revenue. 
Top Features That Make Our Samsung Tizen Applications Unique
At Muvi, provide our users with the latest and most-beloved features, that make your app stand out amongst the crowd. Packed with 100+ features, the Samsung Tizen app will surely deliver everything your user wants to have!
Setup and Manage Device Restrictions
Your users can decide the number of devices from which the application can be accessed simultaneously. Also, your users can create separate user profiles too, so that everyone can have their own watchlists and favorites!              
Watchlist and Favorites          
Your users can mark their favorite shows as Favourites, and create watchlists for the content that they want to watch again later.  
Multiple Subscription Options
With multiple subscription options like Subscription, Ad-bases content, Pay-per-view, coupons, and vouchers, your viewers can enjoy much more flexible payment alternatives.               
Secured and Buffer-Free
With built-in DRM protection, we ensure that your content remains free from any kind of piracy attempt, always! Also, our built-in CDN architecture ensures that your platform remains amazingly scalable, providing a fast and completely buffer-free experience to users sitting on any corner of the globe.          
In-App Purchases    
Your users can purchase subscriptions and other deliverables right from your Samsung TV application! They don't need to go back to their mobile application for this process. 
Join Muvi Today!
Samsung Tizen TVs are leading the smart TV market. But very few no-code platforms offer Tizen TV App development services. So, if you want to develop the best Tizen TV app for your users, join Muvi today! Sign-up to start your 14-day free trial right now!