eLearning is the new buzzword in the education industry. The convenience of doing courses from the best tutors across the world, sitting at your home, makes it the most preferred choice of learning for many. 
For tutors and institutions too, eLearning is opening a new window of opportunities, where they can reach out to learners across the globe. Thus, your revenues increase multiple times in the eLearning business model, when compared to offline teaching. 
Though you can start your online course on third-party platforms too, having your own eLearning platform pushes you miles ahead on the road to success. Because when you use a 3rd party platform, you allow them to take some critical decisions like monetization models, mode of assessment, and many others, for your course. In this way, you have to compromise on your idea of running the course. But, if you launch your own branded live eLearning platform, you get full authority to decide every aspect of your course. Hence, you can grow your business much faster without any hassle.               
In this blog, we are going to discuss how you can develop your own live eLearning platform without writing a single line of code very easily. So, keep reading!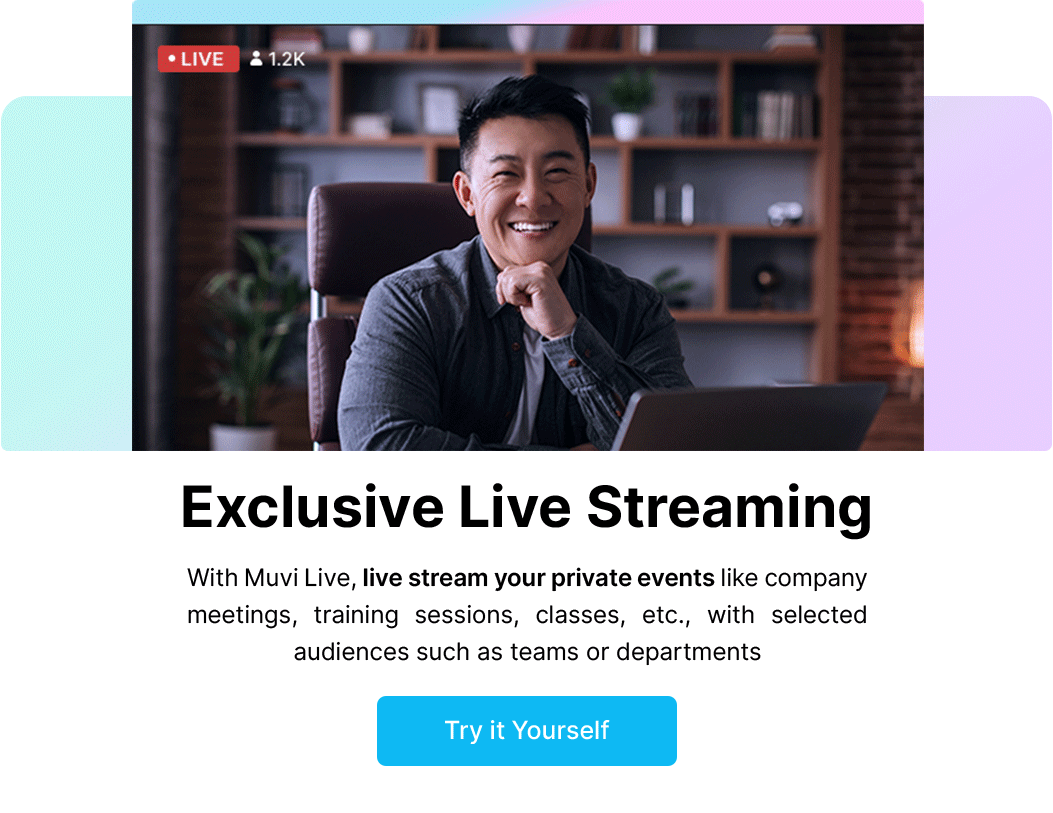 Importance of eLearning in 2023        
So, why should you invest in eLearning platforms in 2023? Well, if we look at the recent trends, we will realize that eLearning is now the top priority of all types of learners, starting from school and college students to corporate employees looking to upskill themselves. And that is why, the importance of MOOCs, e-certification and other forms of eLearning is increasing at a rapid pace. For example, In 2019, the value of the MOOCs market stood at US $5.16 billion worldwide. And between 2020 to 2025, it is estimated to grow at a CAGR of 29%! 
Not only the market size, but even the number of students enrolled in online courses is increasing at a rapid pace. Some of the top eLearning platforms and their respective learner base (as of 2020) are tabulated below:
| | | | | |
| --- | --- | --- | --- | --- |
| Platform Name | Learners in 2019 | Learners in 2020 | Courses Offered (as of 2020) | Degrees Offered |
| Coursera | 45 million | 76 million | 4600 | 25 |
| Udemy | 30 million | 40 million | 157,000 | — |
| Edx | 24 million | 35 million | 3100 | 13 |
| FutureLearn | 10 million | 14 million | 1160 | 28 |
This upward trend is also observed for the institutions offering online learning. In fact, in the past few years, most of the top institutions have reported up to a 10% increment in enrollment rates for courses offered online, as compared to the courses offered traditionally.  
Now the question comes, why is eLearning so popular nowadays? Well, the reason lies in the multiple benefits that it offers to both students and instructors. Some of the major benefits of eLearning are:
Lower Expenses and Costs:

eLearning is a cost saver for both institutes/companies and learners. As the course providers don't need to print the study materials and do not need to supply stationeries like markers and all, the cost of delivering the courses comes down significantly. That is why, they can offer these courses at an affordable price, which proves immensely beneficial for the learners. 

Reduces Learning Time:

In cases of business training, eLearning can have immense benefits in reducing the learning time. As the courses can be accessed from multiple devices including smartphones, the employees can continue their training after office hours too, which reduces the waste of valuable work hours for training.     

Reducing consumption of resources and energy:

A recent stat says that companies who take part in online training save around 90% of their resources. It is because they do not need any dedicated on-site training sessions, which saves a lot of resources and energy.     
Challenges in eLearning Platform Development
Developing an eLearning platform is never easy, as an eLearning platform must focus on multiple aspects including content security, delivering buffer-free streaming, and delivering content to remote areas at limited bandwidth are some of the major challenges that an eLearning platform developer must keep in mind. 
And, solving these problems requires the use of multiple technologies like multi-DRM security, a good quality cloud CDN server network, Adaptive Bitrate Streaming, and multiple encoding profiles. 
Arranging all these technologies and then developing the platform entirely from scratch is not only extremely expensive but extremely time-taking too! And if you are planning to go with freelance developers, then your project timeline might extend even longer, as you will have to hire multiple developers with specialties in specific technologies. This will make the process all the more difficult and expensive. 
But, you don't need to worry, as you can tackle all these difficulties smartly, by choosing a good no-code platform to develop your live eLearning platform. 

Develop an eLearning Platform without Coding!
Now, if you are looking for a no-code platform, you will get multiple options on the internet. So, how to decide which one is best for you? Usually, you need to see which no-code platform can fulfill all your business needs. For example:
If you need an eLearning platform where you can deliver live lessons, then you must choose a platform that will let you live stream easily.

If you are very concerned about the security of your course content, then you must look for a platform that provides you built-in multi-DRM protection out of the box.
If you are looking to apply for multiple monetization models, including Pay-per-view (TVOD), Subscription, and others, then you should check the monetization capabilities of the platform beforehand.
If you are looking to deliver better stream quality to remote learners, then you will have to look for a platform that offers a built-in CDN network, along with ABR streaming and multiple encoding profiles.
If you have multiple tutors, then you must look for a platform that will allow you to have multiple content developers and content partners. 
And what if you need all of them together? Then also, we have brought the perfect solution for you! With the combination of Muvi One and Muvi Live, you can tick all of those boxes together! Isn't it amazing?        
How to Create An eLearning Platform With Muvi One and Muvi Live
Creating your live eLearning platform becomes very easy using Muvi One and Muvi Live. Using our platform, you can:
Create a platform where there will be multiple instructors (teachers) with their own individual LIVE channels.

These instructors, also known as content partners, will be able to offer their own courses with live streaming, study materials, and all the other necessary content.
You can ask your students to pay for access to the live sessions of instructors, either through Pay-Per-View or a subscription.
All your instructors can have their individual profiles, where students can learn more about them, and their courses, and find routes to access the lessons offered by them. 
To do all these and more, you won't have to write a single line of code! You can create an entire eLearning website with all the infrastructure out of the box. You just need to follow the steps given below. 
Step 1 – Sign Up for Muvi One and Muvi Live 
First, you need to sign up with Muvi One and Muvi Live. To do so, you just need to click on the "Free Trial" button appearing on the top right corner of your screen and fill out the sign-up form. 
Click here to sign-up for Muvi One. 
Click here to sign-up for Muvi Live.
Step 2 – Design your front end 
Once your account gets activated, you will have to design your eLearning website. To do so, you can use our Visual Designer. 
For those unaware, Muvi One's Visual Designer is the world's first no-code OTT Platform designing studio, where you can design a unique website through a drag-and-drop process. 
Step 3 – Enable content partners 
Next, you need to enable "Content Partners". This will allow your tutors to deliver their own content to the students. 
Step 4  – Enable Muvi Live Huddle 
Muvi Live Huddle is our premium live conferencing software, through which your instructors can live stream their lessons to their students. 
Step 5 – Enable PPV monetization 
You need to enable the PPV monetization model if you want your students to pay for access to a specific course lesson. However, the decision to choose the monetization model completely depends on you, as we support multiple monetization models including subscriptions too!
Step 6 – Setup Analytics 
Set the parameters on the Analytics page of Muvi One so that you can track the time spent by your students, their countries of origin, which content was viewed by them, and a lot more data! 
Step 7 – Setup email notifications
You can set up email notifications to inform your students about the start of any live lecture, the schedule of lectures, and any other information. It will also help you in connecting with your students regularly. 
How It Works
So, your tutors will have to start a live stream in Muvi Live, and then create content in your eLearning platform. They will place the HLS link that they will get from Muvi Live live stream into the content form while creating the live streaming content. 
Whenever they will start the live stream, that particular live session will be streamed through your platform too, where your students can join the live stream to access the lessons. 
Benefits of Using Muvi One and Muvi Live
Muvi One and Muvi Live offer multiple benefits over any other eLearning platform builder, starting from multiple monetization models to high-quality stream security and buffer-free streaming experience. 
Multiple Tutors
You can have multiple tutors using our content partner feature. Each of your tutors can add their own content. 
Direct interaction with Students
Through live chat and emails, you can interact with your students directly, which will help you access the progress of individual students. 
Add-on Assets for class notes 
Using our add-on asset features, your tutors can add multiple additional contents along with the lecture videos. This additional content can be class notes, study materials, or even add videos. 
Secured and buffer-free ABR streaming
Your live streams are secured by our multi-DRM feature. It denies access to any authorized person or devices. 
Also, our built-in encoder helps convert the stream into multiple encoded profiles, which helps in Adaptive Bitrate Streaming. Hence the quality of your live stream gets adjusted automatically, depending on the bandwidth of your learners. 
DVR enabled for pause and play
During live sessions, your learners can pause the live videos in between and rewind to go back to the topics which they missed out or did not understand clearly in one go. DVR-enabled live stream allows your learners to pause and play the live streams as many times as they want. 
Multiple monetization models to choose from
At Muvi One, you get the flexibility to choose from multiple monetization models, like subscription, Pay-per-View, Ad-based streaming, coupons, and vouchers. This helps you offer more financial flexibility to your learners. 
Your own brand
At Muvi One, you can design a unique website that reflects your brand identity. Even things on the website will be yours, starting from the logo, colors, and fonts to the content. 
Start Your Live eLearning Platform in Minutes! 
With Muvi One and Muvi Live, eLearning platform development is easier than ever before! In fact, you don't need to buy any infrastructure. You get everything out-on-the-box, without writing a single line of code. So, why wait? Sign-up to start your 14-day free trial today!  
FAQs:
Q. Are there any limitations to creating a live eLearning platform without coding?
Ans. Till now, there are no such limitations to developing a live eLearning platform without coding. In fact, if you choose your no-code platform wisely, you can reap multiple benefits, like
You will get all the infrastructure out of the box, like CDN, DRM, hosting, and everything else. So, you don't have to pay the additional cost for this infrastructure. 

Second, you can customize your website very easily, and in less time. 

Third, if you get struct somewhere, you can get support from the experts of that platform. 
Q. How do I create content for my live eLearning platform?
Ans. Creating content for your live eLearning platform involves the following steps:
Decide your target audience

Decide the course structure and assessment method

Create the chapter summaries first

Align the chapter summaries one after the other to see if the course looks interesting enough

Create chapter contents

Create additional notes and study materials

Publish all the content
Q. What are some common features of a live e-learning platform?
Ans. Some common features of live-learning platforms are:
Live Chat

Multi-DRM security

DVR-Enabled Live Streaming

Multiple payment gateways and currency support

Add-on content for class notes and study materials
Q. How can I ensure that my live e-learning platform is secure and protects the privacy of my learners?
Ans. Multi-DRM protection can help you secure your live eLearning platform. Multi-DRM ensures that only authentic users can access your live feeds. You can also enable dynamic watermarking to prevent any piracy attempts. 
Q. Do I need to have any technical skills to use these tools?
Ans. No, you don't need any technical knowledge to use these no-code platforms as they have a very easy-to-use drag-and-drop interface. 
Q. How do I measure the success of my e-learning app?
Ans. You can use analytics to measure the success of your e-learning app. Analytics will tell you how many students you have, which courses they visited, and more!