With the advancements in technology, we have been able to harness high speed internet into our palms with ease. Now with the advent of 5G on the horizon, we can only expect the speed to increase multi-fold. Such ubiquitous speeds have helped us open up the gateway for high-definition entertainment. Nowadays HDR has been popping up in every sphere of our life as we are constantly consuming HDR content from mobile, camcorders, or even streaming services like YouTube, Netflix, or 4K UHD Blu-ray DVDs. So, what is HDR exactly? How does it differ from SDR? What's this debate between HDR vs SDR? Why should it matter to you? This blog will give you an in-depth analysis of HDR and SDR technologies, which is better and which technology you should invest in.
What is SDR?
SDR or Standard Dynamic Range is a video technology which represents light intensity based on the brightness, contrast and color characteristics and limitations of a cathode ray tube (CRT) display. SDR video is able to represent a video or picture's colors a black level around 0.1 cd/m2 with a maximum luminance around 100 cd/m2, and Rec.709 / sRGB color gamut. It uses the gamma curve as its electro-optical transfer function.
What is HDR?
HDR or High Dynamic Range is a video technology that enables to increase the dynamic range of images or videos as it captures, processes, and reproduces content in such a way that the detail of both the shadows and highlights of a scene are increased. HDR videos have much more overall clarity, a wider range of colors, and look more similar to what is seen by the human eye when compared to SDR images.
Also Read: CBR vs VBR: Which is Best for your Online Video Platform
What is Dynamic Range?
When you come across an image, you will notice that there are brighter parts and darker parts in the same image. So, what happens is, when an image is overexposed, the clarity in the brighter part of the image is lost and when an image is underexposed, the clarity in the darker parts of the image is not noticeable.
Dynamic range is the range of information between the lightest and darkest part of an image, also known as an image's luminosity. It refers to the range of which a camera can successfully capture the lightest and darkest areas of an image without losing detail. When the dynamic range is exceeded, the highlights will wash out to white and the darks will turn to completely black spots. An image with a high dynamic range is an image with a mix of dark and bright attributes in the same image. 
Also Read: SD, HD and 4K – Streaming Video Resolutions Explained
HDR vs SDR Compared

When you compare HDR vs SDR, SDR is limited by its ability to only represent a fraction of the dynamic range that HDR is capable of. In the case of HDR,  there is more contrast available between the light and dark areas of what can be captured and displayed. In HDR videos, the darks are darker, the lights are lighter, and there is exceptional detail in both the shadows and the highlights. When you have greater detail between shadows and highlights, the result is a more realistic representation of the luminance differences between day, night, exterior, and interior scenes. Having a higher dynamic range enhances depth-perception and allows surface materials to be better identified. 
Another good point of reference between this HDR vs SDR debate is that HDR supports wider color gamuts than SDR. Having a wider color gamut means greater expansion of the range and levels of colors that are captured to more closely match the capabilities of the human eye. This also results in a more detailed and realistic image.
So simply put, when comparing HDR vs SDR, HDR allows you to see more of the detail and color in scenes with a high dynamic range. 
Finally, let's get down to the HDR vs SDR debate in terms of 'bit-depth'.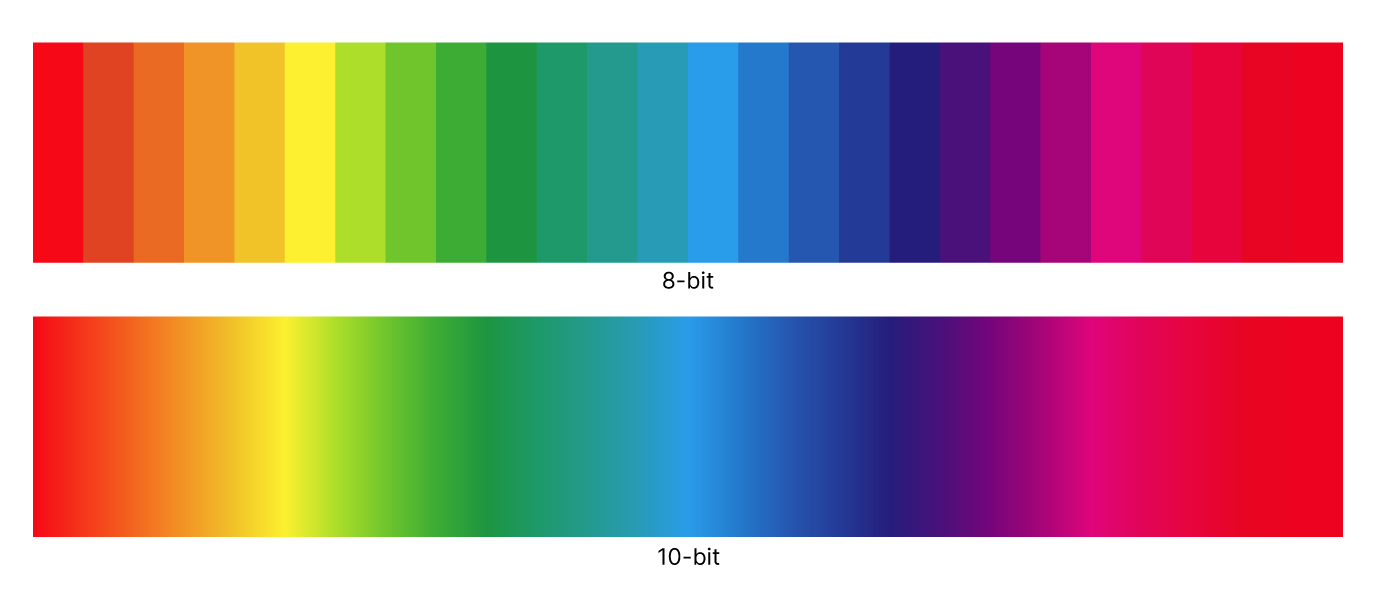 Bit-depth refers to how many bits are used to represent the color and brightness of each individual pixel. 
HDR video is created with a higher bit-depth of at least 10-bits, whereas SDR video is created with a bit-depth of 8 bits. 10-bit allows for over 1 billion different colors to be represented compared to 16.7 million possibilities for 8-bit. Having so many more options in HDR allows the video to be more fine, have smoother gradients, and more accurate representations of the captured scene.
HDR vs SDR: Scales Weigh Heavier for HDR Content
As quality-oriented technologies have become more ubiquitous in the video streaming market, consumers are now seeking content that showcases the full potential of their home viewing experience.
And since HDR has become synonymous with a top-tier quality, consumers have geared up towards buying devices they are capable of and they want to use the best of their features. It has now become imperative for video streaming services to provide HDR streams to remain competitive and grab a piece of the market share since top online video platforms like Netflix are now supporting some variation of HDR.
Wrapping Up,
HDR technology is here to stay and currently, its inherent technology is tied closely to that of ultra-high definition resolution, also known as 4K. Since 4K is picking up pace and being adopted by the video streaming industry with remarkable ease and speed, it stands to reason that HDR will follow the same course going forward. 
Muvi One can help your videos look amazing with HDR encoding, format conversions and workflow optimizations to help you create the highest quality viewing experiences on every device or platform, be it mobile or the web.
Did you know that with Muvi, you can launch your very own OTT Video-on-demand App across 20+ platforms, without writing a single line of code?
Take a 14-Day Free trial to get better clarity!