If you are a die-hard football fan, then you must be having a busy time nowadays, especially from 20th November to 18th December 2022. And this year, you are set to get the best football streaming experience, as multiple advanced technologies have been integrated to make the match viewing experience as interactive as possible for the viewers. 
The 1954 FIFA world cup was the first ever FIFA World Cup to be broadcasted live on television. The number of viewers tuning in has increased many folds since then. Slowly, online streaming started gaining popularity, and sports streaming started shifting from television to mobile phones. 
This year, FIFA has reached a landmark agreement to live stream the entire FIFA world cup on its digital platform FIFA+, and the content will be available for free in Brazil. Not only live streaming, but FIFA has incorporated many more advanced technologies both on and off the field. We will talk about all of them and more in this blog. So, keep reading! 
Technical Innovations Used for FIFA 2022
This FIFA world cup is seeing multiple technical innovations on the pitch itself. While latest technologies have been roped in to deliver the best ever experience to the spectators who visit the stadium to cheer for their favorite players. Let's take you through some of the cutting-edge innovations used in the FIFA world cup 2022. 
Al Rihla
The match ball for FIFA World Cup 2022 is called Al Rihla, which is the Arabic word for "The Journey". Lashed with an advanced inertial measurement unit sensor (IMU sensor), it sends ball data to the video operation room 500 times in a minute. It helps in the accurate detection of kick points. Also, it plays a vital role in detecting tight offsides. Hence, this will assist the 12 tracking cameras which are already in place for detecting the offside incidences semi-automatically. 
The effect of this semi-automatic offside detection is quite evident in the first few matches of the tournament. As a fan, we all got a bitter taste of computer-detected offsides, especially during Argentina vs. Saudi Arabia match, when three Argentine goals were rejected due to offside.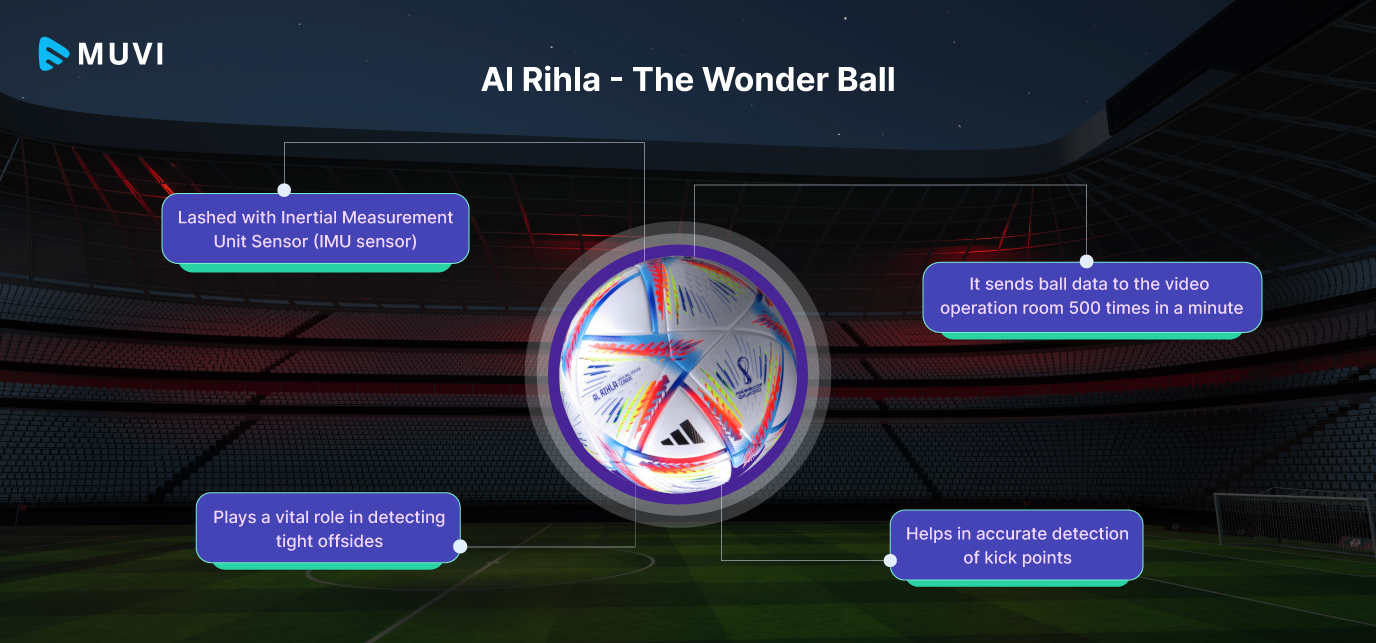 Stadium Cooling Technology
We all know that the usual climate of Qatar is a bit hot and humid. Such type of climate is not usually considered ideal for playing professional football. That is why stadium cooling technology has been used in this world cup. 
Advanced stadium cooling systems will bring in chilled water through the pipelines planted across the stadium. As it arrives, cold air will be pushed out into the field and gallery. It will help keep the stadiums cool for both players and fans. 
FIFA Player App
FIFA player app is an advanced player assistive technology. Throughout the matches, all vital information regarding a player's performance and biomechanics will be tracked and stored in its database. The individual players can log in to their individual accounts in the FIFA player app, and get access to all of their stats. It will help them in improving their performance and physical endurance throughout the tournament. 
Assistive technology: Bonocle and Feelix Palm
Football is for everyone, including the visually impaired. That is why this world cup will see the application of advanced assistive technologies like Bonocle and Feelix Palm. 
Bonocle is the world's first braille entertainment platform! It has transcoding functionalities that will convert digital content into braille to help visually impaired people consume digital content. Hence, visually impaired people can also enjoy this FIFA world cup 2022 like anyone else. 
Along with Bonocle, the electro-tactile braille messaging palm, called Feelix Palm will also be used in this world cup. 
Facial Recognition Technology to Monitor Spectators
In this world cup, security in and out of the stadium will be given additional priority.
The security agencies will be using special facial recognition technology to monitor the spectators. In this way, they will be able to prevent any unwanted guests within the stadium. 
These were only a few of the technical innovations to be used at the stadium and during the matches. As the tournament progresses, we will surely see more technical innovations. 
And when it comes to innovations in and for FIFA events, the technical spectacles are not limited to within the stadium only. Even for the viewers present across the globe, multiple streaming innovations had been adopted in the 2018 FIFA world cup itself, to make streaming more engaging and satisfactory for viewers. And in 2022, some more exciting streaming innovations have been added to this list. Let's take you through some of them one by one.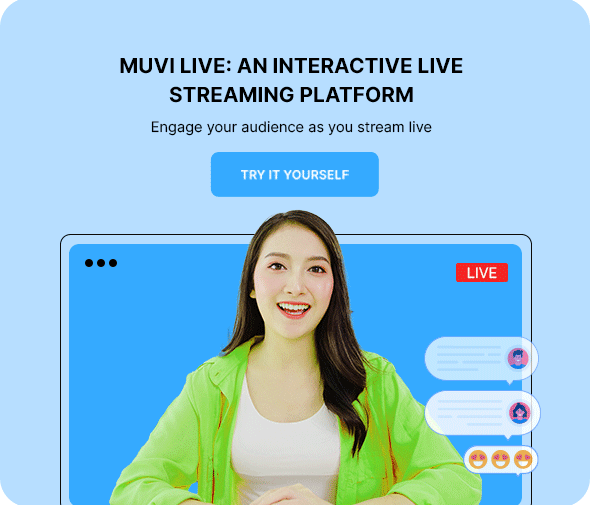 Video Streaming and Media Innovations Used During FIFA 2018
In the FIFA 2018 world cup, the viewers got the taste of 4K video streaming with interactive engagement for the first time. Not only this, multiple new modes of viewer engagement were implemented, all thanks to smartphones and social media. 
4K UHD Video & VR
2018 FIFA World Cup became the first world cup to be broadcasted in 4K UHD Video quality across the UK and many other countries. Also, BBC provided a special VR feed to its viewers through its BBC Sport VR Application. 
Indulgence of 5G
During the 2018 FIFA World Cup in Russia, the world saw the emergence of 5G networks which made streaming seamless. Though 5G networks were not available worldwide at that time, still, a small and limited glimpse of 5G told us its immense potential in the future. 
Live Videos From Mobile Phones
The FIFA 2018 World Cup became the first tournament in that people were able to post live videos from their smartphones. Also, it gave rise to the popularity of local analysts which led to individual local commentary channels on YouTube. 
The First Tournament with Vertical 'Stories'
Vertical Videos in social media became very popular during the 2018 FIFA World Cup. For any important incident that happened on the field, the spectators, fans, and analysts used to post short videos on social media and Snapchat, which were often called vertical stories. 
The First Tournament with GIFs in Social Media
FIFA World Cup 2018 was the first-ever designated world football tournament with official social media GIFs. And this trend has suddenly grown tremendously in the next four years, leading up to the 2022 world cup where we could be seeing even more creative gifs this time.                  
The Rise of 'Connected Viewing'
With the rise of smartphones and 4G internet connection, "connected viewing" had grown to massive popularity during the FIFA 2018 World Cup. Especially during the daytime, when people were supposed to be at work away from their friends and families, connected online streaming had the highest numbers.  
Along with the innovations discussed till now, some new and more advanced technical innovations will be seen during this year's FIFA World Cup in Qatar. Let's now take a look at some of those.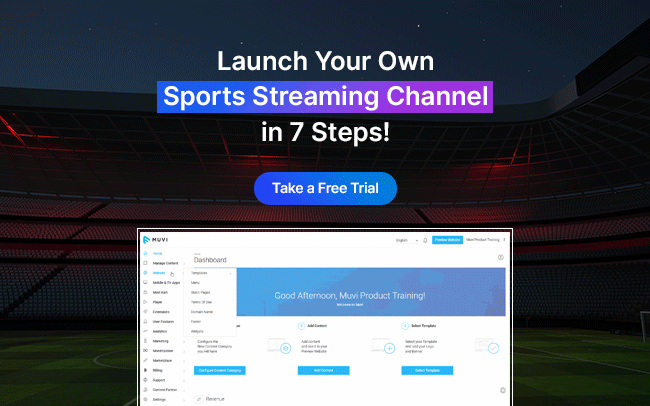 Streaming Innovations That Will Make Their Marks in FIFA 2022
In 2022, streaming has become much more interactive, engaging, and connected. Following the overall streaming trend, the FIFA 2022 Qatar World Cup will see the highest amount of viewer engagement through AR-VR and metaverse. Along with that, the emergence of localized and regional commentators and mobile-based live broadcasting is going to see a new high. 
Into the Metaverse 
Metaverse and NFTs are the new "big thing" for gen Z. And that is why Upland, a reputed Metaverse building community, is working hand-in-hand with FIFA to develop unique gamified experiences, metaverse, NFTs, and digital collectibles for football fans worldwide. 
Under this project, a digitally realistic replica of the Lusail Stadium is being created, which will be accompanied by the nearby branded villages, showrooms, and stores. Hence, if you fail to travel to Qatar this time, you can still enjoy the in-stadium experience by visiting the virtual stadium in the metaverse! 
In addition, FIFA will also work with Roblox, another reputed metaverse development company, for developing an amazing meta environment and digital experience for the fans. 
In-Venue AR and Digital Collectibles
Just a few months back, FIFA launched its digital platform FIFA+, with loads of original Football related content. But, only good sporting content is not the sole reason for downloading FIFA+. This world cup, the audience is going to get the best ever football-watching experience, with interactive streaming in 11+ languages. 
For the fans who will be present in the venue, FIFA+ Stadium Experience will provide an in-venue AR experience to the spectators, where they can directly interact with the gameplay going on in front of them. 
Also, the fans can collect NFTs and digital collectibles for all the memorable moments of big players. 
Use of Mobile Cameras
This time, FIFA Digital will be capturing content via mobile phones. In this effort, FIFA will be distributing the content captured by rightsholders via their mobile cameras. It is one step forward in their mission of embracing digital production. 
Indulgence of Local Live Commentators 
Localization is an important aspect of the broadcast of the FIFA world cup 2022. Even FIFA+, the original digital platform of FIFA, is covering the tournament in more than 11 languages globally. And this trend is getting even more flair from the local commentators. 
This world cup, we are seeing multiple local sports commentators flooding YouTube or developing their own sports commentary channels. These local commentators are providing live scores and commentary in their local languages. Hence, this world cup, live commentary is available in almost all the major languages across the globe. 
Do you want to start your own sports commentary channel? Read our blog "How to launch your own live sports commentary channel?" to get started!
Accessible Streaming 
With Bonocle, the first Braille entertainment platform of the world, the visually impaired population will enjoy this world cup like never before. But there's more o come!
Nowadays, almost all OTT platforms and live streamers are trying to make their platforms accessible for people with disabilities. That is why they are adding live captions and subtitles to their video feeds, to make them accessible for people with hearing disabilities as well. 
If you want to know how to add live captions and subtitles to your videos, read our blog!        
Join the Big League With Muvi!
This FIFA world cup has shown the power of sports live streaming to the world. And when it comes to sports live streaming, MUVI is your best friend! Whether you are live streaming FIFA matches with your own commentary, or you are live streaming your school or university sports event, Muvi One and Muvi Live will help you conquer every situation!
This is because, Muvi allows you to have your own white-label streaming platform, where you can monetize your content through subscriptions, advertisements, pay-per-view, and more! Moreover, you get built-in CDN, multi-DRM security, built-in encoder and transcoder for hassle-free on-demand and live streaming. 
Enjoy the flexibility to live stream from any camera, record the live feeds and republish them as on-demand videos in your own feature-packed OTT platform! And the best part is, you don't need to write a single line of code to develop your OTT platform. Isn't it amazing? So, why wait? Sign up to start your 14-day free trial today!