So, we have discussed about the OTT landscapes, scenarios and the growth prospects of Latin America, Asia and Western European regions in our previous articles. If you haven't already read through these, please go and read to get an insight into each of these emerging markets.
Last year we had discussed the different trends in Africa's video streaming market and in today's article, we will talk about the state of OTT market in Africa, which as you all know is quite challenging and diversified in a way. However, over the time, telecom operators, media companies, broadcasters and Pay TV operators seem to have actively exploiting the untapped potential of OTT services market by launching standalone as well as services that complement their existing setups. Africa is a region where hybrid models such as a combination of SVOD, AVOD, TVOD and linear programming are more successful than just one type offering.
360 Overview of OTT landscape in African regions

With the user penetration of 5.4 % recorded in 2017 and expected to grow at 8.0 % by 2021, the revenues from VOD services are expected to double in Africa from US$260 million to US$452 million at a CAGR of 14.8 % over the said period. Africa has long been devoid of international OTT players, which has also given the regional players an opportunity to capitalize on the growing OTT trend. Live coverage of events such as sports have been the key driver for OTT services in the region. The average revenue per user (ARPU) in Africa for VOD services stands at US$30.49.
With the increasing internet penetration and rollout of 4G, SVOD and AVOD services are expected to show a huge growth potential in the region. The consulting firm Balancing Act estimated the number of video streaming services operating in Africa to be 100 in 2015. The revenues from subscriptions services (SVOD) are expected to reach US$346 million by 2021 from that of US$205 million recorded in 2017. Advertising will also generate substantial revenues of US$486 million doubling from US$257 million in 2017. Revenues in the audio streaming space will also increase from US$66 million to US$88 million amid 2017-2021. Mobile no doubt is the key channel to drive OTT user base owing to increasing penetration of affordable mobile data services in Africa.
Challenges ahead OTT players in Africa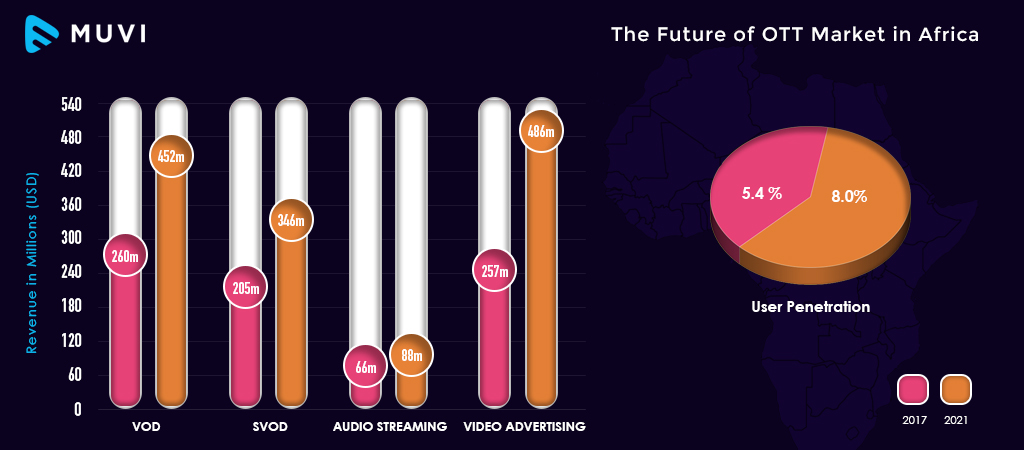 The biggest challenge for OTT players in Africa is the lack of internet connectivity and poor speed. There also is a lack of payment options available in the country, and the computer ownership lacks far behind the smartphone ownership. Last year Naspers launched ShowMax Select in Kenya, offering a range of Kenyan movies and shows. With that, the service also enabled downloading compressed files, so that streaming can be possible in patchy internet speeds and less data costs. Crucially, the company also enabled customers to pay using the ubiquitous M-Pesa mobile payment system, without which, any VOD service in Kenya would be dead in the water.
iROKOtv had also shut its desktop streaming service in 2015 in order to shift completely onto mobile first strategy focused on downloading, which is what the locals in Africa do on poor internet speeds. Downloading when around good speeds and then watching later. Bundling content with data also seems working for Telco's in the region. A mobile app Trace launched in South Africa last year offering unlimited music streaming. Though the company did not have any video and seem to have falling behind, but the unlimited streaming strategy had worked and the app scored massive popularity in its first year.
Data costs are very high in Africa and the revenue splits that the telecom companies offer to VOD providers are also disadvantageous. In order to optimize the full potential of video streaming industry in Africa, the telecom companies will have to drive their data costs down and match up the paying capacity of the massive user base.
Internet penetration is relatively less in rest of the regions than those of Kenya and Nigeria. The World Bank recorded some 89 million internet users in the sub Saharan Africa, half of which were in Nigeria. Kenya and Nigeria together accounted for 62 % of the total internet users in Africa. Let's have a look at the potential of video streaming market in these markets in detail –
Kenya & Nigeria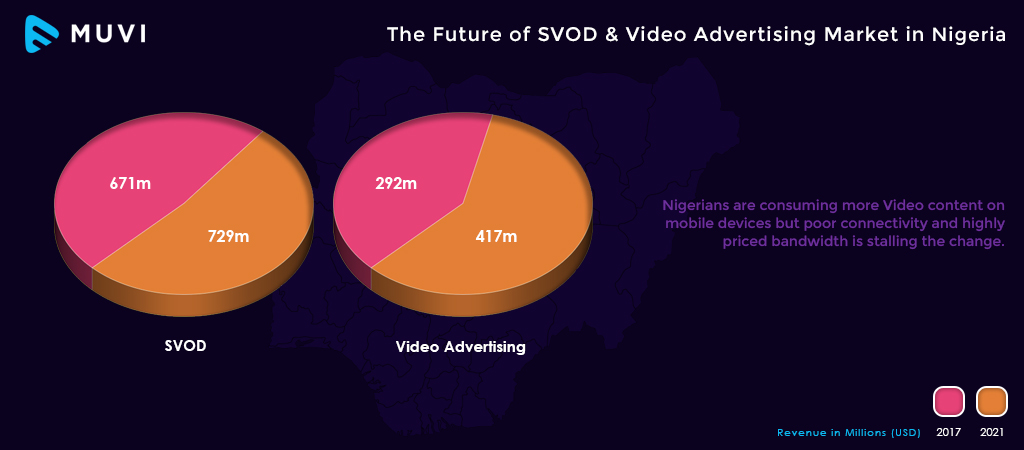 Nigeria is the biggest producer of Nollywood movies (in Africa and globally) and Kenya – the biggest consumer. The VOD market in Kenya produced US$2.2 billion in revenues in 2017, which was expected to grow to US$3.3 billion by 2021 at a CAGR of 9.10%. Whereas Nigeria recorded subscription video on demand (SVOD) revenues to be US$671 million, at an expected rate of US$729 million by 2021.
Video advertising also has huge potential in both these markets, showing a huge sign of growth from US$72 million to US$151 million in Kenya and from US$292 million to US$417 million in Nigeria amid 2017-2021, according to Statista.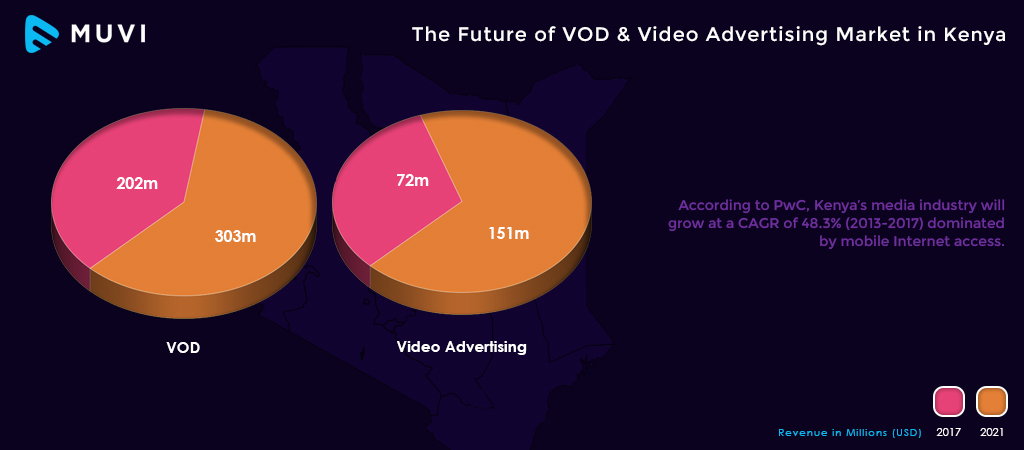 IN 2012, Tiger Global Management – The US hedge fund, had invested US$8 million in iROKOtv – world's biggest distributor of Nollywood films for scaling up the company's video streaming service. Nollywood – Nigeria's film industry, produces over 1500 films a year, which makes it world's largest film industry after Bollywood. And with such fundings and expansions, African movies and content are moving out of the country and also the locals getting access to more international content, through various video-on-demand services.
South Africa
Standing at 49% internet penetration, South Africa is no behind in adopting the increasing video on demand trend, just like any other country in Africa. According to an IAB survey, some 13 million South Africans are on Facebook, 77% of them accessing it via mobile, which is mainly driven by some or the other form of videos. In a comprehensive survey by Interactive Advertising Bureau (IAB), South Africa was registered showing the second highest year-on-year growth in video consumption on smartphones globally at 42% after the United States (50%). When it comes to streaming services, Google Play Movies, iTunes, Netflix and Showmax are the top four streaming sites most accessed in the South Africa.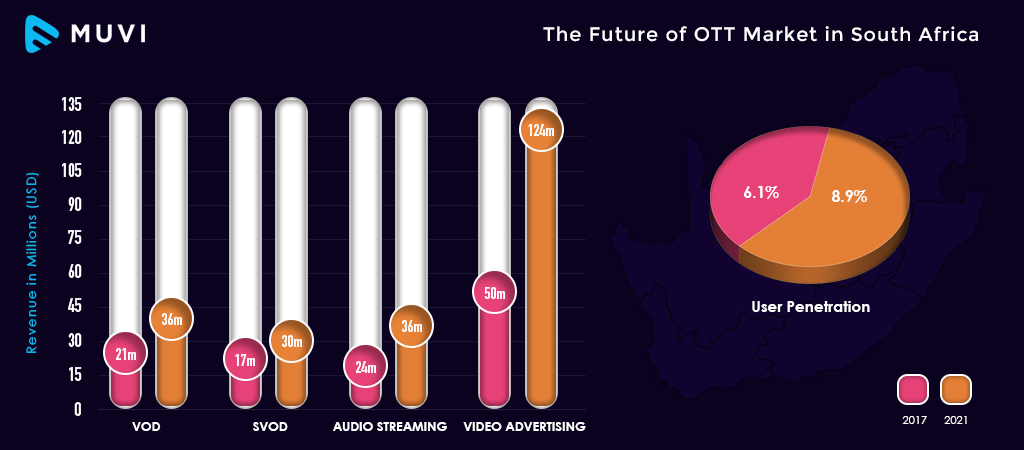 The video on demand market was recorded showing a CAGR of 14.1% increasing from US$21 million in revenues in 2017 to US$36 million by 2021. The VOD penetration in the country stands at 6.1% in 2017, which is expected to increase to 8.9% by 2021. Subscription video streaming services are growing at a much faster rate, along with advertising in the entire Africa. South Africa alone accounts for US$17 million revenues from subscription services in 2017, which is expected to more than double to US$30 million by 2021, generating some 3.0 million SVOD users by 2021.
Showmax, then Netflix and Future TV in this year, all have shown tremendous growth the South Africa recently. According to a recent Nielsen survey, 87% of South African said they like watching video content on computer, mobile or tablet devices, because it allows them to access content at any time they wish. Many local aggregators such as ReelAfrican TV are taking up and gaining popularity pan Africa offering a huge variety of African content including movies, shows, documentaries in the Nollywood, Ubizo and Gospel West genres.
With the increasing internet speeds and user penetration, audio streaming is also increasing to reach from US$24 million in revenues in 2017 to US$36 million by 2021. And standing at an ARPU of S$9.32, video advertising is set to outburst in revenues from US$50 million in 2017 to a massive jump of US$124 million by 2021.
State of VOD in rest of Africa
After Kenya, Tanzania has the highest increasing internet and mobile penetration, and with this the usage of videos on demand is also increasing. Rest of the african countries such as Egypt, Burkina Faso, Algeria, Morocco and Somalia are actively participating in creating as well as adopting the VOD shift. No doubt Africans are a fan of local content more than that of international content, and that is why various local VOD services have gained huge popularity and acceptance inspite of having low access and higher mobile data rates in the region. With the increasing awareness, users are actively taking up on internet enabled content and habits are shifting in rest of the Africa, slowly but steadily.
Conclusion
Video streaming can be said in its early days in Africa. However with the frequent launches that we have been seeing especially after Showmax and Netflix's launch, paradigms seem to be changing. Audience is eager and open to adoption of these services and are even increasingly accessing online content of their choice through mobile devices. It is now up to telecom operators to open up their data rates and come up with bundles of services in collaboration with OTT service providers.
There are several local services such as Nigeria's iROKOtv and Kenya's Buni.tv that have realized the VOD market potential early for Africa and have even succeeded adopting strategies that worked for the region and its population. Though these services have also gone through a lot of tribulations due to policies and regulations. But the market right now is hot and highly competitive and with such figures, it is set to grow in the coming years.
Looking to launch your own Video Streaming platform? Muvi will help you do that in an instant, managing your platform end-to-end, across devices and screens.
DOWNLOAD REELAFRICAN CASE STUDY
Sign Up for Muvi's 14 days FREE Trial !!