Yes, it's possible and easy to launch OTT platform.
No need to invest a hundred thousand, you can affordably build your own OTT business, that too without any coding or involvement of any IT team.
Nope, it's not a joke neither we are selling you a bait.
With the development of our Zero-coding fully-featured OTT platform, content creators and media distributors can launch multi-screen video/audio streaming services on their own at cost-effective pricing.
Our enterprise-grade end-to-end streaming platform involves dedicated IT infrastructure with 24*7 customer support, Out-of-the-box CMS with more than 100 unique features, and instantly deployable native mobile & TV apps. 
From online video player, CDN, DRM, to analytics tracking and multiple monetization options, every premium feature is well kept in the arsenal to scale up your online streaming business.
So, with Muvi you can start earning revenue on your streaming channel from day 1.
To help you in getting started, here in this blog, we are going to brief on how to launch OTT platform, without writing a single line of code and most importantly within the budget constraints.
Step-by-step guide to launch OTT platform
Before starting, we recommend investing in a niche, which is in demand. 
For your information, Entertainment, eLearning, eSports, Yoga – Fitness, and Lifestyle are the most popular streaming niches today. Building a dedicated streaming service on these niches can easily find you a good volume of paying subscribers.
Muvi offers ready-made, yet customizable OTT apps & website for every streaming niche, you want to work on. Just follow the below-mentioned steps and create your OTT platform at zero upfront investment.
#1 Sign up to create your Video/Audio streaming website
Sign up process is mandatory for every customer. You need to submit all the necessary details including Name, Company Name, and Mobile Number to deploy your streaming website.
Once the account set up is done, your Muvi Store will be created within no time and you can preview your website instantly.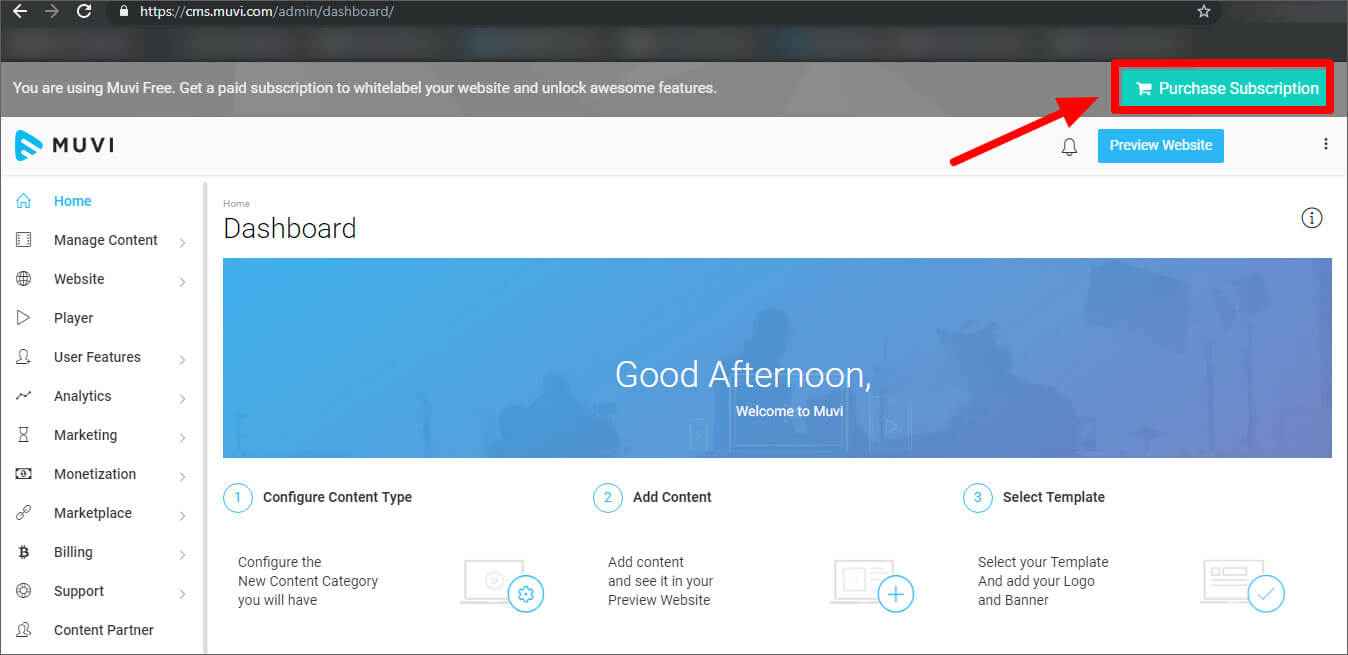 On the top-right corner of your CMS dashboard, you will find a Purchase Subscription icon. If you are really serious about launching your professional white-label OTT platform with every premium feature, click on that icon and get a paid subscription.
#2 Upgrade with your favorite monthly plan
When it's about pricing, no one offers the budget-friendly rate as ours. You don't have to arrange a huge investment or break your savings to start your streaming business. A small monthly fee is all you need to pay.
Depending on what configurations you want and how much you can invest, choose your favorite monthly plan from Muvi Standard, Muvi Professional or Muvi Enterprise.

Apart from the above, if you are looking for premium consulting services that involve project management and pro-active monitoring, we have a special deal for you – Muvi Ultimate package (a curated plan for the privileged customers).
Select any of our subscription plans that you are comfortable with and complete the payment to avail all the features that our comprehensive OTT platform offers.
#3  Configure and customize your OTT platform without coding
It's now time to configure your streaming website with appropriate content categories (Video/Audio), content format (single or multi-part), and type of content (On-demand or Live streaming).
Defining the above elements is an important task, as it gives an overall idea about the content structure and flow of your streaming service. Take some time to explore & understand the configuration process, and accordingly manage all the elements.

After you are done with the content configuration part, you can start customizing your website, ensuring a better User-Interface. Simply select a template from our Template Marketplace and add your logo & banner to it.
With the help of our advanced visual designer, you can easily incorporate 'n' number of customizations into the front-end and improve the look & feel of your website. No need to write HTML & CSS codes anymore.
#4 Upload content to your library from the CMS
Content plays a key role in determining the sustainability of a video/audio streaming service. So, the next step is to add content.
Submit basic information like Content Name, Content Category, Description, Release date, and other details to initiate the uploading process. Once your media files are added to the library, you can preview them instantly.
We recommend adding original and exclusive content, which are not available on any other streaming platform, to keep your viewers busy.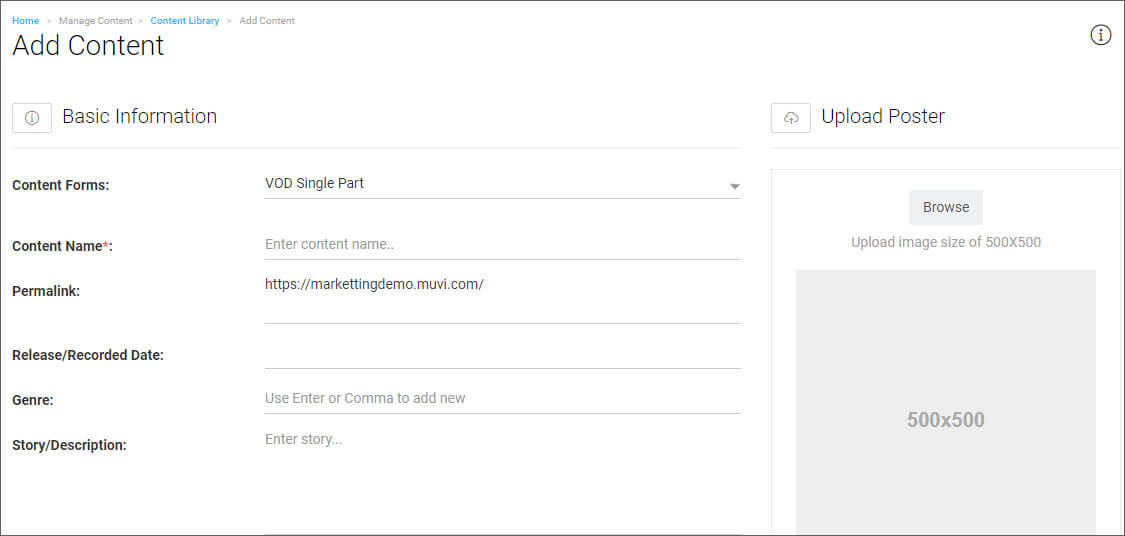 Generally, the content uploading process takes a few minutes, but it varies with the number of content and its file formats.
In case, you are facing any difficulties while uploading content, feel free to raise a ticket immediately, and our account managers will be there to resolve your problems.
#5 Set up your Monetization model
Muvi allows you to monetize both live streaming and on-demand videos/audios.
Depending on the scope of your business, you can choose multiple monetization models.
Presently, AVoD, TVoD, and SVoD are the most commonly used monetization methods, ensuring good revenue flow in the streaming business. 
However, if you want, you can also offer content for free or even accept discounts via coupons.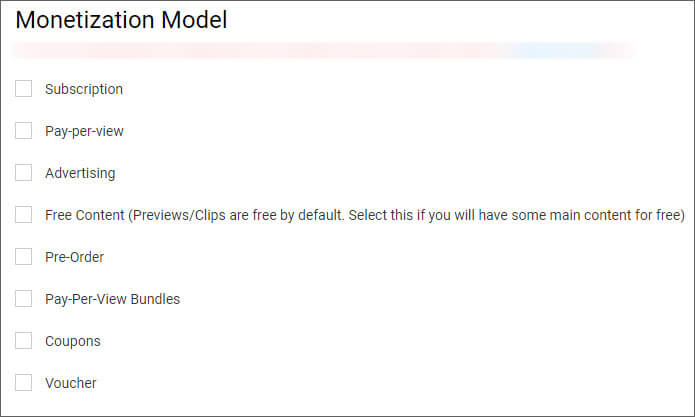 Just tick out your desired monetization model from the above, and monetize your streaming service at one-click. 
Yes, monetizing a streaming platform is that simple!
Time to go Live and earn money
Searching for how to start OTT platform in India? It will take a few minutes to execute all the steps, maybe less than an hour and your dream of launching a streaming website will be true.
Once your platform is all set, prepare a marketing strategy and focus all your efforts on branding & promotions. Keep a track of your month-by-month revenue as well as subscriber's stats, and determine the success of your streaming business accordingly. You can also consult with our content monetization expert to boost your OTT platform's ROI.
Now though, you are clear about how to launch OTT platform seamlessly, you must know the key components that are essential to make a successful streaming service. Here's an infographic, showcasing all the components in details to start OTT platform. Download it now.