Is your business suffering from bad site performance and poor playback? It's time to store your videos on a video sharing platform. Why? Apart from actually producing and editing your online videos, you need a video server to host them. You might first think to upload them to your web host. However, this isn't a great idea as your already overloaded server may not be able to store heavy video files and cause poor site performance, poor streaming quality and playback. Instead, most online businesses use video sharing platforms to get their video content online. In this blog,  we will share about video sharing platforms, the best ones out there and more . 
Why Do You Need Video Sharing Platforms?
So, why would a business choose not to host their videos on their own servers? The main reason is that videos are large — thousands of times larger than the average image on a page.
The biggest benefit of video sharing platforms for viewers is that content owners can gain access to broad categories of videos within seconds. Also, uploading a video to a video platform enables easy embedding on a website.
Whenever you try to store large video files on your web server that is overloaded with data, it can cause poor site performance, poor streaming quality and playback, and exceeded storage limits. That's the reason why businesses prefer storing their videos on a dedicated video hosting site and then embed videos in their website. Video sharing platforms solve this problem by enabling users to upload their videos to a specialized video server, and viewing those videos on the host's website.
Also Read: How to Build a Live Streaming Website?
                      How to Create an Awesome Video Website
Free Video Sharing Platforms in 2023
First, let us analyze some free video sharing platforms for hosting and sharing videos.
Free Video Sharing Platforms
YouTube

This video sharing service needs no introduction- YouTube is by far the most popular and the largest video sharing website on the internet with 1.9 billion logged-in users active on the site every month. 
YouTube's omnipresence makes it a go-to for many online startups that produce and distribute video. The biggest benefit being its free usage. However, in the long run, YouTube isn't the best place to host videos. The biggest drawback of YouTube is its ads between video playback in exchange for free hosting. Also, there is no scope for branding and frequent recommendations from our competitors make it even more challenging for your brand to gain recognition. 
TikTok

TikTok has been the hub for short-form content creators since it came out. It's the go-to video sharing platform for entertainers as you don't have to be extraordinarily talented to use it as a YouTube alternative. As long as you can entertain, inform or lip-sync, you are ready to fetch a high number of audience engagement on your videos. The best part is that it's free. 
TikTok is only recommended for entertainers who are starting out and want to get an overall view of the market before investing in a paid video hosting service. It's not suited for enterprises looking othost secure long-form videos.
Facebook Watch

Apart from YouTube and TikTok, another popular video sharing platform where content creators can easily add their content to a diverse video content catalog is Facebook Watch. The feature that makes Facebook a great YouTube alternative is the ability to watch videos with friends at the same time. The  highly personalized feed enables users to easily scroll through their favorite uploads. Adding videos to the timeline and Facebook Watch made Facebook one of the leading video distributors on the internet.
Top 5 Video Sharing Platforms in 2023 
Muvi Flex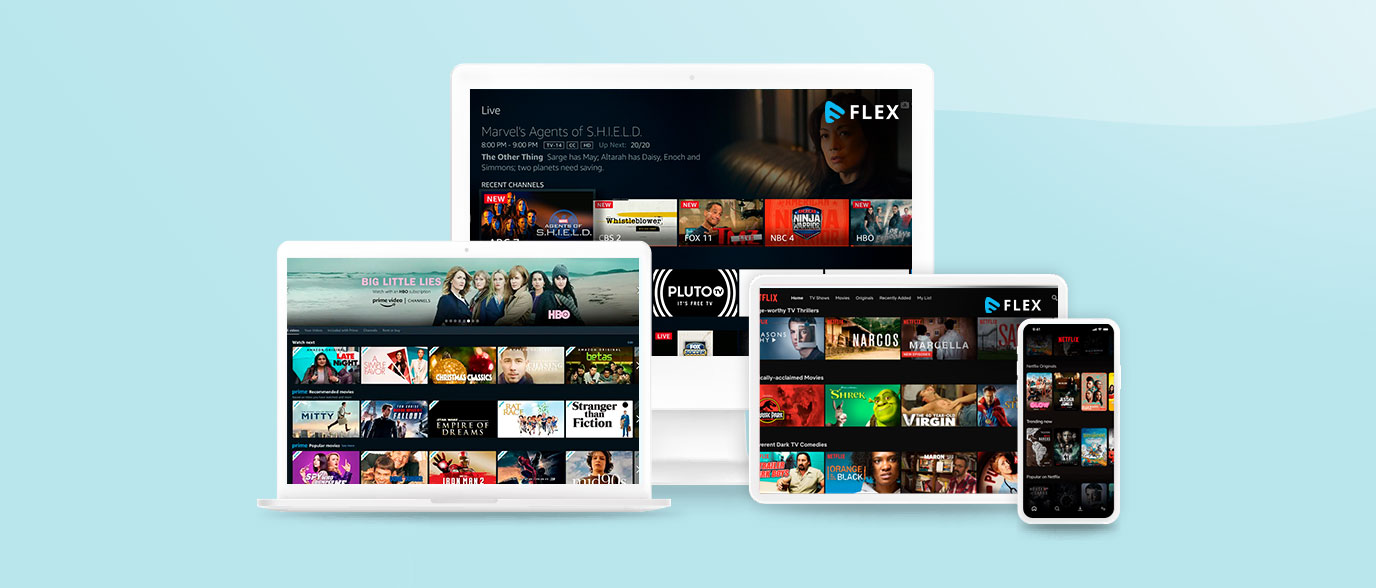 Muvi Flex is an enterprise-level cloud video-sharing platform offering VoD solutions. It is an end-to-end cloud video platform that offers a variety of advanced features like cloud encoding, top-tier delivery, video security, and cross-device playback that enables enterprises to launch a VoD platform instantly, without any coding knowledge.
Muvi Flex is a robust and customizable video hosting platform that allows you to upload, manage and distribute videos and also lets you build responsive video solutions on your apps/websites. 
Its built-in multiple monetization options enable content creators to monetize their content by opting from its varied content monetization models including PPV, subscriptions, and AVoD. 
Features of Muvi Flex: 
Enterprise video hosting

Video encoding and transcoding

at multiple bitrates

Advanced

HTML5 video player

supported adaptive bitrate video playback

Multi CDN

option for a fast, latency-free video delivery

High-end video security features like

multi-DRM

,

watermarking

,

screen record protection and IP restrictions among others

Cross-browser and cross-device video playback capability

MRSS (Media RSS)

that allows you to publish your videos on multiple third party websites

Seamless

social media integration

for all major social media platforms like Facebook, Twitter, YouTube, LinkedIn etc. so that you can target all the users of these platforms

An advanced

CMS

with an array of content management features

Multiple monetization models that include subscriptions, ad-based and TVoD

Integration with most-popular

payment gateways

like Paypal, Stripe, PayU, Authorize.net, etc

Full video

API integration

SDKs

for iOS and Android developers

China video

hosting
Muvi Flex Pricing
Muvi has multiple pricing tiers for organizations with different sizes and budgets: 
Standard: $199 per month +

infrastructure fees

(includes 1TB of bandwidth and 1TB of storage and 2000 concurrent viewers)

Professional: $899 per month (includes 2TB of bandwidth and 2TB of storage, 10000 concurrent viewers, AI-based recommendation engine, and other

premium features

)

Enterprise: $2899 per month (includes 5TB of bandwidth and 5TB of storage, unlimited concurrent viewers, a dedicated server with auto-scaling, and enterprise level support)

Ultimate:

Custom plan

for elite customers including all enterprise level features and premium consulting services
Wistia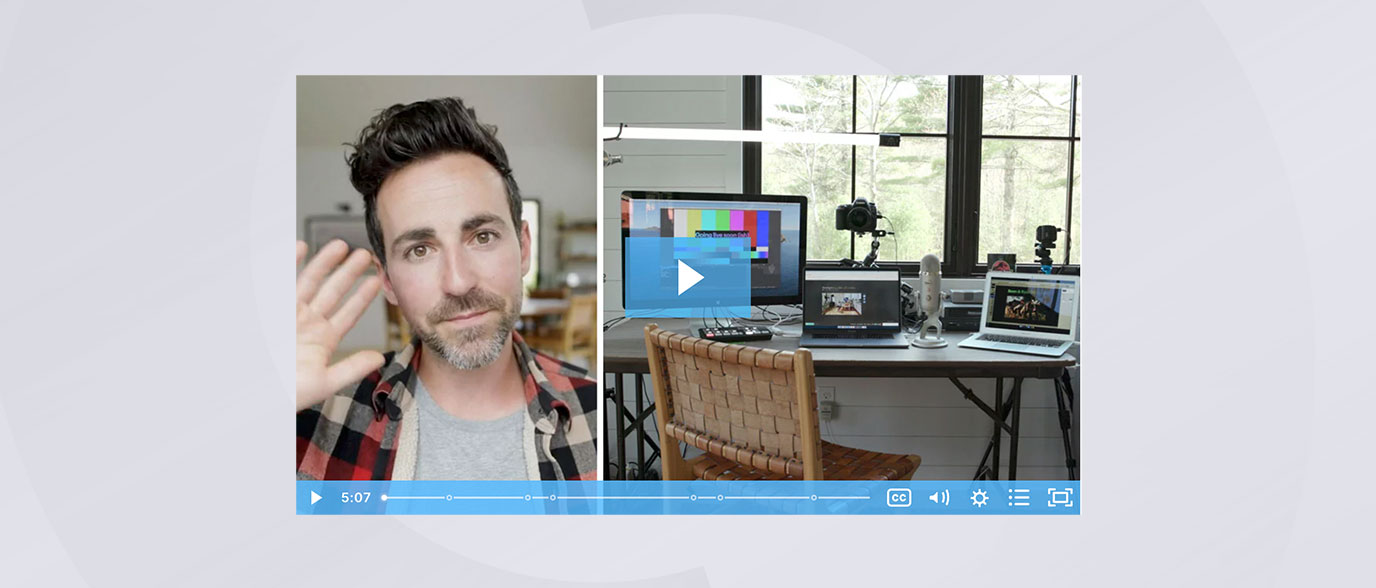 Wistia is a private video hosting platform ideal for marketers. Wistia serves as both a video host and a marketing tool for businesses. It's a customizable platform with some robust tools for marketing allowing marketers to create, manage, and stream video content.
Features of Wistia: 
Custom video layer

Video tools

CRM integrations

Seo automation

Analytics

Customizable player

Embeddable channels
Limitations:
No China video delivery
Wistia Pricing:
Wistia has a three-tier pricing plan 
Free: Up to 250 subscribers and 3 videos; cannot remove 

Pro: $99/month, including 10 free videos with additional videos for $0.25/each

Advanced: Custom pricing, 100 free videos with additional videos for $0.25/each
Vimeo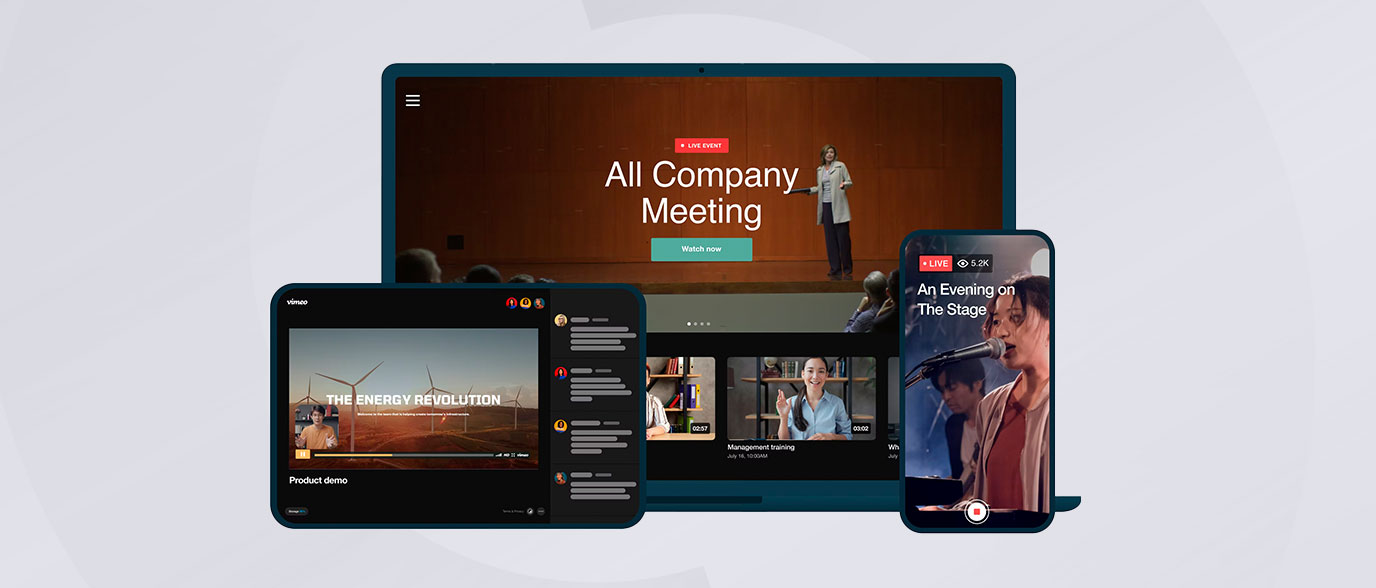 Vimeo Vimeo is a video streaming service directed at creative professionals and businesses and offers premium business video hosting features and is best known for their dynamic video player and video editing tools. The platform has garnered a reputation for hosting higher quality content overall, and is known for its powerful features and reliable customer support.
Key Features
Video hosting

Wide range of security features

Custom video gallery pages

Built-in CDN

Detailed analytics

Video editing tools

Adaptive video player
Limitations
Need professional support for some feature
Pricing Plans
Vimeo has a 4-Tier Pricing plan:
Plus – $7 per month (includes 5 GB of video storage per week)

Pro – $20 per month (includes 20 GB of video storage per week and added features of Plus)

Premium – $75 per month (includes both unlimited live streaming and VOD support + everything in Pro)

Enterprise – This is a custom solution and one has to contact Vimeo for the quotation. (The Enterprise plan includes white-label service, monetization, and video API access, dedicated support and security controls)
Brightcove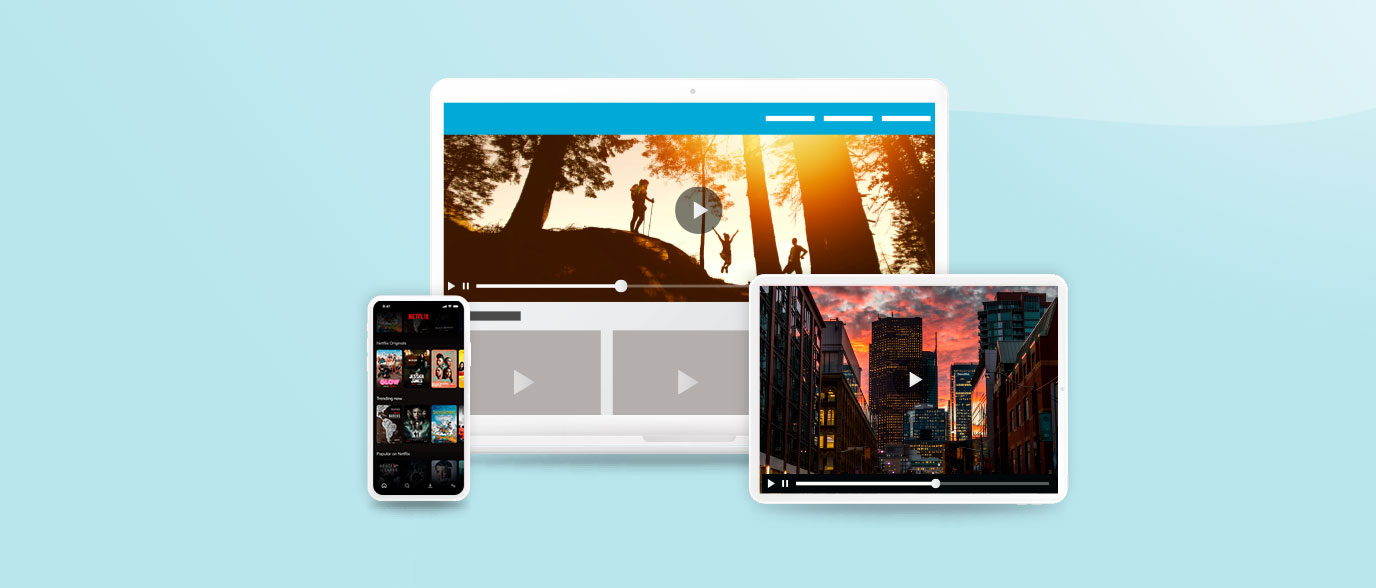 Brightcove is an old player in the video streaming industry and offers video hosting solutions including cloud encoding, video-on-demand hosting. Brightcove's Video Cloud is a video publishing platform that promises high-quality, and secure video streams. The platform is easy to use and has a lot of pre-built features that make the streaming journey of content creators hassle-free. The company supports all kinds of revenue generation models for online video distributors and is best suited for larger enterprises.
Features of Brightcove's Video Sharing Platform:
Video encoding at multiple bitrates

Adaptive streaming

Scalable cloud-based transcoding

Security features such as DRM, AES encryption, and watermarking

Global CDN

API-based upload and migration tools

Ad-based video monetization
Limitations:
High pricing plans are only suited for large enterprises

China video delivery is not supported

Additional purchase is required for 24X7 support facility
Pricing Plans
The three-tier pricing plan of Brightcove includes:
Starter: Includes up to 50 videos and 5 users

Professional: Includes unlimited videos and 10,000+ plays with no overage plays and 10+ users

Enterprise: Includes unlimited videos, 100,000+ plays with no overage plays, unlimited upload, and analytics-only users
SproutVideo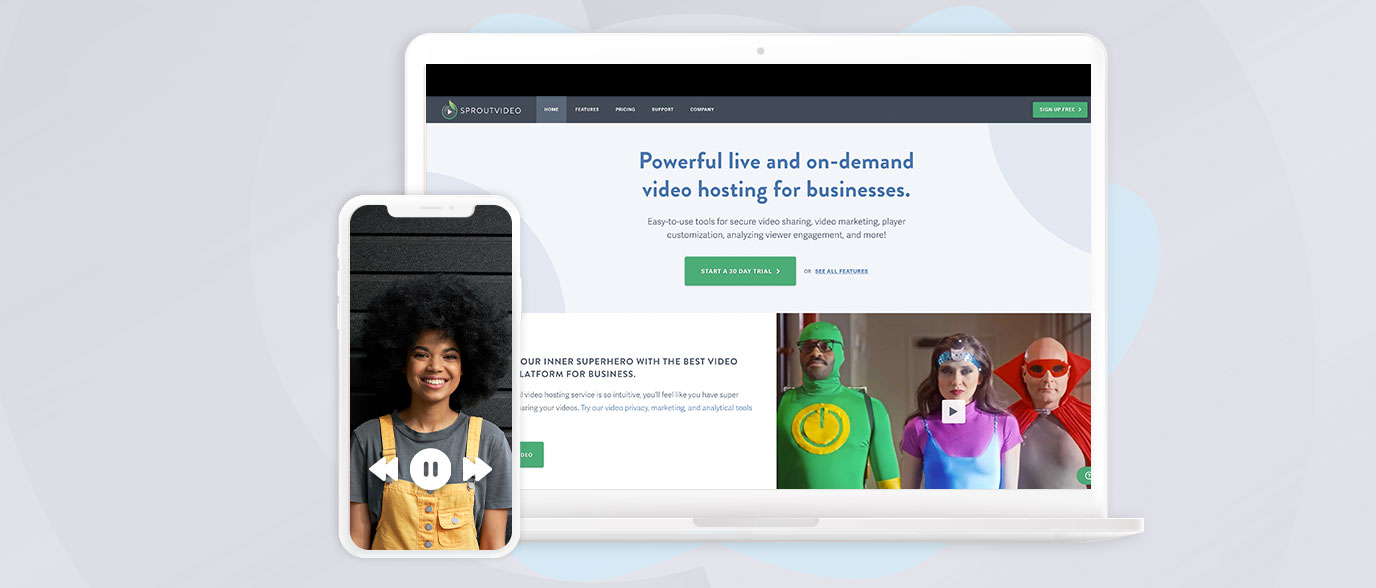 SproutVideo is another video hosting service that contains sharing and collaboration tools to track engagement and grow customer base. This video sharing platform allows you to embed ad-free videos onto your website with a customizable player. Videos can be toggled to include lead capture forms, social sharing buttons, and CTAs as well. 
Features:
Customized privacy and security features

Detailed analytics reporting

Wide range of customization features

live chat support

API access
Cons:
Limited storage options

A small number of SEO tools
Pricing:
SproutVideo offers four pricing plans to target different budgets, including:
Seed: $24.99 per month

Sprout: $59.99 per month

Tree: $199.99 per month

Forest: $499.99 per month
Wrapping Up,
There are a lot of options out there for hosting your videos on the internet. You have to choose the ideal solution based on your unique requirements. We would suggest you to opt for paid video sharing platforms instead of free services to host your videos as they are more secure, more data-driven, customizable and will help you to promote your brand in the long run. 
If you want a stable  product, look forward to the ability to scale without hiccups, want robust monetization options, and want guaranteed privacy of your original content you should invest in a paid video sharing service like Muvi Flex. We recommend taking advantage of free trials of paid streaming solutions to get a feel for how their platforms work.
Interested in Muvi Flex? Take advantage of Muvi's Flex's 14-Day Free Trial to take a test drive of our enterprise-grade video sharing platform.