Did you know that the OTT market is forecasted to be worth $1.039 trillion by 2027? So, If you're thinking of joining this global OTT league of video streaming entrepreneurs, you are on the right track. This blog will guide you with all the information you need to choose the best OTT platform provider for your video streaming website/apps and list out the best OTT platforms for 2022 including features, limitations and pricing.
What are OTT Platforms?
OTT or 'over the top' is a form of media distribution that uses the internet to stream audio/video content bypassing traditional methods like cable or satellite television to an audience. 
Both VoD and live streaming are a part of the OTT delivery model because to watch such kind of content one just has to have access to the internet instead of relying on traditional services like cable TV or satellite. So, while OTT refers to the content distribution model, VoD stands for the content consumption model.
An OTT streaming platform or service is a website or app that offers streaming content to viewers who can access their favorite programs and movies by paying a fee. These services are accessible on all sorts of internet-enabled devices, including smart TVs, gaming consoles, laptops, desktops, smartphones, and tablets.
Point to note- OTT streaming services limit access to paying viewers.
Here are some examples of popular OTT services and platforms:
Netflix

Amazon Prime Video

Disney+

Apple TV+

Hulu

Hotstar

HBO Max
If you want more details on the difference between OTT and VOD, read our blog, What is VoD (Video on Demand) Streaming & How it Works: Detailed Guide.
Features of a Best-in-Class OTT Platform
The next question when it comes to selecting a professional OTT platform is what features is the platform service offering? For instance, Muvi includes features necessary to build your video business from start to finish, including: 
Multiple monetization options

Cloud encoding and transcoding

Live streaming functionality

White label streaming

Completely customizable platform

Adaptive bitrate streaming

Video security including AES encryption, watermarking, DRM

Dedicated round the clock support system

Dedicated account managers for premium customers

Maximum scalability for content optimization

Cross platform and device support

OTT app support across multiple ecosystems including TV apps and gaming consoles

Top tier CDN services
Also Read: Prerequisites for Launching an OTT App
Best OTT Platforms for 2022
Let's take a look at the top 10 OTT Platforms for 2022 for making your video streaming journey easier.
Muvi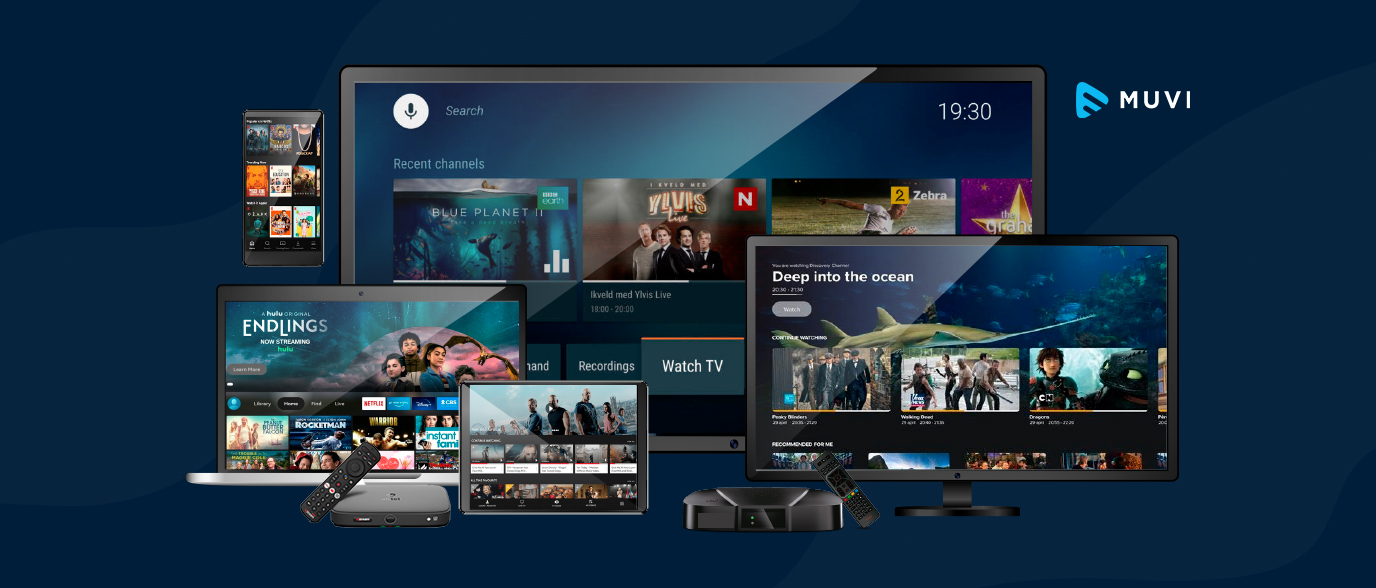 Muvi is an all-inclusive OTT platform provider with both VoD and live streaming solutions. It is a feature-rich, end-to-end cloud video platform that offers a variety of advanced features like cloud encoding, low latency streaming, top-tier delivery, video security, and multi-device playback that enables enterprises to launch a VoD or live streaming platform instantly. No coding required!
One of the key features that sets Muvi apart from its competitors is its highly customizable video platform that enables professional organizations to launch their own OTT channel without any prior knowledge of coding. With Muvi, it's easy to launch a multi-screen white-label video streaming website and apps for mobile devices, connected TVs and gaming consoles. 
Its built-in multiple monetization options are a special attraction for enterprises who want to monetize their content by opting from its varied content monetization models including PPV, subscriptions, AVoD and crowdfunding. Despite the online video platform being loaded with high-end features, Muvi offers competitive pricing policies.
Special mention needs to be made about Muvi's 24X7 white glove support system ensuring our customers have absolutely no hiccups while launching their OTT website and apps.
Features of Muvi's VoD Platform
Muvi has a plethora of advanced video streaming features that empowers content creators to create professional-grade broadcasts including:
Muvi Pricing
Muvi has multiple pricing tiers for organizations with different sizes and budgets: 
Standard

: $399 per month (includes 1TB of bandwidth and 1TB of storage and 2000 concurrent viewers)

Professional

: $1,499 per month (includes 2TB of bandwidth and 2TB of storage, 10000 concurrent viewers, AI-based recommendation engine, SLA-based support)

Enterprise

: $3,900 per month (includes 5TB of bandwidth and 5TB of storage, 50,000 concurrent viewers, a dedicated server with auto-scaling, premium support with dedicated account manager)

Ultimate

: $8,900 per month (includes 10TB of bandwidth and 10TB of storage, unlimited concurrent viewers plus all the features of the Enterprise plan and unlimited API calls)

Black

: A custom solution that includes everything in Muvi Ultimate coupled with premium consulting services
IBM Cloud Video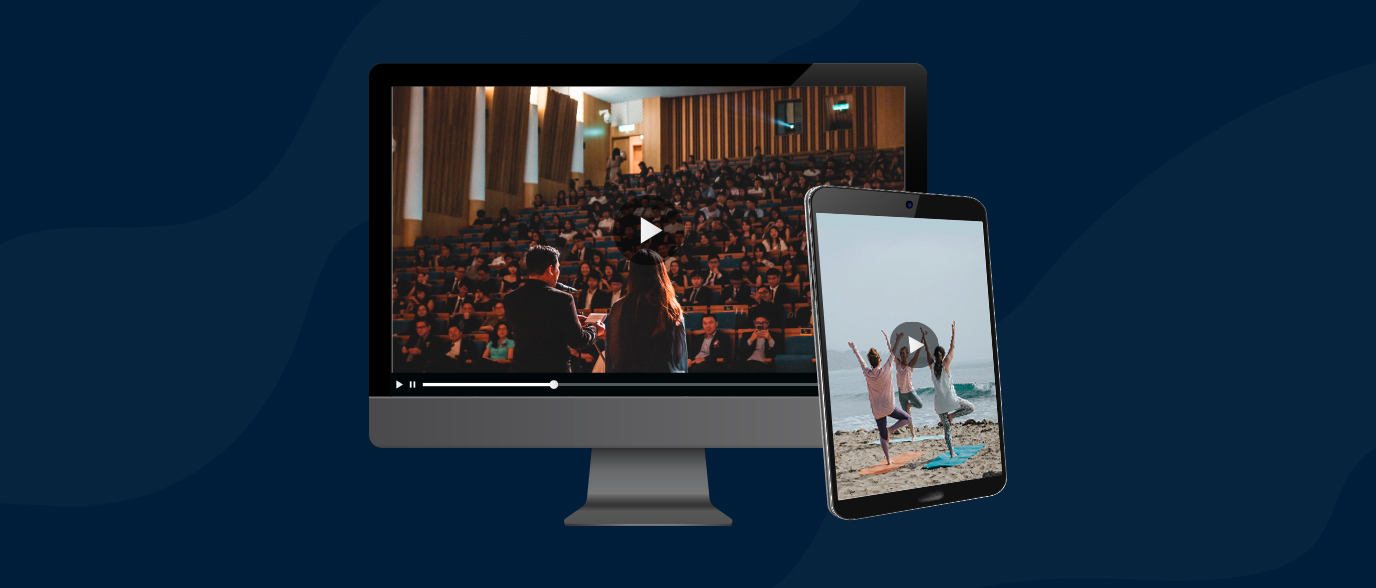 IBM Cloud Video is a worthy competitor in our list of OTT platforms. The streaming service is packed with features like Video hosting, transcoding, and live streaming required for creating a professional online video platform. The cloud video platform has robust built-in features from encoding, analytics, security to delivering AI-based automated speech to text. The OTT streaming service is designed for large organizations and enterprises.
Features of IBM's VoD Platform:
Video encoding at multiple bitrates 

Adaptive video player

VoD hosting and live streaming

High-end security features

AI-powered captioning services

Video analytics 

Round-the-clock support system

Video monetization including ad-based and subscriptions 
Limitations
Does not support multiple monetization models

No built-in SSL secure paywall
Pricing Plans
IBM Video Cloud has a 4-Tier Pricing plan:
Silver – $99 per month (includes 1 TB of video storage and 100 viewer hours)

Gold – $499 per month (includes 2 TB of video storage and 2000 viewer hours)

Platinum – $999/month (includes 5TB of video storage and 5000 viewer hours)

Custom – This is a custom solution and one has to contact IBM Cloud video for the quotation.
Brightcove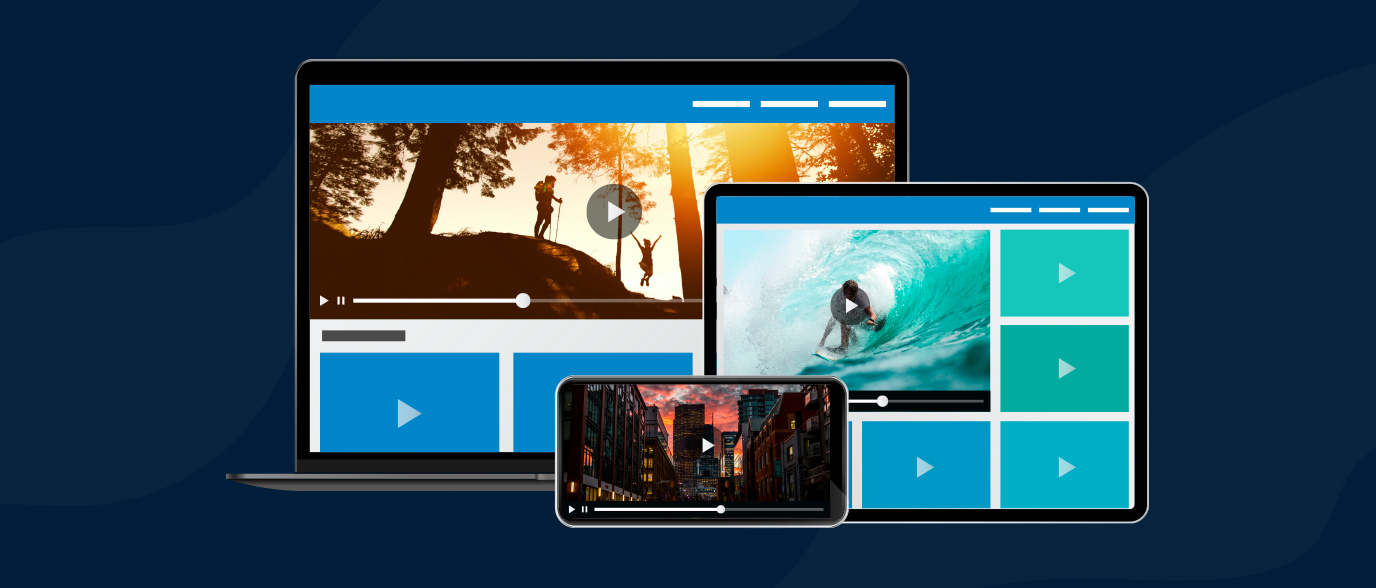 Brightcove is one of the leading OTT platforms offering a well-equipped video hosting suite including cloud encoding, video-on-demand hosting, and live streaming solutions. The Brightcove OTT platform is easy to use and has a lot of pre-built features that make the streaming journey of content creators hassle-free. The company supports all kinds of revenue generation models for online video and is best suited for larger enterprises.
Features of Brightcove's OTT Platform:
Video encoding at multiple bitrates

Adaptive streaming

Scalable cloud-based transcoding

Security features such as DRM, AES encryption, and watermarking

Global CDN

API-based upload and migration tools

Ad-based video monetization
Limitations:
High pricing plans are only suited for large enterprises

China video delivery is not supported

Additional purchase is required for 24X7 support facility
Pricing Plans
The three-tier pricing plan of Brightcove includes:
Starter

: Includes up to 50 videos and 5 users

Professional

: Includes unlimited videos and 10,000+ plays with no overage plays and 10+ users

Enterprise

: Includes unlimited videos, 100,000+ plays with no overage plays, unlimited upload, and analytics-only users
Vimeo OTT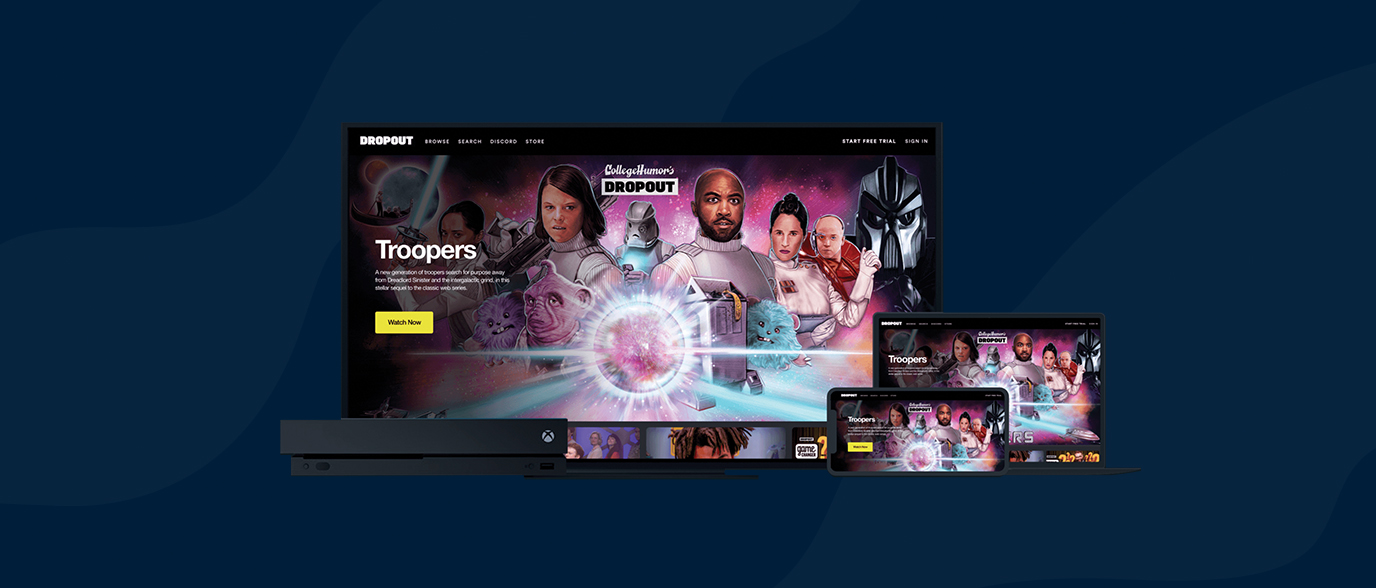 Vimeo is a popular OTT solution for content creators and boasts an easy to use interface and video editing tools that comes handy for video broadcasters. Vimeo is a good fit for small to large organizations and also offers access to mobile SDKs and Vimeo's API.
Features of Vimeo OTT:
Video website themes

Custom video gallery pages

Video security tools

Simulcasting support

White-label video player

Monetization through subscription and PPV
Limitations:
No AVoD monetization support
Pricing Plans
Vimeo Livestream offers three main pricing plans, including:
Starter: $1/subscriber per month

Growth: starting at $500/month

Enterprise: This is a custom package including advanced features.
Kaltura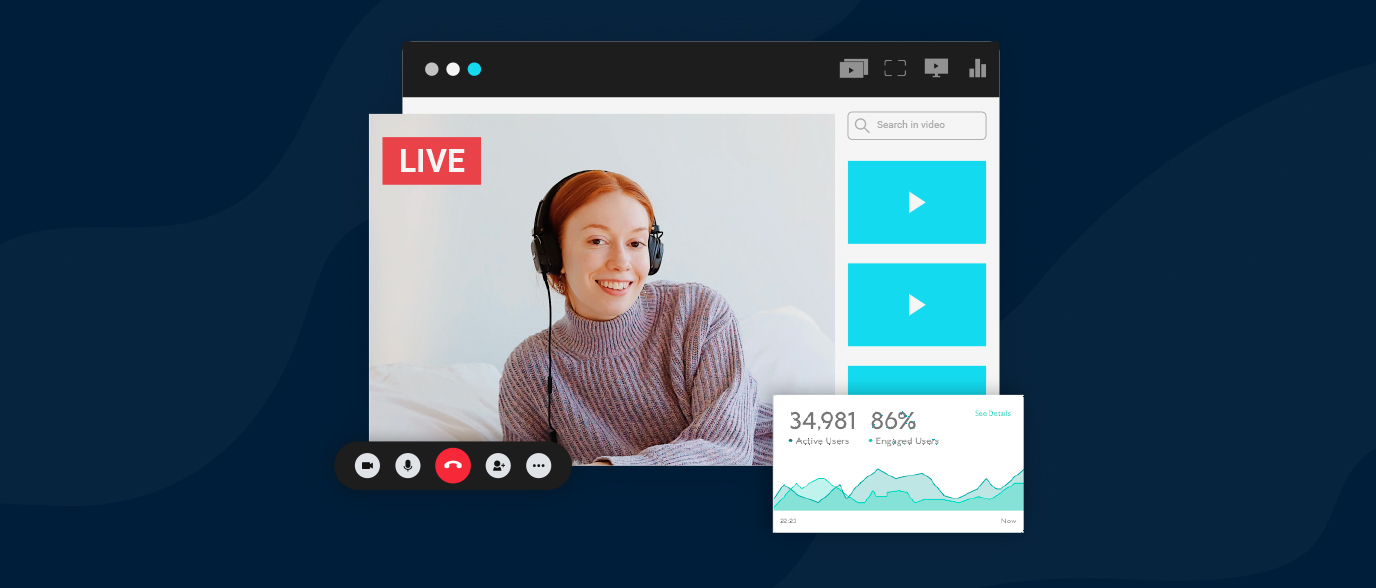 Another player in the OTT space is Kaltura. Kaltura's video platform is known for its customizable feature, offering both on-demand and live streaming solutions mainly for educational institutions. It is an open-source software and the platform incorporates video creation tools, a robust CMS, and customizable features. Companies can build their own integrations and add-ons empowering their customizable features. However, as reported by customers, their pricing policies are quite hefty which makes it only suitable for large enterprises. 
Features of Kaltura's VOD Platform:
VoD hosting and live streaming

Video encoding at multiple bitrates 

Adaptive video player

Cloud encoding and transcoding

Integrated CMS Module

A host of security features

Video creation tools

Video Metrics and Analytics 
Pricing Plans
Kaltura does not disclose its pricing structure and you need to contact them for getting customized quotes. Please note that they have different pricing options in terms of their VOD services and Video-Platform-as-a-Service.
Limitations
Kaltura only allows monetization with external integrations.

No TVOD, SVOD, or AVOD support

Kaltura does not support an SSL built-in paywall
For more details on VOD platforms, check out our blog, Comparing the Top 5 Video On Demand Platforms for 2021
Wrapping Up,
Given the size of the OTT industry and the rapid pace with which it is evolving, now is a great time to involve yourself in this trend and launch a stunning OTT platform and monetize content. 
If you are a content creator and want to build your white label video streaming platform like Netflix or Disney+, we would recommend you to take advantage of Muvi's 14-Day Free Trial to take a test drive of our enterprise-grade OTT platform.